This guide from BreederBest will help you find the best Golden Retriever breeders in Ohio. Before we get started, here's a little information about the Golden Retriever dog breed.
Easy-going, sociable, and good-natured are just a few descriptive words that come to mind when thoughts of a Golden Retriever dog pop up. Calm dispositions have made them one of the ideal family dogs around. To throw this out there, if it is not evident already if you are looking for a guard dog, this breed is not it!
They are great with children and desire to be friends and get along with everyone. They are incredibly loyal, wanting to be in the thick of all gatherings so they can interact and play. The Golden Retriever is easily trainable due to their high IQs, ease of following instructions, and is eager to please.
The first time, active pet owners will be thrilled and pleased with owning these gentle giants as they are a dog that can get up to 24 inches in height with a muscular body and weight ranging from 65-75lbs. Golden Retrievers will provide wonderful companionship for about 10-12 years.
They thoroughly enjoy long walks, jogging alongside you and the outdoors, swimming especially since they were bred for retrieving waterfowl. They have a two-layer, water-repelling coat to keep them warm while performing water activities and possess a unique, physical trait that other dogs don't; webbed feet. Besides assisting in swimming, this webbing keeps the dog from slipping and sliding on rocks or wet surfaces or sinking into muddy embankments.
Remember that two-layer coat that was just mentioned? It does shed twice a year, and even when not in those shedding seasons, you will be finding golden hairs all around the house. Make sure you are ready to groom quite a bit to keep your coat healthy.
When done right, responsible breeding can be costly. Breeders are liable for the expenses of birthing, veterinary care, food, toys, health tests, and so much more. You can ask for the paperwork that will prove these tests and certifications.
Most of the time, breeders will find themselves paying between $7000 to $15,000 to rear a litter of puppies. If looking for a companion, Golden prices will start at $500 with the cost going up to $3,000 for a show-quality dog bought through quality, trustworthy breeders.
When you become a dog owner, the money will be spent taking care of your dog over its lifetime, which can be anywhere from $14,400 to $15,800. Owning s dog comes with responsibilities just as breeding does.
Before scrolling down the list of Golden Retriever breeders in Ohio, we have other dog breed recommendations we think might interest you:
Golden Retriever Puppies For Sale in Ohio
Take a look at the list that has been started for you below.
1. Feo Farm Kennels
First on the list of Golden Retriever breeders in Ohio is Feo Farm Kennels. 2005 saw the beginning of breeding Border Collies on Feo Farm by owners Jeff and Autumn.
It was a successful venture, producing dogs that exhibited intelligence, agility, and mild temperaments. Border Collies can still be seen working the livestock on Feo Farm. Yet, as of 2009, their breeding operation focused on providing a soft-spoken, loyal family member known as a Golden Retriever.
All dogs born at Feo Farm and are raised here receive their room with a bed and toys in a climate-controlled facility to accommodate each dog's comfort needs. Puppy visits are welcome and encouraged by appointment. Once the litter is born, potential owners may see the puppies and get acquainted with each of their personalities to help in the decision-making process be picked.
The purchase price of a Feo Farm's Golden Retriever is $1,700 plus tax. When you wish to get on the waitlist and reserve a puppy, $107.25 will be required; that is $100 plus tax. When the puppy is six weeks old, $429 is needed to secure the puppy chosen by order of your position on the waitlist.
When the puppy is eight weeks old, the balance due of $1,287 will be exchanged in return for taking home your new family member along with AKC limited registration, a three-day supply of puppy food, a six-day supply of NuVet Immune Support tablets, microchipping, and all current vaccinations.
Feo Farm Kennel puts health and safety above all else when breeding their dogs. This was confirmed by the local media's surprise visit that filmed this breeder for the nightly news on the quality of care they provide even when they don't expect anyone to be looking. This newsreel can be seen on their Facebook page.
Golden Retriever Breeder Information:
2. Glory Dawn Goldens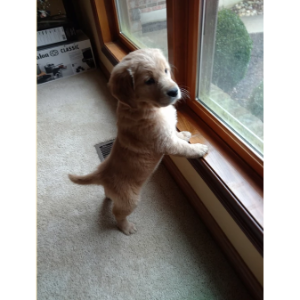 Whether you are searching for a dark American Field Golden Retriever or a European Cream Golden Retriever, you will not be disappointed at Glory Dawn Goldens. You might even fall in love with one of their Golden Irish Retrievers, which is a hybrid of an Irish Setter and a Golden Retriever.
Jeremy and Celesta are the head of the Chupp family and owners of Glory Dawn Goldens, which is based in the rural countryside in Ohio. Their breeder beginnings started with the Border Collie breed in 2000. Yet, when a Golden stole their hearts, they turned to solely breed Golden Retrievers who they felt were the perfect friend and sweetest of dogs.
Breeding of their dogs only occurs once each dog is tested and passed for being clear of genetic disorders. Glory Dawn Goldens has also achieved a cancer-free reputation at their kennel through their extensively researched breeding structure.
This family does include five children, so, needless to say, all puppies are very well socialized. Puppies will run anywhere from $2,400 to $3,400, depending on pedigrees. In addition to puppy availability, adult dogs are up for adoption.
For more information, contact the Chupp family, and they will be more than willing to offer up advice, knowledge, and expertise while assisting you in reserving one of their splendid Golden Retrievers. Transportation opportunities are offered for an extra price if you need assistance getting your puppy to you.
Golden Retriever Breeder Information:
For More Check out: Best Sheepadoodle Breeders in Ohio
3. Buschur's Dream Golden Retrievers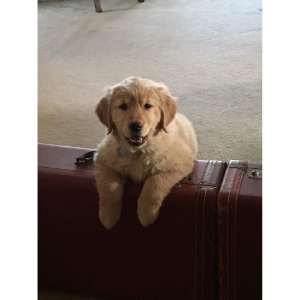 Sculpting a calm, confident, socialized, well-mannered Golden Retriever companion both at home and in the outdoors is what Craig Buschur and their family are devoted to achieving at Buschur's Dream Golden Retrievers with their extensive breeding concepts and methods.
Champion bloodlines flow through every one of their puppies, but then they must be molded into a steadfast, dependable, and good-natured individual. The Buschurs achieve this through having many friends and family wanting to interact with the puppies daily.
Then they use Early Neurological Stimulation from day 3 to day 16 of the puppies' lives. Stimulation exercises in ENS have proven beneficial, lasting effects on the puppy's mental and physical being. Next comes sound stimulation.
A CD is played with many everyday sounds, from gunshots to children playing to airplanes passing overhead. Exposure to these sounds develops a calmer and tamer dog in all situations they are brought into, thus making them more welcome in public settings.
Quality puppies will be sold at $2,000 with a non-breeding registration, a 2-year health guarantee, and tested for agility, temperament, and hunting capabilities. A $200 deposit is required to reserve a Golden Retriever puppy.
Posted on their website are the upcoming litters that are now expected. Look through parent pictures and past litter pictures too. Read over the purchase agreement and when ready to move forward, fill out the Client Questionnaire and get in contact to start the process of purchasing your Golden Retriever.
Golden Retriever Breeder Information:
4. Kingdom Hearts Kennel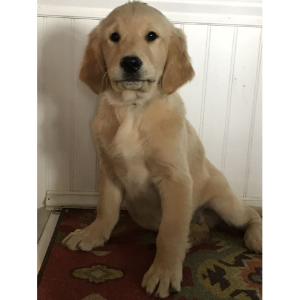 In a small, northeastern, rural community in Ohio, there is a family-run, hobby breeding operation fueled by the passion for preserving breed standards in Golden Retrievers, Goldendoodles, and Standard Poodles.
The breeders of Kingdom Hearts Kennel, Margee, and Rick Detrow, have achieved high-quality litters for the past 19 years as professional, reliable dog breeders with added experience working in a veterinary setting.
Kind, healthy, compassionate puppies with loving personalities are the class of dogs they wish to give to all those that come to them for any one of their breeds, especially Golden Retrievers. 32 outstanding, 5-star reviews on their Facebook page, plus many more on the "review" tab of their webpage, are written by happy customers who prove the truth to the promises the Detrows vow to achieve when they set out to breed.
Proving your interest in a puppy is done by making a deposit of $515.24 which is not refundable. The rest of the $1,800 for your Golden will need to be paid in full before the puppy is released to go home with you.
There are shipping options available by ground transportation if you might need this service. Contact Kingdom Heart Kennel to inquire about available puppies or planned litters so you can make a decision and a deposit for one of their okay sought-after dogs.
Golden Retriever Breeder Information:
5. Milligan Valley Golden Retrievers and Dog Training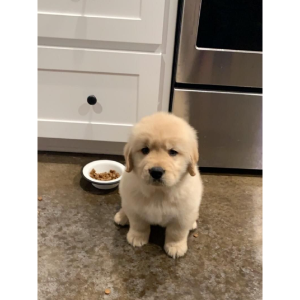 Last on the list of Golden Retriever breeders in Ohop is Milligan Valley Golden Retrievers and Dog Training. For 23 years, Milligan Valley Golden Retrievers and Dog Training have been run by Mother/Daughter Duo, Sherry, and Whitney. A small, hobby breeding operation is what they focus on, with only about 2-4 litters being born to Milligan Valley per year.
Limiting the number of litters means that their full attention can be centered on each puppy's individualized care, so they all are started on a good foot for a strong, healthy, and fulfilled life. All dogs here are family, which will continue to be even after they leave for their new homes.
Adult dogs who are retired from breeding are kept on as family members for the duration of their lives. No family member is left behind at this breeding establishment.
Not only can you purchase a sweet-tempered, loveable Golden Retriever or Goldendoodle from Milligan Valley, you can also have your dogs trained by Whitney as this is another service offered. It is beneficial if the need may arise with any behavioral or training issues down the line with your puppy because this means Mulligan Valley can assist.
Training is also put into your puppy. They will come home having been started on potty training practices as well as having been well socialized. A 3-year health guarantee, vaccinations, dewormings, microchipping, and an AKC registration are also part of the $1,800 puppy package you pay for.
A lifetime return policy is also available to all dogs purchased from Sherry and Whitney. This means that for any reason throughout the life of one of their puppies if the family can not keep it, they will take the dog back as they do not wish for any of their dogs to end up in shelters.
After looking through all the smiling faces of their past and present dogs and puppies, if you are ready to make a move to secure a one, Sherry and Whitney are ready and waiting for you to contact them.
Golden Retriever Breeder Information:
More Puppy Related Content: Best Goldendoodle Dog Breeders In Idaho
Conclusion For The Best Golden Retriever Breeders in Ohio
Health guarantees from breeders is a must as it protects you, the breeder, and the dog from genetic diseases. Though, as stated before at the beginning of the article, you must consider that raising a dog is not cheap. The breeders do not, and can not, guarantee your dog's health that is due to factors like overall care, nourishment and exercise once out of their home and into yours.
Money and time will be needed to care for any animal properly. Their health is dependent on the quality of food and nourishment provided, time and attention to training them, exercising and playing with them, and preventative health care provided year after year.
Yes, it takes money just like everything else in life, but can that ever overshadow the worth of unconditional love and companionship bestowed upon you day after day from your loyal canine companion?
If traveling to these Golden Retriever breeders in Ohio is a distance for you, we have recommendations from other states you might be interested in:
To learn more about the Golden Retriever, watch "What Does a Golden Retriever Dog Do When Bored" from Funny Dog Bailey down below: