If you are looking for a Cockapoo puppy in North Carolina, ensure that you do business only with the best Cockapoo breeders. Doggy breeders and puppy mills are out of the option. Cockapoos are increasingly becoming popular, which has resulted in an increase in the number of breeders in the state. 
Breeding is more than a profession or job; it is personal. The best breeders are those who naturally love dogs and want to maintain a particular breed. However, many people get into the business for profit's sake; they have little to no experience in the job.
Hence, if you want to go home with a healthy and happy puppy, you should adopt one from the best Cockapoo breeders in North Carolina. To ensure you do not end up in the wrong hands, here are our top recommended Cockapoo breeders. 
Other articles you will love: 4 Best Maltipoo Breeders In North Carolina! and 4 Best Cavapoo Breeders In North Carolina!
1. Cuppycake Cockapoos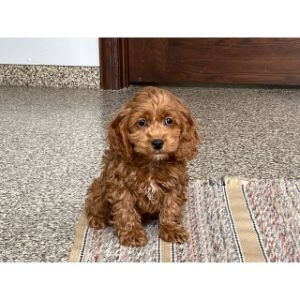 Cuppycake Cockapoos is an award-winning dog breeder located in the Sandhills region of North Carolina. They are one of the most consistent breeders in the state. Many breeders go off and on the radar because they cannot constantly keep up with the demand and responsibilities of breeding and raising healthy puppies.
However, that is not the case with Cuppycake. This breeder has been in the industry for some years, and they have been producing and raising healthy, happy puppies consistently. Cuppycake is dedicated to this dog breed only, so they channel all their attention, love, and care to them.
This breeder is committed to producing and raising the highest quality puppies possible. They strive to provide dog lovers with puppies that will bring joy into their homes. The puppies from this breeder are born and raised in their home.
In addition to raising the puppies in their home, the breeder spends quality time interacting and playing with the dogs. They do not release puppies that are not ready to join their new families.
Before releasing them, this breeder ensures the puppies are well-socialized, partially trained, well-mannered, and perfectly healthy. They run the pups through fundamental training like crate and potty training.
Cuppycake also ensures the puppies receive their first set of vaccines and deworming before allowing them to join their new families. Furthermore, this breeder takes the placing of its puppies seriously. They only sell puppies to families they believe can give the puppies the love, care, and attention they deserve.
They evaluate prospective buyers to ensure they are an excellent fit for their puppies. Cuppycake does not proceed with deals that are not in the best interest of the puppies. The puppies are vet-checked and guaranteed to be free of genetic defects.
Cockapoo Breeder Information:
2. Best Cockapoos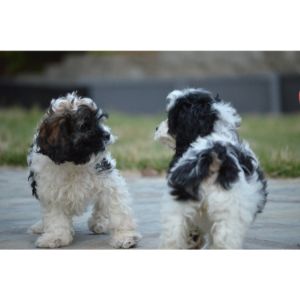 If you are looking for premium quality and family-raised Cockapoo puppies, Best Cockapoos is the perfect breeder for you. This breeder offers puppies with exceptional temperaments and excellent health. They also do a great job of matching families with the puppies, ensuring you go home with a puppy that matches your personality, home, and needs.
Best Cockapoos asks vital questions during the adoption process to match puppies with suitable families. This breeder is located in Greenville, SC, but they serve families in Asheville, Fayetteville, Charlotte, and Raleigh Durham (North Carolina).
Their services also extend to Florida, Georgia, Virginia, and Tennessee. This breeder produces and raises F1b Cockapoos. They do not ship out their puppies but occasionally hand-deliver them to families in the Northwest or Midwest.
The F1b Cockapoos from this breeder are a cross between a Poodle (50 percent) and Cocker Spaniel (50 percent). These puppies are great for people with allergies, as they have little to no shedding coats. Best Cockapoos also produce puppies of different colors, including chocolate, red, cream, black & white parti, phantom, tricolor phantom, and multi-color.
The puppies from this breeder range from $900 to $3,200, depending on their colors. The black Cockapoos are more affordable, while the Merle or Phantom are pricier. This breeder offers a $100 discount for firefighters, veterans, military, teachers, pastors, home school parents, police officers, and EMTs.
A $300 deposit is required to secure a puppy from any of their litter. Furthermore, this breeder attends to its customers on a first-come, first-served basis, so do not hesitate to make the deposit when you see an open slot. 
Cockapoo Breeder Information:
3. Carolina Cockapoos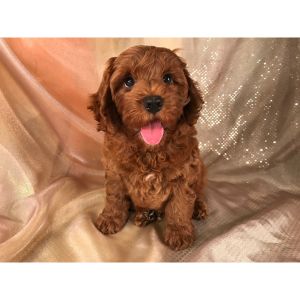 Carolina Cockapoo is one of the most popular designer dog breeders in North Carolina. This breeder is located in Hickory, North Carolina. They are a small breeder kennel committed to providing families with super healthy and well-trained Cockapoo puppies.
One thing we love about this breeder is its quick response rate. You can call them on the phone for enquiries, guidance, and to buy a puppy. Carolina-Cockapoos produce toy-sized puppies, mostly 8 to 12 pounds.
They produce and raise only third and fourth-generation Cockapoos. To ensure the puppies turn out excellently, this breeder pays close attention to the adult dogs. They only breed super healthy, beautiful, and temperamentally sound dogs. 
Furthermore, Carolina Cockapoos test all their breeding dogs for Cerf (for the eyes) and patellas (for the knees). This breeder believes that starting with healthy parents is the only way to produce healthy puppies.
They only have a few litters yearly. The breeder prefers staying small, so they can give the pups all the attention, love, and care they deserve. Their dogs give birth in their bedroom, and the puppies remain there until three weeks old before moving to the utility room. The utility room has crates and other exercise tools to engage the puppies. 
This breeder has four grandchildren that play with the pups to boost their socialization skills. They spend enough time with the dogs daily, ensuring they become friendlier and learn new things regularly. Since they produce toy-sized puppies, Carolina Cockapoos do not sell to homes with kids under the age of five.
Cockapoo Breeder Information:
4. Sugar and Spice Cockapoos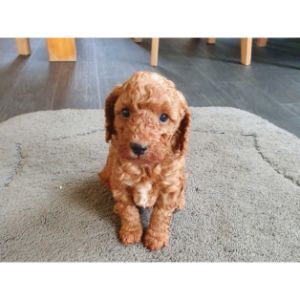 Sugar and Spice is a lovely breeder with a lot of passion for breeding Cockapoos. SSC is owned and operated by Emily; she manages the breeding program with her family. This breeder is located near Columbia, SC. This small family-managed business has produced and placed many happy puppies in many homes across Carolina.
Emily produces and raises all her puppies in her home. The entire family loves the puppies and sees them as part of the family. The goal of this breeder is to make the puppies healthy and happy family companions.
Because of the extraordinary measures in place, you have nothing to worry about regarding the health of the puppies from this breeder. They are cautious when selecting their breeding dogs, ensuring they are perfectly healthy, sound, and with a good temperament.
In addition to focusing on the breeding dogs, this breeder runs complete health checks for the puppies before sending them home. Your new fur friend will come with a health certificate showing their current health state. The puppies come dewormed and up-to-date on vaccinations.
Cockapoo Breeder Information:
5. Take a Chance Puppies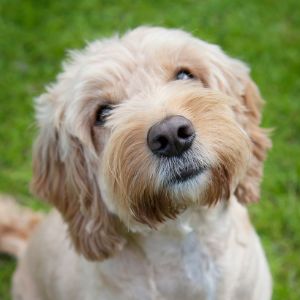 Concluding our list of the best Cockapoo breeders in North Carolina, Take a Chance Puppies is the home of many designer and purebred dogs. This breeder is located in Wallburg, North Carolina, on 10 acres of land. TCP is a small in-home breeder with lots of love and passion for breeding and raising Cockapoos, Cocker Spaniel, and occasionally Miniature Poodles.
Most of their dogs are from champion bloodlines, while most are AKC registered. TCP has been in the breeding industry for more than 15 years, and they keep going because of their love for these dogs.
All their puppies are home-raised, receiving all the love, care, and attention they deserve when growing. They engage the puppies in different activities, including exercises and training.
The breeder has a fenced yard, so they allow the puppies and dogs to roam and play freely in the yard. Furthermore, they are open to visits, so you can visit them whenever you want to see the puppies and their parents.
Your puppy will come home with a two-year written health guarantee to assure you that you are going home with a super healthy pup free of genetic health issues.
Cockapoo Breeder Information:
Conclusion For Best Cockapoo Breeders In North Carolina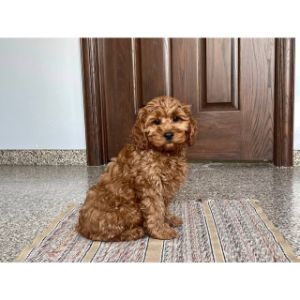 These Cockapoo breeders in North Carolina are some of the best you can find in the state. They adhere to industry standards and do not break state laws in their breeding program. These breeders also love and care for their puppies and dogs like their own.
They ensure the puppies are in perfect health condition and free of any genetic defects before selling them. If you are looking for a happy puppy that you will not take to the vet weekly, we recommend you patronize the breeders listed in this article.
You will also like: