A whip-smart cross between an Australian shepherd and a poodle, the Aussiedoodle is full of fun, devoted companionship, and stunning looks which is why we have a list of the best Aussiedoodle breeders in Michigan for you.
Aussiedoodles are wonderful dog companions for families with children because of their intelligence, loyalty, and willingness to please. They are playful and outgoing and need consistent positive reinforcement training and boundaries to live up to their potential.
Other articles you will also like: 5 Best Sheepadoodle Breeders In Michigan! and 5 Best Cavapoo Breeders In Michigan!
1. Old Mills Aussiedoodles
Puppies from Old Mills Aussiedoodles are known for their loving and sweet dispositions. Positive reinforcement is used to reward positive behavior, and all of their parents have stellar personalities.
All of their breeding adults have undergone professional training, and most are pursuing certification as therapy dogs or service dogs! They believe dogs profoundly impact a person's mental and physical health. Therefore, they go the extra mile to ensure their dogs have excellent temperaments.
They are proponents of the Puppy Culture method, and all puppies are raised indoors and become part of the family. Puppies get visitors of all ages and love the attention. They are regularly bathed, and their nails are trimmed.
When puppies are just a few weeks old, they are litter-box trained and transition to potty outdoors. Vaccinated puppies will travel to nursing homes or hospitals to spread joy to other people.
Aussiedoodle Breeder Information:
2. Aussiedoodle-MI
In Michigan, Aussiedoodle-MI breeds and sells healthy standard Aussiedoodle puppies for families and individuals seeking happy, intelligent, low-shedding puppies raised in family homes.
The breeders' natural philosophy of not docking tails, leaving dewclaws, using a species-specific raw diet, and leaving dogs intact reflect modern health research and their personal beliefs as breeders. They use the Jane Killion Puppy Culture method of rearing to give your pup every advantage to succeed at being the happiest companion you could hope for!
Among the many colors and patterns produced by Aussie-Mi breeding pairs are Blue Merle, Liver (Chocolate/Red) Merle, Tri-color, Brindle, Phantom, Silver, Chocolate, and Cafe-Au-Latte. Their dogs will grow 20-30 pounds and 16 to 20 inches.
Aussiedoodle Breeder Information:
3. Premo Creek Puppies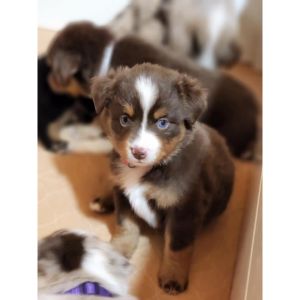 Deb and Dave Claus met and married later in life in Iowa. Deb is from Iowa, and Dave is from Michigan's Upper Peninsula. Their families joke that Dave and Deb saved the best for last since they have both been married before.
Before retiring, Dave worked at John Deere Waterloo Tractor Works, and Deb worked for Transamerica in Cedar Rapids. After retiring, Dave and Deb had another dream: raising puppies. Premo Creek Puppies is not just a business. It is a dream they get to live every day.
Every puppy is a step towards improving the breed, so they always begin with registered and genetically tested puppies. Dave and Deb raise puppies in hopes of finding families who want to share their dream of not only having a puppy as part of their lives but also making it part of their family.
Puppies range in price from $1200 to $1500. Breeding rights are available. You can reserve a puppy for a $100 non-refundable deposit. For their downstate families, they can deliver to the Mackinaw Bridge or travel near Green Bay. They also travel to Iowa frequently and can meet along the way.
Aussiedoodle Breeder Information:
4. Strahan Farms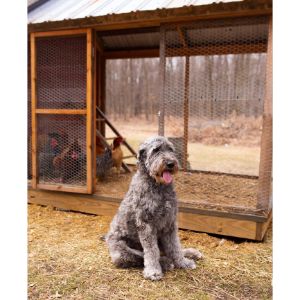 The puppies at Strahan Farms are very intelligent, extremely trainable, and super healthy. Their Miniature Aussiedoodles range in size from 25-35 pounds, and their Standard Aussiedoodles range from 50-60 pounds.
Each puppy comes with complete family history and a DNA test. This ensures that each puppy is healthy and free of genetic disorders. They use Embark Vet Dog-DNA Test, which offers the most accurate results and reliable service for testing dogs' DNA.
Strahan Farms follows a system to ensure that every puppy is well-prepared for life after Strahan Farms.  
During weeks 1-4: Puppies will receive neuro-stimulation training
During weeks 5-7: Gradual weaning, introduction to different objects, sounds & environments
During weeks 8-9: Complete weaning, lots of socializing, introduction to their crate.
There are eight dogs in their facility, each with its own heated floored outdoor area and climate-controlled indoor spaces. Each adult dog has their own play area with their scheduled playtimes. Sometimes family & friends come over to play with them during this time. They see this as a healthy activity for the dogs since they constantly interact with new people.
Aussiedoodle Breeder Information:
5. Aussiedoodle Haven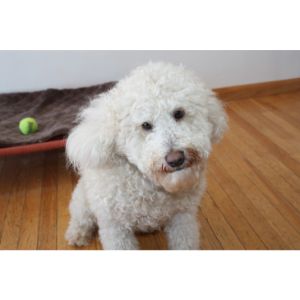 Aussiedoodle Haven puppies are raised in their home and socialized from birth. According to them, a perfect family dog starts with the work that breeders do at an early age. As soon as their puppies are mobile, they start litter box and crate training so that potty training outdoors is a breeze, a perfect conclusion of the best Aussiedoodle breeders in Michigan.
When the puppies' eyes and ears open, they expose them to every sound and sight they see every day to feel confident in any given situation. For the puppies they bring into the world to get the best possible start, they work diligently to provide them with the fundamental basics.
They aim to produce healthy, low-shedding, and well-behaved dogs suitable for companionship, service, and therapy. They take extra steps to make sure their puppies are adopted by loving families and adjust well to their new home environment.
Even after the puppies leave their care, they remain devoted to them. They are always there to answer all questions from their new puppy parents and offer a lifetime of dog parent support!
Aussiedoodle Breeder Information:
Aussiedoodle Puppies In Michigan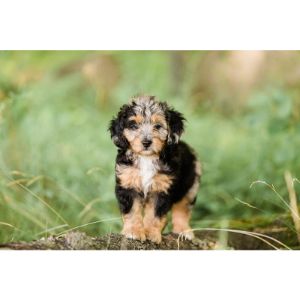 Black and chocolate Aussiedoodles are the rarest colors for this breed. You'll get a black or chocolate puppy when you breed a dark-colored Poodle with an Australian shepherd, which doesn't have a merle pattern.
The majority of the coat will be black or chocolate, but it may have a combination of colors. A chocolate Aussiedoodle, for instance, may have some spots of white or tan on its chest and chin. It would still be considered a chocolate Aussiedoodle.
How To Choose An Aussidoodle Breeder In Michigan?
The American Kennel Club urges breeders who intend to produce healthy dogs to provide their animals with suitable homes and socialization. Do you consider a dog living in a kennel to be socialized? Could a barn or kennel be considered a home?
While the American Kennel Club may consider a barn or kennel humane, clean, and comfortable, they do not consider it a home. So, it's crucial to choose a breeder, not farming dogs.
Here's a quick way to see if your breeder is a farmer. It would help if you asked the breeder to send you videos of where their dogs are living. Also, ask them to send you videos of people interacting with the sire and dam.
Most likely, they will tell you they can't make one because they don't have a camera or aren't sure how to upload it. The reality is they don't want you to see their facility. Multiple dogs in a kennel can be challenging to keep clean and odor-free. It's simply not worth the hassle to them.
Where Do You Find An Aussiedoodle Breeder?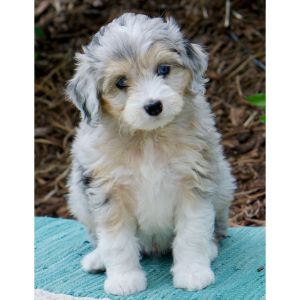 Follow these tips to get the best experience when buying a dog and avoid supporting puppy mills.
1. Speak to Your Veterinarian
Your veterinarian will likely be able to recommend a few local dog breeders in your area.
2. Speak to another dog owner
If you know friends, relatives, neighbors, or people you've seen around who have dogs, especially those with Aussiedoodles, ask them where they adopted their pet. They may be able to help you find local dog breeders.
It's not uncommon to find friends or friends of friends who have dealt with dog breeders before.
Conclusion For Ausiedoodle Breeders In Michigan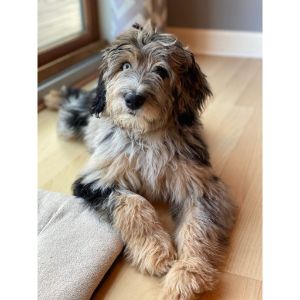 Aussiedoodles are a beautiful cross between the Australian Shepherd and Poodle, one of the most popular Doodle breeds. A cuddly, funny, playful, and affectionate dog – the Aussiedoodle has it all. In addition to looking cute, they're also smart and intelligent.
If you decide this breed is right for you, make sure to adopt from a reputable and responsible breeder. You can start by contacting breeders from our list of top Aussiedoodle breeders in Michigan.
You will also like: