The Cockapoo is a blend of the outgoing personality of a Cocker Spaniel and the low-shedding properties of a Poodle. It can be bred from parents of various sizes, appearances, and character traits. These playful dogs enjoy being around people and find a family environment particularly fun. Therefore, these Cockapoo breeders in Oregon will provide you with a loving pup, and a lifetime of companionship!
Other articles you will love: 4 Best Cavapoo Breeders In Oregon! and 4 Best Maltipoo Breeders In Oregon!
1. Starlos Cockapoos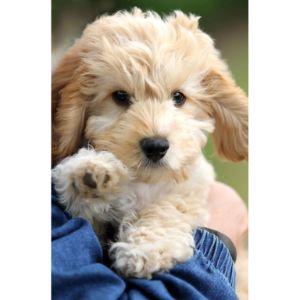 Starlos Ranch is located in Christmas Valley, Oregon, in the Great Basin Desert, the home of Starlo's Cockapoos. They breed AKC-registered American Cocker Spaniel dams and AKC-registered Poodle sires to produce only the highest quality Cockapoos.
Starlos Kennels is a member of the Cockapoo Club of America, and their puppies qualify as CCA American Cockapoos as long as they meet or surpass the strict requirements. Starlos Cockapoos are included in the CCA Registry to document the CCA American Cockapoo breed.
They aim to provide you with the perfect companion pet. Cockapoos are bred down the generations to provide you with the best companion. They will breed first, second, third, and fourth-generation Cockapoos in the future.
Their dams and sires are examined every 12 months and certified free of genetic eye diseases by CERF (the Canine Eye Registration Foundation) to ensure that their beloved pets have healthy eyes.
The Orthopedic Foundation for Animals (OFA) certifies that their dogs do not have genetic patellar luxation. The mother and father's registered names and their AKC or CCA registration numbers are available on the OFA website for verification.
In addition to supporting AKC registration paperwork, all Starlos Cockapoo puppies come with ancestry pedigrees that trace at least three generations back in time. It also comes with CERF certificates on the dam and sire's eyes, OFA certificates on the dam and sire's patella, and a one-year health guarantee that all puppies will be free of life-threatening conditions.
Cockapoo Breeder Information:
2. Valley Puppy Paws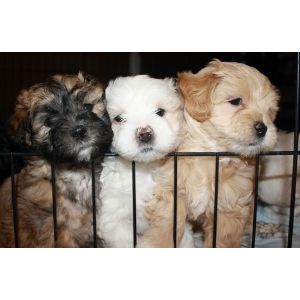 Valley Puppy Paws is located in Lebanon, Oregon, and offers various hypoallergenic dogs, including Cockapoos.
They raise their low- to non-shedding designer puppies in an interactive, loving environment that provides lots of socialization and stimulation. Each puppy is genetically tested to ensure their health.
They will not breed their puppies in a way that causes health issues. They have plenty of space for the dogs to run around. Your new puppy will be vaccinated, dewormed, and flea/heartworm treated and microchipped. All puppies are guaranteed to be healthy.
Cockapoo Breeder Information:
3. ApplebyFarm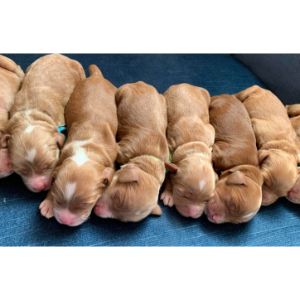 Appleby Farm is a small-scale dog breeder. They are a family business, and their dogs are part of the family. They raise their puppies in their home, socializing with other pets and children. All parent dogs have undergone health testing.
To ensure a smooth transition between their loving home and yours, they focus on making the transition as easy as possible. They aim to educate new owners and ensure those precious puppies get the love, care, and attention they deserve.
Their Cockapoo puppies are reared in the home with their six children, not in kennels. Puppies raised in their home get constant attention and love, and they are accustomed to the smells, sounds, and daily routines that come with living there. Jeanette Forrey designed ApplebyFarm's puppy program to empower puppies as they grow.
Early neurological stimulation (ENS) helps make puppies more confident while growing into well-adjusted adults. ESI has the following benefits. Strengthening of the adrenal glands, a heightened resistance to stress and disease, and increased cardiovascular performance. They are more alert and active.
Cockapoo Breeder Information:
4. Rosemary House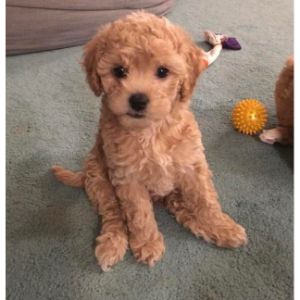 Rosemary House in Corvallis, OR, is owned and operated by Darin and Anne Hansen. They absolutely love Cockapoos and are excited to share that love with you! Their breeding programs adhere to responsible breeding practices.
Their puppies live with both parents in their home and receive one-to-one training and care. They are given the highest quality care by their vet and are fully vaccinated.
They consider their puppies to be their family members. They have been socialized with dogs, cats, and many types of people. Since they live in the home, they are used to everyday household noises (from the vacuum to a blender). The first steps towards basic potty training, crate training, and biting pressure awareness are started at eight weeks.
Each puppy is sent home with a welcome home bag and information. Inside is a blanket with Littermates' scent, a toy with Littermates' scent, a food starter bag, and a health certificate.
Cockapoo Breeder Information:
5. Cloud 9 Cockapoos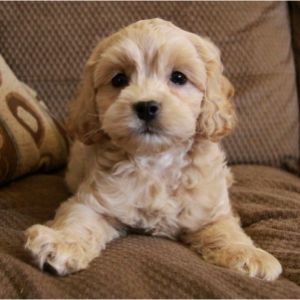 Concluding our list of the best Cockapoo breeders in Oregon, Cloud 9 Cockapoos is a small, family-run cockapoo breeder. They consider their dogs and puppies to be part of the family, and they are well-socialized with children, friends, and other pets.
They carefully select parents for their lovely temperaments and beauty and conduct extensive screening for hereditary health issues. To ensure a healthy and happy future litter, the health and temperament of their parents are essential.
Their goal is to continue the tradition of excellence set by breeders who carefully select their parent dogs for their beauty, health, and temperament. All parents have been genetically tested and are free of hereditary disorders.
During the puppy purchase process, they will provide you with full health reports and certifications for each of their parents – so that you are confident about the quality of the puppy in question.
​The Cloud 9 Cockapoos family looks forward to helping you find the newest four-legged member of your family!
Cockapoo Breeder Information:
Cockapoo Puppies In Oregon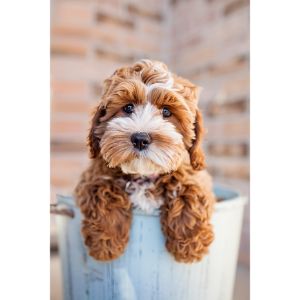 The first cross of a Cocker Spaniel and Poodle is an F1. When two F1s are mated, they produce second-generation Cockapoos or F2s. If two second-generation Cockapoos mate, they will produce F3s and so on.
Sometimes a Cockapoo is mated back to one of the parent breeds, either the Spaniel or poodle, producing an F1b. The "b" denotes back-bred. When Cockapoos are mated to produce F2s, a small number of the litter may have what is called the 'Grandad effect.' This is where a puppy will resemble one of the grandparents, either the poodle or the Cocker Spaniel.
How To Choose a Cockapoo Breeder In Oregon?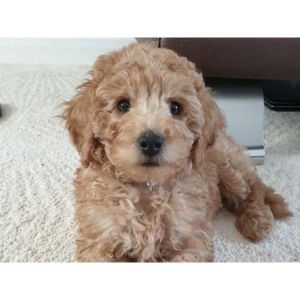 A Breeder should:
They will be happy to schedule a visit with you. Many breeders offer viewing and selection even if they don't have any litters to choose from.
Be knowledgeable about the breed and happy to answer any questions you have.
Be willing to show you the mom- she should be fit, healthy, and confident. Nervous moms might also raise anxious pups. Snappy moms might also raise snappy puppies. If you are only shown the litter, insist on meeting the mother. Walk away if they won't let you meet her.
Provide you with all the relevant certificates, such as a license (if applicable); pedigrees (if applicable); and health tests.
Verify that puppies have been wormed every two weeks from birth, have been treated for fleas, received their first vaccination, and have a microchip.
Show you testimonials from other customers (generally displayed on their website).
Show affection for their dogs and have them do the same. If the dogs cower, don't make eye contact, or back away from the breeder, this is not appropriate behavior.
Where Do You Find a Cockapoo Breeder?
The next step after you decide to buy a Cockapoo is to do extensive research to find an experienced breeder who will be able to provide you with the dog you want. A recommendation from a friend or family member is a reliable place to start.
You can also ask for information from dog forums or people you know who own them. Your veterinarian may know about local breeders as well. It is crucial to remember that these recommendations are only based on personal preferences and should be used as part of the screening process.
A breeder that one person may feel is appropriate might not be suitable for another, so always do your research on recommended breeders. Keep a note of any names given and see whether they are a qualified breeder.
Conclusion For Top Cockapoo Breeders In Oregon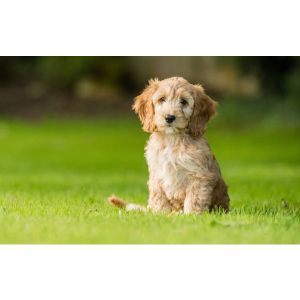 You will undoubtedly have many questions if you are thinking about getting a Cockapoo! These adorable teddy bear dogs have never been officially recognized as a breed, but they are among the most popular crossbreeds between poodles.
The more time you invest in finding a great breeder that breeds healthy puppies, the more likely you will end up with a happy, healthy dog that lives a long life. We hope this list of the best Cockapoo breeders in Oregon gets you off to a good start!
You will also like: