If you're searching for Sheepadoodle breeders in California, then you've come to the right place. Friendly, silly, and energetic are just a few words that describe this gentle giant. The Sheepadoodle, a cross between a Poodle and an Old English Sheepdog, is one of the most popular breeds for first-time owners or current dog owners in America.
Although it does excellently as a working dog, it is perfect for companionship. A Sheepadoodle is loving, playful, and gets along with everyone. Getting a Sheepadoodle breeder, though, can be stressful and time-consuming.
Puppy mills online masquerade as genuine breeders and seem to copy-paste website information from legit breeders, making it hard to distinguish unless you dig deeper.
We have dug deeper for you and compiled a list of the top 3 Sheepadoodle breeders in California. These breeders have the skills, expertise, experience, good standing within the breeding community, good customer reviews, and licenses to do this kind of business. Let's get started.
1. California Schnoodles & Sheepadoodles

California Schnoodles & Sheepadoodles is a small breeder located 30 miles outside Sacramento, California. The breeder limits breedings throughout the year to accommodate the new litters and ensure 24 hours of hands-on care. California Schnoodles considers their dams and sires as family members who are well-loved in their home.
The breeder selects the parents based on health, structural correctness, and temperament. When the litters are born, it is a true labor of love. The breeder ensures the puppies receive the best medical care, attention, and socialization the puppies need.
The Sheepadoodle puppies for sale in Californiaare $3000. They come with a 2-year health guarantee with all age-appropriate puppy vaccinations administered. If you're not local to California, the breeder has several shipping options that you can explore. Commercial flights range from $300+ and personal delivery on the West Coast is between $100 to $150.
California Schnoodles Details
2. California Sheepadoodles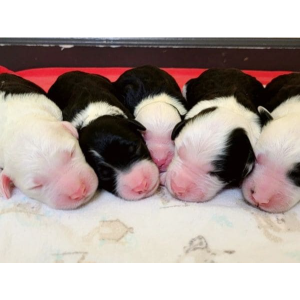 California Sheepadoodles has been breeding Sheepadoodles since 2013. The breeder, Jill, is not only passionate about her Sheepadoodles but also about the people that love them. Jill has a growing facility on her farm where the Sheepadoodles call home.
The facility includes infant nurseries, toddler nurseries, grooming areas, boarding rooms, 4 indoor and outdoor areas for the puppies to romp and play.
She houses her parent dogs in her home and with trusted guardian families. 4 mother dogs and 1 stud live with her and her family on their acreage while the rest live in guardian homes. The mommas, though, whelp in her home.
Sheepadoodle puppies are priced as per their coat colors. Solid black, brown and white, grey and black are $3000. Blue eye and phantom puppies are $3500.
If you require delivery, Jill has a variety of delivery options that you can choose from. For people who have gone through traumatic situations or are unwell, California Sheepadoodles has partnered with various organizations such as Feather River Men's Center, Camp Hope America, and Family Dynamics to provide furry friends.
If you're working with or have founded such organizations, the breeder is open to making such partnerships. They are one of the best Sheepadoodle breeders in California that we could find.
California Sheepadoodles Details
3. California Minis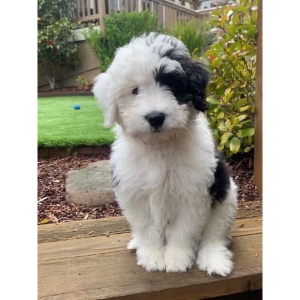 Last on our list of Sheepadoodle breeders in California is California Minis. The Sheepadoodle Affair was their original name before they rebraned to California Minis. They started 35 years ago with Cheryl and Dave.
The husband-wife duo started off with old English Sheepdogs, one of which became the first breeding mamas for California Minis. Since the first litter in 2010, the breeders have raised more adorable mini Sheepadoodle puppies.
The Sheepadoodle breeder's mamas range between 55 and 75 pounds, while the studs range between 5 and 12 pounds. Because of this, you can expect a large variation in the size of these beautiful Sheepadoodles. You can expect F1b micro-minis (8 to 18 lbs.), F1 small minis (15 to 30 lbs.), F1 minis (25 to 45 lbs.), and F1 mini plus (40 to 60 lbs).
California Mini's adoption process is straightforward. You will need to fill in your information, choose the puppy size and gender, and make an initial $500 deposit to hold your Sheepadoodle puppy.
The Sheepadoodle puppies in California receive basic training before leaving for your home at 8/9 weeks. The breeder prices the Sheepadoodle puppies for sale at $3000. If the puppy is blue-eyed, the cost may go higher.
California Minis Details
Common Questions About Sheepadoodles
How big will my Sheepadoodle puppy get?
When picking out a new Sheepadoodle puppy, it's important to know how big your Sheepadoodle will get. The puppy's predicted size will help you know whether the Sheepadoodle will comfortably thrive in your home, how much food the dog will consume, and the dog's perfect gear and accessories.
A Sheepadoodle is a hybrid dog, so its size is more unpredictable as compared to purebred dogs. There are useful size guides such as toy, mini, medium, and standard to help guide you. Toy Sheepadoodles weigh 10 to 25 pounds and stand at 15 inches or less at the shoulder. Mini Sheepadoodles weigh 25 to 35 pounds and stand at 15 to 18 inches at the shoulder.
Medium Sheepadoodles weigh 35 to 55 pounds and stand at 19 to 22 inches at the shoulder. Standard Sheepadoodles weigh 55 to 85 pounds and stand at 23 to 27 inches at the shoulder. Toy Sheepadoodles are fully grown between 7.5 to 11 months while mini's, medium's, and standard Sheepadoodles are fully grown between 11 to 13 months.
How to choose a Sheepadoodle breeder in California?
When choosing a Sheepadoodle breeder, it is important to keep in mind that Sheepadoodles are designer breeds. This means that bodies such as AKC and CKC do not recognize the Sheepadoodle as a breed. Due to the rising demand and lack of recognition from such bodies, it is easy for a puppy mill or backyard breeder to put up a farce.
Before paying an initial deposit, take time to go to the breeder's facility. Many breeders welcome potential adopters, provided they don't visit other breeders on the same day to avoid passing on any viruses to the puppies.
During the initial visit, it is important to observe the breeder's attitude towards the dogs, how the dogs respond to the breeder, the state of the kennels/dog areas, the overall health of the parent dogs, and how the breeder responds to your questions.
You can start with our list of the top Sheepadoodle breeders in California. If none of them appeal to you, you can check out this list of Sheepadoodle breeders on the east coast.
Facts about Sheepadoodles you should know
1. Sheepadoodles are not 100% hypoallergenic.
They are relatively hypoallergenic and do well for people with severe allergies and asthma. Before bringing a Sheepadoodle into your home, it is important to check and see if you/the people in your household will be allergic to the dog's coat or saliva.
2. Sheepadoodles shed minimally and require regular grooming.
This means that you will need to brush your Sheepadoodle daily or every 3 days to ensure there are no mats or tangles. If you decide to use a professional groomer, it is important to introduce your puppy to the groomer at their earliest.
3. Sheepadoodles can change coat color with time.
If your Sheepadoodle is black and white, it might turn grey with time. Old English sheepdogs usually pass this coat change trait on to their offspring, so it might surprise you what your furry friend's final appearance will be.
Sheepadoodles are considered very healthy dogs, but this doesn't mean they are not prone to diseases such as skin issues, bloat, cushings, Addison's disease, and joint issues. It is important to be on the lookout for the above diseases.
Conclusion For The Best "Sheepadoodle Breeders in California"
Sheepadoodle puppies in California are the ultimate family companions. They are playful, gentle, and exceptionally loyal to their humans. They are also easily trainable and the least stubborn dog you will ever come across. We wish you the best as you search for your Sheepadoodle puppy from a reputable breeder!
For more Puppy content check out: Best Border Collie Breeders in Colorado