The Bordoodle inherited its intelligence, playfulness, and many other great qualities from its Border Collie and Poodle parents. They are also known as Borderpoos or Borpoos. It's no surprise that this mix is brilliant, given that it's an offspring of the most intelligent breeds in the world. Bordoodles are great for families with allergy concerns.
If you have decided to bring a Bordoodle pup into your home, you will need a reputable breeder. That's why we took out time to curate only some of the best ones in the United States.
Top Bordoodle Breeders in the U.S
You don't want to end up with an unhealthy pup! So, check out this list of trustworthy Bordoodle breeders.
1. Oregon Bordoodles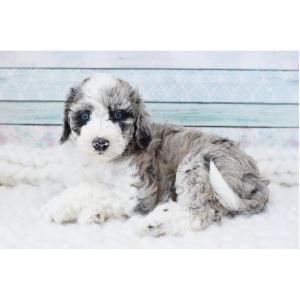 Oregon Bordoodles are known for producing quality Poodle, Border Collie, or Bordoodle puppies. They aim to provide many families with intelligent, healthy, and happy pups. Every piece of information you need concerning their dogs is available on their website. You will get to learn about dog breeds and the available Bordoodle pups for sale and upcoming litters.
With the photos of the pups and adult dogs on their site, you will have an idea of what to expect from your puppy. If you want to secure a pup at this breeder, you can declare your interest by filing an application. After that, you will be required to submit a deposit. They will add you to their waiting list after receiving your deposit.
Most reputable Bordoodle breeders have a waiting list for potential dog owners. At Oregon Bordoodles, the wait times are about a year. The pricing of all their Bordoodle pups is the same gender, color, or size.
You will be required to pay a deposit before you can purchase a puppy from this breeder. However, this breed is popular, so you may have to wait a bit longer before getting your dream Bordoodle pup.
Once the Bordoodle pups in this home are up to eight weeks of age, they become ready to move in with their forever family. Puppies from this breeder are well trained and come with a genetic health guarantee.
They also receive relevant deworming procedures and vaccinations to keep them healthy. Oregon Bordoodles offer a puppy packet full of resources to get you started with raising your new Bordoodle.
Bordoodle Breeder Information:
2. Mountain Rose Bordoodles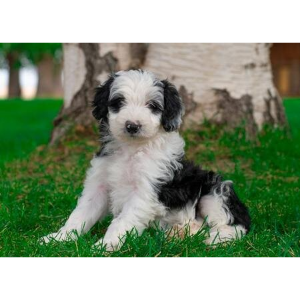 Mountain Rose Bordoodles is operated by a family of dog lovers. Their pups are comfortable with having people and kids around. So, if you stay in Utah and need a kid-friendly puppy, Mountain Rose Bordoodles might be perfect for you. The team of breeders here has many years of experience in breeding and training dogs.
There is more than enough room for dogs to roam around, enjoy the open air, and play. Mountain Rose ensures to follow established standards when producing high-quality pups.
They have their own standards for breeding Borderdoodles to ensure that you end up with the healthiest pet possible. All the Borderdoodle pups in this kennel come with a ten-year genetic health guarantee.
The team of breeders here is committed to excellence, which is why they offer a long health guarantee. They expose their pups to Early Neurological Stimulation to help them develop both physical and mental health.
Mountain Rose puppies are comfortable staying with other dogs and humans. The breeders make sure that all pups get Puppy Temperament Testing before going to their new homes.
If you want to get your dream Bordoodle pup from Mountain Rose, you will need to fill an application and submit a deposit. They are among the top Bordoodle breeders you will come across.
Bordoodle Breeder Information:
For More Puppy Content: Best Great Dane Breeders in California!
3. Turk Family Farm Bordoodles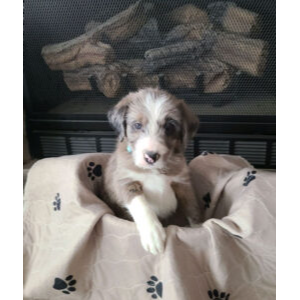 Turk Family Farm takes pride in sharing their smart and lovely Bordoodle puppies with caring families. Here you can find F1 and F1b Bordoodle pups, which differ in their percentages of Standard Poodle to Border Collie ratios.
If you need a more hypoallergenic Bordoodle pup, you should go for the FIB generation. They have more Poodle genetics than Border Collie and are great for families with allergy concerns.
If you wish to adopt a new Bordoodle pup from Turk Family Farm, they will require you to take a few steps. Firstly, you will need to fill a puppy application form. After that, you will be placed on their waiting list. This breeder plans their litters accordingly and sends photos of the pups and milestone moments to adopting families.
You can rest assured that you will get a Bordoodle pup that is well taken care of in this kennel. The team here does their best to provide all puppies with attention, love, and human interaction. They also allow the dogs to play with themselves and run around on their property for prolonged periods. This helps to keep the pups, and adult dogs exercised and healthy.
Turk Family Farm comprises individuals who are passionate about breeding and giving their customers a memorable experience. If you adopt a Bordoodle pup here, they will throw in helpful shopping lists and other needed things to help you get started with your furry little pal.
Bordoodle Breeder Information:
4. Willow Wind Doodles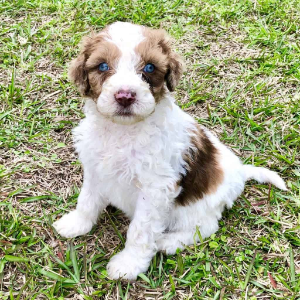 Many dog lovers in Mississippi know about Willow Wind Doodles. They produce some of the best Goldendoodle and Bordoodle pups in the United States. The team here is committed to spreading the love of canines with as many families as possible. At Willow Wind, all pups are given more than enough time to play and run around.
Parent dogs are also allowed to relax, sleep, and play outside. If this is your chosen breeder, you should check their website for upcoming litters and other pieces of information.
They will require you to secure your desired pup by paying a deposit. You can choose your dream pup for four weeks, but you can only take him home at eight weeks of age.
Willow Wind Doodles offer a 1-year guarantee for all their Bordoodle puppies. So, you can rest assured that your pup is protected against genetic defects. You will also get resources that will help provide better care for your new puppy. In addition, they will make sure you know what to expect when caring for your Bordoodle puppy.
Bordoodle Breeder Information:
5. Creekside Doodles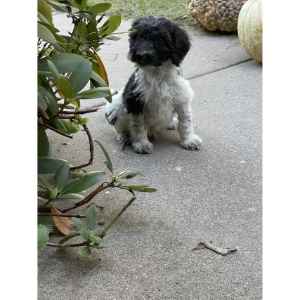 Creekside Doodles raises healthy and happy Bordoodle puppies in a home environment. They do not only focus on appearance when breeding, as the dogs' health and temperament are important to them.
This breeder is known for producing Aussiedoodles, Labradoodles, Double Doodles, and Bordoodles. Once their Borderdoodle pups are up to eight weeks of age, the team will be ready to send them to their forever home.
The pups at Creekside Doodles come with a health guarantee to protect against heritable or genetic diseases. Before any pup leaves this kennel, they must have gotten the first round of vaccination shots and deworming.
The breeders here try their best to make transitioning to forever homes easier for their Bordoodle puppies. They carry out litter training and microchip all their pups before sending them to their new homes.
All the dogs at Creekside Doodles are well socialized and comfortable around humans and other dogs. This breeder only offers standard-sized dogs and not Miniature versions. However, the sizes of their dogs may vary depending on the parent breeds.
If you have decided to purchase your Bordoodle pup from this breeder, you need to request to be added to their waiting list.
When you do that, they will request that you complete a puppy application form. This way, they will understand your needs and provide you with the perfect puppy. When you are ready, you will need to pay a deposit. Their website is filled with collections of photos of many adorable puppies.
Bordoodle Breeder Information:
Conclusion For The Best Bordoodle Breeders in the U.S.
Bordoodles are intelligent, playful, and friendly. This designer dog is a great companion for families, including the ones with allergy concerns. However, don't make the mistake of patronizing unethical breeders if this is your dream dog.
You can avoid that by getting the right information about the reputable breeders near you. Luckily, we have provided a list of the best Bordoodle breeders in the United States.
You will also like: Best Labrador Breeders In Ontario!