Cute, gentle, and at the same time fearless, the Maltese breed belongs in the toy group. Silky white hair gives this breed an air of elegance, with coats so long they can reach the floor. Considered a hypoallergenic dog by many owners, the Maltese is popular among families. Their sweetness and intelligence only add to their appeal.
These little balls of energy learn quickly, especially when treats are involved, and though no breed is perfect, a Maltese requires a ton of attention.
In addition, a bored Maltese is prone to leaving destruction in their wake, something everyone wants to avoid. Better suited for older children, a Maltese is loyal and protective.
Of course, only a reputable breeder maintains this wonderful balance of elegance and energy. Breeders have the experience and the know-how to keep up with breed standards and potentially improve upon them. When looking for a forever companion, a reputable breeder will answer all questions and continue being there the whole step of the way.
Finding a reputable breeder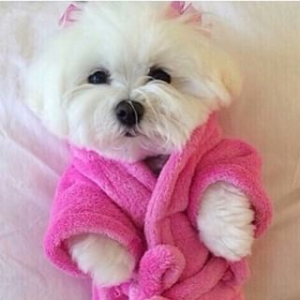 Sometimes it might feel that finding the right breeder is like looking for a needle in a haystack. A time-consuming but important part of the process, finding the right breeder will take some research and patience.
Puppy mills are a rampant phenomenon in the dog industry and should be avoided at any cost. Known for unclean environments and small cages, they are more likely to sell to anyone who wants a dog. Those who run a puppy mill won't show prospective buyers where the dogs live, the dog parents, or take an interest in the puppy's forever home.
A responsible breeder has extensive knowledge concerning their breed and takes great care throughout the entire process. Here are some of the characteristics of a reputable breeder.
There's usually a waitlist involved when it comes to getting a puppy from a reputable breeder. A breeder who cares about the breed and their dogs doesn't have more than one litter at a time, and that litter is typically spaced out to allow the mom dog time to recover.
Puppies are raised inside the home alongside their parents. They are not kept in separated small cages but given a loving home until they are taken to their forever family.
A reputable breeder will show where the puppies live and allow potential buyers to meet the puppies and the parent. This is an important step in determining how well cared for the dogs are and whether the breeder has taken care of them.
Puppies are not allowed to go home until they are at least 12 weeks old. Though puppies can get visited before they are taken home for the first time, the breeder will ensure the puppies get properly weaned from their mom before sending them home.
Breeder takes an interest in where the puppy goes insisting on face-to-face meetings and a contract.
A good breeder will insist on taking the puppy back should something change with the buyer, such as a life emergency that doesn't leave room for caring for a puppy.
They are a wealth of information before purchase and for years after. A good breeder knows everything there is to know and is all too happy to answer any questions to potential and existing buyers.
The Best Maltese Breeders in Florida
Enough research will yield a couple of results for the best breeders to work within the state of Florida. Based on some of the criteria mentioned above, there are ways to narrow down which waitlist is worth the result.
1. Exquisite Pups by Christine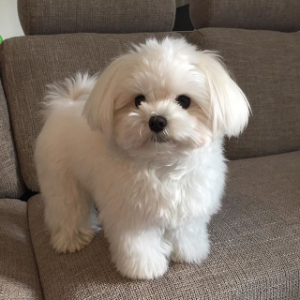 Exquisite Pups, located in Winter Haven, Florida, is a family-owned breeder specializing in Yorkie and Maltese puppies for the past 25 years. Raising puppies inside the home is important, meaning they are all well-loved and provided with needed attention.
In addition, being raised at home, as opposed to cages, prepares puppies for life at home, especially with small children.
Each puppy bred by Exquisite Pups gets the veterinary care they need while living with their dog parents at home. Exquisite Pups welcomes appointments to view the parents and pups at any time, though they are willing to work with individuals who live a long-distance away.
Maltese Breeder Information:
Address: 1032 S. Lake Mariam Drive Winter Haven, FL  33884
Contact: 863-414-5580
For More Puppy Content: Best Border Collie Breeders in Colorado!
2. Diva-Dogs
Diva-Dogs specializes in breeding Maltese and mini-Dachshund puppies in accordance with AKC standards. A breeder since 2003, their website provides a space to find available puppies, though a waitlist is likely. Unfortunately, a small breeder who breeds within AKC standards means they only have puppies available for purchase occasionally.
An AKC Registration Application is provided with the purchase of a puppy. Providing an honorable and trustworthy space to purchase a puppy, Diva-Dogs does not ship puppies but can meet within a reasonable distance of their North Florida location. The website provides a space to view past litters to get an idea of what puppies look like.
Maltese Breeder Information:
Address: 5016 East State Rd 64 suite 102 Bradenton, FL, US 34208
Contact: +1 941-345-6192
3. Kat's Kennel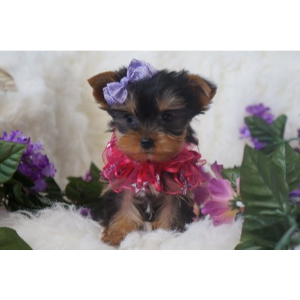 Specializing in Yorkie's, Maltese, and Morkie's, Kat's Kennel is located in High Springs, Florida. A breeder since 2000, they are highly experienced with toy breeds. Breeding for health and temperament, they make sure to stick with all recommended guidelines.
Kat's Kennel treats all their puppies like part of the family, raising them with their dog parents at home. Though puppies are not shown without an appointment, it's quick to set up, and the buyer can see for themselves how well the puppies are treated.
In addition, the website provides a wealth of information along with a section of past puppies to give the upcoming buyer a potential idea of what puppies will be like.
Maltese Breeder Information:
Address: 578 SE Brawley Terrace, High Springs, FL 32643, United States
Contact: +1 386-243-4442
4. Morkie's and More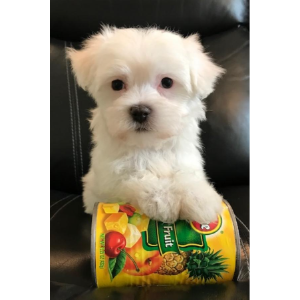 A small home breeder, Morkie's and More specializes in Maltese, Yorkie or a combination of the two. Based out of Fort Myers, Florida, their puppies are AKC registered at the time of purchase to ensure they adhere to all AKC standards.
The website provides a wealth of information on dog ownership as well as the specific breed of puppy the buyer is likely to own. Accommodating as much as possible, they are a phone call away and even work with people outside of Florida.
Maltese Breeder Information:
5. K&E Yorkies Morkies and Maltese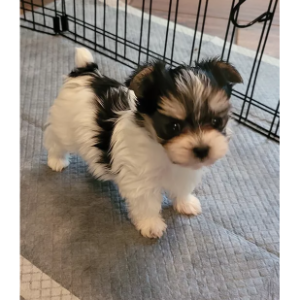 Operating since 2000, this breeder is located in St.Cloud, Florida. Taking pride in raising these tiny pups, this breeder focus on Yorkies, Maltese, or a combination of the two. Providing them with the right amount of socialization, puppies from this breeder as always set on the right path for their forever home.
The website provides a whole host of information, including past litters and reviews from past buyers. Puppies are seen through a scheduled appointment through this responsible and responsive breeder.
Maltese Breeder Information:
Address: 1032 S Lake Mariam Dr, Winter Haven, FL 33884, United States
Contact: +1 863-414-5580
Dive into Maltese ownership
Finding a good breeder is the start to responsible puppy ownership. The breeders above are a good starting point on the journey to owning a Maltese, which likely requires research, months of waiting, and waitlists.
Each breeder has its own processes, but a responsible breeder always looks towards the guidelines of each breed. The one thing to remember with finding the right breeder is to ask the hard questions.
A responsible and AKC Standard driven breeder will not hesitate to provide as much information as they have, walking through the ownership process every step of the way.
You will also like: Best Pointer Breeders In Pennsylvania!