The Cavalier King Charles Spaniel retains the sporty traits of their spaniel ancestors even though they're born to be companions. Nothing makes them happier than chasing birds if they aren't sitting on your lap or getting a belly rub.
Cavaliers are one of the largest toy breeds. And as one of the most energetic dog breeds, they enjoy running on the beach, hiking, and dog sports such as agility, flyball, and rally. They have even demonstrated their abilities as hunting dogs. Many of the restful members of this breed make good family pets and therapy dogs.
1. Lojo Cavaliers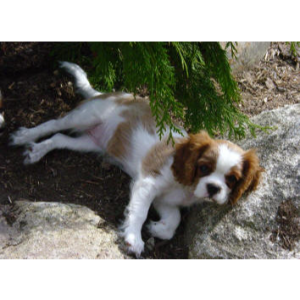 Lojo Cavaliers is the home of Quality Cavaliers. Every puppy comes with a health guarantee from both parents. They are a small Kennel located in Harvard, Illinois, where they have been breeding for 25 years.
They have primarily bred Cavaliers in the last 15 years. Lojo Cavaliers strives to produce a healthy and beautiful puppy. One that you can be proud of. No matter if it goes on to win in the show ring or sits on the couch with you as a family member. All of their puppies are AKC registered, and many of their parents are champions.
They were awarded the AKC Breeder of Merit award recently.
Cavalier King Charles Spaniel Breeders Information:
2. DreamCatcher Hill Puppies and Rescue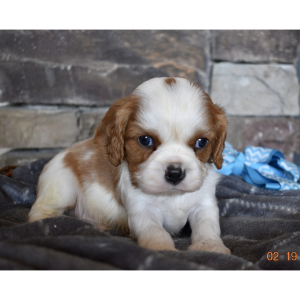 Cavaliers have very long coats and they love cuddling with people. They also love to play, go for walks, and they don't require much grooming.
DreamCatcher Hill Cavaliers are health tested, Champion bloodlines, top quality yet affordable for families seeking a healthy friend. In addition to not being destructive, Cavaliers do very well entertaining themselves with toys or other puppies, and they love to sit on the couch with you for hours on end. A great choice for apartment living.
Cavalier King Charles Spaniel Breeders Information:
Check out for more Puppie Content: Best Cocker Spaniel Breeders in Ohio
3. Hillview Puppies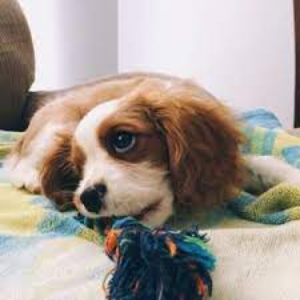 A family-owned kennel, Hillview Puppies has been in business for three generations. Their history dates back to 1960! They breed Shihpoos, Cavapoos, Shih Tzus, Cavalier King Charles Spaniels, Toy and Miniature Poodles.
In addition to vaccinations and flea/tick prevention, Hillview's puppies are dewormed before leaving. Puppies are wormed at five and seven weeks old, and they receive their first set of vaccinations.
Each puppy is examined by a veterinarian before leaving. There is a one-year warranty on all of the puppies' health and genetics. No puppies are allowed to leave until they are at least 8 or 9 weeks old.
Cavalier King Charles Spaniel Breeders Information:
4. Westgate Cavaliers Illinois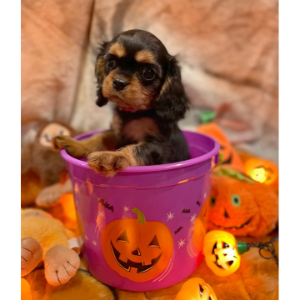 The Westgate Cavaliers is an Arlington Heights, Illinois-based hobby kennel. Their dogs are a part of their family and they wouldn't have it any other way. The family enjoys going to dog shows with their dogs and occasionally has a puppy looking for a very special home. They will not ship puppies, however.
Westgate Cavalier's owner has been working in the veterinary field for quite some time and has a particular interest in animal health issues. She met her first Cavalier at work and fell in love at first sight. In comparison to her previous dogs, these guys were like a big dog in a small package, and a lot easier to sit on her lap!
During her extensive research about the breed, she discovered that Cavaliers have some health issues that should be considered and minimized.
By incorporating thorough health tests and very careful informed breeding, she believes it is possible to have the very best dogs that we can share our hearts and homes with.
Eyes, hearts, patellas, and hips are checked by the appropriate vets. DNA tests are conducted on their breeding dogs to determine whether they suffer from Episodic Falling or Curly Coat Dry Eye Syndrome. MRIs have also been done to check for hydrocephalus, COMS, and Syrinx. Regular blood tests have been performed.
Cavalier King Charles Spaniel Breeders Information:
5. Huntcrest Cavalier Puppies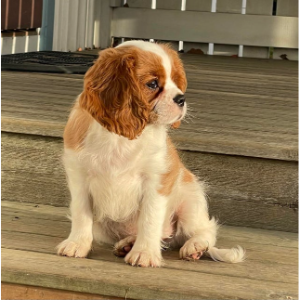 Huntcrest Kennels began in 1981 with the purchase of their first dog, Cajun. Cajun introduced them to this wonderful breed, as well as the exciting world of dog shows. For that, they are grateful. Showing has provided them with the opportunity to meet many wonderful people and dogs over the years. They cannot imagine a life without Cavaliers!
Since 1999, they have lived with Cavalier King Charles Spaniels. Their dogs are their passion, and they want to breed the healthiest, most loving Cavaliers they can.
Cavalier King Charles Spaniel Breeders Information:
6. WoodHaven Cavaliers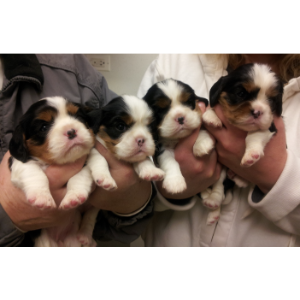 WoodHaven Cavaliers is located in Northern Illinois, only a short drive from both Chicago and Milwaukee. Each dog lives indoors as part of the family. Cavaliers should not be kept in kennels or outdoors.
If you have any questions, they always encourage you to contact them. They can also advise you on dog training, dog behavior, and how to find a new puppy. Regardless of whether you already own a Cavalier, don't plan to, or even if you don't get a puppy from them, they are willing to help you.
Their reason for doing this is simply that they love their dog and want to share that joy with you.
Their breeding is always based on ethics. The dogs are screened with the latest technology for genetic defects. Dogs with genetic defects or behavioral problems will not be bred by them. Whenever they sell a puppy, they promise that it will be a quality pup that they, themselves, would keep.
Cavalier King Charles Spaniel Breeders Information:
For more Puppie Content: Best Corgi Breeders in Michigan
Cavalier King Charles Spaniel Puppies in Illinois
Cavalier King Charles Spaniels are ideal for apartment or condo living due to their size and generally quiet nature. In addition to moderate indoor activity, a small yard is sufficient for their exercise needs.
A fenced yard or leash walks are a must with this breed. If they see a bird or other interesting prey, they will run straight in front of a car. During his walks or romps in the yard, your Cavalier will adapt his activity level to yours.
Due to his short nose, you shouldn't walk him during the heat of the day, and you should never leave him in a hot yard without shade or access to fresh, cool water.
How to Choose a Cavalier King Charles Spaniel breeder in Illinois?
All of the breeders listed above exhibit some or all of these characteristics. All puppies come with health guarantees and extras such as puppy packs with toys, blankets scented with the mother's scent, and samples of puppy food.
Breeders should make sure that their puppies are dewormed and have received their first shots, as well as a certificate from a veterinarian that they have been examined.
By investing heavily in the health and development of their puppies, they aim to raise perfect companion dogs and family pets.
Stay in touch with them to learn as much as you can about your pup's health and to see how it is developing. Keeping those relationships is always worth it because they can provide useful advice and assistance.
Any puppy or other breed-specific question you may have will be answered by breeders who are dedicated, ethical, and trustworthy. A litter is usually produced only one or two times a year if that. There is probably a waitlist for your pup, so be prepared for a delay.
It's crucial to meet at the breeder's place! Within minutes, you'll be able to tell if they're legitimate.
Where do you find a Cavalier King Charles Spaniel breeder?
If you plan to buy a Cavalier King Charles Spaniel puppy, you need to know how to recognize a responsible, caring breeder as well as where to find one in Illinois.
You may suffer heartache, frustration, and financial costs if you get a dog with serious medical issues or poor behavior. You may also unknowingly support puppy mills.
It is difficult to tell whether a breeder is reputable or not when you meet them in person. Internet classified ads are commonly used by puppy mills and backyard breeders as marketing tools. Membership in breed clubs, breeders' websites, and word-of-mouth serve as referral sources.
Visit the American Kennel Club or your local kennel club to find a reputable breeder. The club requires members to adhere to a code of ethics. Some clubs also offer rescue dogs.
Conclusion for Cavalier King Charles Spaniel Breeders in Illinois
friendly and affectionate. They are, however, highly sensitive and don't like to be left alone for prolonged periods. They may experience separation anxiety when they don't get enough attention from their human companions. A Cavalier can become an adored member of your family if it is provided with a loving home that meets its needs.
Choosing a reputable breeder takes time, diligence, and attention to detail. To avoid getting scammed, it's always wise to learn as much as possible about how the process works.