Here's what you need to know if you're searching for the best Golden Retriever breeders in Florida. Golden Retriever breeders in Florida are probably among the most popular in the state, and why wouldn't they be! The Golden Retriever is an iconic American dog that never goes out of demand.
This breed is known for its loyalty and high energy, originally a mix of Red Setters, Retrievers, and Spaniels. Golden Retrievers usually come in three primary colors: Golden, Dark golden, and Light golden, and are magnificently handsome dogs.
Before scrolling down this list of Golden Retriever breeders in Florida, you can check out these other recommendations from our team at Florida: Sheepadoodle Breeders in Florida and Maltese Breeders in Florida.
Golden Retriever Puppies in Florida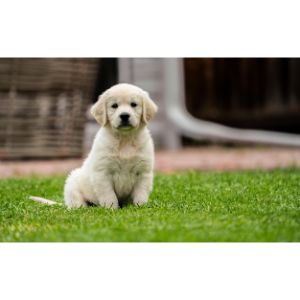 Unfortunately, many puppy mills take advantage of America's love for the Golden Retriever and the naiveté of first-time pet owners. Posing as respectable and USDA-licensed breeders, these puppy mills scam pet enthusiasts by selling them unhealthy and ill-adjusted puppies. A report published by Spots claims that dogs bred in puppy mills are 41.6% more likely to develop health issues.
Moreover, mill dogs exhibit poor mental health behavior, decreasing their trainability and heightening their fear in social and non-social situations. Sadly, 30% of all puppy mills are licensed USDA breeders, so it is challenging to tell them apart from genuine breeders. Most of these mills can even show you pedigree papers of their parent dogs to gain your trust.
To help you avoid being scammed by these unethical breeders, we've compiled this list of credible Golden Retriever breeders that guarantee a healthy and happy puppy and a fair transaction. Moreover, we also mention the markers of a genuine breeder to help you in your choice. So, let's help you find your beloved puppy!
1. Hidden Meadow Goldens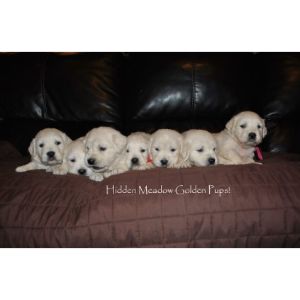 We begin our list of Golden Retriever breeders in Florida with Hidden Meadow Goldens, a small breeding facility and the oldest active breeder of European Golden Retrievers in the United States. Hidden Meadow Goldens is extremely passionate about their dogs and is dedicated to matching all their puppies with passionate pet lovers.
They believe in following responsible breeding practices and providing puppies with superior health, temperament, and personality. Early training includes crate training, potty training, basic mannerisms and commands, and exposure to various stimuli. The puppies are also socialized with children, adult dogs, and other animals. They are microchipped, dewormed, vaccinated by five weeks, and ready to go home with their adoptive parents by 8 weeks.
Additional benefits included with the puppy include complete medical records, a small bag of puppy food, and a toy or blanket with their mom's or littermate's scent. Hidden Meadow Goldens offer a one-year health guarantee for all their puppies, which can be extended to two years if you keep giving the puppy Life's Abundance food and NuVet Plus supplements. They also provide a puppy care package and lifetime support.
Hidden Meadow Goldens also provides their customers the option of a puppy camp if they need the breeder to retain their puppy for longer than eight weeks. After submitting their application, customers are contacted within a day to coordinate a phone consultation and answer any questions. Lastly, the breeder's health guarantees cover Hip Dysplasia, Elbow Dysplasia, Eye Certification, and Cardiac Evaluation.
Hidden Meadow Goldens Details
2. Hope Service Dogs, Inc.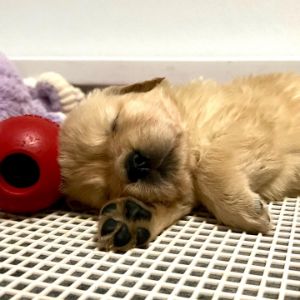 Hope Service Dogs, Inc. is the breeder for you if you're looking for the perfect service dog. They ensure that all their dogs are superior-quality and purposely bred for health and temperament. All their dogs are friendly and specially trained to cope with the elderly and those with special needs. However, their dogs can also serve as compassionate companions, taught to respect and adore their pet parents.
Hope Service Dogs, Inc. is a member of the Golden Retriever Club of America and the Mid-Florida Golden Retriever Club. They are also highly reputable AKC Breeders with HEART, Associate Dog Trainer, AKC Canine Good Citizen Evaluator, AKC Canine Ambassador, Canine Good Citizen Evaluator, Whelping and Medical Intervention Course Completed (AKC), and many more. Their puppies are born and raised in their home with love and affection.
They employ professional Puppy Cuddlers who use Puppy Culture and Avidog for Early Neurological Stimulation (ENS), socialization, crate training, potty training, and clicker charging. Some enrichment methods used by the breeder include leash and collar training, scent stimulation, traveling in a vehicle, exposure to agility tunnel and wobble board, desensitization to typical household textures and sounds, and desensitization to grooming, isolation conditioning, and biosensor training.
All the puppies are vaccinated, dewormed, and microchipped before going home with a State of Florida Health Certificate, AKC Registration, leash and collar, welcome home bags, and essential information for the pet parents to facilitate the transition from breeder to forever home. Hope Service Dogs, Inc. offers a market-competitive lifetime health guarantee that covers general health issues such as Hip Dysplasia, Elbow Dysplasia, Eye Certification, Cardiac Evaluation, and Canine Good Citizen (CGC).
Moreover, your puppy is guaranteed to never test positive for these genetic diseases: Neuronal Ceroid Lipofuscinosis 5 (NCL5), PRA, Rod-Cone Degeneration (PRA-prcd), Degenerative Myelopathy (DM; SOD1A), PRA, Golden Retriever 1, PRA, Golden Retriever 2, Ichthyosis, and Golden Retriever Type 1.
Hope Service Dogs, Inc. Details
3. Panhandle PawsNClaws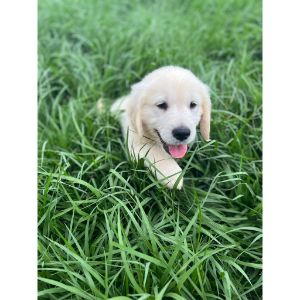 Panhandle PawsNClaws is third on our list of Golden Retriever breeders in Florida. They cherish all their puppies and dogs and make sure to provide them with the best lives possible. Their breeding practice includes selecting healthy parents with appropriate temperaments, socialization with children and other animals, daily care/grooming, and finding loving homes for them with affectionate individuals. Early in their training, the puppies are introduced to water and regularly taken for walks.
The breeder uses the following enrichment methods:
Leash and collar training
Outdoor exposure
Introduction to strangers
Sound stimulation
Traveling in a vehicle
Noise desensitization
Behavioral shaping
Basic mannerism
Response to commands
Crate training
Potty training
In addition, all parent dogs are genetically tested before selection for breeding. All puppies receive at least two vaccinations and three to four rounds of dewormer before going home. Once ready to leave with their adoptive parents, the puppies are given their complete health record, a toy with their mom's or littermate's scent, welcome home bags, a collar, a bag containing puppy food, Breed Club Registration, and AKC Registration. Panhandle PawsNClaws offers a one-year health guarantee for all puppies, including genetic diseases and over 200 tests via Embark.
Panhandle PawsNClaws Details
Choosing a Golden Retriever Breeder in Florida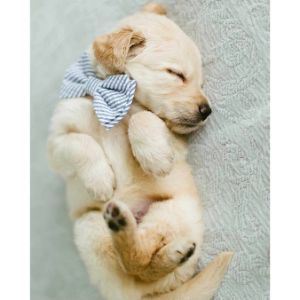 While many breeders are selling Golden Retriever puppies in Florida, selecting one that provides healthy, happy, and well-tempered puppies can be tricky. So to avoid scams, here are some essential tips for choosing the best Golden Retriever puppies for sale in Florida:
After carefully verifying their information, we've compiled the list of breeders given above. So the easiest thing for you is to call or email one of them and have a detailed conversation about their program and practices; we're sure you won't be disappointed.
If you've compiled a list of your own, always ensure credibility. Make sure they're dedicated to their cause, provide health warranties, have customers fill out a comprehensive puppy application, and ask various questions to make sure their prospective clients can care for a Golden Retriever puppy. Moreover, it would be best if you also asked them for copies of medical/vaccination records, especially concerning the parent dogs.
Breeders that are members of canine clubs and registered with the AKC and HEART always abide by superior breeding standards and are more reliable than others.
More Information About Golden Retriever Puppies in Florida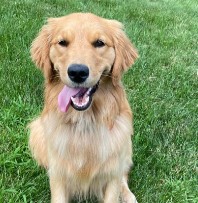 Golden Retrievers were ranked the 3rd most popular breed in the USA in 2021, which isn't surprising owing to the qualities that make it both the perfect family pet and service dog for the blind and disabled. These dogs are often trained as search and rescue dogs and contraband detection dogs.
With roots in the fields of Great Britain, few dogs are considered as handsome and versatile as the Golden Retriever. They are mild-tempered, compassionate, and intelligent dogs. They are quite energetic and playful but remain gentle towards children and the elderly and get along very well with other animals and strangers.
Golden Retrievers are always looking to please everyone, which is why they respond exceptionally well to obedience training and are efficient service dogs. They like to be given tasks, whether hunting or fetching things around the house.
Due to their mild and empathetic nature, Golden Retrievers generally lack guard instincts, which means they will not make good watchdogs. But they will usually bark to alert their owner when a stranger is approaching. In terms of their physical appearance, Golden Retrievers have a water-repellent coat that can be flat or wavy. It is generally a shade of gold or cream. They are average-shedders, and brushing once a week is usually enough.
The feathering on their neck, thighs, legs, tail, and underside makes these dogs so attractive. They also have a big and strong head, normal-sized ears, deep chest, and overall well-balanced stature. Their life span is about 10 to 13 years. Golden Retrievers are active and loyal dogs that love to play, swim, and fetch. With regular exercise, Golden Retrievers can adjust in any home, including a city apartment, and are a good choice for novice pet parents.
Conclusion For The "Best Golden Retriever Breeders in Florida"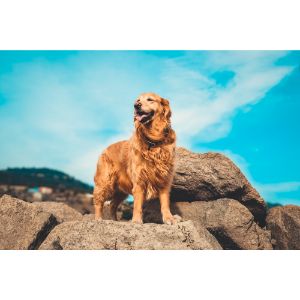 Finding Golden Retriever puppies for sale in Florida is easy, but finding reliable breeders that provide happy and healthy dogs is difficult. We hope our list will help you find the perfect canine companion for you and your family! Always remember to support reasonable breeding practices and report any puppy mills or backyard breeders in your area.
For more guides similar to this list of Golden Retriever breeders in Florida, you can check out:
Before bringing home a Golden Retriever companion from a breeder in Florida, you can learn more about this dog breed by watching "9 Things You Must Know Before Getting a Golden Retriever" down below: