There's a lot to love about Golden Retrievers. From their very soft coats to their gentle personality to loyal companionship, a Golden Retriever is a dog you can depend on. If you're considering adding a dog to your family, a Golden Retriever can be a great choice for a variety of lifestyles and ages. 
As you pursue this exciting endeavor of adding a four-legged friend to your home, it's important to first understand who the Golden Retriever is and what you can expect in owning one.
Best Breeders of Golden Retrievers in Illinois
When you're ready to make your dream of having a Golden Retriever a reality, finding a reputable breeder is one of the most important steps to take in getting a high-quality dog that is bred and raised well. 
A quality breeder not only will provide the confidence that the dog you receive is healthy and has an ideal temperament. They will also be available as a resource as you raise your puppy on your own.
If you're searching for an ideal Golden Retriever breeder in Illinois, you're in luck. You have several reputable and experienced breeders to choose from as you welcome home the perfect dog for you. To help you get started in your search, here we share a few great options of Golden Retriever breeders in Illinois.
1. Carriage Hill Goldens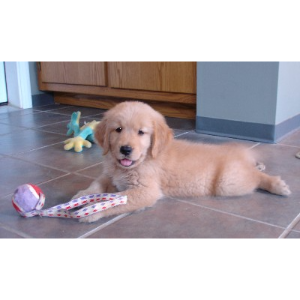 At Carriage Hill, these Golden Retrievers are bred with quality and care. They are bred to be family companions and are trained to be obedient. The parent dogs are intentionally chosen with attention to quality in health and temperament. Their litters meet high standards and are health tested for best results.
Puppies are well socialized within a family environment, so they're ready to join your family right from the start. They have also received their first vaccinations and deworming process. Their dew claws also come removed.
With a dedication to excellent health, puppies also come with a three-year health guarantee against genetic health concerns. Genetic defects in their hips, eyes, or heart can be discussed with the owner. 
With their dedication to matching each puppy with the right family, you're sure to find the dog that's just right for you. Litters are planned between 2-3 times per year, so it's important to inquire early if you're interested.
If you're interested in one of their Golden Retriever puppies for sale in Illinois, you can start by putting down a $200 deposit. This deposit holds your spot and must be paid in cash or check. Keep in mind that puppies may already be reserved. Be sure to watch for an opening when a new litter is posted. 
Golden Retriever Breeder Information:
2. Sunset Goldens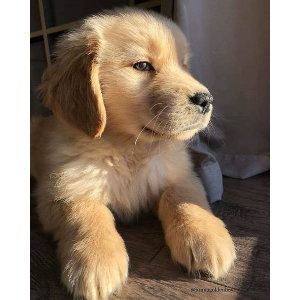 For over 30 years, the team at Sunset Goldens has been loving on Golden Retrievers. While they aren't strictly a full-on kennel service, they do offer puppies that are perfect for families. Some dogs are raised to be therapy dogs or service dogs to help others. 
Their Golden Retriever puppies in Illinois can be reserved once they are born to ensure availability and a right match. To reserve a puppy, you'll need to submit a non-refundable deposit to confirm your interest. 
When puppies are ready to be welcomed home when they are 8 weeks old, they are fully examined by a veterinarian.
On their website, you can browse upcoming litters of parent dogs and what puppies may be available. Each parent dog has a profile so you can know exactly what to expect in a litter.
Golden Retriever Breeder Information:
For more Puppy Content: Best Golden Retriever Breeders in Texas!
3. Huntleigh Goldens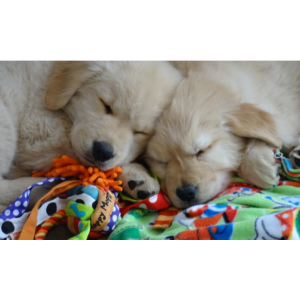 For over 30 years, the team at Huntleigh Goldens has been raising these beautiful dogs to be healthy and well socialized. In the breeding process, they pay special attention to the dog's longevity and temperament.
With a commitment to producing the best possible litters, they are continually looking into how factors like feedings, genetics, and their environment affect how the puppies grow and thrive. 
On their website, you can find adorable pictures of both their parent dogs as well as recent litters of Golden Retrievers. These parent dogs also often participate in rally, agility, and obedience trials to ensure their quality and standards. Some of their parent dogs have even been featured in advertising campaigns! 
If you're interested in a Golden Retriever puppy from Huntleigh Goldens, you can get started by contacting them by phone or email. They offer litters throughout the year and may have changing availability.
Golden Retriever Breeder Information:
4. CamCon's Golden Acres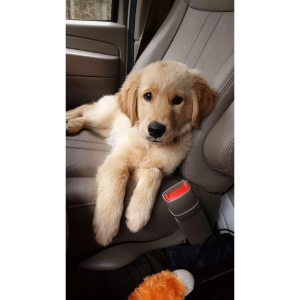 The team at Camcon's Golden Acres is a family affair. As a family of four, plus all their four-legged friends, this family has been raising for Golden Retrievers for over 13 years. Recently, they even began breeding Golden Doodles as well.
As a hobby breeder, they focus on quality rather than quantity. Their 40-acre farm provides plenty of space for their dogs to roam and run as they grow up. These Golden Retrievers are bred both for show and for family companionship. As they are raised inside the home, they are well-socialized and are used to being around others.
Their parent dogs are of high quality and come from some impressive bloodlines. On their website, you can browse through adorable photos of their Golden Retrievers that are part of their breeding process. Their galleries online share both photos of their dogs as well as recent litters that will make you fall in love with these dogs even more.
When their Golden Retriever puppies in Illinois are ready to join families or serve as support dogs, they come with a microchip and have received their first round of vaccinations. 
If you're interested in purchasing a puppy from ComCon's Golden Acres, you can begin by connecting with them via phone or email. They'll share about their adoption process and any availability of upcoming litters.
Golden Retriever Breeder Information:
5. Dream Goldens Illinois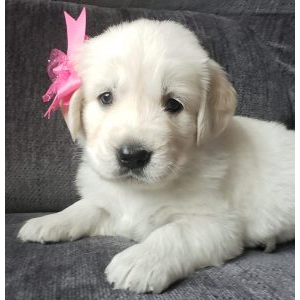 Last on the list of Golden Retriever breeders in Illinois is Dream Goldens. Find your perfect Golden Retriever puppy from the team at Dream Goldens. Located in northern Illinois, they breed both American and English types of Golden Retrievers. They are raised inside a family environment, providing the best results for socialization and temperament. 
In their breeding process, they focus on the health and temperament of their Golden Retriever puppies. With over 10 years of experience, they have been learning how to best care for these puppies as well as ensuring the highest quality.
Right from the start, the puppies at Dream Goldens are introduced to basic training such as potty training and grooming manners. They also are started on crate training, which makes things much easier for you.
When the puppies are ready to join their forever families, they come equipped with some starter toys, a leash and collar, and the first week of their food. They are also fully health checked by a veterinarian, receive a microchip, and also are up to date on their initial vaccinations.
To further provide confidence in their health, they also come with a 2-year health guarantee that protects against genetic defects.
You can view upcoming litters and their availability on their website. Connect with them via phone or email to get the process started.
Golden Retriever Breeder Information:
More Information About Golden Retriever Puppies in Illinois
As their name implies, the Golden Retriever has a bright golden to cream-colored coat that's soft and short. They are medium to large-sized and are built with a lot of muscle and strength. They can grow to be between 55-75 pounds and reach a height between 20-24 inches when measured at the shoulder.
While their memorable coats aren't hypoallergenic, they do provide a soft pillow for cuddling and petting. They require regular brushing and bathing to keep their coats clean and free from mats that can cause skin irritations. Their coats can be kept long or trimmed up to be short. Shorter coats may require less maintenance.
In addition to their beautiful appearance, Golden Retrievers are often well-known for their calm and agreeable demeanor. They are very friendly and can be great with kids. Their tolerant attitude can make them a great fit for families of all ages. Like most all dogs, they require regular exercise and love to play around with their family. 
A Golden Retriever can make a great choice for individuals, families, seniors, and those with unique needs. Their versatility in situations and trustworthiness make them valuable friends in and outside the home.
Find Your Perfect Golden Retriever in Illinois
With their gentle personalities and loveable qualities, the Golden Retriever can be a great fit whether you're 5 or 50 years old. After you decide that a Golden Retriever is right for you, it's important to connect with a quality, reputable breeder that has both you and your dog's best interest at heart.
Make sure they are there to support you both as you select and purchase your puppy as well as raise it in your home. Some breeders are actually interested to see how well the puppies grow up in both health and temperament. Continuing the conversation with your breeder throughout your dog's life can ensure you have the support you need should any issues arise.
Use this helpful list to start your own search of Golden Retriever breeders in your area of Illinois. Read reviews, follow their social media accounts and get to know them as a breeder. Having a breeder you can trust will give you confidence and assurance in welcoming home a dog that's just right for you and your family.
If You Are Interested To Learn More About Puppies Check Out: Best Golden Retriever Breeders in Ohio!