A Mini Poodle is the best choice for an elegant yet athletic dog. They're super smart dogs with advanced obedience temperaments. You can train a mini poodle to be a show champion or your everyday friend.
Not only is a Mini Poodle a good choice because of their excellent temperament and stamina, but they are also hypoallergenic. It means they have no hair to shed. If you have had trouble with pets shedding tons before, a Mini Poodle may be your solution.
Grooming may take thirty minutes at most if done regularly. Poodles are typically active dogs and need exercise every day to maintain a good upbringing.
If you're looking to add a new Mini Poodle of your own into your home, we're here to help you find the one for you.
Best Mini Poodle Breeders In The U.S Include:
1. Danube Poodles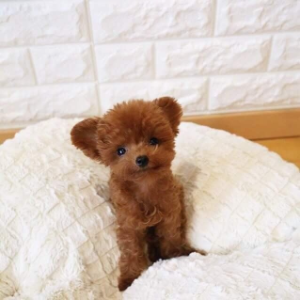 Danube Poodles takes pride in breeding and raising the healthiest of Mini Poodles. They are fond of producing Black and Red Miniature Poodles that are also AKC registered. The breeder at Danube Poodles is dedicated to making their poodles an intricate part of their family and are raised with ample love and care.
The breeder at Danube Poodles collaborates with other breeders across Europe to produce some of the best Mini Poodles In America. The Poodles live inside the breeder's home and are close with all of the family members. They have raised their poodles in a homely and loving manner to make sure the dogs have lots of socialization throughout the day.
The dogs will also get regular exercise and tons of attention to create excellent temperaments for future training sessions with new owners.
The dogs at Danube Poodles are fully tested before handing over and are given to new owners with health records. Their goal at Danube Poodles is simple, to produce the ultimate Mini Poodle.
Mini Poodle Breeder Information:
2. Posay Miniature Poodles, Florida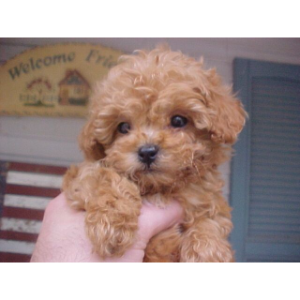 Posay Miniature Poodles is home to AKC and UKC registered Mini Poodles. They breed and raise quality Mini Poodles and are capable of helping you find your dream companion. At Posay Miniature Poodles, the breeders treat and raise their dogs like family. It results in some of the best temperamental and social Poodles.
The puppies receive biosensor training not only to serve as therapy dogs but also for excellent social skills. The benefits of biosensor training in dogs include several things, such as strengthened heartbeats, more stress tolerance, and improved cardiovascular performances.
If you end up getting your puppy from Posay Miniature Poodles, you will have a healthy, happy, and social Poodle!
Mini Poodle Breeder Information:
3. Forever Poodles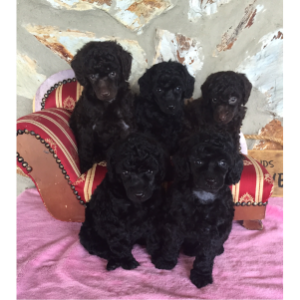 If you're looking to find an adorable and active Mini Poodle in Florida, then you may want to visit Forever Poodles. A wide selection of healthy and adorable Poodle puppies to get you the perfect companion.
At Forever Poodles, the breeders provide their dogs with such an environment that they can socialize, run, explore, and make friends with other dogs. Forever Poodles considers this to be a great step in creating the perfect temperament for dogs.
The puppies at Forever Poodles are also used to traveling in cars, making them the perfect candidate for families who like to take a lot of road trips or long drives. The puppies are also always up to date on their vaccinations and are handed over with health records to assist new owners and new vets.
The puppy's health is tested extensively before being assigned to anyone and is given lifetime health guarantees. Their dogs are intelligent, active, and well-spirited, which makes them perfect companions.
Mini Poodle Breeder Information:
4. Champion Poodles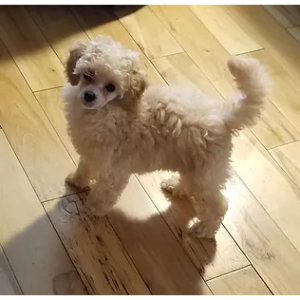 If you live in North Carolina, then Champion Poodles is the place for you to get your Mini Poodle. With almost over 30 years of experience in raising and breeding only the finest of dogs, at Champion Poodles, you will find the Mini Poodle for you. At Champion Poodles, strict guidelines are followed to ensure quality puppies are being bred.
Champion Poodles makes sure to raise intelligent, active, sound, therapy-suitable, and family dogs for you.
The breeders there are dedicated to breeding, not for its sake, but to continuously improve the dogs known as Poodles over time. Whether you would like your dog to be black, brown, red, white, Champion Poodles has a variety for you to choose from.
Mini Poodle Breeder Information:
For more Puppy Content: Best Shiba Inu Breeders In Colorado!
5. Caralot Poodles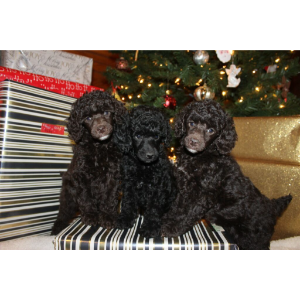 Caralot Poodles is all about breeding solid, active, and healthy Miniature Poodles. Health and genetic testing are included at all times, and the puppies are given ample amounts of attention to ensure they are raised excellently. At Caralot Poodles, the puppies are not kept inside kennels and instead live inside homes with the family who breeds them.
Caralot Poodles has been breeding and raising excellent Poodles for over twenty-five years. The breeders at Caralot make sure to choose families who are as passionate about raising a Poodle as them.
The love and care they provide to their dogs at Caralot Poodles are visible in the puppy's temperament, social activity, and behavior.
Mini Poodle Breeder Information:
6. Scarlet's Fancy Poodles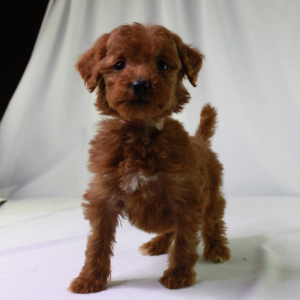 Scarlet's Fancy Poodles is home to licensed breeders who have been raising Poodles for almost sixty years. Their ethical style of breeding and commitment towards improving the dogs they sell is evident through their puppies' health and temperament.
The puppies have been raised on an old-fashioned farm, where they have plenty of space to run, explore, and socialize with each other. All of which is significant in raising high-quality Poodles.
The breeders go to extreme lengths in acquiring the right kind of parents who are then genetically tested to ensure excellent health in future puppies. Scarlet's Fancy Poodles specializes in red and apricot-colored Poodles in a variety of sizes.
The puppies will also have a microchip inside for identification which will be permanent. If you would like to get hold of a healthy and intelligent Mini Poodle in California, visit Scarlet's Fancy Poodles now.
Mini Poodle Breeder Information:
7. Allegros Poodles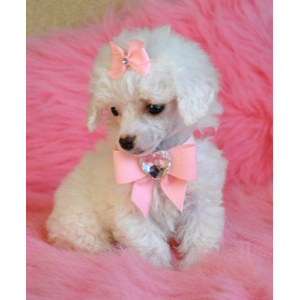 Alegros Poodles specializes in the hobby breeding of quality poodles. The puppies at Alegros are AKC registered. The breeders of Alegros Poodles have been raising puppies since the year of 1994. The Poodles are bred from genetically tested champions to ensure new owners get the best of the best.
The puppies are raised in a homely environment and regularly socialized to help them recover from social anxieties or other fears.
It also makes the puppies a much better match for people with bigger families with more people around. The dogs will be much better candidates to take on trips and other occasions where their social skills will shine!
Mini Poodle Breeder Information:
8. Amity Valley Kennels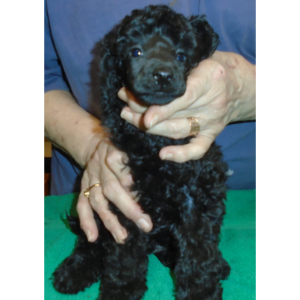 Amity Valley Kennels has been breeding miniature poodles since the year of 1969. Most of their puppies come in blue, silver, and browns. All parents are tested genetically before mating to ensure the health of future puppies.
The puppies are also given a lifetime health guarantee that the breeders at Amity Valley Kennels believe in their consistent devotion.
The dogs are bred to have excellent temperaments, social skills, activity, and perfect companionship. If any of this interests you, you may want to visit Amity Valley Poodles in Minnesota. You might end up finding your perfect puppy!
Mini Poodle Breeder Information:
9. Sunset Valley Puppies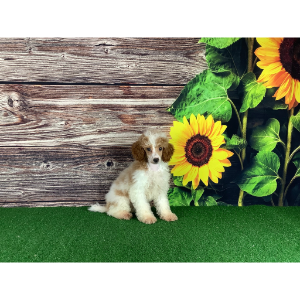 Sunset Valley Puppies is a small and family-owned breeder specializing in red Poodles in Pennsylvania. They have almost fourteen years of experience and are devoted to raising some of the healthiest and happiest Mini Poodles.
The breeders at Sunset Valley take great pride in raising their dogs in a positive environment. They are raised with the family and socialized every day.
The puppies have excellent temperaments, healthy sound and body, and great social skills. Sunset Valley Poodles is passionate about producing improved versions of the Poodle breed each time.
Breeding can take some time as the effort that goes into it at Sunset Valley is super extensive! The breeders make sure you receive a healthy, happy, and loveable companion for you and your family.
Mini Poodle Breeder Information:
10. King Poodle Puppies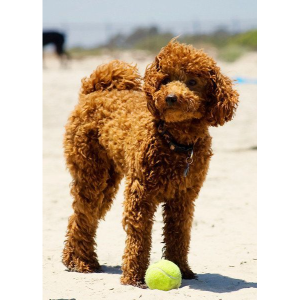 The breeders at King Poodle Puppies will have you receive the best service and the best dog. They train and care for their puppies to the utmost caliber and ensure that every aspect of the poodle's character is curated to be friendly, sociable, and great companions.
Making these dogs a great long-term investment and family friend. If you're looking to get a top-quality pup for a lesser price, visiting King Poodle Puppies may be your best bet. They choose parents based on bloodline compatibility. Doing so ensures a decrease in genetic issues that would otherwise occur. 
King Poodle Puppies will deliver your new puppy to your doorstep with complete safety and reliability. They will provide you with all necessary details, including flight tracking details to help you keep yourself stress-free throughout the delivery. The puppies also come with a one-year health guarantee in case of any mishaps.
Mini Poodle Breeder Information:
If You Are Interested In More Puppy Related Content Check Out: Best Bernese Mountain Dog Breeders in California!
Conclusion for The Best Mini Poodle Breeders In The U.S!
We hope that we were able to find your ideal mini Poodle puppy through the breeders listed. Poodles are some of the most popular dogs in the world due to their hypoallergenic and nonshedding coats. However, finding a reputable breeder who is health testing, health checking, and DNA the parent dogs' is difficult. You can use our list of the best mini Poodle breeders to help you find your next puppy.