Goldendoodle puppies in Idaho can be hard to find when compared to other states. There are only a few options in the state of Idaho to choose to find a Goldendoodle puppy. On one hand, it's easy to figure out which breeders are worth looking at and which ones aren't. On the other hand, it is very hard to find a Goldendoodle breeder in Idaho.
We've done a significant amount of research and reviews to find the best Goldendoodle puppies in Idaho. We have 5 wonderful breeders to share with you. Each of these Goldendoodle breeders in Idaho are highly rated and they sell beautiful dogs.
1. Red Carpet Doodles ID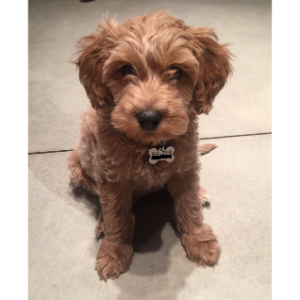 Red Carpet Doodles ID prides themselves on providing healthy and beautiful Goldendoodle puppies in Idaho. Located in Southeast Idaho, they breed a couple of different puppy types. Each of their puppies are raised in a loving environment and they are well-cared for.
The puppies are part of their family. They are loved and played with. They learn important socialization. This family is open and honest, and they breed from high-quality, registered parents that are AKC registered. Their puppies are quality and healthy.
You can send them messages directly on their website, you can call them, or you can find them on social media. All of their Goldendoodle puppies in Idaho come with certificates of health as well as vaccinations and microchips. They also give you a 1-year health guarantee.
Goldendoodle Information:
Sizes: Mini, Petite, medium, standard Goldendoodle puppies
Generation: multi-generational, F1BB, F2BB Goldendoodle puppies
Goldendoodle Dog Breeder Information:
Location: Southeast Idaho
2. Sophie's Golden Doodles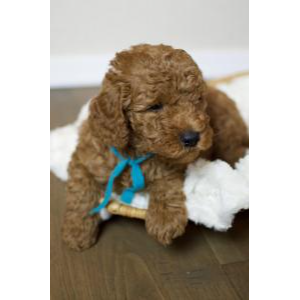 Sophie's Goldendoodles is another in-home breeding facility located near Boise, Idaho. Sophie is the owner and started breeding Goldendoodles back in 2007. She was of the first Goldendoodle breeders in Idaho.
Her breeding dogs are guardian dogs which is pretty popular option for larger Goldendoodle breeders. This means they live with other families and are loved for and cared for until breeding and puppy time. The health of every breeding dog is thoroughly checked and there is a set number of litters each season.
All the Goldendoodle dogs, from adults to puppies, are well-loved and socialized. They often have miniature, medium, and standard doodles from their litters. You can check out the news, complete an application, and meet the parents all on their website.
Goldendoodle Information:
Sizes: Miniature, medium, and standard Goldendoodle puppies
Generation: Multi-generational, F1, and F1B Goldendoodle puppies
Goldendoodle Dog Breeder Information:
Location: Boise, Idaho area
More Puppy Content: Best Shiba Inu Breeders In Colorado!
3. Neesa's Doodles Idaho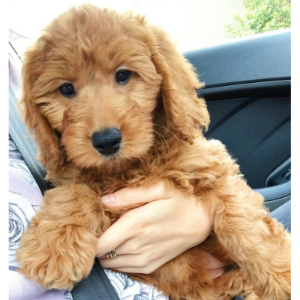 Neesa's Doodles Idaho raises Goldendoodle puppies on a little farm in Boise, Idaho. They raise mini and micro Goldendoodles which would be less than 30 pounds. Every aspect is carefully chosen and the dogs are bred with the utmost care. Every animal is treated with love and attention in the home.
The Goldendoodles puppies from this breeder are well socialized and are also given neurological stimulation. You can bet on the health and gentleness of every single puppy. They work very hard to pair them with the right families as well.
This in-home breeder is also working to become more eco-friendly. In addition, they have several social media platforms, including Snapchat, which is fun to keep up-to-date with the puppies at the location.
Goldendoodle Information:
Sizes: Miniature and teacup Goldendoodle puppies
Generation: Multi-generational, F1, and F1B Goldendoodle puppies
Goldendoodle Dog Breeder Information:
4. Canyon Creek Puppies Idaho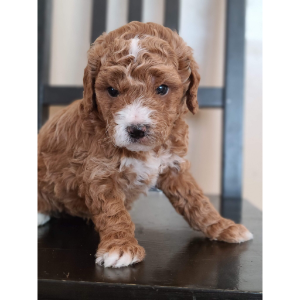 Canyon Creek Puppies Idaho has limited information online, but there are testimonials and reviews about their Goldendoodle breeding practices. It appears that they are fairly new the breeding business, but they are doing things right. They take pride in the Goldendoodle dogs and the puppies that they produce. In addition, they use Life's Abundance pet food and also recommend it for you when you take a puppy home.
Canyon Creek Puppies Idaho is a family business. All of their puppies are loved on and catered to as if they are part of the family. You can view photo galleries, testimonials, and parent dog information on their website. Their Goldendoodle puppies come home healthy, loved, and socialized for their new families.
They do have a waiting list and a contract, which is a positive sign for a reliable Goldendoodle breeder. You can contact them directly on their site or use the information we share below.
Goldendoodle Information:
Sizes: Medium and standard sizes
Generation: multi-generational, F1B
Goldendoodle Dog Breeder Information:
How to Choose Goldendoodle Puppies in Idaho
The struggle is not necessarily choosing the right puppy but rather choosing the right breeder. Not every Goldendoodle breeder is the same, and Idaho doesn't have a lot of options. Most options are located near Boise but there are a few reputable breeders spread out throughout the state of Idaho. We feel it's important to take these factors into consideration when choosing a reputable breeder.
Health
Health testing is very important. There are known genetic health issues that Goldendoodles can suffer from so understanding the health and genetics of the parents is incredibly important for predicting a puppy's health.
Be sure to look for a breeder that is open about the health of their dogs and will share testing information and results of the parent dogs. If a Goldendoodle breeder in Idaho won't share health testing results, then it is a red flag.
Waitlist Process
Understand that the process to get a Goldendoodle puppy from a reputable breeder will most likely require a deposit and a waitlist. Get to know the various waitlists and how the breeders operate them.
In addition, it's important to understand what you agree to with your deposit and how long the waitlist is. Be patient and know that it could take some time for your waitlist request to come to fruition. Typically, the best breeders will always have a waitlist.
Reputation
One of the most important aspects to keep in mind is the reputation of the Goldendoodle breeder in Idaho. There are several puppy mills out there and there are breeders that secretly work with puppy mills to obtain their puppies. You don't want to end up with a sick puppy.
Pay close attention to reviews, testimonials, and how the dog parents are taken cared for. Do your research and don't be afraid to ask questions of your breeder.
Conclusion For The Best Goldendoodle Dog Breeders In Idaho
Choosing a Goldendoodle puppy breeder in Idaho is going to be one of the hardest decisions that you have to make when buying a Goldendoodle. You want to make sure that you're going to get a healthy puppy since they will live for well over 10 years.
Puppies are a long-term investment and you don't want to be spending the majority of your money on healthcare bills due to genetic diseases. Reputable Goldendoodle puppy breeders in Idaho will offer health tests, have a waitlist, and have a good reputation. We hope that you enjoyed our list of the Best Goldendoodle Puppies in Idaho as we choose 5 very reputable breeders.
You will also like: Best Bernese Mountain Dog Breeders in California!