Sheepadoodle puppies in Ohio have grown in popularity over the last few years. This combination between the Old English Sheepdog and Poodle is popular because they are mostly hypoallergenic and nonshedding. Additionally, they are typically multi-color coated and have the personality of a teddy bear.
We compiled a list of the best Sheepadoodle breeders in Ohio to help you find a puppy. There are tons of puppy mills in Ohio so our list does our best to exclude those. In general, look for a Sheepadoodle breeder who has a health guarantee, health warranty, and truly cares about their dogs.
1. Angel Breeze Puppies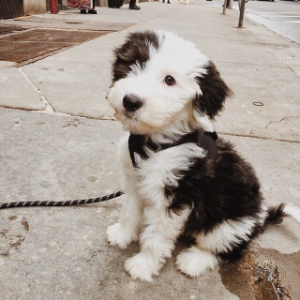 Angel Breeze Puppies is located in Coshocton County, Ohio, on 36 beautiful hilltop acres that include gorgeous views and wooded areas. Breeding for quality puppies since 2003, they now have puppies in 39 states and Canada. Their facility is climate controlled with doggy doors that allow access to the large fenced-in yard for exercise and socialization with other dogs and animals.
Angel Breeze Puppies sell their dogs only are sold as pets, with a non-breeding contract. A deposit of $250 must be paid to be placed on their waiting list for upcoming litters. Puppy selections are made in the order in which the deposits are received.
They do offer the pick of the litter for an additional fee. Adopters will get to choose their puppy in the order in which Angel Breezereceivedthe deposits. Additionally, they do offer a 2-year health guarantee for their puppies which covers all serious life-altering, life-threatening hereditary, and congenital diseases, including moderate to severe hip or elbow dysplasia provided the dog is x-rayed at or before 24 months of age and x-rays are examined by OFA.
Their Sheepadoodle puppies are priced at $2,800. Angel Breeze does offer to ship their Sheepadoodle puppies in Ohio for an additional fee. For more information, contact Angel Breeze Puppies via their website or by phone.
Sheepadoodle Breeder Information:
2. Brewer's Goldendoodles and Sheepadoodles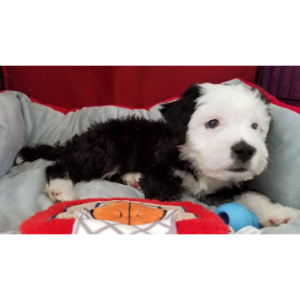 Brewer's Goldendoodles and Sheepadoodles has been breeding for quality, health, and temperament since 2001. They look for structurally and emotionally sound dogs when looking for our future breeding prospects and strive to breed only the best dogs from stable, health-tested bloodlines. Brewer's main goal is to provide adopters with a puppy who is ready and willing to be a loving companion to the family.
All of their Sheepadoodle puppies for sale in Ohio are born and raised in their personal home where the puppies are introduced to many sounds, textures, and environments. When the puppies leave for their new homes, they are confident, well socialized, and eager to please.
To adopt a sheepadoodle puppy from Brewer's, an application must be filled out as well as paying a $500 non-refundable deposit fee. This will put an adopter on the waiting list for upcoming litters. The waiting list is structured as first come, first serve.
Once the puppies are 6-7 weeks old, Brewer's will set up several dates where an adopter can come out and choose a puppy in person. This is done in the order that the deposit is placed.
If an adopter is not able to come out in person during the times that are available, Brewer's will help choose a puppy through pictures, videos, or Facetime. Brewer's puppies will receive age-appropriate vaccinations and de-wormings while they are with them. Puppies will also visit a vet before going to their new homes.
Sheepadoodle puppies from Brewer's are priced at $3,000 each and are sold on strict spay/neuter contracts. If interested in a breeding dog, please inquire about the application.
For more information, contact Brewer's Goldendoodles and Sheepadoodles via their website or by email.
Sheepadoodle Breeder Information:
For more check out: Best Border Collie Breeders in Colorado!
3. Midwest Sheepadoodles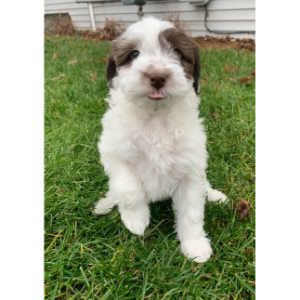 Midwest Sheepadoodles is a small family-run breeder raising Sheepadoodle puppies in Ohio. Their puppies are loving, intelligent, and entertaining companions. Midwest's litters are F1b generation, meaning they are crossed back to a poodle to increase the chances that the puppy is hypoallergenic and will be low/non-shedding.
The puppies are raised in their personal home and are also provided with space to play and enjoy the outdoors. Midwest performs Early Neurological Stimulation (ENS) on all their newborns to ensure a less stressed puppy that can cope with change and novelty.
Their litters are also raised with Puppy Culture principles in mind so that a foundation for basic training and manners is established before an adopter takes a puppy home.
A $200 non-refundable holding fee that applies towards the total purchase price of the puppy is paid at 4 weeks of age. Puppies are not reserved unless the holding fee is paid. An adopter must also sign a contract that states Midwest's responsibility to an adopter and the adopter's to Midwest Sheepadoodles, along with the conditions of the health warranty.
Puppies from Midwest also come with a 1-year Health Warranty, Puppy Culture techniques, Foundations for potty training to pads/litter and outside, ENS performed on days 3-16 to reduce stress response, Puppy pack (several servings of food, bully sticks, Snuggle Puppy, Teething Aid, rope toy, original kong toy, waste bags, puppy pads), Vet checked at 6-weeks-old, Rear dewclaws removed, Extended time with mother dog to learn manners, Exposure to a variety of sights, sounds, smells, and people, as well as Breeder support, Puppy rearing tips and product recommendations, and Regular de-wormings.
Sheepadoodle puppies from Midwest Sheepadoodle are priced at $2,600 – $2,800 depending on size, color, and gender. For more information, contact Midwest via their email.
Sheepadoodle Breeder Information:
4. Crown Hill Sheepadoodles OH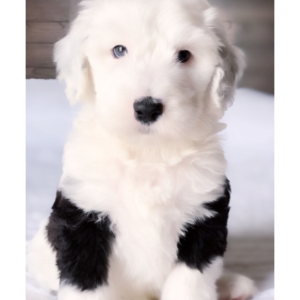 Crown Hill Sheepadoodles is a family-owned and operated breeder in Ohio. All of their breeding dogs, both Poodles, and Sheepdogs, are AKC registered. Their goal is to help others enjoy this wonderful breed by providing a healthy, family-raised puppy that will be the perfect addition to any family.
All Crown Hill dogs are family pets, and they only raise a few litters a year, hand raising each puppy to be a family pet. They sell to private, approved individuals and never sell bulk puppies or to pet stores.
Crown Hill also socialize their dogs with people of all ages, including young children, and they run free during playtimes with our other animals, resulting in a nonaggressive nature in the dogs.
Each puppy purchased from Crown Hill Sheepadoodles comes with a one-year health guarantee. The puppies are also properly vaccinated and started on deworming medication before going to their new homes. To be placed on a waiting list for an upcoming litter from Crown Hill, a deposit of $300 must be paid.
Crown Hill Sheepadoodles puppies for sale in Ohio are priced at $2800. For more information, contact Crown Hill Sheepadoodles via their email.
Sheepadoodle Breeder Information:
5. Sweet Sheepadoodles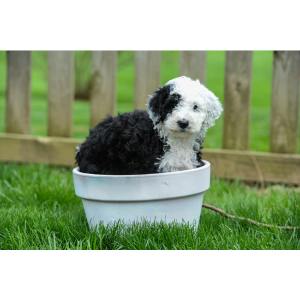 Sweet Sheepadoodles is one of the highest-rated small breeders in the Mid-Western United States. They are located in north-central Ohio and has breeding since 2011. The Sheepadoodle puppies are born and bred in their personal home as part of the family.
The sheepadoodle puppies are whelped in their bedroom and raised in their living room, interacting with people of all ages, including children, helping to make sure all of Sweet's puppies are well socialized and familiar with people.
Sweet'sSheepadoodles all come with age-appropriate vaccinations, de-worming, vet check and documentation, his/her favorite toy, portable crate (if flying), suggested food sample, and unlimited breeder support from Sweet.
Puppies from Sweet can be reserved with a non-refundable deposit of $500. Puppies cannot leave the litter until 8 weeks of age and all pups must be spayed/neutered by two years of age.
For full pricing of Sweet Sheepadoodles or for more information, contact them directly via their website or Facebook.
Sheepadoodle Breeder Information:
6. Shaw Springs Canines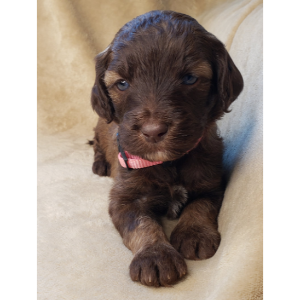 Shaw Springs Canines is a breeder of sheepadoodle puppies located in central Ohio. They are known as one of Ohio's premier canine companion breeders. They raise their dogs with a strong focus on setting a well-socialized foundation, making sure their dogs will be the best pets possible when going to their new homes.
The puppies are bred and raised in the personal home of Shaw Springs owner who is also a dog trainer, behaviorist, groomer, as well as being a vet student. Their Sheepadoodle puppies in Ohio have raised around the breeders five children and started on crate training as well as introduced to "clicker training" & basic obedience, including house training.
Puppies are given bio-sensory stimulation, formal personality testing and each puppy comes with a health guarantee, dewormed, and received a wellness check from a licensed Veterinarian who also administers their first vaccinations.
Sheepadoodle puppies from Shaw Springs Canines are priced at $1,800 – $2,500 depending on color, size, and gender.
For more information, contact Shaw Springs Canines via their website.
Sheepadoodle Breeder Information:
For more Puppy Content: Best Pointer Breeders In Pennsylvania!
Conclusion for Sheepadoodle Breeders in Ohio
If you were looking for a Sheepadoodle puppy in Ohio, we hope that our list helped. We did our best to weed out the backyard breeders as well as the puppy mills to help you find someone reputable. There are tons of puppy scams going around, so always try to visit the breeder in person and see the parent dogs. All the best finding your next Sheepadoodle puppy in Ohio.