Known as the crossbreed of Cocker Spaniel and Poodle, Cockapoo is a companion dog that people love to have by their side. Since they can live as long as 15 years, you get a long-term companion once you adopt a Cockapoo, which is why we've got a list of the best Cockapoo breeders in Minnesota.
Check out these other articles: 3 Best Maltipoo Breeders In Minnesota! (2023) and Common Animal Breeding Terminology! (2023)
Cockapoo Puppies In Minnesota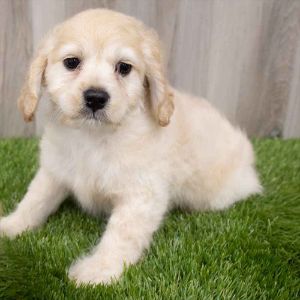 They don't drool, snore, or bark. They are also hypoallergenic. We just can't think of a breed better than this! Having a straight-to-curly coat that may be cream, sable, merle, red, black, tan, brown, white, or beige, these cuties are a great addition to your home! Because most of the time, they look like cuddly teddy bears!
Now, enough of that, and let's get to business. If you like Cockapoos as much as we do, contact one of the Cockapoo breeders in Minnesota right now for adoption!
1. Puppies by Possehl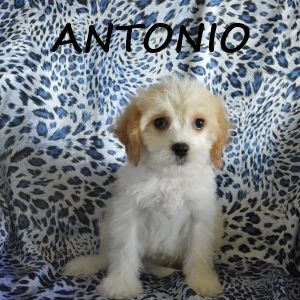 Brought up in a caring home environment, the Cockapoo puppies grow up with other puppies of different breeds in this breeding center. The center is quite experienced with this breed and others since it has been in operation since 1993.
Open from Monday to Sunday, you can drop by this center any day to browse through Cockapoo cuties. However, don't forget to get an appointment with the center before you visit the pups. Besides, shipping is not available to the center yet.
You will be glad to know that all the pups are registered with the American Pet Registry. They also come with a congenital health guarantee covered by the Minnesota Puppy Law. Moreover, before the pups are given away to their new homes, they are dewormed, vaccinated, trained, and checked for defects.
As the center ensures that you end up with a healthy, happy, and loyal Cockapoo puppy, the only thing left for you is to educate yourself about the breed so you can be a great parent to them!
Besides, the center may ask you a million questions about your background to determine if you are the right person for the pups. Don't get offended, though! The breeders just want to find the right homes for their precious puppies!
Cockapoo Breeder Information:
2. Country Cockapoos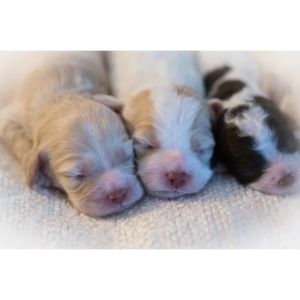 The great thing about adopting a Cockapoo puppy from this center is that you continue to receive guidance and support here even after the adoption. Rest assured, all Cockapoos born in this homely environment are brought up with lots of love, care, and training. Hence, when you adopt a pup from this center, you adopt a very capable, loving, and loyal canine companion.
Positively, the puppies are all tested for genetic diseases, vaccinated, and dewormed according to the appropriate age. You won't struggle to train these cuties because they naturally have an even temperament and sweet personality!
In addition, you receive a 1-year health guarantee certificate with the adoption of the pup, the terms of which are stated in the sales contract. An initial deposit of $500 must be made to reserve a pup. You can pay the rest of the cost when you take it home.
Not to mention, the center may refuse to sell their pups to owners they don't deem fit to care for the little animal. The family at the center makes sure that all the pups find a perfect home for life.
Cockapoo Breeder Information:
3. Happy Farm Puppies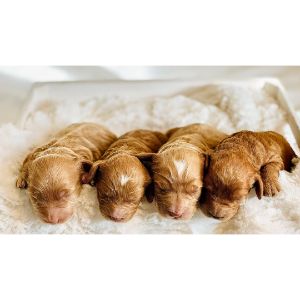 Located on a 20-acre hobby farm, the Happy Farm Puppies raise their Cockapoos ethically and with a loving heart. The standards are quite high in this center in the sense that all puppies are capable of becoming excellent service dogs, house pets, or therapy dogs.
These breeders take puppy breeding to another level by incorporating puppy neurological stimulations through car rides, intelligent plays, and self-esteem development. Since the children and pets of the breeders also take part in rearing the pups, the litter receives a lot of love while growing up!
Like other high-quality breeding centers, the pups here also come with a 1-year health guarantee, vaccinations, deworming, microchipping, and they are medically checked against genetically inherent diseases.
Open every day of the week. You can pop by anytime to spend some time with the pups before you decide to adopt a special one. Besides, the breeder's website showcases many beautiful photos and comments of the pups for review and comprehension.
Cockapoo Breeder Information:
4. WoodHaven Pups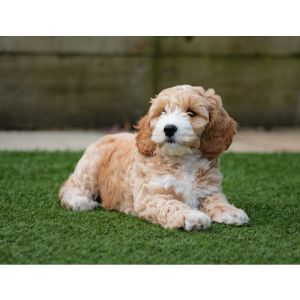 Specializing in raising miniature Cockapoos and Cavapoos and a part of our list of the best Cockapoo breeders in Minnesota, WoodHaven is an excellent breeding center to adopt a Cockapoo puppy. The center requests applications from prospective parents through the website only. However, they don't choose all the applicants; only the ones they feel are fit to be parents of their precious pups.
The center then conducts a Zoom interview with you to discuss about the pup, and you can also see the babies without visiting the center directly. In addition, if you are interested in the adoption, you have to deposit $500 within 5 hours after the interview!
On adoption day, you receive a ton of advice from the breeders about how to take care of the little one. Apart from that, the pup will be dewormed, vaccinated, microchipped, and come with a 1-year health guarantee.
The pup can take with it a puppy packet for comfort and adjustment to the new environment. If, for some reason, the pup is diagnosed with a congenital defect by a licensed vet. The center will offer you a replacement puppy within 24 months.
Cockapoo Breeder Information:
What To Consider When Choosing Cockapoo Breeder In Minnesota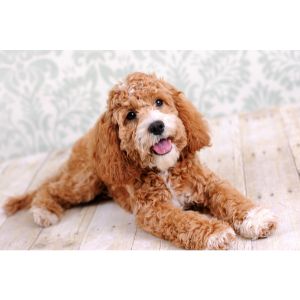 Cockapoos are designer dogs that need to be handled differently from other basic breeds. Although most breeding methods are pretty much the same, the Cockapoos are a tad bit sweeter and softer. So, you see, without caring breeders, they will feel neglected.
By stating the facts, we want you to determine for yourself the right Cockapoo breeder for your future pup. Here are a few areas of consideration:
Years of Experience
Undoubtedly, the years of experience a breeder has with Cockapoo can put them above breeders who have not had the same. In most cases, breeding Cockapoos for several years can ensure that the breeder is knowledgeable about the breed.
You may often find breeders who have been running the breeding center for 10 or more years. Don't jump the gun because of the numbers. Check other factors, such as breeding environment, breeding methods, registration, and the relationship between the pups and the breeder to make the final judgment.
Registration
Another factor that you must keep in mind while choosing Cockapoo breeders in Minnesota is the registration of the center. Hear us out: you should never adopt a puppy from a breeding center that has no registration with the main canine authority bodies!
To illustrate, a breeding center must be registered and inspected by the United States Department of Agriculture, American Kennel Club, American Canine Association, or American Pet Registry.
When breeding centers are not registered with the right authorities, they may be operating illegally. Most dogs in those centers are also derived and reared unethically. Therefore, you should never support them.
Breeding Methods
The last crucial factor that you should be concerned about is the breeding technique used by the breeder of Cockapoos. Are they being fed quality food? Do they have a clean home to sleep and play at?
Are the breeders spending enough healthy time with the pups? What is the relationship like between the pups and the breeder? Even if all other elements are taken care of, the last question determines the truth about how the pups are being treated.
To find out the reality of things, visit the breeding center and check out for yourself how the puppies are being raised.
Questions To Ask The Cockapoo Breeders In Minnesota
A legit Cockapoo breeder can answer all your questions about looking after a Cockapoo pup no matter how annoying it may get at one point. In fact, some may even hand you documents and materials to learn about the breed.
Regardless, you should ask different questions about your new pup to the breeder. It shows that you are sincere about the adoption, and you mean business. Here are a few suggestions for inspiration:
Can I see the puppy's registration and health examination papers?
Should I be aware of any hereditary defects of the pup's parents?
How much mental stimulation do the puppies need?
How often should the pup get exercise?
Can I take the pup out hiking, jogging, or swimming?
Do I need a professional groomer to groom my puppy?
Can I see your breeding license?
What Do You Think About The Cockapoo Breeders In Minnesota?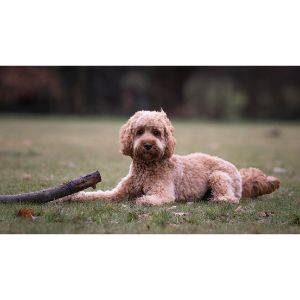 Have you gotten in touch with any of the breeders on our list yet? Rest assured; we have listed only the best ones with proper registration, thoughtful breeding methods, and several years of professional experience.
Let us know how the consultation goes. Good luck adopting a charming Cockapoo baby!
You will also like: