Aussiedoodles are a wonderful mix of a Poodle and an American Shepherd. These dogs have low to non-shedding, hypoallergenic coats, making them an excellent choice for people with allergies. They are also a great addition to any family because of their affectionate, loyal, intelligent, and friendly nature which is why we have a compilation of the best Aussiedoodle breeders in Missouri for you right here.
Other articles you may like: What Happens if You Breed a Dog Without Breeding Rights? and Common Animal Breeding Terminology!
Aussiedoodle Puppies In Missouri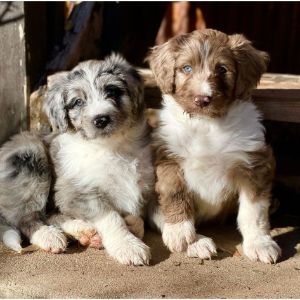 If you are looking for a great hiking buddy or walking partner, Aussiedoodles are the dogs for you. In addition to being loving and beautiful, these dogs are great with kids and other pets.
Hence, you can add them to your dog collection or as a companion for your kids and family. We have conducted thorough research to ensure you find the best Aussiedoodle puppies in Missouri. Here are the most trusted Aussiedoodle breeders in Missouri to buy this dog breed.
1. Bethany's Aussiedoodles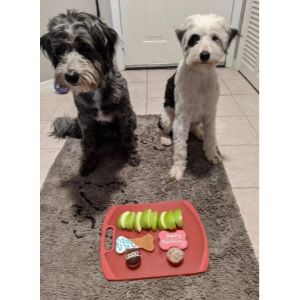 Bethany's Aussiedoodle is a small hobby breeder located in Seymour, Missouri. This breeder is dedicated to producing the best doodles with low to non-shedding coats. They produce both Standard Aussiedoodles and Miniature Aussiedoodles.
Bethany's Aussiedoodles is owned and managed by Bethany Mize, a hobby breeder passionate about doodles. She takes great care of puppies to ensure they have a happy, healthy start.
Bethany included her family in the breeding program to give the puppies and dogs all the love, care, and support they need. This breeder ensures she gives her puppies the best start, providing them with the best nutrition, care, playtime, attention, and love.
The family also helps socialize the puppies, preparing them to be a great addition to their new homes. You will love the puppies from this breeder because they are beautiful and well-mannered.
She introduces them to training early to enable them to get used to it. Your puppy will come home with basic potty and crate skills. The breeder also ensures they are friendly with kids and other pets, making them an excellent fit for families with kids and pets.
The breeder also cares about its sires and dams. In addition to passing them through rigorous health tests to confirm their health conditions, this breeder vet checks them regularly. The dogs were declared free of congenital health conditions before being added to the program.
Bethany's puppies are not only well-socialized but also perfectly healthy. They are from a healthy bloodline with exceptional temperaments. The breeder also ensures the puppies are up-to-date on vaccinations and wormings. She sends the puppies home with a complete vet examination and health certificate.
To prove her confidence in the health of her puppies, Bethany's puppies go home with a two-year health guarantee against congenital defects. Hence, if your pup suffers any severe genetic health issues within the guarantee period, the breeder will be responsible for the medical bills or replace your puppy.
Another benefit of buying a puppy from this breeder is that the pups come with lifetime support. This additional offering is handy for first-time pet owners with little to no experience caring for their friends. Hence, you can always contact them for support and guidance.
Aussiedoodle Breeder Information:
2. Hearthside Country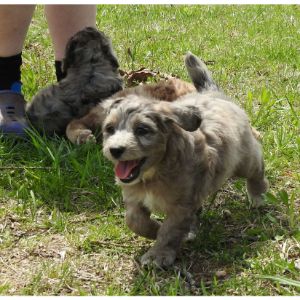 Hearthside Country is very popular in the United States. This breeder has been producing and raising quality Aussiedoodles for families and individuals across the United States. Hearthside Country is a family-owned and operated breeding program.
It is a family effort to raise healthy, socialized, intelligent, and happy puppies. If you are looking for incredible Aussiedoodles as family companions and pets, this is where you will find one.
Hearthside Country is located in Mountain Groove, Missouri, but they ship and deliver their puppies to many states in the US. This breeder has been producing and raising puppies since 2004.
They have vast experience in caring for this breed, including how to avoid their common health issues. Hearthside Country is USDA licensed and inspected, plus Missouri State Licensed and Inspected. The breeder is under yearly scrutiny of the USDA government – mostly surprise inspections. These random inspections have made many breeders in the state sit up.
However, Hearthside Country has always been an upright breeder, adhering to the USDA and Missouri State regulations and guidelines without needing to be supervised. They follow strict breeding practices and ensure their environment is always clean and healthy. Their puppies grow up in a loving, caring, and neat environment.
AKC also inspects this breeder to ensure they maintain the best breeding facility and adhere to standard breeding ethics. They work with a licensed, professional vet that comes yearly to do a hands-on inspection on all the breeding dogs.
The puppies are not left out in the vet-check process. The breeder ensures the puppies are thoroughly vet-checked and have a health certificate. The health certificate is for the buyers; it does not come with an additional fee.
This breeder specializes in producing F1 and F1b Aussiedoodles of all sizes. Hearthside's breeding program focuses on producing pups with family-friendly temperaments and beautiful body structures. In addition to providing a good life for their puppies, this breeder ensures they receive the basic training and socialization they need before they are eight weeks old.
Furthermore, the puppies from this breeder are guaranteed against life-threatening, genetic defects for 24 months from the date of birth. The breeder will provide a replacement puppy of equal value if a life-threatening, congenital defect is found and verified by their vet.
Aussiedoodle Breeder Information:
3. Ozark Aussies and More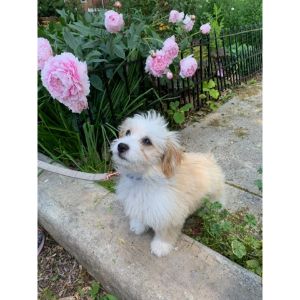 Ozark Aussies and More is another trusted and well-experienced breeder in Missouri. Katherine Peterson owns this breeding program, and she runs it with her husband and kids. Ozark is a family breeder, and the best place to raise puppies is in loving, caring families.
This family loves and cares for their puppies and dogs. They take them as family pets, and the kids often get sad when the puppies go to their forever homes. The kids develop strong bonds with the puppies, a socialization every puppy needs. They play with the puppies daily and teach them some fundamentals.
This breeder is in the central Missouri area, close to the Lake of the Ozarks. The property is on 20 beautiful wooden acres, so the puppies and dogs have plenty of space to run, play, and socialize.
Ozark Aussies and More pays close attention to where and how it gets its breeding dogs. Their breeding dogs are eight UABR, or APRI registered, while their designer pups are registered through the American Canine Hybrid Club (ACHC). The goal of this breeder is to produce loving, healthy, quality, happy, and well-adjusted puppies to fill and enhance your life.
The puppies from this breeder are home-raised from birth until eight weeks old. The pups enjoy daily interaction, attention, and lots of socialization. This breeder also ensures the puppies are used to other pets and various household noises before releasing them to their new families. They housebreak the puppies to enable blend and transition seamlessly to their new homes.
Furthermore, this breeder ensures the puppies are up-to-date on immunizations and deworming before sending them home. This breeder also renders delivery services for its puppies. They deliver puppies to various locations in the state for an extra fee. They can also ship your new canine friend to the airport of your choice.
Aussiedoodle Breeder Information:
4. Aussiedoodles of Love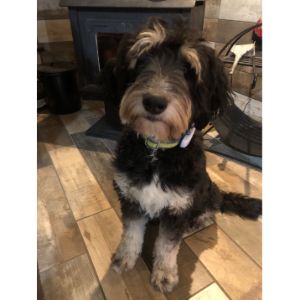 Concluding our list of the best Aussidoodles breeders in Missouri, Aussiedoodles of Love merited a spot on our list because of its fascinating breeding philosophy and ethics. This family breeder loves dogs and is passionate about raising the best Aussiedoodles for families in and around Missouri.
They live on a farm with a lot of room for their dogs to play and live freely. Aussiedoodles of Love treats its dogs with love and respect, counting them as family members with all family privileges.
Their breeding dogs also live in the house, and they take them on outings. The puppies live in an annexed playroom with plenty of lights, comfortable beds, and toys. They receive plenty of love and attention daily. The puppies also enjoy field trips to explore the house and farm. The breeder also takes them on car rides most times.
They expose the puppies to various conditions and environments, including sounds and lights. Exposure to the outside world, people, and other animals help socialize the puppies. The pups also undergo basic training, including how not to be food aggressive.
Aussiedoodles of Love examines the health of its puppies before sending them home. They send the pups home with a vet exam and a two-year health guarantee against congenital defects. The breeder also provides expert help and care before and after the sales.
Aussiedoodle Breeder Information:
Conclusion For Best Aussiedoodle Breeders In Missouri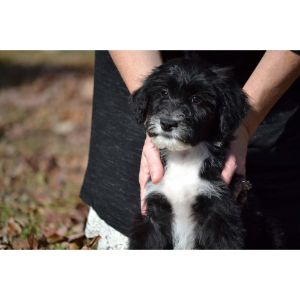 There are many great options for those looking for Aussiedoodle breeders in Missouri. However, one needs to choose wisely, as not all breeders are equal. The breeders reviewed in this guide provide great value for money.
You can rely on them for healthy and happy puppies that will bring joy to your home. These breeders invest time and resources into training and socializing their puppies to make them excellent family companions. Contact them to know about their puppies before initiating the buying process.
You will also like: