The Double Doodle is gotten from the mix between the Goldendoodle and a Labradoodle. Both the Goldendoodle and a Labradoodle are medium to large and have a low shedding coat transferred to their hybrid puppies. These designer dogs not only inherit low shedding coats, but they also get a great temperament from both parent breeds.
The Double Doodle has a very great personality and is very energetic, plus they are very intelligent and friendly. Their coats come in different forms, could be wavy, curly, or straight, and regular brushing will keep them shinning and in good shape. Find below a list of top Double Doodle breeders close to you.
Top Double Doodle Breeders In The United States
Double Doodles are gentle and loving; they will do great in a home with a yard where they can play, run and be close to nature. Their non-shedding coat makes them a perfect choice for families with dog allergies. Below is a list of dependable Double Doodle breeders around the United States.
1. Texan Doodles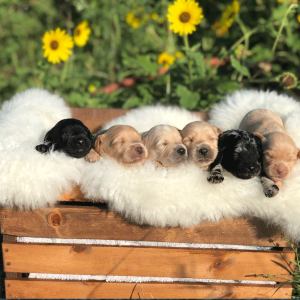 Texan Doodles is a top Double Doodle breeder located in Lacoste, Texas. They are renowned for breeding top-quality litters have been serving the San Antonio, Texas community for a while now.
They are committed to breeding the best and healthiest doodles you can find around Texas, and they specialize in lovely Double Doodles, Australian Labradoodles, and Sheepadoodles.
Their parent breeds are health tested before crossing to ensure the health and safety of both parents and the litters. You can get different sizes of pups from them, ranging from mini to large, depending on the sizes of crossed parent breeds.
Their puppies are raised within the family and exposed to household activities such as playing around the children, toys, and interacting with other pets.
Hence, their puppies go to their forever home well versed in family life, making settling and blending into the new home effortless. The Texan Doodles don't just let you go home with just your puppy; you leave with the following
A bag of Purina Pro Plan Sport dog food
Three years health guarantee
Updated vaccinations and deworming
A blanket and basic potty training
Pup is microchipped
A collar and an adjustable slip leash
Puppies are registered with the Designer Breed Registry and United All Breed Registry.
Are you interested in adopting a puppy from Texas Double Doodles? Contact them today on the phone or visit their website to get on their waiting list for your dream pet.
Double Doodle Breeder Information:
2. Cloud Nine Doodles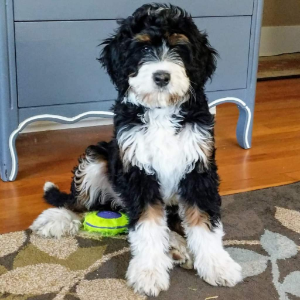 Cloud Nine Doodles is a reputable Double Doodle breeder located in Lynden in the amazing Pacific Northwest, right on the Canadian border and a few hours away from Seattle. They are driven with the mission of bringing happiness and joy to families by placing the best pups in their lives.
They ensure their litters are healthy and are raised with the utmost integrity from when they are born until they go to their forever homes.
Their experience of 35 years can be seen in the smooth and seamless way they handle the adoption and transitioning process of their dogs. They are recognized for the highest quality standards in dog breeding and have earned the badge of Excellence for high-quality standards in health testing and breeding practices.
They produce few litters with the highest ethical standard every year and have a limited number of puppies available for adoption.
They never take care of their litters lightly as they believe the beginning is the most crucial time of a puppy's life. They make the most use of the first eight weeks for nutrition, socialization, love, and emphasis on a clean, secured environment. Their top-notch customer care doesn't end when you get your puppy, as they are always available for you whenever you need them.
Cloud Nine Doodles follow up their litters with personality testing, beginning training, socialization, high-quality nutrition, and look to placing them in the best forever homes possible. All of the above and more is what to expect when you get a pup from them. Visit their website or call their line to get started with a fun-filled adoption process.
Double Doodle Breeder Information:
3. Big Dog Doodles And Livestock Ranch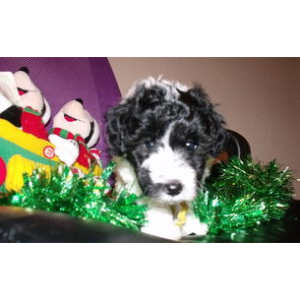 Big Dog Doodles and Livestock Ranch is located on 10 acres of land in Central California. Their primary focus is on breeding top-quality non-shedding doodles and horse training. Big Dog Labradoodles offers healthy, intelligent, home-raised, and very well socialized standard doodle puppies for sale at affordable prices.
The Big Dog Doodles are intelligent, sweet, and easy-going because they only breed genetically sound dogs. Also, to ensure they produce the healthiest Doodle puppies, they depend on extensive genetic testing of all parent breeds. Their Double Doodles come in 3 sizes, mini, medium, and standard, depending on the parent breeds.
They are committed to the health of all their dogs and take great pride in producing healthy, happy, and social pups. Their transitioning process is very transparent and seamless; hence, they made our list of top Double Doodle breeders in the US.
Are you interested in exploring the possibility of getting a Double Doodle? Visit their website today to get an effortless and seamless adoption process started.
Double Doodle Breeder Information:
For More Puppy Content: Best Pointer Breeders In Pennsylvania!
4. YesterYear Acres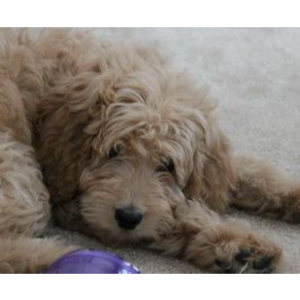 YesterYear Acres are dedicated breeders of high-quality Double Doodles, Goldendoodles, and Labradoodles. They are located in Ohio and renowned for their professionalism and production of premium quality Double Doodles. For over 25 years, YesterYear Acres have been committed to raising quality, happy, healthy, and well-socialized puppies.
YesterYear Acres is moved into doodles to meet the needs of families who are dog-loving but are fur-sensitive. The Double Doodle designer dog breed was one of their answers to help dog-loving individuals with dog allergies get their desired pet. They have stayed committed to this course ever since and have produced one of the healthiest and amazing doodles around.
Their Doodles are well socialized, well adjusted, loved, and happy puppies raised within the family to help settle in their new home effortless. Before pups leave for their new homes, they will have completed their deworming and have their first set of shots.
All litters go with a puppy care kit complete with a puppy baby blanket that smells like mommy and two years Health Warranty.
The Double Doodle makes a perfect family pet, so if you want a family addition, you can go for one. YesterYear Acres is a reputable double doodle breeder that can be trusted for a healthy and fantastic pet. Their adoption processes are transparent and straightforward with no stress attached, contact them via mail or visit their website today to get started.
Double Doodle Breeder Information:
5. Sandpoint Doodles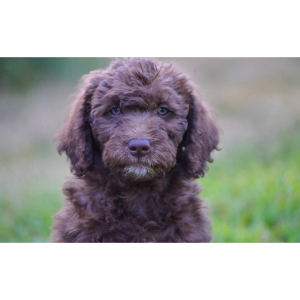 Sand Point Doodles is located in Sandpoint, North Idaho, and has been breeding for over 25 years. Sand Point Doodles is focused on sharing the warmth and love of Doodles with other fun-loving families around them. Their Doodles are raised on a large 10-acre ranch among family members and are never kenneled till they leave for their forever homes.
Sand Point Doodles specializes in breeding unique and amazing designer dog breed with a great temperament, focusing primarily on longevity, health, and intelligence. Their puppies are introduced to training at an early stage to avoid any bad habits.
Their litters are raised in a home environment, well-loved, and cared for, a significant step towards them settling well into their new home.
The adoption process at the Sand Point Doodles is very seamless and transparent, with no hassles at all. Getting a pet from Sandpoint Doodles is a lifelong experience you won't forget quickly as they become a member of your family literarily. They are just a call away to answer your questions even after your dog is settled with you.
Visit their website today to go through their photo inventory of available dogs if your mind is not made up yet about a puppy. You can also book an appointment to visit the dogs and puppies at the ranch. Once your mind is made up, an application and a non-refundable deposit will get your adoption process started.
Double Doodle Breeder Information:
6. Red Spring Farm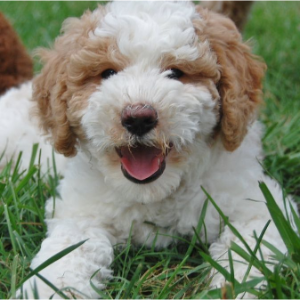 Red Spring Farm is located in Fincastle, Virginia, and offers a wide variety of puppies, including Goldendoodles, Labradoodles, and the Double Doodle. Their professionalism and quality-driven standards have brought them to our top double doodle breeders list in the US.
The team's years of experience at Red Spring Farm can be seen in their pups handling and transition processes.
All their litters are cared for with so much love, and affection and all parent breeds are health tested before crossing. Their puppies are raised inside their home and among family members, which is a significant step towards an effortless blending into their forever homes.
All the Red Spring Farm dogs are first families and pets, and they look to placing them in a happy forever home filled with affection.
All their puppies leave for their new home with up-to-date vaccinations, a two-year health guarantee, and microchipped. The Red Spring Farm is available to help you get your pet settled; they have great resources to help you all along.
Resources such as what dog food is best, dog training opportunities, booking an appointment with your vet, parasite prevention methods to take.
Red Spring Farm is committed to matching families with a perfect furry friend for lifelong companionship. However, availability may be highly limited depending on the desired pup fit for the family, meaning a long waiting time.
If you're interested in getting a great Double Doodle from Red Spring Farm, you can start your application on their website or call them today.
Double Doodle Breeder Information:
Conclusion For The Best Double Doodle Breeders in the USA
The Double Doodle, no doubt, makes an excellent family companion with its loving and playful nature. However, they have to be supervised and well trained not to knock down a toddler while playing.
If you have a big fenced compound, then the double doodle is ideal for you as they get space to run, play and explore. Read through this article for a list of top and dependable Double Doodle breeders in the United States of American.
For More: Best Corgi Breeders in Michigan!