F1B Goldendoodle puppies for sale have been some of the most sought-after dogs in the past couple of years. Since they are typically 75% Poodle and 25% Golden Retriever, this dog generation will be mostly nonshedding and hypoallergenic which is great for people with pet allergies.
If you're interested in an F1B Goldendoodle puppy, you'll have to find a reputable dog breeder. We compiled a list of the 8 best F1B Goldendoodle breeders to help you find your next puppy!
1. Amber Moon Goldendoodles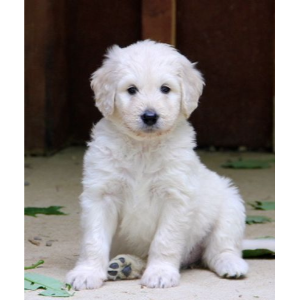 Amber Moon Goldendoodles is a farm-based breeder in a rural area of Alabama. The owners have extensive experience with breeding Miniature Australian Shepherds, goats, and Arabian horses. However, they have taken the leap in the past few years to launch a Goldendoodle breeding program.
This program is limited to only two sizes of Goldendoodles, petite and miniature. The breeding program is not large. They have two males, one is still too young to be part of the breeding program, and six females in the program. However, three of the females are still young and have not had any litters yet.
The waiting list for an Amber Moon Goldendoodle is long with more of the litters through the winter of 2021 already spoken for. You can still fill out the puppy application to try and get a spot on the waiting list, but it will be a long wait. Be prepared to place a deposit of $250 to be placed on the waiting list so make sure this is where you want to get a puppy from.
Goldendoodle Breeder Information:
2. Harvest Moon Goldendoodles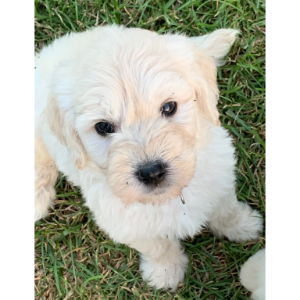 This breeder of F1B Goldendoodles is also located in Alabama. The breeding operation is situated on a 60-acre farm giving all of the dogs and puppies plenty of room to run and exercise.
They haven't always been a breeder. Harvest Moon was originally a grooming business. This is still the case but since the beginning, 14 years ago, has grown into a decent-sized breeding operation.
They focus on temperament, health, and conformation over everything else. While they appreciate the beauty of the dogs, they know that temperament and health are the most important factors. There is a puppy application that must be filled out to be put on the waiting list for the Harvest Moon Goldendoodles.
All of the puppies, regardless of size or gender, are $3000. To reserve a puppy a $500 deposit is required. This will go towards the final price of the puppy when you pick it up.
Harvest Moon offers a few different ways to get your puppy. The preferred method is to pick up your puppy in person. However, if that is not possible, they can deliver or meet you for an additional charge. They do ship puppies via Delta airlines however, there are additional charges for that as well.
Goldendoodle Breeder Information:
3. Amberdoodles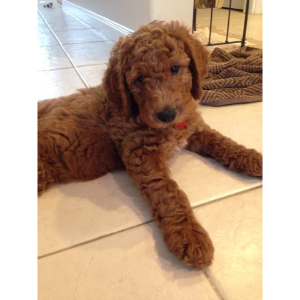 Amberdoodles in Colorado is an extremely small breeder with only two females and one male. They are breeders of F1 and F1B Goldendoodles. One female is a purebred Golden Retriever while the other female is an F1 Goldendoodle. Because the operation is a small family-run business, they only have a few litters a year.
It is important to fill out the application to start the process if you want to get on the waiting list. Once your application is accepted it is time to place a deposit. Amberdoodles does have a higher deposit than some of the other breeders. It is a $1200 deposit that will be needed to be placed on the waiting list and reserve a puppy.
All of the transportation and pick-up in regards to the puppy is up to the new owner. Pick up from the breeder directly is the most preferable method. This breeder will not ship unless it can be worked out prior to placing the deposit.
Goldendoodle Breeder Information:
For More Puppy Content: Best Goldendoodle Dog Breeders In Idaho!
4. Elimwood Farm Goldendoodles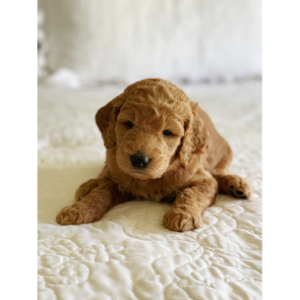 Elimwood Farm Goldendoodles is a small family breeder in Louisiana. They have four females and two males limiting the number of litters they have a year. With only three to five litters it is important to get on the waiting list if you want an F1B Goldendoodle from this breeder.
They started this business after bringing home their first family pet. An F1 Goldendoodle named Ana. She started the business and is still one of their mothers.
All of the dogs live with them at their home as part of the family. The puppies are born in the home and are played with from day one. They are socialized and mentally stimulated during puppyhood to make sure they have temperaments suitable for family living, service, or therapy.
Medium Goldendoodles are $2500 with a $400 deposit while the Mini litters are $3000 with a $400 deposit. They do say on the website that transportation is not included. It typically isn't. However, they do encourage new owners to contact them to work out the particular details of their transportation needs.
Goldendoodle Breeder Information:
5. Lakeview Doodles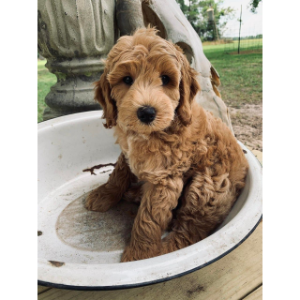 Lakeview Doodles is a long-established, reputable breeder in Rochester, New York on the shores of Lake Ontario. This location inspired their name. This breeder has been in operation and following all of the New York guidelines since 2004. Every dog and puppy is part of their family home and is raised around children, other pets, and many everyday situations.
Puppies are never shipped alone in cargo but new owners are welcome to fly in to pick up their puppy. There are also occasions in which the breeder will drive the puppy within a certain distance to deliver them to their new owners.
However, all of the litters are reserved until the end of 2021. They are accepting applications for late 2021 litters if you want to try to secure a spot on the list.
A deposit of $250 will be needed once your application is accepted to keep your spot on the waiting list.
Goldendoodle Breeder Information:
6. Above and Beyond Standards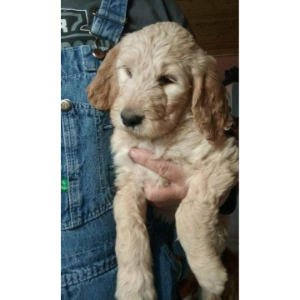 Above and Beyond Standards can't be described as a small breeding operation. They have four different breeds that they breed and sell and have full schedules for all of them. Because of the size of their program, they have a shorter than average waiting list.
They have a master waiting list for each breed, not one for each litter. This makes the process go a little bit faster. The F1B Goldendoodles are all GANA registered and cost $3000 regardless of gender or coat type.
Each interested party will need to fill out an application and be approved before they are able to secure a spot on the waiting list. Each waiting list spot will require a $250 deposit.
It is preferable for new owners to drive to the breeder's house to pick up the puppy but they can work out the details for each person. This will need to be worked out ahead of time. There will be an additional fee for meeting the new owner or airline travel.
Goldendoodle Breeder Information:
7. Wonderland Goldendoodles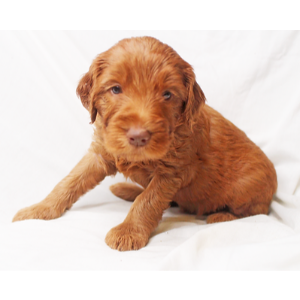 Wonderland Goldendoodles is an up-and-coming breeding program in Eugene, Oregon. They currently only have one female and one male but are planning on growing the program.
The plan is to start placing the pick of the litters in guardian homes near Eugene so they can grow up in a loving family with the attention and training they need and deserve. The owners are looking for guardian homes. If you are interested fill out the application on the website.
Because this program is small, it is important to watch their Facebook page. This has the most up-to-date information. They don't keep a waiting list and only do a reservation list once a litter is born. New owners will need to make arrangements to pick up their puppy from the breeding location. They do not ship the puppies.
The puppies are $2800 whether the puppy is male or female. Color also has no bearing on the price. There is a deposit of $500 that will be needed if your application is approved.
Goldendoodle Breeder Information:
8. Blackwater Doodles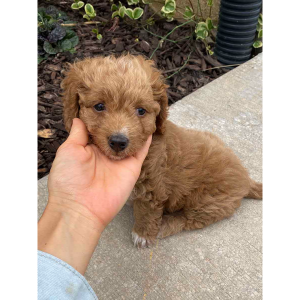 Blackwater Doodles is a larger breeder located in Amarillo, TX. They specialize in breeding well-rounded working dogs that are also great family pets. With hunting and service dogs their main focus, it is important for their dogs to be free of genetic and preventable health conditions.
All of the adults in their breeding program have been tested extensively to make sure there is nothing that could be passed on through the line that they know of.
Because they are a larger program, they do utilize guardian homes to make sure their dogs are loved members of families for their whole lives. There is a guardian application and homes must be approved before the dog is placed.
Goldendoodle pricing is based on size. Standards are $2800 while mediums and minis are $3300. This is the pet price and does not reflect any special breeding rights if that is arranged.
Goldendoodle Breeder Information:
For More: Best Bernese Mountain Dog Breeders in California!
Conclusion for F1B Goldendoodle Puppies For Sale
One of the hardest things you'll have to do when finding an F1B Goldendoodle is to find a reputable breeder. There are tons of backyard breeders and puppy mills out there selling F1B Goldedoodle puppies since they have become popular in recent years.
We hope that you were able to find an F1B Goldendoodle breeder near you and get your next puppy!