After the successes of designer breeds such as the Cockapoo (Cocker Spaniel and Poodle) and Labradoodle (Labrador Retriever and Poodle), Goldendoodle breeders in Connecticut have also become popular. If you're looking for Goldendoodle breeders in Connecticut who are selling healthy and happy puppies, you'll have to check out our list.
We've done our own independent research to help you find reputable Goldendoodle breeders who are health testing, genetic testing, and offer a health warranty on all of their puppies.
Other articles you would like: Labradoodle Breeders in Connecticut and Bernedoodle Breeders in Connecticut.
Goldendoodle Puppies In Connecticut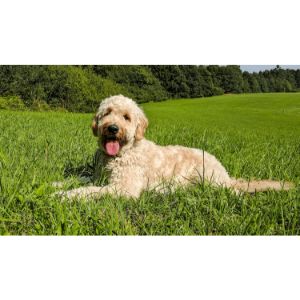 Breeders are raising and selling these cute and cuddly crosses of Golden Retrievers and Poodles for a reason: this crossbreed is extremely affectionate with a great personality and distinctive features.
Goldendoodle puppies feature the Poodle's intellect and the Golden Retriever's allegiance. So, if you're looking to get your hands on some adorable, happy, and healthy Goldendoodles puppies in Connecticut, we've compiled a list of the 4 best breeders in your area.
1. Powderhill Goldens – Shoreline (Powderhill Puppies)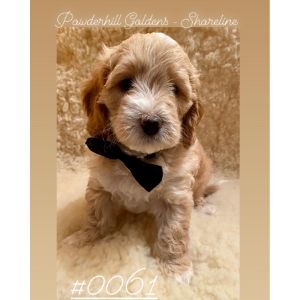 Powderhill Goldens – Shoreline (Powderhill Puppies) is our first pick among responsible Goldendoodle breeders in Connecticut. This home-based, family-oriented breeder is located on four acres of land.
The dogs at Powderhill are a part of their loving family and are raised among their children and other house pets. The breeder ensures that all their puppies receive individual attention and the best facilities in their care. Goldens
Powderhill Goldens constantly revise and evolve its breeding, planning, delivery, and marketing processes to provide the best service to its clients. They plan litters far in advance and can let you know what types of Goldendoodles will be available up to 24 months in advance!
Moreover, their dams and sires are health-tested and certified for hips and elbows, OFA eyes, patellas, and cardiac evaluations; they are also DNA-tested before breeding to produce litters. 
When the puppies are three weeks old, they are micro-chipped, and the breeder starts taking weekly pictures of every individual puppy. When the puppies are seven weeks old, they are taken to the vet and receive their first set of all applicable vaccinations and deworming. They also schedule a Virtual Puppy Pick Day on weekends for prospective pet parents to meet and select a puppy.
The puppies are ready to leave for their forever homes at eight weeks. They are accompanied by complete medical/vaccination records, a collar, a toy/blanket with their littermate's or mom's scent, a small bag of food, a lineage chart, feeding, puppy training instructions, and pet insurance. In addition, they offer a two-year health guarantee that covers inheritable genetic diseases.
Goldendoodle Breeder Information:
2. Barnwood Doodles
The motto of Barnwood Doodles is simple: "you get out what you put in." This husband-and-wife breeder couple has dedicated their lives to providing their puppies and dogs with the best resources and facilities to produce healthy and happy puppies with the most promising genetics and temperament.
The breeders are healthcare workers; the wife is a nurse, and the husband is a pharmacist. However, their ultimate passion lies in working with canines. They love training their parent dogs and taking them on hikes in the state forest. 
As far as the puppies are concerned, they are well-adjusted to a home environment from an early age and are desensitized to various sights, noises, smells, and textures. They are also socialized with children, the elderly, and other house pets.
Moreover, the puppies are regularly handled by friends and family members. Handling focuses specifically on the face, paws, and mouth so the puppy feels comfortable for future health examinations. Routine grooming, blow-drying, and baths are also part of their dogs' lives.
All puppies are vaccinated, dewormed, and vet-checked according to regular cycles. Once ready to go home, the puppies are given their health/vaccination records and a food starter bag and are micro-chipped with lifetime registration. In addition, Barnwood Doodles provide a two-year health guarantee that covers genetic diseases.
Goldendoodle Breeder Information:
3. Willow Grace Doodles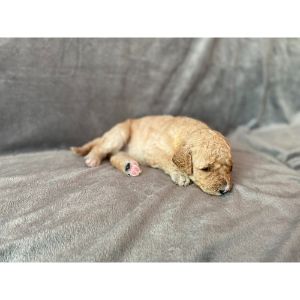 Our next pick, Willow Grace Doodles, is a small, home-based breeder established in 2020. Their Goldendoodle puppies for sale in Connecticut are bred to possess superior qualities that every dog owner looks for in a pet – patience, affection, and optimal health.
Their pets have brought immense love and joy in their lives, and they want to do their part to provide delightful, healthy dogs that can bring joy to other people as well.
Proud members of the Goldendoodle Association of North America (GANA), Willow Grace Doodles provide each of their puppies a loving and nurturing home environment to thrive and develop their skills. Early training, socialization with children and other animals, and desensitization to everyday household sights, sounds, and textures are the breeder's priorities.
In addition, their breeding program includes applicable vaccinations, deworming, and regular vet checks. Before going home, your puppy will be given their medical/vaccination records, a small bag of food, and a toy with their littermate's or mom's scent.
Willow Grace Doodles offer a two-year health guarantee that covers various genetic diseases common to the breed and their parents, including Ichthyosis, Golden Retriever Type 1, Degenerative Myelopathy (DM; SOD1A), PRA, Rod-Cone Degeneration (PRA-prcd), Neonatal Encephalopathy with Seizures (NEwS), and von Willebrand Disease I (vWD I).
Goldendoodle Breeder Information:
4. Top of the Hill Doodles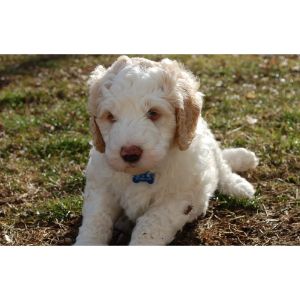 And our fourth and final pick for Goldendoodle breeders in Connecticut is Top of the Hill Doodles. They strive to place each of their well-tempered and well-socialized puppies in a loving family home.
The breeders at the Top of the Hill Doodles treasure all the puppies in their program and provide them with undivided attention and care. Their hard work and dedication ensure that the puppies leave their forever homes confidently and are ready to face the world with their new family.
All the dogs and puppies at Top of the Hill Doodles are raised on the family farm and live inside their home as a part of their family.  All their puppies are trained to be smart and friendly and are provided the best care, facilities, and resources to thrive.
Once the puppies are two weeks old, weekly pictures and videos are posted on their website so that prospective pet parents can keep in touch with the growth and development of the puppies.
Before going home at eight weeks, a vet gives all puppies a clean bill of health. Moreover, puppies receive their first set of vaccinations, have their dewclaws removed, and are dewormed at two, four, and 6 weeks old.
Finally, Top of the Hill Doodles offers a two-year guarantee for all puppies covering genetic diseases. However, if a is diagnosed with a genetic ailment after adoption, the breeder offers to refund ​50 percent of the purchase price towards vet bills or provide a puppy replacement within 12 months.
Goldendoodle Breeder Information:
How To Choose Goldendoodle Breeders In Connecticut?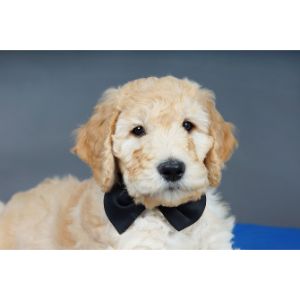 Finding healthy and well-socialized Goldendoodle puppies in Connecticut can be tricky, especially for first-time pet parents or those with little experience with this designer breed. Although Connecticut has many Goldendoodle breeders, you might get scammed by a backyard breeder or a puppy mill that offers you below-average rates and fabricated promises. 
So, before you decide on a breeder you want to buy your lifelong canine companion from, make sure you verify these aspects of their business:
Health Tests and Guarantees
A good breeder's priority must be the health and well-being of their animals. Therefore, ensure that the breeder conducts comprehensive health and genetic testing on their parent dogs and puppies.
Moreover, genuine breeders always offer health guarantees – usually for one to two years – covering health defects common to the breed and genetic diseases.
Affiliations
Another credibility factor of a reputable breeder is their affiliation/registration with various organizations that enforce responsible and ethical breeding practices. These include the Continental Kennel Club (CKC), the American Kennel Club (AKC), Puppy Culture, and Good Dog's Responsible Breeding Program.
Reviews
Another essential aspect is reviews and testimonials, coupled with background checks (in person or online). These shed light on what previous customers have to say about the breeder and their practices. Additionally, you can read reviews on Google, Facebook, Reddit, or Yelp. 
More Information About Goldendoodle Puppies In Connecticut
Created in the early 1990s, Goldendoodles are still considered a relatively new breed. This designer breed is best known as loving family companions and is friendly and social and gets along quite well with children and other pet animals.
Goldendoodles are not meant to be kept outside or in kennels; they love being indoors (not recommended for small apartments) and around their loved ones. Leaving a Goldendoodle alone for a long time might lead to them developing separation anxiety and depression.
Due to their hypoallergenic coat, Goldendoodles make excellent pets for people with allergies. They are light-shedders but require constant clipping and grooming. If their coat is kept trimmed, they require clipping every six to eight weeks and brushing every few weeks. For regular coats, brushing once a week is necessary.
Overall, Goldendoodles are affectionate and friendly family dogs. They're not suitable as watchdogs since they are generally not noisy and won't even bark if someone's at the door. They have moderate energy and require about 20 to 30 minutes of exercise every day.
Conclusion For Best Goldendoodle Breeders In Connecticut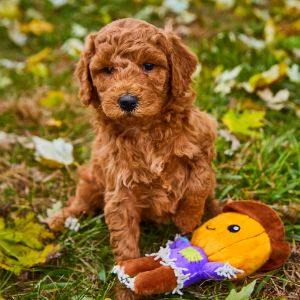 Goldendoodles are adorable and affectionate dogs. The personality traits of mixed breeds often vary, but generally, Goldendoodles are humble, sociable, cuddly, and highly intellectual.
Goldendoodles are born to be companion dogs, so contact one of these breeders today and find your perfectly precious Goldendoodle puppies for sale in Connecticut today!
You will also like: