Do you love designer dog breeds? Are you looking for reliable Labradoodle breeders in Connecticut? Well, this article is just for you! Labradoodles are arguably the 2nd most popular dog breed behind the Goldendoodle and it's important that you purchase one from a reputable breeder.
We've done our own independent research to help you find reputable breeders in order to get a healthy and happy puppy.
Other articles you would like: Goldendoodle Breeders in Connecticut and Bernedoodle Breeders in Connecticut.
Labradoodle Puppies In Connecticut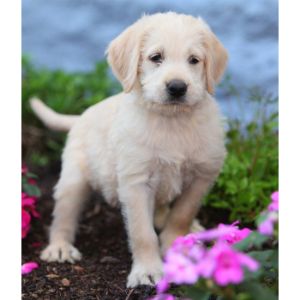 Labradoodle puppies for sale in Connecticut are all the rage nowadays because of their hypoallergenic genes and non-shedding coat. A designer breed created by bringing together the Labrador Retriever and Poodle, Labradoodles were initially trained to serve as affectionate and loyal service dogs.
However, due to their humble, mild-tempered, and easily trainable nature, they've quickly gained popularity as family companions. So, if you're a resident of Connecticut or live nearby, here's a list of reputable breeders that can provide happy and healthy Labradoodle pups.
1. Blue Bay Labradoodles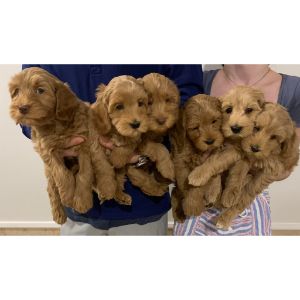 Our first pick for reliable Labradoodle breeders in Connecticut is Blue Bay Labradoodles. Located in Central Connecticut, they keep their precious Australian Labradoodles and pet parents in a secure, family-friendly environment. They aim to expand their program further and offer the same warm and nurturing atmosphere for all future Labradoodles.
All the breeding dogs in Blue Bay's program undergo thorough testing to make sure the upcoming litters will be of high quality. All their pet parents and puppies are healthy, well-tempered, and raised in their homes around other family pets, children, and the elderly.
Once a litter is available, they provide pictures and videos on a weekly basis from two weeks of age so that potential pet parents can select their preferred puppy easily.
During the growing process, puppies are well-socialized to people and other animals, gently exposed to various environmental stimuli, and provided the ideal environment to enhance their growth and development. They are introduced to basic crate training and trained to respond to simple commands.
Before going home at eight weeks, all puppies receive their medical records, undergo a comprehensive vet exam, are micro-chipped, and are updated on all currently applicable vaccines. 
Labradoodle Breeder Information:
2. True North Labradoodles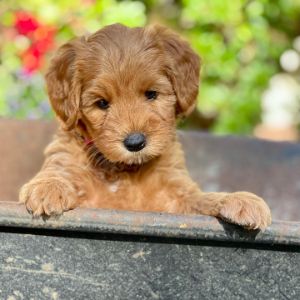 True North Labradoodles distinguishes itself from other Labradoodle breeders by emphasizing training and socialization. All the puppies receive age-appropriate behavior training from a young age. They are well-socialized with other animals, children, and the elderly.
The puppies also receive a thorough health exam and a temperament test overseen by a professional evaluator. After receiving the results of both, the breeder will match puppies with the perfect families and contact them for the good news.
Once the puppies are between 7 and 8 weeks old, families can visit and interact with them. Families can choose to meet the puppy and its parents before making their decision. In addition, True North Labradoodles provides a two-year health guarantee for their puppies, covering HD (Hip Dysplasia) and any life-threatening genetic diseases.
However, they guarantee that when you take your puppy home, it is in optimal health and has received proper health care such as deworming, age-appropriate applicable vaccinations, and a comprehensive health check by a credited vet. These medical records will also be given to the pet parents at the time of adoption.
The breeder does not have a waiting list; if a puppy becomes available, when you submit your application, you can take it home! So, keep checking their website and social media for updates.
Notably, True North is a member of the Worldwide Australian Labradoodle Association (WALA), the Australian Labradoodle Club of America (ALCA), and the Australian Labradoodle Association of America (ALAA).
Most recently, True North has partnered with a credible online program that posts weekly podcasts, offers training lessons, and provides live canine coaching. It requires a one-time membership fee for lifetime enrollment, and you'll get a 25 percent discount by using the code TRUENORTH!
Labradoodle Breeder Information:
3. My Best Doodle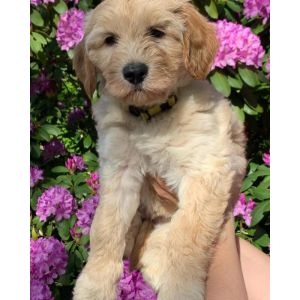 ​My Best Doodle breeds beautiful Australian Labradoodles with wonderful temperaments that become amazing family-friendly pets. All their dogs live with them in their home or with Guardian Families.  
There is ample room in their yard for their puppies and dogs to play, run and get the exercise they need to thrive physically.  Moreover, daily walks around town or to the local lake are a routine at My Best Doodle.
All the breeding dogs and their litters are cuddled daily and provided the best facilities from an early stage.  The breeder uses the Puppy Culture Training Program to train and groom their puppies and encourages pet parents to continue the training after taking their puppies home. 
Socialization with children and other animals is also a very important part of their training, along with regular early stimulation exercises using various toys of different sizes, shapes, textures, and sounds.
My Best Doodle takes pride in providing well-rounded, well-socialized, and family-oriented puppies.  Last but not least, they feed their dogs a premium diet featuring simple ingredients.
Detailed research and their experiences have taught them the importance of not compromising on quality, even if it means spending a little more. You can also have this high-quality pet food delivered to your doorstep for a reasonable fee. 
Labradoodle Breeder Information:
4. Tri-State Labradoodles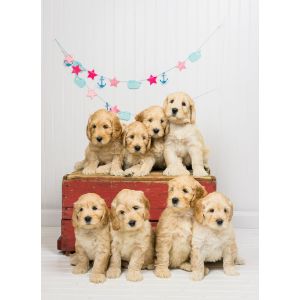 Tri-state Labradoodles is the fourth and final pick on our list of Labradoodle breeders in Connecticut. They are a small in-home breeder of Australian Labradoodles serving the tri-state area and New England. Their dogs are medium-sized, allergy-friendly, and non-shedding.
The breeder prioritizes the health of their dogs above everything else and provides a health warranty for two years covering genetic diseases. All their puppies are hand-raised in their home with lots of affection and specialized attention. They are regularly cuddled and socialized with children and other animals.
Tri-State Labradoodle is a member of the Australian Labradoodle Association of America (ALAA), which makes sure that every Labradoodle undergoes comprehensive health checks are of optimal health.
Before going home, every puppy is micro-chipped and given its first set of applicable vaccination shots. Moreover, the breeder provides their customers with a lifetime of free online and phone support.
Labradoodle Breeder Information:
How To Choose Labradoodle Breeders In Connecticut?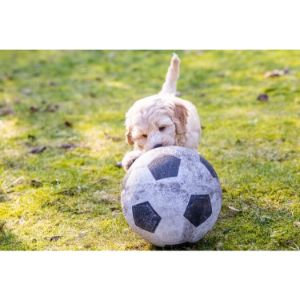 Many breeders are selling Labradoodle puppies in Connecticut and choosing one that provides well-tempered and healthy dogs can become overwhelming.
To avoid being scammed by a puppy mill or unreliable breeder, use these basic tips to choose the best Labradoodle puppies for sale in Connecticut:
Select a Breeder from our List: Call or email one of the breeders on our list and have a detailed discussion about what they have to offer. If you're not satisfied (which we're sure won't be the case), you can look around for more Labradoodle breeders in your area.
Always Ensure Credibility: If you've narrowed down a list of breeders in your area, ensure they're dedicated and completely devoted to their cause. Reputable breeders provide health warranties, make you fill out a detailed puppy application, and ask you various questions to ensure that you can care for a Labradoodle puppy. On your part, ask the breeder for copies of all medical/vaccination records of the puppies, especially the parent dogs.
Check for Registration: Breeders registered with Labradoodle associations such as ALCA, ALAA, or WALA always abide by their superior breeding standards and are considered more credible than others.
More Information About Labradoodle Puppies In Connecticut
Labradoodles are designer dogs best-suited for people with allergies because of their hypoallergenic and low-shedding coats. Labradoodle puppies are extremely friendly and socialize well with children, the elderly, and other animals.
These tiny treasures are easy to train and make amazing service dogs and lifelong family companions. They adjust easily in both large homes and small apartments, irrespective of their size.
Labradoodles love a nice open backyard to play fetch and just run around. These energetic dogs are notoriously famous for their love of water and good swimming ability, so good luck keeping them dry once they spot a water body!
A Labradoodle's coat can be straight, curly, wavy, or shaggy, and they also come in various coat colors such as Black, White, Golden, Silver, Chocolate, Red, and Cream. They are highly intelligent dogs, which makes them easy to train.
Labradoodles love showing new tricks to their loved ones, and their intelligence also means that Labradoodles make great guides and service dogs.
Conclusion For Best Labradoodle Breeders In Connecticut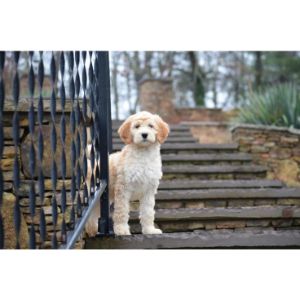 Labradoodle puppies in Connecticut are easy to find but watch out for backyard breeders and puppy mills. Always select a breeder that is credible with positive testimonials.
This intelligent, affectionate, and extremely adorable designer breed is best for people with allergies, families with small children, and people with special needs. So make sure to get your newly adopted puppy health-checked, vaccinated, and groomed regularly.
You will also like: