Finding Cavapoo breeders in Connecticut is a challenging task which is why we created this guide for you. A Cavapoo is a cross between a Poodle and a Cavalier, King Charles Spaniel.
Cavapoos are known to be loving, playful, and intelligent, and are the second most intelligent breed of dog. They have an average life span of 10-15 years. The Cavapoo designer breed was first bred in the 1990s in Australia, and soon it caught on in the United States. It is one of the most popular and sought-after breeds of dogs.
Other articles you would like: Goldendoodle Breeders in Connecticut and Labradoodle Breeders in Connecticut.
Cavapoo Puppies In Connecticut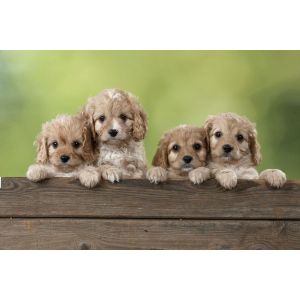 The Cavapoo has a soft, wavy, and curly coat that could be considered hypoallergenic depending upon how allergic you are to dog hair. Moreover, depending on whether the Poodle is a miniature or toy, your Cavapoo can range from seven to eighteen pounds.
Let us look at breeders that can provide Cavapoo puppies in Connecticut.
1. CT Breeder
CT breeder is a well-known Cavapoo breeder in Connecticut. In addition to breeding, they also offer training and grooming services.
CT Breeder is well-regarded in the region and has over forty years of experience training, grooming, and breeding dogs. They breed various designer dogs in addition to Cavapoos, like Goldendoodles, Bichon-Poo, Havamalt, Puggle, Malshi, Morkie, and Yorkie Poo, to name a few.
They also offer pure breed dogs like Labradors, German Shepherds, Cavalier King Charles Spaniel, Beagle, English Bulldog, and Great Danes, to name a few.
If you are interested in purchasing from CT Breeder, then you should know the following:
They welcome in-person visits so you can see the premises and visit the puppies for sale.
They have a well-known pet store that offers pet food and supplies at a reasonable price.
They like to assist customers in choosing the right breed for their household. So do feel free to ask any questions about Cavapoos that you may have.
The owner of the business, Gary, is a well-known pet trainer. He is a sought-after trainer among celebrities and has trained many pets of New York's stars.  
They are located in Norwalk and are one of the most well-known pet businesses in Fairfield County.
They offer free lifetime dog training when you purchase a pet from them.
They have a grooming salon that offers a stay-and-watch option so that you can see your pet is being groomed.
They offer high-quality natural and organic pet food at their pet store that you may not find easily in other pet stores.
Cavapoo Breeder Information:
2. Safari Stan's Pet Center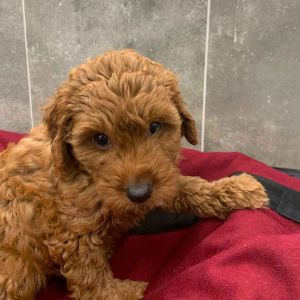 Safari Stan's Pet Center breeds Cavapoo puppies for sale in Connecticut. They are located in New Haven and Stamford, Connecticut. They offer to finance the pet and have a large variety of breeds to choose from, in addition to Cavapoos.
Although we don't usually recommend pet centers, we are suggesting Safari Stan because they work only with USDA-licensed breeders. They ensure that all of their puppies have been vet-checked and immunized.
In addition to this, all puppies are screened for health before they are sold. They have been operating since 2013, and all their staff is well trained and qualified to work with dogs.
If you are interested in buying from Safari Stan's Pet Center, then you should know the following:
All their staff has received intensive training.
They have one of the best husbandry programs in the region, ensuring the health of the pets that are bred.
They have one of the most comprehensive guarantees for new pet owners.
All Safari pets are welcomed back if, for some reason, owners are unable to keep the dog.
They have Pet Counselors who educate people about pets, and which breed of dog might be the best fit for them.
They offer a three-year health guarantee and a 21 one-day health warranty.
They offer lifetime pet training if you purchase the puppy from them.
All their puppies are sent home with health certificates after being vet checked.
They have a submit your claim page for those pet owners who have a health concern for their puppy. They can fill out the form, and Stan's will get back to them within one business day.
Cavapoo Breeder Information:
3. Luvly Acres Cavaliers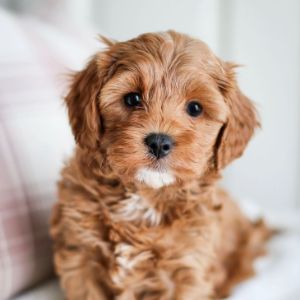 If you cannot find Cavapoo puppies in Connecticut, then New York is the next best option. Luvly Acres Cavaliers is located about an hour and forty minutes from Connecticut in Stanfordville.
They have over twenty years of experience in breeding puppies. They are located on a big farm and specialize in Cavalier puppies and cross breeds, including Cavapoos.
Reasons why you should consider Luvly Acres Cavaliers over other breeders:
From the first breath, Luvly Acres Cavaliers monitors and watches all puppies very closely.
All puppies come with a one-year health guarantee contract.
All puppies are immunized and dewormed.
All puppies come with vet wellness certificates.
All puppies are immunized and well socialized.
They welcome in-person visits so you can meet the parents of the puppies.
Their customer reviews are all praise for the breeder and the way she treats her dogs.
They have a contact form you can fill out to get in touch with the breeder, who responds promptly. You can ask any questions you have about the dogs there.
They do have some upcoming Cavapoo puppy litters on the way. Call the breeder for more information.
Cavapoo Breeder Information:
4. Recherche Cavs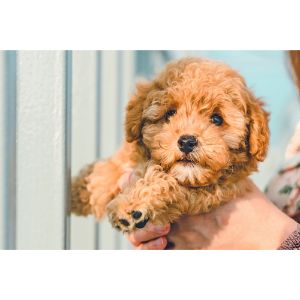 If you are not having luck finding puppies from Cavapoo breeders in Connecticut, then you may consider breeders in neighboring states. Recherche Cavs is a breeder that is not in Connecticut; it is located in North Carolina.
Although North Cal is far from Connecticut, the breeder offers to ship the Cavapoos to your doorstep. If it's a choice between a reliable breeder in North Cal and an unreliable breeder in Connecticut, always choose the former. While you may have to pay for shipping, it will save you big bucks and emotional distress later.
Recherche Cavs and offers fully trained Cavapoos, Cavachons, and Cavalier King Charles. The breeder is well known in the area and very experienced in breeding, so the eight-hour drive is worth it.
The breeding facility is on a 33-acre property that offers the dogs the space and training ground to grow and thrive.
If you are interested in purchasing from Recherche Cavs, then you should know the following:
Their breeds are from some of the best pedigree found around the world. Their parent dogs are from Europe and are all genetically tested.
All parent dogs were purchased from Europe, and all have had extensive testing of the hip, eye, and heart.
Every puppy is put through an extensive training program called Puppy Training Institute.
All puppies are health tested and checked.
All puppies are given all required immunizations and dewormed before they go home.
The welfare of the puppy is the most essential thing for Recherche Cavs. They will extensively check the application of potential purchasers before they agree to sell the puppy to anyone.
Every puppy will come with 30 days of purchased health insurance.
Recherche Cavs strives to make sure the purchase experience for their customer is smooth and trouble-free. Their website answers many of the typical questions customers may have.
 All puppies come with a conditional four-year guarantee. The guarantee is conditional based upon the owner's use of Nuvet or Nujoint for the puppy.
The owner must sign a contract to spay/neuter the puppy within 30 months of purchase.
Cavapoo Breeder Information:
How To Choose Cavapoo Breeders In Connecticut?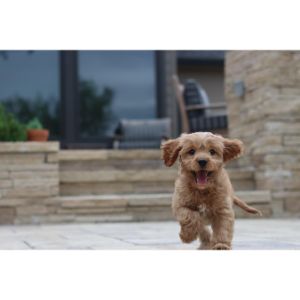 Cavapoo puppies can range in size and temperament greatly depending upon the puppy's parents. Therefore, it is a good idea to visit the breeding facility so that you can see the parents in person when looking for a Cavapoo.
Like any other decision, buying a puppy is a significant investment. You want to make sure what you are getting into. If you are concerned that the size of the puppy you are buying might be too small or too big, you can see the parent dogs get a better idea.
Another reason you want to visit the breeding facility is to see how the breeder treats the animals. You want to ensure that the facility is clean and that the puppies get fresh air and ample food.
If you cannot visit the breeder physically due to distance or time constraints, we suggest multiple online video tours of the facility, Q&A sessions with the breeder, and PuppyCams.
Conclusion For Best Cavapoo Breeders In Connecticut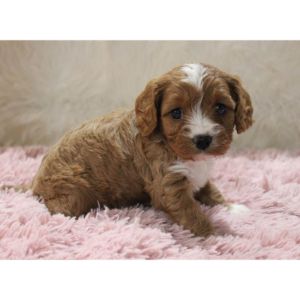 We have given you a head start on your search for your new puppy in Connecticut. If you are looking for a trusted and reliable breeder, then be sure to check out the breeders listed above.
Although we have mentioned two pet centers, CT Breeder and Safari Stan's Pet Center, both are reliable organizations that have been working for more than 30 years. However, if you aren't comfortable choosing a pet center, you can opt for Luvly Acres Cavaliers or Recherche Cavs for a beautiful Cavapoo puppy.
If you have friends or family, who are pet owners, then getting their insight on which breeder you should consider is also a good idea. Personal references are excellent when choosing the best breeder for you.
Here's to hoping you find your Cavapoo puppy soon!
You will also like: