If you are searching for Goldendoodle breeders in Florida, you must first consider the traits of the Goldendoodle breed and decide if it is the right fit for you.
Considered to be the most adorable dog breed, the Goldendoodle is a mix between the Golden Retriever and Poodle. It has both the smart wits and the good looks of its parents. Anyone on the lookout for the perfect designer breed should consider adopting one.
As the Goldendoodle is hypoallergenic, it makes for the perfect dog for just about everyone. Its extreme friendliness and social nature will keep you going even when you are at your lowest. Ever since it was first introduced during the 90s, it has become a staple in Florida.
Other articles you would like: Aussiedoodle Breeders in Florida and Labradoodle Breeders in Florida.
Goldendoodle Puppies In Florida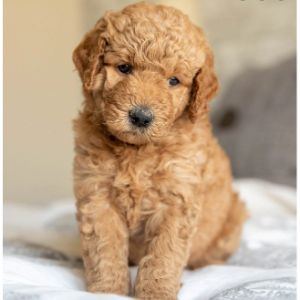 When you bring home a Goldendoodle, you get a lifelong pal who will always be by your side. This breed loves to exercise, but that doesn't mean that you will not find it lazing around on the couch. It makes for a great cuddle, buddy.
However, you have to make sure that you get a Goldendoodle from a reputable breeder, which can be quite a difficult task. To help point you in the right direction, here are some of the top Goldendoodle breeders in Florida that you should consider checking out.
1. My Little Doodle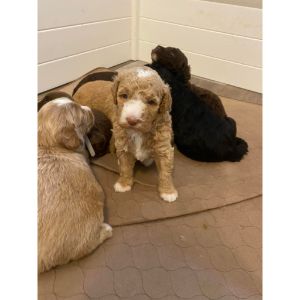 One of the best Goldendoodle breeders in Florida is My Little Doodle. It is a family-run breeder that offers medium and standard-sized Doodles each year in small quantities. The puppies are raised in a home and get to play with kids.
Each Goldendoodle is given love and attention. As only a few puppies are available each year, you will have to reserve a pup in advance. The dogs are recognized by the Goldendoodle Association of North America, which ensures that they have undergone rigorous temperament, personality, and health tests.
When you get a Doodle from My Little Doodle, it will come with a 2-year health guarantee. This would ensure that you have nothing to worry about. As the breeder is committed to the breed, it strives to improve its breeding practices and will ask you plenty of questions before approving your application.
My Little Doodle has an excellent variety of Goldendoodles. It provides each pup with the best nutrition, which is why you can rely on the breeder to get a healthy pup.
Goldendoodle Breeder Information:
2. Twin Flames Farm Goldendoodles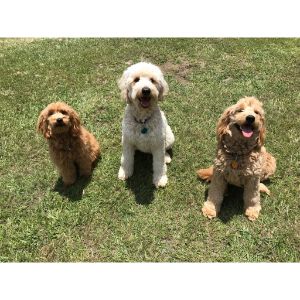 The next breeder that has some of the best Goldendoodle puppies in Florida is Twin Flames Farm Goldendoodles. As it is a small hobby breeder, it only offers a few litters a year. It is a member of the GANA (Goldendoodle Association of North America).
If you want to get mini Goldendoodles, you cannot expect to find a better option than Twin Flames Farm. You can rest assured knowing that all the dogs that are offered are perfectly healthy. The reason behind this is that it follows the highest standards when raising pups.
The breeder is located near Jacksonville, which means that most residents of Florida should have no trouble planning a visit. However, you should let the breeder know if you want to check out their Doodles.
Goldendoodle Breeder Information:
3. Smart Doodle Puppies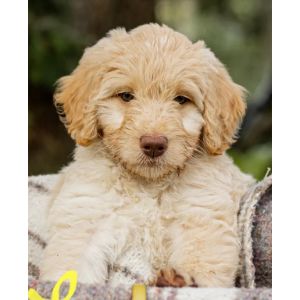 Another breeder that offers Goldendoodle puppies for sale in Florida is Smart Doodle Puppies. It raises some of the most beautiful Doodles at home. Each dog is exposed to fresh air and sunshine from an early age which ensures optimal health.
Since the Goldendoodles are raised among family members, they are encouraged to socialize and make friends. In fact, they get to befriend birds, other furry friends, and even cats. Therefore, the puppy you adopt should have no trouble adjusting to your home.
In order to ensure that the puppies develop crucial problem-solving skills, the breeder challenges them and provides an ample amount of training. The Goldendoodles get to sleep with family members and are provided quality food. They are also given potty training.
The breeder follows the puppy culture program to ensure that Doodles are ready for a new life. Once they are 7 weeks old, they are evaluated on topics such as body structure, site sensitivity, sound sensitivity, prey drive, social dominance, and restraint. 
​When you adopt a Goldendoodle from Smart Doodle Puppies, you get the healthiest possible pet that makes for a loyal companion. You can start your application today to ensure that you are able to get a Doodle for your home in no time. Here's what you need to know.
Fill out the adoption application form by providing as much information as possible. The more information you provide, the easier it will be for Smart Doodle Puppies to find the perfect puppy for you.
After you have filled out your application, you just need to text the breeder so that they can set up a time for you to meet with the Goldendoodle puppies.
If you are approved, your puppy will be reserved, and you will need to make a deposit. A great thing about the breeder is that it provides discounts to old customers, pastors, the military, and first responders.
Each puppy you adopt would come with a microchip, a two-year health guarantee, a puppy kit, and a Florida health certificate.
Goldendoodle Breeder Information:
4. Cosmopolitan Goldendoodles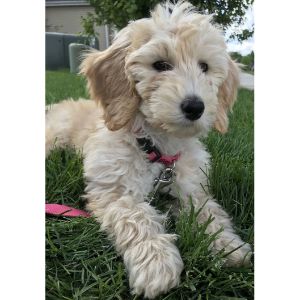 Cosmopolitan Goldendoodles is an excellent breeder that offers high-quality Goldendoodles. The best thing about the breeder is that it can even drop off your puppy. Otherwise, you are more than welcome to give them a visit so that you can bring your Doodle home with you.
Run by a mother and daughter team, Cosmopolitan Goldendoodle provides all sizes of the breed. This makes it the ideal choice for those of you who are interested in different sizes of the Goldendoodle breed. You can view its social media page to look up pictures of its Doodles.
It is also worth keeping in mind that the breeder has been approved by GANA and conducts extensive testing for elbow and hip dysplasia along with patellar luxation, cardiac evaluation, and eye certifications. The breeder takes the health of its puppies very seriously.
If you are looking for a breeder that is highly reputable, you cannot go wrong when you select Cosmopolitan Goldendoodle. Although it charges more for its service, you can expect to receive a premium service. It will guide you with everything. Hence, you will have a dedicated breeder.
Keep in mind that there is a 6-month wait time involved when you adopt from the breeder. However, it is definitely worth it as you would get to adopt the most adorable puppy that will never leave your side.
Goldendoodle Breeder Information
5. Grateful Doodles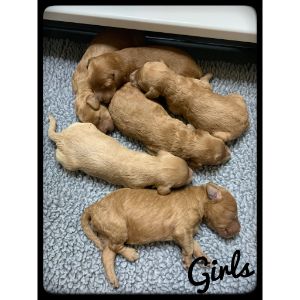 Last on the list of Goldendoodle breeders in Florida is Grateful Doodles. It is also located near Jacksonville. Having developed a great reputation in Florida, the breeder offers well-trained mini and medium Goldendoodles.
Each puppy that is available for adoption comes with a 3-year health guarantee. This is something that sets the breeder apart. Since most breeders only offer a 1 to 2-year health guarantee, you would be relieved when you choose Grateful Doodles.
The dogs are raised in a loving home where they get to spend 24 hours. They are not put in a kennel and are provided with adequate attention. The puppies are also dewormed, vet-checked, and health-checked before they are sent to a forever home.
If you want to get a Doodle, all you have to do is send an email to the breeder or give them a call. They will assist you with the selection process so that you can find the right Goldendoodle for your home. You can also ask them for advice on raising the breed.
Goldendoodle Breeder Information:
Conclusion For Best Goldendoodle Breeders In Florida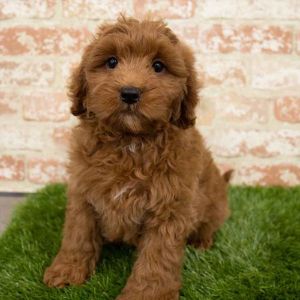 The Goldendoodle is a dog that enjoys playing fetch and Frisbee. It loves to socialize with its owner and will always be with you. If you are looking for a pet that you can take with you wherever you go, it ticks all the boxes.
Besides, you will appreciate the fact that the Goldendoodle has no trouble making friends quickly. This is why it is considered the perfect family pet. You will also be delighted to know that it does not bark as much as it has a calm and friendly demeanor.
There is no doubt that a Goldendoodle makes a great pet; the trick is to choose the right Goldendoodle breeder, and the list above is a great place to get started!
You will also like: