If you're searching for the best Mini Sheepadoodle breeders in the United States, then you probably know about their intelligence. A Mini Sheepadoodle brings together the best of both worlds from the Old English Sheepdog and Miniature Poodle.
Even though there is no set size, Standard and Mini Sheepadoodles range between 30 to 45 lbs while micro-mini Sheepadoodles range from 20 to 30 lbs.
Similar to medium and Standard Sheepadoodles, Mini Sheepadoodles come in lots of coat colors with their own beautiful and unique markings. Whether you're looking for a companion or support dog, a Mini Sheepadoodle will do well in any type of lifestyle.
Sheepadoodle Puppies For Sale in the United States
Check out our list of the top 7 Mini Sheepadoodles across the United States to narrow your search for your future Mini Sheepadoodle. Our team did our due diligence for you, so you won't have to worry.
1. Stoneridge Doodles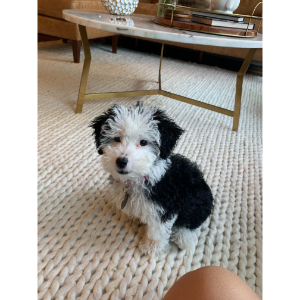 First on the list of Mini Sheepadoodle breeders in the United States is "Stoneridge Doodles." Stoneridge Doodles is a growing family of 6 that seeks to glorify God in all they do. Their goal is to raise healthy and well-socialized Sheepadoodles for families in Anoka County and across the United States.
The breeder has a thorough selection process that vets any parent dogs before breeding. They take their selected parent dogs under thorough medical tests to ascertain their health and genetic makeup. The parent dogs live with the breeder as pets where they are loved and cared for.
You can expect to pay $2,800 to $3,400 for a Mini Sheepadoodle puppy from this breeder. The breeder also has puppy packages if you wish to have professional photos of your new pup taken, training treats, leash, portable water bowls, dog bones, and comb.
The packages start at $179. If you or anyone in your household has allergies, Stoneridge Doodles offer an allergy test that goes for $99 before booking for a puppy. This will help you ensure you don't have an allergic reaction to your Mini Sheepadoodle puppy.
Mini Sheepadoodle Breeder Information:
2. Sheepadoodles by Design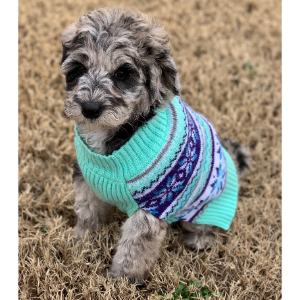 Sheepadoodles by design, founded by April Tilley, has been raising doodles since 2003 in the beautiful state of Arkansas. The breeder's goal is to make welcoming your new or adding a Sheepadoodle to your family stress-free.
The breeder focuses on multi-generation and backcross mini to medium-sized Sheepadoodles. Typically, their Sheepadoodle puppies are compact size but have a big personality. The parent dogs are chosen for their health, temperament, personality, and conformation.
Sheepadoodles by design have limited puppies every year to allow for keen observation and spend lots of quality time with the pups to ease them into your home. You can expect to pay $2,500 for traditionally colored Mini Sheepadoodles and $2,900 for merle-coloreds. The price is inclusive of a 2-year health guarantee and age-appropriate vaccinations.
Mini Sheepadoodle Breeder Information:
3. The Farm's Precious Doodles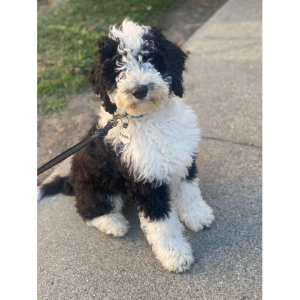 The Farm's Precious Doodles is the brainchild of Indiana-born Savannah. Savannah traces her passion for dogs to when she could first walk.
At 2 years old, however, she was bit by a stray and had to get 17 stitches on her face. That terrifying experience became one of her greatest motivators to help families have wonderful, well-trained family companions.
Savannah breeds F1b Mini and Standard-sized Sheepadoodles that weigh 25 to 80 lbs, respectively. Her Sheepadoodles typically come with coat colors that range from black and white, brown, cream, merle, and red.
Because of genetic diversity, however, she cannot guarantee the specific color or size your Mini Sheepadoodle will be. You can expect to pay an average of $2,800 and above for a Mini Sheepadoodle puppy.
Mini Sheepadoodle Breeder Information:
For more Puppy Content: Best Golden Retriever Breeders in Texas!
4. TLC By The Lake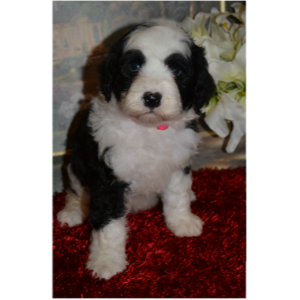 TLC By The Lake has been breeding for the past 12 years. Their first breed was the Standard Poodle and roughly 6 years ago, they graduated to breeding Sheepadoodles. Her pride and joy are the dogs who serve in service and therapy work. TLC's parent dogs live in the breeder's home, where there is a full-fledged facility and in trusted guardian homes.
Her parent dogs have undergone thorough health testing to find out they will be excellent parents and pass on wonderful traits to their pups. Their F1 Minis range from $3,495 to $3,895 depending on the coat color.
For blue-eyed Sheepadoodles, you will be expected to add an additional $300. If you're keen on coat colors, you can expect your pup to be black and white, white and black, or merle. If you're not local to Maryland, you will need to fly to the breeder to get your puppy.
Mini Sheepadoodle Breeder Information:
5. Dogwood Doodlebugs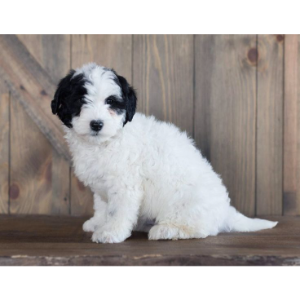 Dogwood Doodlebugs is run by a mother-daughter duo, Daphne and Christine. Christine traces her love for animals to her childhood where she showed horses, did barrel racing, and owned 80+ purebred show rabbits at 12.
Her mother, Daphne, was equally enthusiastic and taught Christin a lot about breeds, standards, and genetics. In 2014, Christin purchased her first Goldendoodle that paved the way to producing her first litter years later after much research and mentorship. Christin and Daphne breed F1b Sheepadoodles, Bernedoodles, and Goldendoodles with excellent health, temperament, and appearance.
The duo supervises every part of the breeding process and puppy raising to ensure your Mini Sheepadoodle is the best. The parent dogs live with Christin on her 110-acre farm where the fur babies love to play about and with handpicked guardian families.
Before breeding, they have their dogs go through extensive health testing that includes checking for over 150 genetic disorders to ensure your future puppy's present and future health. If you're not local to North Carolina, Christin and Daphne have various transport options that you can choose from.
Mini Sheepadoodle Breeder Information:
6. Feathers and Fleece Farm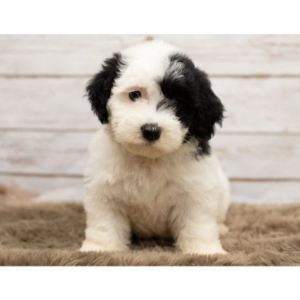 Feathers & Fleece Farm began in 1993. Originally, the farm was known as a wholesale herb farm called Mingione's Garden. The farm sold handmade herbal products and bred rare breed poultry, working dogs, and baby-doll sheep.
In 2007, the farm turned to focus on working dogs and poultry. Feathers & Fleece Farm is registered as a licensed breeder in Indiana. The farm specializes in breeding hypoallergenic Doodles that are healthy, stunning, and well-socialized.
Aside from breeding Mini Sheepadoodles, the farm also produces Whoodles and Schnoodles. You can expect to pay at least $2,800 for a Mini Sheepadoodle. Unlike other breeders, your puppy will be ready to go home between 10 to 12 weeks of age. Whether you're looking for a companion dog or a therapy dog, Feathers & Fleece Farm is one of the best breeders to talk to in Indiana.
Mini Sheepadoodle Breeder Information:
7. Doodle Dog Hill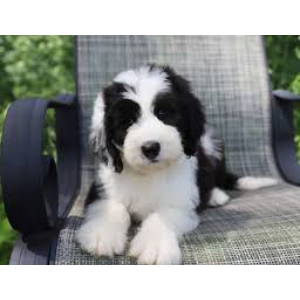 Last on the list of Mini Sheepadoodle breeders in the United States is "Doodle Dog Hill." If you're looking for Mini Sheepadoodles in Wisconsin, Doodle Dog Hill is the breeder to talk to. Doodle Dog Hill, run by Donna, is a small and family-owned breeder in the Bayfield area. Aside from Mini Sheepadoodles, the breeder also produces Mini Bernedoodles and Mini Goldendoodles.
Doodle Dog Hill prices their Mini Sheepadoodles at $1,700 regardless of color or gender. You can expect your Mini Sheepadoodle to weigh 30 to 40 pounds, be healthy, and have a sweet temperament. The breeder can deliver anywhere in Wisconsin or meet you in a bordering state. If you live far off, the breeder can organize various delivery options for you.
Mini Sheepadoodle Breeder Information:
Conclusion For The Best Mini Sheepadoodle Breeders in the United States
Mini Sheepadoodles are more than cute furry balls, they are excellent companions and do well as therapy or emotional support dogs. Whether this is your first or an addition to your current pets, a Mini Sheepadoodle will thrive in your home that'll bring you lots of joy.
For more: Best Sheepadoodle Breeders in Texas!