Finding Sheepadoodle breeders in Texas can be difficult for many people. Especially when it comes to finding reliable and trustworthy breeders. The Sheepadoodle is a designer dog that's mixed between the Old English Sheepdog and Poodle. If you're in search of a Sheepadoodle companion, then you probably know how smart and playful they are. Similar to many Doodle breeds, the Sheepadoodle has some of the best traits inherited from its parents.
Sheepadoodle Puppies For Sale in Texas
We present to you our list of the best Sheepadoodle breeders in Texas. Hopefully, this list will help you bring home a Sheepadoodle companion in no time. We got you covered because this list is hand-picked by our team.
1. Texan Doodles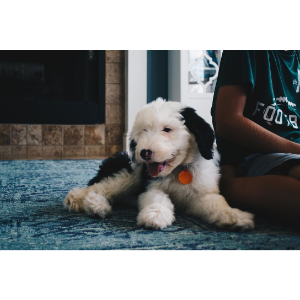 Texan Doodles is one of the top Doodle Breeder serving the San Antonio Texas community. Located in Lacoste Texas, their doodles have plenty of open spaces to run, play, and become socialized. Breeds they specialize in include Double Doodles, Australian Labradoodles &Sheepadoodles. They strive to be the best doodle breeder with the happiest dogs in Texas.
Texan Doodles take pride in their socialization of all puppies and offer a 3-year health guarantee. They advertise their Sheepadoodles as Easy to train, Love children, Non-shedding, Hypoallergenic, Great with other pets, Even temper, Eager to please, and Good watchdogs.
Their doodle puppies go to their new home well versed in family life, already exposed to household noises, rules, children, cats, dogs, toys, training, and more.
Pricing for Texan Doodles puppies is Standard and medium puppies are $3000 plus tax, Mini and micro puppies are $3500 plus tax. A $500 deposit will hold an adopter's spot on the waitlist. The deposit will be transferable to any litter and refundable after 12 months – if the desired puppy is not matched.
Sheepadoodle Breeder Information:
2. Dallas Doodle Ranch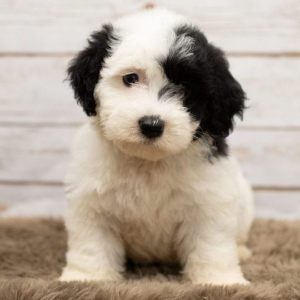 Dallas Doodle Ranch is known as a premier breeder of Standard and Mini Sheepadoodles, Standard and Mini Bernadoodles located in Northeast Texas. Through responsible and thoughtful breeding practices, they are offering quality puppies raised in home environments to families across the country.
Each puppy from Dallas Doodle Ranch starts the journey of learning beginning on day three. On day three they begin neurological stimulation exercises which last for 14 days.
Weeks six through eight Dallas Doodle works with their puppies on manners, the beginning stages of crate and potty training, exercises that include various sensory stimulation as well as light counter-conditioning to fear, anxiety, and aggressive tendencies; resource guarding of food, bones, and toys. Dallas Doodle also ensures their puppies are well socialized with other dogs and people.
At Dallas Doodle Ranch, adopters can pick the puppy they want and are not locked into a particular litter, and are free to choose the puppy that best fits their lifestyle.
They also have personalized puppy transport or flight nanny who will hand-deliver a puppy to adopters anywhere in the continental United States at very reasonable rates.
Dallas Doodles also sports some of the best prices when it comes to adopting. To adopt a puppy from Dallas Doodles, an application must be filled out and a $500 deposit must be paid.
For full pricing of sheepadoodle puppies from Dallas Doodle Ranch as well as any other information, contact them directly via their website or by phone.
Sheepadoodle Breeder Information:
3. Texas Doodles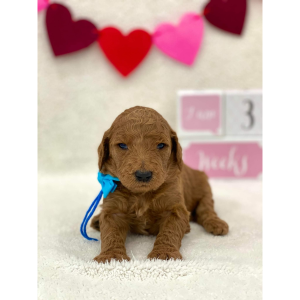 The goal at Texas Doodles is to create healthy, intelligent, and hypoallergenic companion dogs. They are a responsible breeder with a well-planned breeding program. Texas Doodle puppies are raised with the puppy culture method, which places emphasis on early neurological stimulation.
They allow their puppies to go to their forever homes after 8 weeks of age potty trained to a doggy door, fully veterinarian checked, and up to date with age-appropriate vaccinations and de-wormer. Puppies are implanted with a nano microchip and registered through Fetch.ID.
Texas Doodle sends home their dogs with a puppy care kit which includes Purina Pro Plan Lamb and Rice formula puppy food, blanket with litter scent, flea/ tick, heartworm, and intestinal- worm preventative. New owners will receive a CKC registry application, parents' health testing, and registration.
For information about upcoming litters and full pricing, Texas Doodles asked to be contacted via their website.
Sheepadoodle Breeder Information:
For more Puppy Content: Best Bernese Mountain Dog Breeders in California!
4. Lonestar Doodles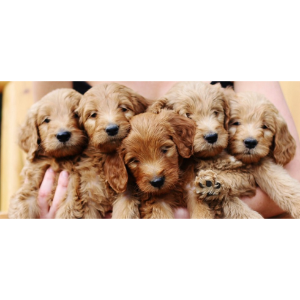 At Lonestar Doodles, their goal is to raise healthy, well socialized, gorgeous Doodle puppies that will become the perfect new addition to any home. Their Doodle puppies are raised in a loving environment where they pay special attention to early socialization.
Breeding for over 20 years, Lonestar Doodles is a family breeder who has keen attention to detail and produces only the highest quality pets.
Puppies from Lonestar must be 8 weeks old before going home to their new families. After you pick up a puppy, they ask that adopters do not go places where there may have been dogs who are not known until after the proper vaccinations have had time to take effect.
To adopt a puppy from Lonestar Doodles, an application must be filled out on their website. Once that is filled out, they will share more information to have a deposit placed for the desired puppy. Their process is to place families on new litters in the order they receive deposits.
Once a litter is born, Lonestar will send out litter information containing parent pictures, a pick of the litter, pictures of the puppies, their birth date and anticipated going home date. At that point, adopters can decide if that litter matches the preferences or if they would like to wait for the next one.
Lonestar will send out photos at 1 week, 3 weeks, and 7 weeks so that adopters can watch the puppies grow. All immunizations and de-wormings are done per the vet's schedule and socialization starts the day the puppies are born.
At 8 weeks when the puppy is ready to go home, they will have been wormed twice, up to date on their shots, micro-chipped, and have a two-year health guarantee. Lonestar works diligently to help adopters feel completely prepared and ready once it's time to transition the puppy.
For more information and full pricing, contact Lonestar Doodles directly via their website.
Sheepadoodle Breeder Information:
5. Liberty Hill Sheepadoodles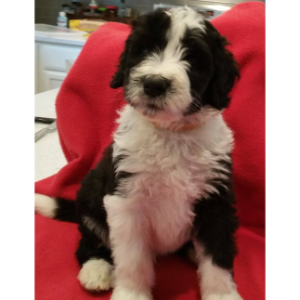 Liberty Hill Sheepadoodles is a breeder that specializes in the breeding of solely sheepadoodle puppies. Their dogs are health tested before they are bred and they offer quality puppies that are raised in their personal home and practice the Early Neurological Stimulation method on all of their puppies.
By the time Liberty Hill puppies are ready to go to their new homes, they as all well acquainted with household noises and people.
When the puppies are 6 weeks old appointments are scheduled for each family to pick their puppy. Liberty Hill also has a puppy contract which includes a 2-year health guarantee and spay/ neuter agreement.
The puppies are also sent home with a bag of puppy food and a blanket with the scent of their littermates to help them adjust to their new homes. The puppies are ready to go home when they are 8 weeks old. Liberty Hill occasionally can keep pups longer for a boarding fee of $10 per day.
Liberty Hill Sheepadoodles does not ship their puppies via cargo, but adopters can fly into Austin Texas to pick up their sheepadoodle puppy as long as the dog will fit under the seat in the cabin of the aircraft. Liberty Hill will meet adopters at the airport.
A deposit of $300 must be made to be put on a waiting list for a Liberty Hill puppy. This deposit is put towards the total price of their dogs. The purchase Price for a standard size Sheepadoodle puppy from Liberty Hill is $2000. Mid-SizedSheepadoodles priced at $2200 includes 7.5% tax.
Deposits are taken at the time they are added to the waitlist. Deposits are non-refundable but are transferable to future litters if the preference of gender, color, etc. is not available when it is time to choose, or if personal circumstances change.
For more information on Liberty Hill Sheepadoodle's upcoming litters and availability, they ask adopters to first look at their Facebook page, then contact them directly via their website.
Sheepadoodle Breeder Information:
For more check out: Best Belgian Malinois Breeders in the U.S.!
Conclusion for Sheepadoodle Breeders in Texas
We hope that you were able to find a Sheepadoodle puppy in Texas. Sheepadoodles have become so popular recently due to their most hypoallergenic and nonshedding coat. There are tons of scams where fake breeders will take your deposit. You can use our guide to help you find reputable Sheepadoodle breeders in Texas.