Labradoodles are a crossbreed between the Poodle and the Labrador Retriever. These dogs were originally bred as guide dogs, so they are very gentle and responsible dogs. Most properly bred Labradoodles are hypoallergenic as well so they can be kept as house pets without worrying about their coat shedding all over.
Labradoodles are energetic dogs that are friendly towards people and other dogs as well. They adapt well to any kind of living situation and don't need too much extra care during extreme heat or cold weather.
A standard Labradoodle male reaches 22 to 24 inches of height and females go between 21 to 23 inches. Their body types are lean and they grow usually medium to large. The average lifespan of a Labradoodle is between 12 to 15 years and they cost around $2500 to $3000 to purchase from a breeder.
Labradoodle Puppies In Michigan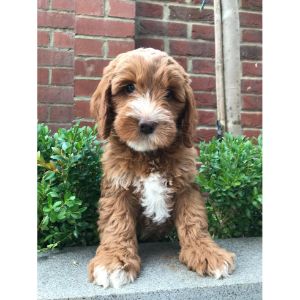 If you want one of your own, we do suggest visiting ethical breeders in the area instead of pet shops. To get you started, we've listed some of our favorite Labradoodle Breeders in Michigan today.
This list is in no way chronological. Each of the breeders we've selected has been carefully researched and they all pretty much hit the sweet spot with their puppies. Without further ado, here are our 5 favorite Labradoodle breeders in Michigan.
Other articles you would like: Bernedoodle Breeders in Michigan and Goldendoodle Breeders in Michigan.
1. All Star Breeders of Labradoodles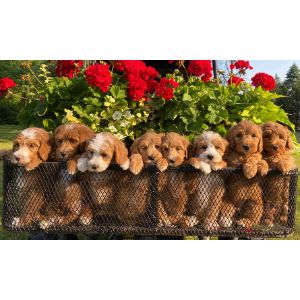 Carl and Monique Algera are the owners of All Star Breeders who have been breeding dogs for nearly 15 years. They have over 30 acres of land where their puppies are able to run around daily. And all the puppies are bred in house and taken care of very well by the Algera family.
Associated Costs:
All Star Breeders has a waiting list and puppies can be reserved with a $500 deposit. The puppy prices at All Star are $3000 with some inclusions. The initial prices include a vet check, age-appropriate shots, a couple of rounds of deworming based on when you purchase the puppy and a microchip with registration.
Other Relevant Information:
The puppies are started on ENS and Puppy Culture as early as 3 days after they are born and health tested to WALA standards. To get on the waiting list, potential buyers are asked to fill out an application on the website.
Labradoodle Breeder Information:
Check out for more: Best Double Doodle Breeders in the USA
2. South Mitten Australian Labradoodles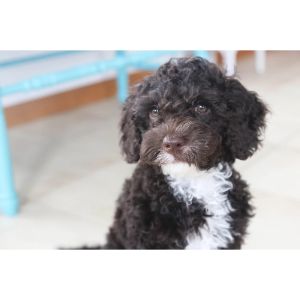 South Mitten is a breeder of Australian Labradoodles run by a family of 5 in Southern Michigan. The breeder has over 10 years of experience with Labradoodles. The dogs from South Mitten are bred and raised within the owners' property and are very energetic and social.
Puppies from South Mitten can be purchased at $3200 with a non-refundable deposit of $500. Puppies are health-tested to ALCA and WALA standards and come with a 2-year health guarantee. Before going home to their new families at 8 weeks old, the puppies are vaccinated and dewormed.
If you purchase a puppy from South Mitten, you also get a 30-day Trupanion trial that needs to be activated within 24 hours of purchase. All the puppies come with the appropriate registration and pedigree documents.
Labradoodle Breeder Information:
3. Bainbridge Labradoodles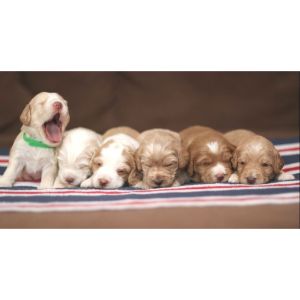 Roger and Janet Bainbridge, along with their twin sons are the owners of Bainbridge Labradoodles. The breeder has been dedicated to breeding Labradoodles in Michigan for the past 6 years. All the puppies are hand-raised in the Bainbridge home or in guardian homes.
Puppies at Bainbridge can be purchased for $3000 with a $500 deposit to reserve a puppy. The puppies are vaccinated, dewormed, and microchipped all inclusive of the cost. Puppies are also vet checked and health-tested against WALA regulations and come with a 3-year health guarantee.
Bainbridge Labradoodle puppies for sale in Michigan are reared on Puppy Culture and given plenty of opportunities for socialization with children and other dogs. The breeders also provide an intensive guide on puppy care with additional tips and tricks.
Labradoodle Breeder Information:
4. The Doodle Ranch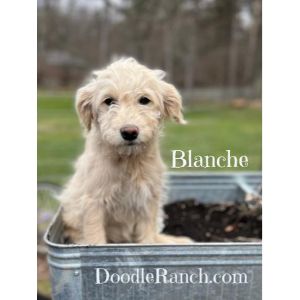 The Doodle Ranch is run by a family and has been in operation since 2003. Formerly known as The Labradoodle Ranch, this breeder provides both Labradoodles and Goldendoodles with its responsible breeding program.
Each puppy at The Doodle Ranch is unique. Although they are tested for life-threatening diseases, the coats and colors of the puppies may vary between $1750 to $3200. And so, the prices depend on the quality of the puppy which is determined a few weeks after birth. For more pricing options, buyers can acquire the Purchase Agreement via email.
These Labradoodle puppies in Michigan come with a 2-year health guarantee and replacements are only provided upon giving sufficient proof of any life-altering genetic disease in the puppy.
Labradoodle Breeder Information:
5. Monarch Labradoodles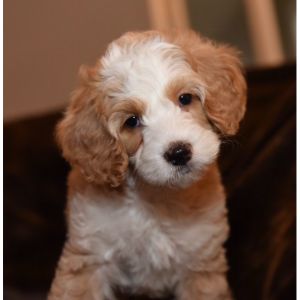 Monarch Labradoodles is a family-run operation and the owners have plenty of experience with the breed. The owners of Monarch are both allergic to dogs but had wanted pet dogs their entire lives. The solution to their problem was the hypoallergenic breed, Labradoodles.
Associated Costs:
Puppies at Monarch go for $3000 after paying a $500 non-refundable deposit. Puppies can go home at 8-weeks old with a 2-year health guarantee and some paraphernalia for care and training. All the puppies are vet checked, vaccinated and microchipped before going home.
Other Relevant Information:
Monarch ensures lifetime support for your puppies. So, even after you go home with your new friend, you can contact Monarch in case of any issues.
Labradoodle Breeder Information:
Location: 4109 Oak Tree Cir, Rochester, MI 48306
Phone Number: 989-450-2145
Website: Monarch Labradoodles
More Information About Labradoodle Puppies in Michigan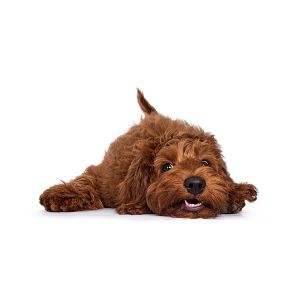 When you're picking your breeder, you might want to consider vetting them yourself first. There are plenty of things you should keep in mind for this, but we'll only list a couple here:
Experience with the Breed
Most people get Labradoodles as they're known to be a hypoallergenic breed that is very sociable. In order for the crossbred dogs to have the perfect coats is pretty difficult and you would want your breeder to be an expert for that.
Breeder Availability
Your breeder should be able to provide you with additional support once you've taken home your puppy. There are a lot of things that first-time Labradoodle owners might not know and might not think to ask. So, if your breeder isn't available after the fact, you're going to have to rely on the internet and potentially incorrect information.
Make sure to ask around about the breeder to make sure that it won't flake on you after the purchase. This is especially important if your dog happens to have a genetic health issue and you need to have him/ her replaced. Taking care of puppies with deformities and hereditary issues can get pretty expensive, and not everybody can take that on.
Health-Testing
Genetic health testing is a very important aspect of breeding Labradoodles. Although this is a generally disease-free breed of dog, it's still a good practice to make sure there is no potential for a genetic health issue.
Most breeders refer to the Worldwide Australian Labradoodle Associations (WALA) standards when breeding their puppies. Being members of the Australian Labradoodle Association of America (ALAA) is also a bonus as a breeder.
Questions To Ask Your Breeder
You should make sure to brush up on your knowledge about Labradoodles before you go ahead and purchase one. If you're still confused about anything, you can ask your breeder some of these questions:
Will you be available in case of health emergencies afterward?
Are you associated with a veterinary program/pet insurance company where I can get a discount?
Does my puppy have any vaccines pending?
How much does the average Labradoodle shed its coat?
What should I do if my hypoallergenic puppy starts shedding a lot?
Can I groom my puppy at home?
How often should I take my puppy to a professional groomer?
Can you give me the proper documentation for my Labradoodle puppy including the pedigree and registration papers?
What kind of diet is good for maintaining the puppy's coat?
Conclusion For Best Labradoodle Breeders In Michigan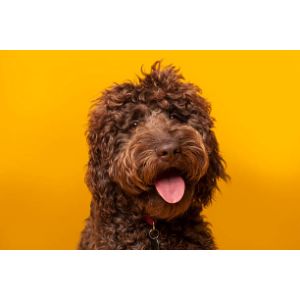 Labradoodle puppies are great and you have nothing to worry about regarding your puppy's personality and socializing him/ her. But, as with any pet, you should always be on your toes to make sure your puppy never suffers because of your mistakes.
Labradoodles are very energetic dogs, so you'll want to take them on walks and let them exercise for at least an hour a day. They don't particularly need the companionship of other dogs but you should make sure to spend plenty of time with them regularly.
If you do decide to get a Labradoodle puppy, make sure to do plenty of research about the breeder first. Whether you pick one from our list or find your own, a breeder could potentially make or break your experience with the breed.
You will also like: