Finding Cavapoo breeders in Massachusetts can be a tedious task, and with work and other responsibilities, some people give up the idea of owning a pet altogether. But we all know having a pet dog has always made a person's life better, especially a Cavapoo.
Other article you may also like: 5 Best Goldendoodle Breeders In Massachusetts! (2023) and 4 Best Sheepadoodle Breeders In Connecticut! (2023)
Cavapoo Puppies In Massachusetts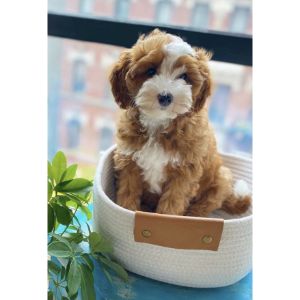 To help you get your new best friend as conveniently as possible, we've compiled a list of the best breeders in and around the state of Massachusetts. Not only are these options vetted in terms of reviews, but they're also verified as active and engaging with customers.
This means you can stay tuned to the activities of any litter you find worth looking into and ask questions freely. Most of the breeders below encourage reaching out through texts, while others have given out forms to understand your needs better. This allows them to get in touch with you once they have a pet that suits your requirements.
So, here are the best breeders of Cavapoo pets in and near the state of Massachusetts:
1. Poodles and Doodles LLC
The first breeder on the list is Poodles and Doodles LLC. Ideal for new pet owners and convenient for experienced pet owners.
Poodles and Doodles LLC have been breeding Cavapoos in the state for quite a while. Their reputation for producing a fine, loving, and gentle breed of Cavapoo pups in Massachusetts is second to none.
All you have to do in order to get yourself your new best friend from Poodles and Doodles is to fill up the contact form. Fill in the details of the dog breed, weight, size, and color that you're looking for, and the breeder will get back to you accordingly.
The call-back can take a day at max, and once the meetup has been arranged, you can meet the pup. If it's everything that you want, you can take it home after purchasing the dog the same day.
One of the best things about Poodles and Doodles LLC is that they also educate new pet owners about puppy food and feeding schedules. While it may not be possible to get a trained newborn pup that's only a few weeks old, the breeder will let you know how to potty-train your dog as soon as possible.
The same goes for vaccinations and deworming treatments. This breeder is known for providing support to customers after purchase which is a good bargain considering they don't require deposits as well. In addition, all pups come with a 12-month health guarantee after being double-checked by a licensed vet.
Cavapoo Breeder Information:
2. Luvly Acres Cavaliers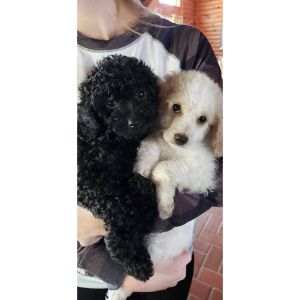 If you're looking for a Cavapoo dog, whether old or a newborn, you should check out Luvly Acres Cavaliers.
Located in Dutchess County, NY, Luvly Acres Cavaliers is a breeding farm that consists of adorable dogs and horses. With over 20 years of experience in the field, the breeder promises to provide the best Cavapoo puppies in Massachusetts, and peer reviews support that claim.
Originally breeding Cavalier King Charles Spaniels, the farm started providing Cavapoo puppies that are known for their friendly temperament, gorgeous fur, and amazing traits. The adoption process at Luvly Acres is fairly easy, and it encourages new pet owners to sign up and feel free to ask questions.
All you have to do is get in touch with the breeder and set up an appointment to get yourself a meeting with your future best friend. Once you've finalized your choice, you can proceed to fill out the required forms and take your new pup home
Cavapoo Breeder Information:
3. Dobralco Cavapoos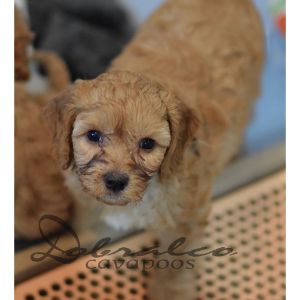 Dobralco Cavapoos is another breeder that you can trust to purchase healthy Cavapoo puppies in Massachusetts. This is something that can be noted in the reviews of pet owners who report their experience to be pleasantly satisfying, whether it be with regards to the dog or the buying experience itself.
All Dobralco Cavapoos that have left the breeding farm have settled well into their new homes, bringing joy and love to countless families. While the breeder may not have a huge quantity of dogs to sell, it only proves that the focus is on ensuring the quality of the breed.
This low quantity also brings about a problem of increased demand that results in a huge waitlist. The owner's way of letting customers adopt a dog involves filling up an application form and getting yourself registered as an interested party. When the litter is born, the breeder announces the initiation of a "Pick List" for that litter.
To get on the list, you must email the breeder and wait until the pups are 4 weeks old because that's when the list becomes finalized and those on the list pay their deposits. Luckily, the breeder remains active on social media platforms and shares all new updates with regard to waitlists and litters with their followers.
Whether it's a vaccination shot, grooming session, or even just a pleasant evening stroll, you'll find tons of content to keep you informed and entertained.
Cavapoo Breeder Information:
4. Rivers Edge Cavapoos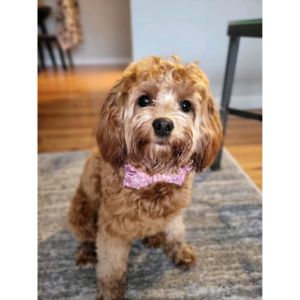 If you're having difficulty finding reliable Cavapoo breeders in Massachusetts, you should head on down to Rivers Edge Cavapoos. Providing dozens of customers with gentle, fun-loving, and adorable Cavapoo pups for sale in Massachusetts, the breeder has a long waitlist but with a refundable deposit.
That is to say; if you're not lucky enough to find a pup in time, you can take your money elsewhere. But if you do, you must remember to abide by the breeder's spay and neuter policy that they will follow up on.
Since all the dogs are genetically tested, bred, and raised with regular vet checks in a loving environment, the breeder can promise a year-long health guarantee for the dog. Additionally, the breeder ensures that all dogs are used to being around and held by human beings as soon as they hit the 4-week mark.
This makes it significantly easier for groomers to groom dogs in the future. And since the Cavapoo breed is famous for being loving and emotionally sensitive, they can prove to be amazing emotional support animals if not lovable family members.
Cavapoo Breeder Information:
How To Choose The Best Cavapoo Breeders In Massachusetts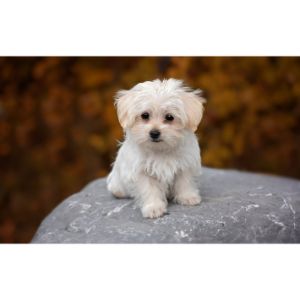 Even if you don't find the options above to be the right fit, here are some ways you can find the right Cavapoo breeders around you.
Firstly, it's strongly recommended that you only take a decision after conducting thorough research. A lot of people give into excitement and want to take a puppy home as soon as they lay eyes on it. Regardless of how cute it seems, focus on evaluations and verifications.
Verifying credibility entails background checks such as looking up registries and even getting in touch with licensing authorities. Whereas evaluating a breeder means seeing how well they're treating a dog.
This involves everything from the dog they sell and the buyer's journey you experience, even after the purchase has been made. Things such as allowing multiple visits and providing certifications for gaining trust can go a long way for the breeder. Whereas the opposite can be a red flag for the customer.
Moreover, the health of the pet and your loved ones at home is at stake as well, which is why you must ensure no medical complications may arise, whether it's for the dog or your allergic kids at home.
Cavapoos are mixed-breed dogs that require special care and can be emotionally sensitive enough to feel separation anxiety if you leave them alone too long. This means they'll also give off clear signs of aggression or grief if they've not been given proper love and care.
If you still find it difficult to find a reliable breeder, ask a dog groomer. Since you're already going to need one for your Cavapoo when you get it, you might get two birds with one stone if you look up groomers to hire first.
Conclusion For Best Cavapoo Breeders In Massachusetts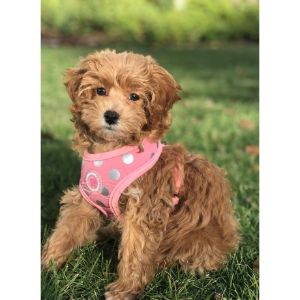 It's not impossible to find a breeder offering Cavapoo puppies for sale in Massachusetts, but the search might take a little longer than your initial expectations. However, as stated above, it's definitely worth the wait. Your aim is to avoid unethical and inexperienced breeders who can't guarantee what they say.
For example, unethical breeders desperate to make a sale may claim their dog to be hypoallergenic when it's actually not. Or they might refuse to help when you ask for it in a medical emergency.
Therefore, it's advised that you don't hasten a decision and only go for breeders that deserve your money and trust. A Cavapoo dog can become a member of your family, and that's not something you should rush.
You will also like: