Look around; you'll find a bunch of Maltipoo breeders in Washington. That's because this designer dog breed which is a cross between a Maltese and a Toy or Miniature Poodle is the cutest and cuddliest pet you can wish for!
And, if you aren't in the mood to do that. No worries, we've compiled a list just for you!
Other articles you may also like: 7 Best Maltipoo Breeders In Mississippi! (2023) and 6 Best Maltipoo Breeders in Illinois! (2023)
Maltipoo Puppies In Washington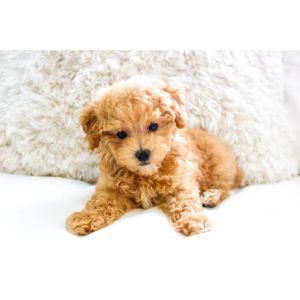 Since the Maltipoo has inherited all of its parent's best qualities – a mild temperament, heightened intellect, and teddy bear-like cuteness – who wouldn't want to have a Maltipoo puppy as their pet?
And to help you find a Maltipoo puppy, we've compiled a list of expert breeders with proven credentials and reliability. Moreover, their parent dogs have the best health, guaranteeing that their litter will be of the best quality.
So read on and discover the best Maltipoo puppies for sale in Washington!
1. Dryland Farms Maltipoo Puppies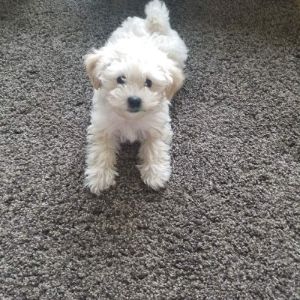 First on our list of Maltipoo breeders in Washington is the small family breeder Dryland Farms Maltipoo Puppies. With 30 years of experience as a licensed veterinary technician, the breeder provides superior-quality Maltipoo and Maltitzu puppies, with the main priority being their health and welfare.
Dryland Farms Maltipoo Puppies do not believe in keeping their puppies in kennels. The breeders at Dryland Farms Maltipoo Puppies treat all their puppies as pets, allowing them to sleep in their beds and relax for hours on their laps or at their feet.
Once a dog retires from the breeding program, it is not forcefully rehomed or tossed out; it is spayed/neutered and continues to live with them as a loving pet.
All the puppies are handled regularly from birth and are made to socialize with children, the elderly, and other adult dogs and pets. They also begin potty training – indoors with pee pads and outdoors whenever the weather permits.
In terms of health, all the puppies receive regular health examinations, de-wormings, annual dental care, and all applicable vaccinations. Before they are ready to leave with their adoptive parents once they are 8 weeks old, they must be given a clean bill of health after receiving a thorough examination.
So, adopting a puppy from Dryland Farms equals getting a well-mannered and well-socialized canine companion. Currently, all their puppies are priced between $1500 – $2000, depending on the breed, color, and size of the puppy.
Since their puppies are exceptionally well-bred, they are booked as soon as a litter is announced on the website. However, you can still submit your application to be put on the waitlist in case a spot opens up!
Maltipoo Breeder Information:
2. Howdee Kennels Washington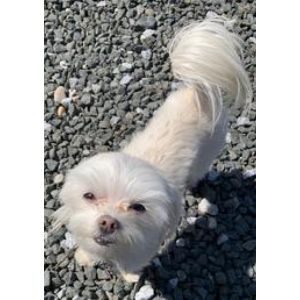 Howdee Kennels provides Maltipoo puppies in Washington that are bred particularly for superior health, appearance, temperament, and an affectionate personality. Owing to the quality of their Maltipoos, Howdee Kennels has gained quite a following, and most of their puppies are sold before being born!
So, if you're looking to adopt one of their puppies, contact them immediately and submit a non-refundable fee of $300 so that you can be put on their waiting list. And another thing – their prices for females and males are the same! Currently, both male and female Maltipoos are being sold for $1600.
All the puppies at Howdee Kennels are regularly vet checked at Kulshan Vet, Lynden, Washington, receive all applicable vaccinations at 8 weeks, and are dewormed at 2-week intervals before being sent off with their adoptive families.
At the time of departure, new pet parents will be given the puppies' medical/vaccination records, a stuffed toy with their mom's or littermate's scent, and a bag of Life's Abundance dog food. As for health, the breeder provides a two-year genetic health guarantee. However, the guarantee is reduced to 6 months if the puppy is not fed Life's Abundance dog food.
Moreover, a general health guarantee is also provided that covers the kidneys, heart, intestines, liver, and intestines. The guarantee does not include hip & knee problems, spaying/neutering, hernia repair, orthodontics/dental treatment, or accidents.
Maltipoo Breeder Information:
3. Maltipoo FurBabies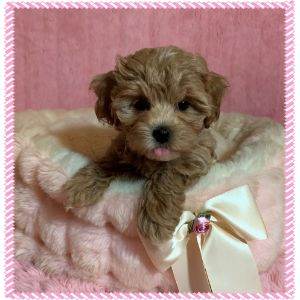 Last on our list of Maltipoo breeders in Washington is an out-of-state breeder called Maltipoo FurBabies. Located in Chicago, Illinois, the breeder is experienced in shipping animals and offers to fly your precious puppy on a direct flight from Chicago's O'Hare International Airport to an airport near you.
Maltipoo FurBabies is committed to providing superior-quality, happy, and beautiful Maltipoos that serve as loving companions for families and individuals. All their dogs are raised within their own home with unlimited love and receive the best veterinary care; they also provide references from their veterinarian and adoptive families if requested by an apprehensive customer.
The breeder carefully selects puppies that are in good health and have a great temperament for breeding, which are also the two factors given top-most priority. Their breeding strategy is based on comprehensive knowledge and accumulated experience derived from years of raising and training dogs, and they believe that once you own a Maltipoo, you can never go back!
Speaking more about health, all the puppies at Maltipoo FurBabies follow a strict deworming and vaccination schedule before adoption, and this must be continued regularly after adoption. Your puppy is guaranteed for 48 hours after purchase against infectious diseases, e.g., Corona, Parvo, and Distemper. However, the puppy is guaranteed one year against congenital diseases.
Maltipoo FurBabies stand behind all their puppies and raise them to become precious resources for their owners, both before and after adoption. And whether you've had a Maltipoo as a pet before or this is your first experience, they are more than happy to assist you with any information and questions you may have.
Maltipoo Breeder Information:
How To Choose Maltipoo Breeders In Washington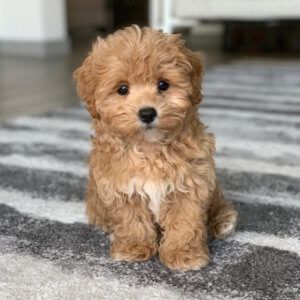 When it comes to adopting Maltipoo puppies in Washington, the choices might seem a bit overwhelming. However, below are some important factors you must consider when deciding on a prospective breeder. These things may seem minor, but they are extremely important to help you narrow down the perfect Maltipoo puppy for your loving family and children.
First off, consider the location of the breeder. As you can see, we've mentioned two breeders in Washington and one out-of-state breeder that offers to ship, and that's what is important.
If your heart is set on a puppy provided by a breeder that is far away and doesn't even offer transportation, you have a major problem. Why? Because nothing is better than visiting the breeder before purchase to evaluate their breeding program. So always choose breeders that are close by or offer to ship puppies.
Another aspect to consider when choosing the perfect Maltipoo breeder is the size and color of puppies they offer. Most breeders can somewhat predict the colors of their upcoming litters based on their past litters.
So, if you have a color preference, choose a breeder that will produce puppies of that color. However, we will emphasize that you should focus more on health and temperament than appearance. And lastly, you must decide whether you'll be willing to be on a waiting list. Since the demand for this new designer breed is increasing, Maltipoo waiting lists are generally long.
So, if you're not willing to wait, you can visit your local animal shelter and find a dog you can take home immediately. But if you do decide to wait, always ask the breeder the estimated time to have an idea of how long you've got to prepare your home for the new addition!
More Information About Maltipoo Puppies In Washington
As mentioned, the Maltipoo is a relatively new and extremely popular designer dog breed created from a cross between the Maltese and Poodle. Famous for its teddy-bear-like appearance, this affectionate, playful, energetic, and fun-loving dog can easily adjust in all types of homes (apartments or big houses) and charm its way into the hearts of children, elderly, and other animals.
Maltipoos are the perfect choice for novice pet parents since they require minimal grooming and moderate exercise. However, they are extremely sensitive and may develop separation anxiety if left alone for long periods.
As lifelong companions, they want nothing more than the undivided attention of their humans, a loving home that caters to their needs, and an abundance of cuddle sessions!
Conclusion For Best Maltipoo Breeders In Washington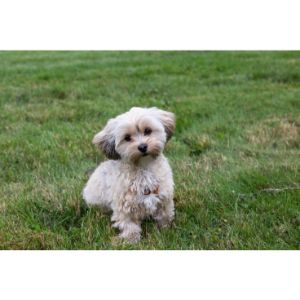 So, if you've been looking for adorable, healthy, and happy Maltipoo puppies for sale in Washington, feel free to contact these experienced and reputable breeders today. They'll be more than glad to assist you with any problems or questions about adoption processes, training, health checks, and even generally about the designer breed.
We hope this article will help you find the perfect Maltipoo for your family. And with the proper love and care, it will indeed become your cuddly canine companion for life!
You will also like: