Cavpoos are some of the most adorable dogs around. They are a cross between a poodle, usually a toy or a mini poodle, and a Cavalier King Charles Spaniel. These pups have the very best qualities of both parent breeds, meaning that they are exceptionally lovable, outgoing, and highly intelligent. low to non-shedding, and small in size which is why we have a list of the best Cavapoo breeders in Utah for you.
These are just a few of the many reasons why this breed is incredibly popular. If you have decided that a Cavapoo puppy is the perfect fit for your family, that can be a very exciting time. Puppies bring so much joy to their families, but sometimes the process of finding the perfect breeder can be overwhelming or tedious.
This is because there are a lot of breeders to choose from, and it can be difficult to discern which breeders are great options and which ones you should probably avoid.
One of the easiest ways to determine which readers you should choose from is to conduct a lot of thorough research, including reading as many customer reviews as you can. This is a lot of work, however, and a lot of people aren't sure where to start.
Some other articles you may also like: 5 Best Aussiedoodle Breeders In Utah and Common Animal Breeding Terminology
Cavapoo Puppies In Utah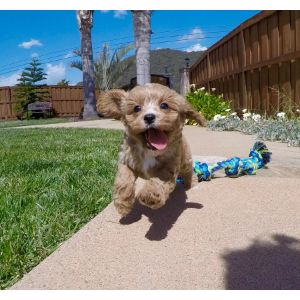 Utah has a lot of great dog breeders, and there are some excellent Cavapoo breeders in and around this great state. If you live in Utah and are considering adopting a Cavapoo puppy of your own, then this is the perfect article for you to find all of the contact information for the best breeders.
We conducted a lot of thorough research to identify the best Cavapoo breeders in and around Utah. We spent a lot of time reading everything there is about each breeder we considered, and we compiled this list with our favorites after our research was complete.
We believe that when selecting a dog breeder, it is very important to have high standards, and we only considered dog breeders that are known for their ethical breeding practices, their kindness, and their years of experience.
You can be sure that each dog breeder listed here is an exceptional choice and that a puppy adopted from any of them will be the perfect addition to your family.
1. Wasatch Pup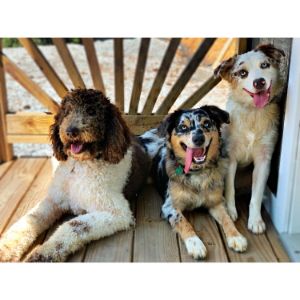 When looking for the perfect Cavapoo breeder in Utah, Wasatch Pup offers some of the best. Their Cavapoo puppies are of high quality in health, temperament, and overall genetics.
This breeder can be relied upon in terms of friendly and trainable dogs that will live a long life-span. Cavapoos are great dogs and can be life-long pals that are healthy and have a great, sound mind.
This breeder specializes in small and tiny mixed breed dogs like Cavapoos and other Doodles. Wastach Pup is a breeder that takes miniature poodles and mixes them with other smaller breed dogs to create the perfect lap dog with no shedding and that is hypoallergenic. This is combined with good temperament genetics alongside early socialization.
Each puppy comes from AKC/CKC studs and can be traced back to solid genetics. Each puppy is de-wormed, has a health check, it's first vaccinations and is released to the new owners after eight weeks.
This is helped along with an adjustment gift for the puppy of a blanket that smells like its mom. This is proven to scientifically help the puppy adjust within the first few days of life at its new home.
Wasatch Pup demands the best for its puppies and starts training and socialization early to ensure well-balanced dogs with great temperaments. These dogs are also hand-picked for coat and color, with a shed-free and hypoallergenic dog in mind.
All puppies are cared for individually with love and extreme caution so as to provide the best Cavapoo possible in the Utah area.
Cavapoo Breeder Information:
2. SunnySide Mini Doodles & Cockapoos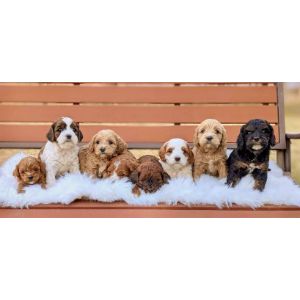 You can start your search for a trustworthy and reputable breeder in Utah at SunnySide Mini Doodles. Cockapoos are also available from this breeder. Since SunnySide carefully selects its litter pairs, all of its puppies will be calm and loyal companions.
Genetic testing is offered by this breeder to ensure that the puppies it breeds are healthy. A one-year health guarantee is provided by SunnySide to ensure the stability of the puppy and its new owner. Each puppy is lovingly cared for by SunnySide all the way to its adoption.
SunnySide is a home-based operation that socializes puppies with patience and love. Children and other animals are part of their daily lives. In doing so, the puppies are being prepared to become stable, well-balanced adults in the future.
Breeders advertise that Early Neurological Stimulation (ENS) should be provided to puppies within the first few days of life. SunnySide provides ENS and more to the puppies as they grow through their first eight weeks.
A one-year spay/neuter contract is required by most reputable breeders after gaining custody of a puppy. During its first eight weeks, puppies undergo training, and advice is offered after they are taken home by their new owners. Puppies must be spayed after they reach sexual maturity and to ensure that the breeding program isn't broken.
Breeders sell hypoallergenic F1 and F1b puppies that are almost shed-free. Puppy socialization starts early and these puppies have a great start in life. A breeder such as SunnySide Mini Doodles can provide you with a healthy, balanced pet for the rest of your life.
Cavapoo Breeder Information:
3. King Mountain Doodles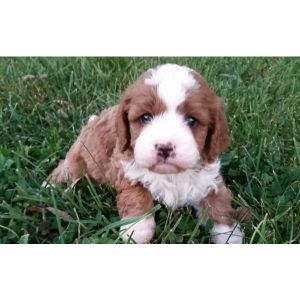 King Mountain doodles is an excellent breeder that specializes in Cavapoos and Bernedoodles, as well as other doodle mixes. They are located on a spacious 100-acre farm full of rolling hills, beautiful Meadows, babbling creeks, and many other natural wonders that their lucky puppies get to explore.
This breeder is incredibly passionate about what they do, and they have developed a fantastic breeding program throughout the years they have been doing this. Not only do they consistently produce some of the most beautiful Cavapoo puppies around, but all of their puppies have incredible personalities and are known for being very healthy as well.
Peter makes sure to carefully plan each and every litter, which allows them to select the specific traits they desire. These traits include high intelligence, excellent health, a lovable nature, and a non-shedding coat.
They make sure to carefully monitor and test the health of all adult dogs and puppies, and they conduct genetic health tests to determine whether or not their dogs have any concerning genetic abnormalities.
Their puppies receive constant affection and attention from the second are born, and grow to be very socially well-adjusted in adulthood. This breeder is known for being very selective about who is allowed to adopt their puppies, and they love to get to know each potential adopter to determine which puppy would be the perfect fit for them.
If you are considering adopting from this breeder, be prepared to have several casual conversations about your experience raising animals, your living situation, and other personality questions.
Cavapoo Breeder Information:
4. Dream Dogs by Christine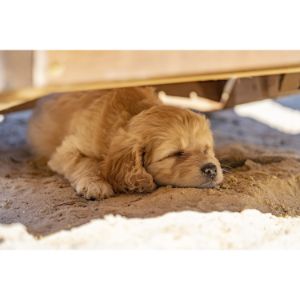 Dream dogs by Christine is a wonderful breeder located in Pennsylvania. Although this breeder is a bit far away from Utah, their puppies are beautiful and highly sought after, and they are still a great option to consider if you have your heart set on a Cavapoo puppy.
This breeder has extensive experience both raising and breeding dogs, and she is a certified dog trainer, an American Kennel Club evaluator and instructor, an Avidog Breeder Associate, and a Trick Dog Instructor.
Her years of specialized experience working with dogs allow her to approach breeding with a unique perspective that very few other breeders have to offer. She is somewhat of a dog whisperer, and has a special knack for training puppies and producing some of the best dogs around.
Christine makes sure that she thoroughly plans each litter, allowing her to control the specific traits that she admires most in the bread. This means that all of her puppies are supremely intelligent, physically ideal, and have a wonderful temperament.
All puppies are socialized from the minute they are born, and they are also exposed to many different social and environmental stimuli. This helps them develop a strong foundation that allows them to be calm in many situations that are triggering for other dogs.
Christine also offers specialized training programs for her puppies, that can be conducted with or without the presence of their adoptive parent. These programs focus on a variety of different areas, some of which include crate training, behavioral training, handling, and grooming, and much more.
She makes sure to expose each puppy to social situations outside of the home, which results in puppies that feel confident in new environments.
Her website has a lot of fantastic information that is useful to both new and experienced dog owners, and there are also plenty of adorable pictures too. If you are interested in adopting from Christine or you have any questions, head to her website or send her an email today
Cavapoo Breeder Information:
5. Luxe Puppies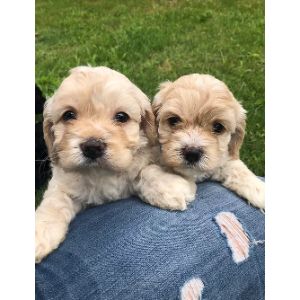 Concluding our list of the best Cavapoo breeders in Utah, this family-owned and operated breeder offers some very special Cavapoo puppies that are highly sought after around the country. Run by genuine animal lovers, this breeder is thrilled to have such a unique and rewarding career that enables them to not only spend so much time with puppies but to help so many wonderful families find the perfect companion.
The whole family loves to chip in with raising the puppies, including the breeder's five children who range in age from 7 to 17. This means that the puppies have plenty of exposure to children and other social situations from a young age enabling them to grow into confident adult dogs who are even-tempered and well-adjusted.
In order to ensure that each of their letters is healthy and conformed to all breed standards, this breeder conducts very thoroughly genetic health tests on each of their adult dogs. This allows them to breed with the confidence that none of their dogs have any concerning genetic health traits that may result in health complications down the line.
When you adopt a puppy from this breeder, your new dog will come with a certificate of health signed off on by a certified and trusted vet, all of their appropriate vaccinations, and their initial deworming treatments.
This breeder also has a special puppy training program where they begin training each puppy to use potty pads starting at two weeks old. At five weeks old, the puppies are trained to go outside, and this crucial early training helps prevent potty training accidents when they join your family.
Cavapoo Breeder Information:
Conclusion For Best Cavapoo Breeders In Utah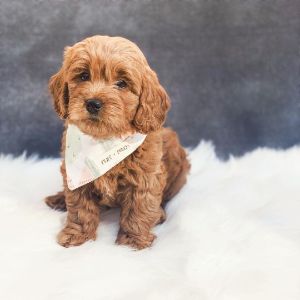 Adopting a dog is a really exciting experience for many people, but it can also be overwhelming and confusing if you aren't sure how to find a great breeder.
In many cases, when people are faced with too many options of breeders to choose from, they aren't sure how to tell the difference between a great breeder that can be trusted and a not-so-great breeder that should probably be avoided.
Luckily, this process is made much easier when you conduct thorough research to find the best breeders in your area. In order to make this process as easy and straightforward as possible for you, we decided to conduct that research for you.
We spent a lot of time learning about the very best Cavapoo breeders around, and we compiled this list with our favorite breeders from our research. All of the breeders that we included in this list are of exceptional quality, and you can be confident that if you choose to adopt from any of them, that your puppy will be happy and healthy.
You will also like: