Bernedoodles are a cross breed of the Bernese Mountain Dog and Poodle. When you search Bernedoodle breeders in Massachusetts, you will find a list of breeders, but not all of them are trustworthy, which is why it is crucial to investigate each breeder.
Some other articles you may also like: 4 Best Sheepadoodle Breeders In Massachusetts! and 5 Best Aussiedoodle Breeders In Massachusetts!
Bernedoodle Puppies In Massachusetts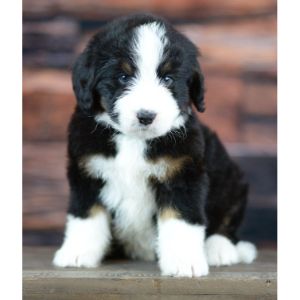 Bernedoodles are smart and cheerful like their parents and love staying active. These dogs enjoy playing and cuddling with their family members, especially children.
In addition, Bernedoodles are easy to train, and they don't take much time adjusting to new environments. This social, well-behaved, and friendly dog is always looking toward their owner for love and attention.
Therefore, it's not surprising that residents of Massachusetts are opting for Bernedoodles. If you, too, are looking for trustworthy breeders, we have listed the information of all credible breeders that offer Bernedoodle puppies for sale in Massachusetts in this article.
1. New England Bernedoodles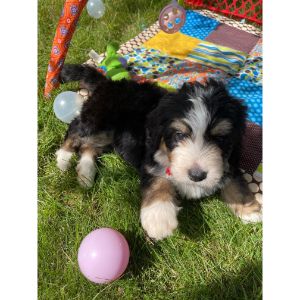 The first breeder on our list is New England Bernedoodles, a small family operation that is proud to produce high-quality low-shedding Bernedoodles that are the best option for people with dog allergies. Located in New Hampshire, this breeder is a great choice if you are unable to find Bernedoodle puppies in Massachusetts.
New England Bernedoodles pay special attention to temperament in their breeding program. It ensures that their puppies have friendly and adaptable personalities, a gentle nature, and good training abilities. You will also find their Bernedoodles to be especially beautiful, with healthy bodies and shiny coats.
The breeder is able to raise well-adjusted and beautiful dogs because it has 6-acres of land for the dogs to run and play. Giving them a fresh and natural environment is great for their well-being.
In addition, all dogs in its breeding program are genetically tested for eye, heart, elbow, and hip-related diseases. This ensures that your puppy is completely healthy and ready to become a happy member of your family.
For adoption, you need to fill out an application form and deposit a non-refundable amount to hold the puppy. The breeders will schedule a pickup when the puppy reaches the age of 8 weeks.
The price of a Bernedoodle puppy from New England Bernedoodles is $3,950, including free shipping if you are located within 4 hours of their location. It also offers air transportation for the puppy to deliver to other states. You can order a flight nanny service with cabin puppy delivery that costs $650.
Bernedoodle Breeder Information:
2. The Left Paw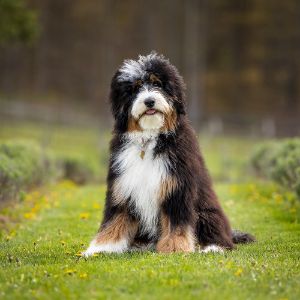 Breeders at The Left Paw are devoted to breeding the most caring, gentle, and social Bernedoodle puppies. This breeder aims to find the best homes for its puppies. Although the breeder is located in New York, they are close enough for residents of Massachusetts to visit.
Apart from breeding, The Left Paw offers puppy food, accessories and merchandise, training sessions, and boarding services. Although they are a pet store, The Left Paw is a respectable enterprise that is not involved in unethical breeding or selling practices.
From the start, it treats the puppies like members of its family, which helps them develop a friendly temperament. Training from an early age, grooming, and regular health checks keep the puppies happy and healthy.
Puppies from this breeder come with a range of perks. When you go to collect your puppy, it will come with up-to-date vaccinations, a 6-month health guarantee for genetic disorders, vet health examination, deworming, registration from AKC Reunite and Canine Partners, and free microchip services.
A free 30-min training session is provided by the breeders to inform you about puppy care, training, and puppy personality. If you are new to pet adoption, this training will be helpful for you. Moreover, you get discounts on grooming from the Left Paw store.
Bernedoodle Breeder Information:
3. Country Hill Bernedoodles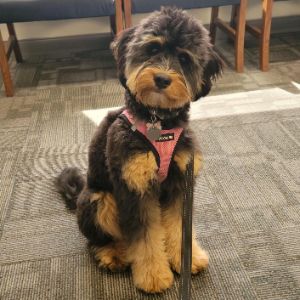 Want a cute and lovely puppy? If you can't find reliable Bernedoodle breeders in Massachusetts, breeders from nearby states can provide your required puppy.
Experienced in breeding standard and mini Bernedoodles, Country Hill Bernedoodles offers tri-colored, beautiful Bernedoodle dogs for sale. This family breeder is located on a 6-acre farm in a beautiful hilly area on the outskirts of New York, which is a great place for its puppies to grow!
The standard Bernedoodle puppy weighs between 60- 80 pounds, while the Mini pups are 25-50 pounds. The breeder aims to produce puppies that are cute and have great personalities.
In addition, its puppies have AKC registered parent dogs that are tested for genetic disorders. 2 years of genetic health guarantee ensures that if something happens, you can either get a refund or a new puppy.
Each puppy comes with a vet check, first vaccination shots, deworming, neuter contract, and lifetime support regarding puppy care and training after adoption. You can pick up the puppy at the age of 6 weeks.
The adoption process includes an online application and an amount of $500 to reserve a puppy.
Bernedoodle Breeder Information:
4. Bella Bernedoodles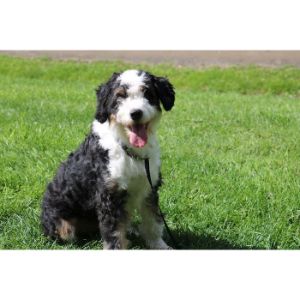 Located in New York, the breeder delivers not only loving and healthy puppies in the same state but also across several U.S states. So, if you cannot find a good breeder for Bernedoodle puppies in Massachusetts, you should consider this breeder.
It takes care of all the dogs and puppies according to the established standards and provides training sessions. Therefore, you can expect a well-behaved, social, and loving puppy from this breeder. Tons of positive reviews and testimonials tell a similar story. You can check out its Facebook page for updated pictures of cute puppies.
Moreover, this breeder only breeds from Champion bloodlines. Its puppies are genetically tested for all major heredity diseases, and they have a health guarantee to protect against congenital defects too.
The breeder takes care of deworming, vaccination, and microchipping as well. To raise puppies in a healthy environment, the breeders especially focus on cleanliness and high-quality food. It keeps the kennels clean and gives food that meets the nutritional requirements of the dogs.
If you are interested in purchasing a puppy from Bella Bernedoodles, you will have to submit a non-refundable fee of $250 to get on the waitlist.
Bernedoodle Breeder Information:
5. NY Bernedoodles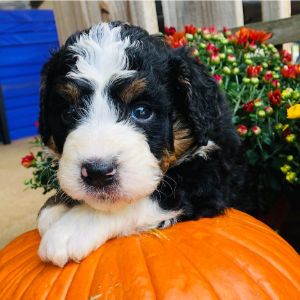 NY Bernedoodles are experts in breeding Teddy Bear, Medium, and Standard Bernedoodles. Considered one of the best breeders in New York, the NY Bernedoodles are also popular across the United States due to their high-quality dos and shipping service.
This is why you do not need to research so hard for Bernedoodle breeders in Massachusetts; this breeder can bring the dog you want to you!
It started breeding dogs in 2003, and by now, NY Bernedoodles has made a reliable name in the breeding community. This breeder raises their puppies in the home with loving and caring family members. A lot of hugs, especially from children, make these Bernedoodles social and family-friendly.
You can come to pick up your puppy when it's 8 weeks old, along with a health certificate. The breeders vaccinate the puppies and also perform deworming.
If you are interested in purchasing a super cute puppy from here, fill out an application form and deposit an amount of $500 to hold the puppies.
Bernedoodle Breeder Information:
How To Choose Bernedoodle Breeders In Massachusetts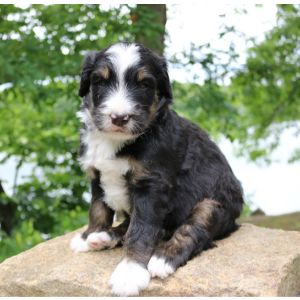 Have you decided that you want to adopt a Bernedoodle puppy? If yes, you should know the things to look for in a breeder to ensure its validity. These are:
Choose breeders recommended by friends & family: You can ask your friends and family to suggest a breeder they have used previously. Participants in local dog shows and American Kennel Club can also help you choose a reliable breeder. You can also check online reviews on social media pages, review sites, and testimonials from the breeder website.
Health checks: Most credible breeders perform medical tests on parent dogs and puppies and don't hesitate to show the test results to the visitors. You can also ask about the health tests and which medical protocols the breeder has provided to its puppies.
How many litters per dam? Backyard breeders or puppy mills usually have many litters each year. But a responsible and good breeder just has 1-2 litters in a year. This shows that the breeder gives sufficient time, attention, and training to the puppies, unlike in puppy mills.
Visit the facility: Visiting the breeder facility should also be on your research list. A reliable breeder keeps the dogs' area clean. If you find the dogs fully fed, groomed, and happy, that means the breeder is doing the job in the best way, and you can trust it.
Knowledgeable about the breed and breeding process: A good breeder can provide you with all the information you want about the breed, its food, training, and socialization need, along with its temperament and health. A good breeder can answer your questions and guide you in choosing a breed that fits your needs.
Conclusion For Best Bernedoodle Breeders In Massachusetts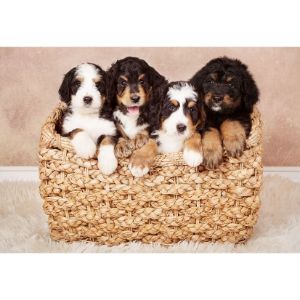 Bernedoodles are intelligent, social, and loyal dogs. They can be a great addition to the family and a good companion for both children and adults. The caring nature of this dog makes it the best family dog.
If you want to purchase this breed, it is important to do research on the breeders first. There are so many breeders who claim to be reliable, but in reality, they turn out to be puppy mills or backyard breeders.
To avoid any unpleasant dog breeder experience, check out our list of trustworthy and reliable breeders. However, we encourage you to double-check our list by asking questions, visiting the breeder, asking for medical records, and asking for referrals to double-check the breeder.
You will also like: