If you are looking for a reputable Goldendoodle breeder in Los Angeles, then this guide is for you. A perfect pet can be hard to find due to unforeseen circumstances like genetic defects or poor temperaments. Finding a reputable breeder is key to getting a healthy puppy.
Other artilces you would like: Labradoodle Breeders in Los Angeles and Bernedoodle Breeders in Los Angeles.
Goldendoodle Puppies In Los Angeles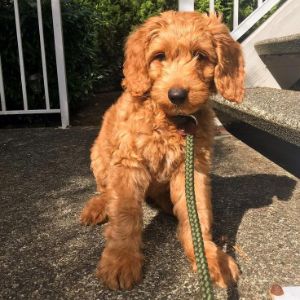 Goldendoodles combine the strengths of Poodles and Golden Retrievers to make an intelligent and energetic breed. The Golden Retriever is a very loving companion who is always up to play. Its coat is nearly hypoallergenic, and it has a long lifespan.
This combination of these two breeds in a professional breeding facility results in a healthy and happy puppy that will grow into a well-rounded adult dog. Here are the top five Goldendoodle breeders in Los Angeles and the surrounding areas.
1. Parker Doodles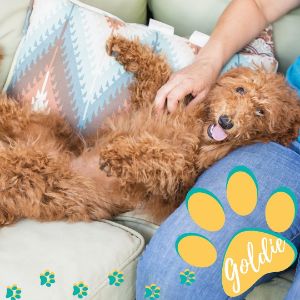 If you're looking for the best Goldendoodle breeders in Los Angeles and the surrounding areas then Parker Doodles will be a great place to start. The Goldendoodle breeders at Parker Doodles offer high-quality dogs that are intelligent, friendly, and healthy.
The application process to get a Goldendoodle from Parker Doodles is easy and smooth for the most part. An incredible amount of information about the breed and how Parker Doodles picks their parents for their litters are available on the website. There are many communication options to reach out to Parker Doodles and they respond quickly to answer questions you may have.
The puppies at Parker Doodles are of F1, F1b, and F2 generations. They are all genetically tested and come with a two-year health guarantee. Each puppy will receive a vigorous worming treatment and their first puppy vaccines. The puppies will have guaranteed protection against such common illnesses and diseases as Parvo and Distemper.
Reviews note that Goldendoodles from Parker Doodles are smart, happy, and healthy dogs. Each puppy receives socialization and individualized time with humans to form a well-adjusted puppy before it goes home.
Goldendoodle Breeder Information:
2. River Doodles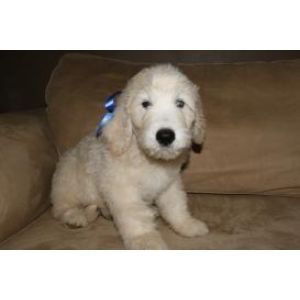 River Doodles is a reputable breeder of gorgeous Goldendoodles from F1 and F1b generations. They have strict standards they maintain their breed by and have genetic testing done on the puppies before they go to their new homes.
Goldendoodle puppies are treated with the utmost care at River Doodles. They are given early socialization and early neurological stimulation. Training starts as early as the puppy will pay attention and this starts great for new owners and puppies to continue when the puppy goes home.
Each puppy is checked by a reputable veterinarian and is given a worming treatment. All of the first puppy vaccines are also received at this time. Each puppy comes with a two-year genetic health guarantee that will ensure the satisfaction of the new owner.
The Goldendoodle puppies have been tagged with a microchip ID and new owners receive information on how to register their new pet. Puppies are sent home with care packages to help the transition process including a sample of pet food, a blanket with the smell of the littermates and mom on it, plus a trial of training from a company called Trupanion.
Goldendoodle Breeder Information:
3. Windsong Doodles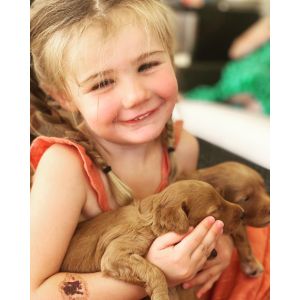 Windsong Doodles provides all sorts of Goldendoodles for southern California to enjoy. This is a reputable and reliable Goldendoodle breeder right outside of Los Angeles. They breed a variety of Goldendoodles from F1, F1b, F1bb, F2b, and multi-generations. These Goldendoodles are healthy and genetically tested to ensure there are no genetic defects to be concerned about.
At Windsong Doodles the Goldendoodle is praised for being incredibly intelligent and trainable. Goldendoodles are notoriously great matches for children as they are friendly, gentle, and energetic. Goldendoodles at Windsong Doodles are given early neurological stimulation and early socialization to help jump-start their intelligence and to provide a more stable puppy.
Goldendoodle puppies that are socialized and well-adjusted to other humans and animals will make it easier during the transition period from breeder to a new home.
Windsong Doodles starts the training, the love, and the socialization, even before you have to stress trying to figure out where to start. Each puppy is ready to go at about eight weeks and aisadorable fluff balls that will delight everyone in the home.
Goldendoodle Breeder Information:
Other articles you would like: Cockapoo Breeders in Los Angeles and Cavapoo Breeders in Los Angeles.
4. Coastland Goldendoodles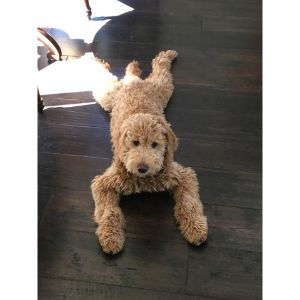 Coastland Goldendoodles is a reputable Goldendoodle breeder outside of Los Angeles. This breeder offers Goldendoodles that are raised on the beaches of Ventura. The Goldendoodles can be every generation of F1, F1b, F2, and multigenerational. Coastland Goldendoodles offers genetic testing before the puppies go home and also a two-year health guarantee.
The Goldendoodles bred by Coastland Goldendoodles are bright, happy, and healthy puppies that grow into well-adjusted and loving dogs. The puppies are given one on one socialization and learning opportunities through early neurological stimulation activities. Each puppy has a worming treatment and all age-appropriate vaccines.
Coastland Goldendoodles only adopts their puppies out with strict spay and neuter contracts where puppies must be sterilized no later than seven months old. This breeder also retains the right to have the puppies (age-appropriate) spayed or neutered before they leave for their new homes.
With all the love and care each puppy receives, Coastland Goldendoodles is worth the wait and the drive to pick up your Goldendoodle.
Goldendoodle Breeder Information:
5. Gloria's Goldendoodles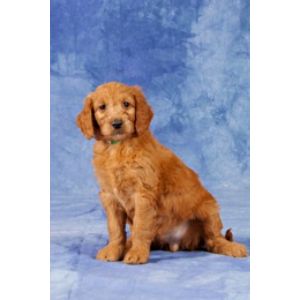 Gloria's Goldendoodles is a little bit away from Los Angeles, but the pups are worth the travel expenses. These Goldendoodle puppies are bred and raised in a small in-home breeding outfit where each puppy gets one on one care and love.
Gloria's Goldendoodles specializes in Goldendoodles from F1, F1b, F3, and F2b generations. These puppies are genetically tested to look out for any debilitating or fatal genetic defects.
It is noted that sometimes dogs do just get sick out of the blue, just like humans, so the guarantee for the Goldendoodles will only go so far. Two-year health and genetic guarantees are offered at this breeder.
The puppies are socialized early with adults, children, and other animals to help them in their adjustment to their new world. Early neurological stimulation and other training activities start as soon as the puppy is a week or so old. At Gloria's Goldendoodles, it is believed that socialized puppies are smart and happy puppies.
It is preferred that puppies go to their new homes based on temperament, but it is not the deciding factor upon whether or not you are accepted for a puppy. The breeder likes to get to know the people she adopts her puppies to and will always offer lifetime support for those who bring home a Goldendoodle from Gloria's Goldendoodles.
Goldendoodle Breeder Information:
How To Choose a Goldendoodle Breeder In Los Angeles?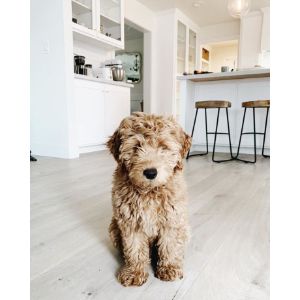 Los Angeles is a busy city, and you may have trouble finding a local breeder within. The best place to breed Goldendoodles seems to be in a rural area, on farmland, or in a small home located near a mountain, a few miles away from the city. It's okay, though – the closest reputable Goldendoodle breeders near Los Angeles are about a half-hour drive outside of the city.
More Information About Goldendoodles In Los Angeles
Known as Goldendoodles, they are wonderful family pets, combining the best qualities of both the Standard Poodle and the Golden Retriever. In the Los Angeles area, it is possible to find many Goldendoodle breeders that have a solid reputation in the business.
If you wish to locate a good breeder, you may have to search a little longer, but this is because they breed and raise their dogs in the open countryside rather than in an urban setting. Due to pollution and limited space in the sprawling cities, a rural setting provides healthier and less stressed dogs.
Located in Los Angeles and the surrounding areas, we have compiled a list of the top 5 Goldendoodle breeders, along with their contact information. If you wish to contact any of them or if you need further information, they will be happy to help.
Conclusion For Best Goldendoodle Breeders In Los Angeles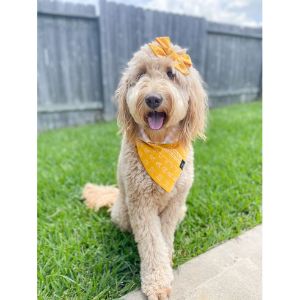 The Goldendoodle is a sweet and intelligent breed, great for homes with children. A Standard Poodle mixed with a Golden Retriever, Goldendoodles are adorable and have hypoallergenic coats. Goldendoodles may not always be golden, however, their coats can be many different colors. Each Goldendoodle from the above reputable breeders is sure to be a great addition to your home.
You will also like: