Goldendoodles are wonderful creatures that enhance the lives of all who meet and own them. Whether you grew up with dogs or have dreamed of owning one for your whole life, the day when you finally get to bring your very own puppy home is an unforgettable experience.
Unfortunately, the process of finding the perfect Goldendoodle is a little challenging in some cases. There are many Goldendoodle breeders in Tennessee, so sometimes it's difficult to choose a great breeder.
How are you able to know which breeder is the right fit for you and your family? How can tell which breeders are worth your time and which should be avoided? Well, the answer to these questions is usually found by a lot of thorough research.
The process of researching your potential Goldendoodle breeders is very important because it is during this time that you can discern whether a breeder has good breeding practices and is trustworthy or if they are more motivated by money than a love of the dogs they breed.
In addition to reading their websites and any press clippings you can find about them, reading customer reviews about breeders you're considering is one of the best ways to figure out if they should be considered or avoided.
These will give you an idea of the experiences that past customers have had with this breeder, and if they're anything short of glowing you should definitely avoid that breeder.
Since Goldendoodles are so popular, there are hundreds of breeders to choose from in the United States. Some of these breeders are amazing, but some should definitely be avoided.
The East Coast has a lot of the best breeders in the country, and many of them are located in Tennessee and the surrounding states. If you live in Tennessee and are looking to adopt your own Goldendoodle, this article is the perfect resource for you.
Other articles you would like: Labradoodle Breeders in Tennessee and Cockapoo Breeders in Tennessee.
Goldendoodle Puppies In Tennessee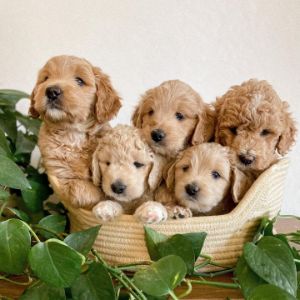 In this article, we provide you with the list of the best Goldendoodle breeders in Tennessee and the surrounding areas and their contact information. We made this list by conducting thorough research on all the breeders in the country to find the best ones.
We know the process of finding the best breeder for your family can be long and frustrating, and that's why we wanted to make it as easy as can be for you.
We firmly believe that there are a few specific qualities that set good breeders apart from the competition. These qualities are being ethical, having excellent breeding practices, being experienced, and, of course, being incredibly caring.
These were the criteria that helped inform the list below, and each breeder included is of the highest quality. You can be confident that any dog you adopt from one of these breeders will be happy, healthy, and the most ideal companion for you and your family for years to come.
1. Morning Glory Doodles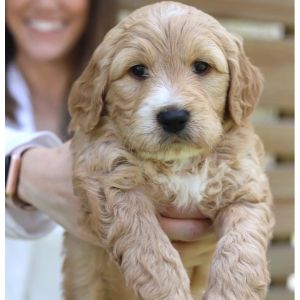 If you're looking for the perfect Goldendoodle breeder in Tennessee, Morning Glory Doodles is a great place to start your search! This breeder specializes in Goldendoodles as well as other types of doodles.
Health, temperament, and intelligence are this breeder's focus when breeding the best Goldendoodles. They have a very open and informative website that provides a lot of great information about their breeding process for those who have questions about getting into owning a Doodle.
The buyer has responsibilities such as veterinary care and providing a loving and safe home for their new puppy. This is all the breeders at Morning Glory Doodles ask, and in return, they offer help covering the costs of the veterinarian if problems arise within the first two years.
This is two-year health and genetic guarantee that will provide a replacement puppy, a refund, or will let you keep your puppy.
They offer an adult adoption program for retired parents who are done having litter or adults that are having litters eventually. Morning Glory Doodles also offers guardianship programs that guarantee the dog home if it doesn't work out with its new owners.
There are tons of pictures of the litters they have to offer. There is an easy application and deposit process and Morning Glory Doodles is very communicative every step of the way. There are a few litters a year and it is important to plan ahead because there is a waiting list for their Doodles. They truly make it easy to find a wonderful Goldendoodle to bring home!
Goldendoodle Breeder Information:
2. Tennessee Goldendoodles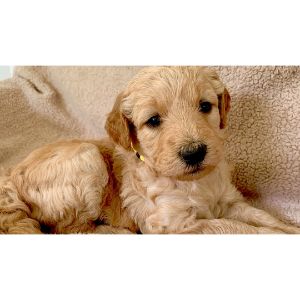 Tennessee Goldendoodles is a Goldendoodle breeder found in Tennessee. It is a breeder that provides Goldendoodles as a specialty. The breeders at Tennessee Goldendoodles have twenty years of experience combined when it comes to breeding the Goldendoodle. They have over forty years of experience breeding dogs in general.
They provide F1b and F1bb Goldendoodles that are healthy and come with one-year health and genetic guarantee. These healthy dogs are checked by a veterinarian and are provided with several different things to help them stay healthy.
Vaccines are up to date including the Parvo vaccine. Puppies go through a de-worming schedule as well so they are guaranteed worm-free and protected from most illnesses before they are ready to go home.
Microchips are also implanted in the puppies as part of the application and package cost. This comes with documentation and registration to be able to register your puppy's chip. Every pup is sent home with a collar and a bag of sample food of the food that they have eaten since being weaned.
All in all Tennessee Goldendoodles is a very inclusive breeder and offers great communication in various ways. They will eagerly answer questions and provide information about their litters.
There are photos of each puppy and updates with each litter every couple of weeks. The puppies can't be visited on location but their growth and checkups can be viewed online by potential applicants and owners. Tennessee Goldendoodles are the right breeder if you are looking for a reputable breeder of Goldendoodle in Tennessee.
Goldendoodle Breeder Information:
3. Hill Country Goldendoodles
Hill Country Goldendoodles is one of our very favorite Goldendoodle breeders in the whole country, and they're only a short drive away from Tennessee. We love that this breeder is so passionate about what they do. They really believe in giving their all to each of the dogs they breed to ensure that they are of the highest quality and the best demeanor.
They take pride in the work that they do and they strive to ensure that their dogs all conform to every aspect of the Goldendoodle breed standard, from their appearance to their health, and, of course, their coveted Goldendoodle disposition.
Each parent dog in this breeder's program receives extensive behavioral and genetic testing to ensure that they are free of any concerning genetic abnormalities that may lead to problems down the line. The breeder carefully plans each litter to select the best traits, and they put an emphasis on breeding puppies that are calm, intelligent, healthy, and loving.
This breeder passionately opposes controversial breeding facilities, puppy mills, and pet stores, and they work hard to educate potential buyers on the dangers that these places pose to the animals they breed.
All puppies adopted from Hill Country Goldendoodles will come with a vet-certified clean bill of health, their appropriate vaccinations, initial deworming treatment, a copy of their four-generation pedigree, and a puppy pack.
The dogs are all registered with the American Kennel Club (AKC for short), and they all have highly coveted bloodlines that make them truly perfect dogs.
Goldendoodle Breeder Information:
4. Creekside Goldendoodles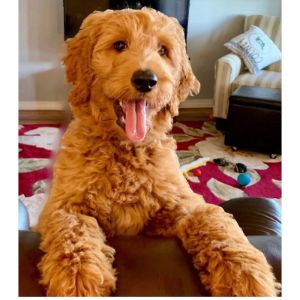 Creekside Goldendoodles is a fabulous breeder that is owned and operated by a loving family who is passionate about animals and breeding dogs of the highest standard. This breeder is licensed by the USDA at the state and federal levels and is regularly inspected.
Their Goldendoodles are of exceptional quality and their waiting list is very long, but don't let that discourage you! You can join their waitlist today and you'll have your very own Goldendoodle before you know it.
This breeder is also a member of the Missouri Pet Breeders Association (the MPBA) and the Missouri Animal Husbandry Association (MAHA). Membership in these associations requires exceptional skill, ethical breeding practices, and extensive education, so you can be sure that this breeder really knows their stuff.
All of this effort helps ensure that their dogs and puppies are healthy and well-protected, which is one reason why this breeder is considered to be one of the very best in the country.
Each puppy is registered with the United All Breed Registry (UABR) and comes with a clean bill of health from a licensed veterinarian. When you take your puppy home from this breeder you can also expect it to have its initial deworming treatments, age-appropriate vaccines, a 2-year health guarantee, and a puppy pack.
Goldendoodle Breeder Information:
5. Hermeier Doodles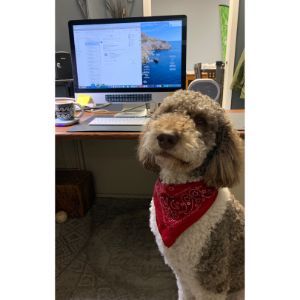 Last on the list of Goldendoodle breeders in Tennessee is Hermeier Doodles. Hermeier Doodles is another of our top favorite Goldendoodle breeders in the country, let alone in the states surrounding Tennessee. This breeder is a long-time lover of all animals, but they've always had a soft spot for the precious Goldendoodle.
When you speak to this breeder, their passion for their dogs really shines through and is, quite frankly, infectious! They are committed to finding the perfect homes for each of their puppies, and they make sure to thoroughly vet potential adopters to ensure they'd be the right fit.
If you're interested in adopting from this breeder you should be prepared to chat with them for a while to answer some questions and help establish if you're financially and morally responsible enough to be a truly spectacular dog parent to one of these special puppies.
From the minute they are born, each puppy is given star treatment. They receive regular vet checkups, world-class nutrition, socialization, and exposure to social and environmental stimuli to help prepare each puppy for a number of situations they may encounter in their forever homes.
When you take your doodle home with you it will already be desensitized to car horns, crying babies, fireworks, and many other things that typically irritate or agitate dogs' sensitive ears. If you're interested in adopting from this breeder, head to their website today to fill out a puppy adoption application today.
Goldendoodle Breeder Information:
Conclusion For Best Goldendoodle Breeders In Tennessee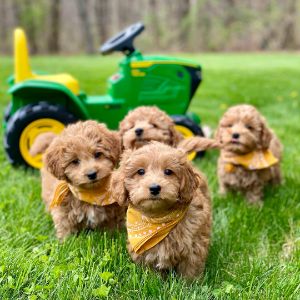 Goldendoodles are truly precious dogs that are so loving, caring, and intelligent that they make the perfect companion for any family. If you pair that with the fact that they are non-shedding and nearly hypoallergenic, you have a winning combination on your hands. Since these dogs are so wonderful, it's no surprise that they are a very popular breed in the United States.
As a result, there are a bunch of Goldendoodle breeders to choose from, no matter where you're located. While options are often great, they can be overwhelming and frustrating if you aren't sure how to choose the best breeder out of the bunch.
Finding the breeder that's the right fit for you and your family takes time and research, and even with those invested many people are still unsure that they're making the right choice. That's what motivated us to write this article about the very best Goldendoodle breeders in Tennessee and the surrounding states.
We only considered breeders that are caring, ethical, experienced, and have the best breeding practices when making our list. You can be confident that if you adopt a dog from one of these breeders they make a happy, healthy, and joyous companion during the coming years.
You will also like: