The Maltipoo is a popular dog in states like Florida, where almost every family owns a pet. It is an adorable-looking, intelligent breed of dog, bred from a cross of Maltese and Toy or Miniature Poodle.
The offspring inherits positive traits from the parents, and so they're intelligent, playful, and very friendly. Despite being an expensive dog, there are many Maltipoo breeders in Florida due to its high demand. It's important that you purchase your future puppy from a reputable breeder if you want it to be healthy and happy. We put together this list to help you find a reputable Maltipoo breeder.
Other articles you would like: Cavapoo Breeders in Florida and Cockapoo Breeders in Florida.
Maltipoo Puppies In Florida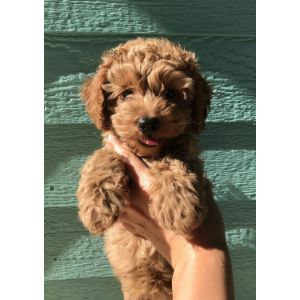 So, if you're looking for a fluffy, adorable puppy to add to your family and brighten up your home just by their energetic presence, then we have quite a few reliable options for you.
Before we get into the list of breeders, there're somethings you should know to make sure that you're ready for this kind of responsibility. Maltipoos are high-maintenance dogs who need their daily dose of exercise for at least half an hour every day.
They're sensitive dogs who can easily develop social and separation anxiety, so these little bundles of joy need proper attention from their humans on a daily basis.
Given the right training, love, and care, Maltipoos can become the most affectionate and gentle companions, which is why they make amazing family and therapy dogs. Their little to no-shedding coats make them an excellent pet for allergy sufferers, and they're super cool around kids.
In addition, their amiable and active nature makes them just the right sort of pet to have around children and older adults. They love being held and cuddled, so empty-nesters and single individuals would also enjoy having these puppies around.
Now that you're sure that adopting a Maltipoo puppy is the right choice for you, here are some of the most reputable Maltipoo breeders in Florida. Let's have a look:
1. Florida Toy Poodles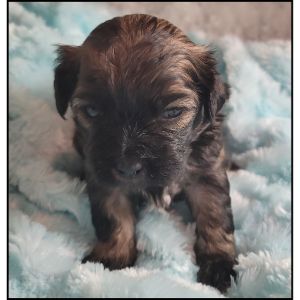 Florida Poodles, Maltipoos, Shihpoos, and Malshis, also known as Florida Toy Poodles LLC, are breeders of adorable doodles with more than thirteen years of experience in this field of work. Their pets are AKC registered, and they're very careful regarding the breeding process as years of experience have taught them the importance of health and hygiene.
The breeder had been around dogs from a very young age, which helped them discover their love for Toy Poodles and Maltese and hence, began breeding Maltipoos. The breeder offers many colors like Apricot, Cream, Parti, Phantom, Sable, and White and all their dogs are allergy-friendly.
In addition, their Maltipoos are lovely and amiable, along with being incredibly adorable. They are well-behaved and clearly well-socialized because they blend well with families with children.
Florida Toy Poodles puts immense focus on genetic testing of their Poodles and Maltese parents. They believe that if both parents clear the screening, the Maltipoo would be healthy and would not be at risk of carrying forward any heritable or genetic condition.
To ensure genetic health, they have gotten all their parent dogs tested from Paw Print Genetics and allowed their clients to review the medical records online, too. Their dogs and puppies clear PRA before they go home with you.
They have played an essential role in offering these bundles of joy to many families across Michigan and in Florida. You can take the puppy home when it's ready at 2 months old, with a complete vet-check, health certificate, starter pack, their favorite food, shorts, and wormers, along with the contract.
The breeder offers lifetime support regarding the protection, safety, feed, and training of puppies. They have some of the cutest Maltipoo puppies in Florida; make sure to check them out.
Maltipoo Breeder Information:
2. Wee Puppy Paws
Wee Puppy Paws are genuine breeders of Yorkies, Chihuahua, Maltese, and Doodles. Their satisfied clients claim that they have some of the cutest Maltipoo puppies for sale in Florida. Their lovely dogs and puppies are deeply cared for as the breeder; Lynne has immense knowledge about these furry companions. She loves her dogs and gives them attention just like one would to their children.
Their puppies love to be around the new company, and they are well-behaved and well-socialized. They are wonderful at settling down in new homes because of their loving and amiable nature. When the breeder sends the puppies off to their new homes, they have had their shots received proper grooming.
The breeder makes sure to surround the puppies with a nurturing environment so that they can grow up to become smart and fun-loving dogs. The owners of their previous puppies are very happy about how excellent the customer service is as Lynne offers support to them and answers their questions about pets wisely.
Wee Puppy Paws send off their puppies with pet carriers and all relevant paperwork.
Maltipoo Breeder Information:
3. Poos 4 U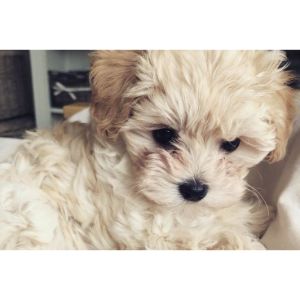 Tami Foster, the breeder behind Poos 4 U, is a dedicated and devoted individual who adores dogs. She is highly knowledgeable about breeding and breeds Maltese, Shih Tzu, and Maltipoo puppies in the safety of her home.
The breeder puts immense focus on pampering and caring for the pups, so by the time they go to their new homes, they are loving, loyal, cuddly, and spoiled rotten! This is why they have some of the most loving Maltipoo puppies in Florida.
The breeder makes sure that the puppies are checked by a certified vet regularly, and the new owner will receive all the relevant health certificates and guarantees when they adopt a puppy from them.
The pups receive three shots of vaccinations along with deworming sessions and a microchip with lifetime registration. The puppies here are well taken care of, receiving regular grooming and lots of love.
Poos 4 U ensure that their dogs and puppies receive a grain-free diet along with their probiotics daily. They cook the meal themselves, which is really beneficial for pregnant dams. The puppies and pet parents also get dry food too.
The breeder also provides essential oils to heal dogs when they're sick. They believe that natural remedies are much safe and non-harmful for pets. The dogs are free to use their doggie doors, and at six weeks of age, puppies are trained to use the doggy doors too. They never kennel their dogs and allow them to grow in a free environment.
The puppies are well-socialized as they play with the children and the adults. And they are also used to living with pets as Tami keeps other dogs, cats, and rabbits in her facility too.
So, the puppies love to be around people and animals, absorbing every bit of attention given to them. Their true and honest policies have led them to become one of the best Maltipoo breeders in Florida.
Maltipoo Breeder Information:
4. Robin's Pups Florida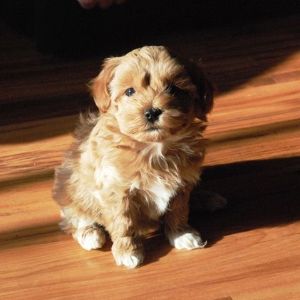 Robin's Pups are among the most reputable Maltipoo breeders in Florida. They have been running their breeding program for over two decades now. They exclusively breed and raise Maltipoos, Cockapoos, Shihpoos, and Malshipoos in Hudson, FL. They have a deep love and passion for dogs and raise them with love and attention.
Their dogs and puppies live in air-conditioned, heated, and clean kennels, receiving regular grooming and lots of love. They take excellent measures to take care of their dogs and prepare them to become flexible enough to settle in a new home easily.
When you adopt their Maltipoo, it will already be crate trained, litter trained, and will know how to use the dog door of your house. It will come home with you along with its microchip, one-year health guarantee, health certificate, and age-appropriate physical check-up with shots and deworming.
They pay special attention to their socializing and training, along with healthcare. The breeder provides different experiences to their pups, such as sleeping alone at night and being playful around children with supervision, which makes it easier for the new owner.
Their Maltipoos are intelligent, lively, and devoted to the family, which means they become lifelong companions to their humans. They are allergy-friendly and would easily settle in an indoor setting or apartments. Do check them out if you're looking for Maltipoo puppies for sale in Florida.
Maltipoo Breeder Information:
How To Choose Maltipoo Breeders In Florida?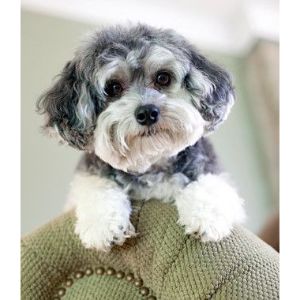 Since Maltipoos are a popular designer breed, there are many Maltipoo breeders across the state. To make sure you are not scammed by a puppy mill, research each breeder thoroughly.
We have mentioned some of the most reliable breeders of Maltipoos who have a genuine online presence that's certifiable by numerous reviews and testimonies. However, just to be on the safer side, do visit them before you complete the adoption process.
Some of them allow visits to the property after the appointment, so make sure to call ahead. Meet your puppy and its parents, determine their health through certifications and records and test the temperament to ensure that it is just what you want.
Conclusion For Best Maltipoo Breeders In Florida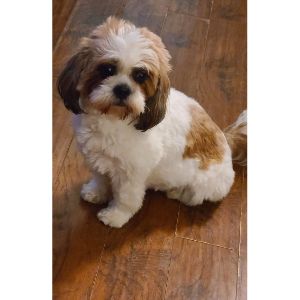 Maltipoos are sensitive and protective dogs; they give attention just as much as they love to receive it. Having one would mean that you never have a dull moment again because they're so lively and energetic.
They're also easy to train because of their inherited intelligence, so you can teach them to do cool (and safe!) tricks. In conclusion, we hope you make an excellent choice from this list of Maltipoo breeders in Florida and bring your adorable new family member home very soon.
You will also like: