Maltipoo puppies have become extremely popular throughout Virginia. Known for its distinctive teddy bear-like appearance, this breed is a cross between a Maltese and a Poodle. It's important that you buy your next puppy from a reputable breeder in order to ensure that it is healthy. That's the main reason why we put together a list of the best Maltipoo breeders in Virginia.
Other articles you would like: Goldendoodle Breeders in Virginia and Cavapoo Breeders in Virginia.
Maltipoo Puppies In Virginia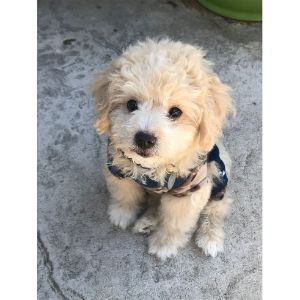 So, if you're a resident of Virginia or live nearby and are looking for the ideal companion for yourself or your children, then the energetic and playful Maltipoo is a natural choice. We know how difficult it is to sort reliable breeders from scams, so We've compiled a list of reputable breeders that provide healthy and happy Maltipoo puppies in Virginia.
1. Johnsons Jewels Maltipoos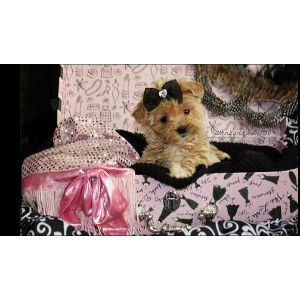 Kicking off our list of Maltipoo breeders in Virginia is Johnsons Jewels Maltipoos. They specialize in breeding healthy, happy, loyal, and loving Maltipoo and Chihuahua puppies. The breeder uses a highly selective breeding program to raise and train their puppies so that they can provide families with a perfect canine companion.
Puppies from Johnsons Jewels Maltipoos are the embodiment of beauty and brains. They feature a round head, characteristic white eyes, short nose, and a rugged coat that gives them their classic teddy bear-like appearance. At the same time, they are very intelligent and smart; the breeder ensures their mental growth through neurological stimulation exercises from an early age.
In addition, the puppies are well-adjusted because they are raised in the breeder's home with love and the best facilities one can offer.
In terms of health, all puppies receive their first set of applicable immunization shots before being sent to their adoptive home, along with a thorough health examination and deworming. Once ready to leave with their new family, they are given their complete medical/vaccination record, a puppy starter kit, and one-month free pet insurance.
And last but not least, Johnsons Jewels Maltipoos offers a 14-day general health guarantee and a market-competitive lifetime genetic health guarantee that covers various hereditary illnesses.
Maltipoo Breeder Information:
2. Puppy Kisses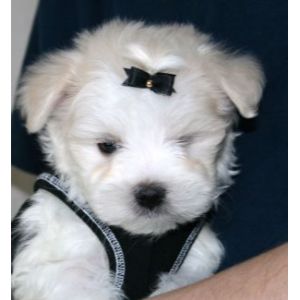 If you're seeking the best place for Maltipoo, Maltese, and Mal-Shih puppies, why not give Puppy Kisses a shot! The breeder started this program 25 years ago to provide pet lovers with a perfectly happy and healthy puppy. Since then, they have partnered with hundreds of families and helped them adopt well-socialized and well-tempered dogs and puppies.
With their extensive CKC Championship bloodlines, they breed superior quality Maltipoo puppies that excel physically and intellectually. Moreover, the breeder aims to match these high-quality puppies with perfect owners; hence they are willing to answer any questions you might have and will ask you some personal questions to assess whether you're fit to be a dog owner.
Puppy Kisses want nothing but the best for their puppies, so they will provide constant help and guidance to make the first few weeks of your life with your puppy as smooth as possible. They offer a one-year health guarantee and shipping throughout the United States. Shipping includes records of medical examinations and a clean bill of health, a pet carrier, and dog food.
Maltipoo Breeder Information:
3. Windy Way Hills Pups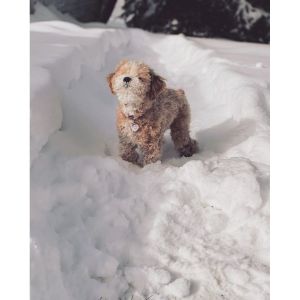 Windy Way Hills Pups offers Maltipoo puppies born and raised on wonderful grasslands with ample playtime and exercise. They aim to provide healthy and happy puppies that will bring a positive change in the lives of individuals or families that adopt them.
Besides receiving the best facilities and care, the breeder makes sure that the puppies are socialized with humans, farm animals, and adult dogs. Moreover, they ensure desensitization by exposure to different scenarios so that they can adjust without a problem in their forever homes.
Windy Way Hills believes in creating a connection between the puppies and their pet parents. Therefore, from the day a puppy is assigned to you, they'll send you pictures and videos of the puppies every week. They also encourage pet parents to visit the farm and connect with the puppy as many times as possible until they are ready to be taken home.
Like all good breeders, Windy Way Hills Pups prioritizes the health and overall well-being of their puppies above everything else. All their dogs are regularly taken to the vet and receive a Neo Par vaccine at seven weeks and a DAPPv puppy vaccine at eight weeks. They also receive routine dewormings according to a recommended schedule.
When it's finally time to take your puppy home, you'll be given their complete medical/vaccination records, a blanket or toy with their mom's or littermate's scent, a sample of Royal Canine small puppy food, and some extremely helpful information regarding the first few days of your puppy in its new home, such as essential dos and don'ts, tips on housebreaking, crate training, etc.
Other articles you would like: Sheepadoodle Breeders in Virginia and Bernedoodle Breeders in Virginia.
Maltipoo Breeder Information:
Address: 689 Green Valley Rd, Lebanon, Virginia
Phone Number: 276-889-5056
Website: Windy Way Hills Pups
4. Ginger's Maltese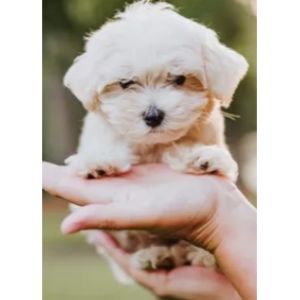 Last on our list of Maltipoo breeders in Virginia is a family-owned breeding business called Ginger's Maltese. The breeder has ten years of experience in breeding Maltese crossbreeds.
Besides Maltipoos and Maltese, they also provide Poodles, Mini-Goldendoodles, and Mal-shi puppies. Located about 3 hours from Virginia, the breeder provides ground shipping and free delivery for up to 30 miles.
The breeding program at Ginger's Maltese follows four basic principles:
Prioritizing the health and happiness of their puppies,
Providing excellent customer service,
Following good breeding practices, and
Operating in an ethical and honest manner.
If you want to verify their breeding practices, they've displayed puppy owner testimonials on their website. To initiate the adoption process, you'll need to fill out a puppy application that'll add you to their waiting list.
All their parent dogs live with them in their home. The breeder keeps tabs on all their Maltipoos and ensures they receive age-appropriate vaccinations and are facilitated with round-the-clock care. The puppies are also made to socialize with humans, children, and other animals and are desensitized by exposure to different scenarios.
The result? You get a healthy and well-adjusted puppy that would make a joyful companion.
Maltipoo Breeder Information:
How To Choose Maltipoo Breeders In Virginia?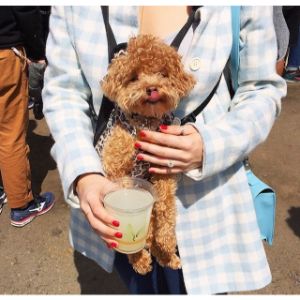 Bringing a new pet home is quite exciting. Still, it can become quite nerve-wracking if the adopted puppy comes from a puppy mill or backyard breeder that doesn't care about the health and happiness of the dog and disappears after getting their money.
That's why it is extremely important to thoroughly research prospective breeders in your area when looking for Maltipoo puppies for sale in Virginia.
To begin, always check their credentials, such as AKC registration, phone number, email address, website, and any other distinctive laurels that may set them apart from other breeders. Also, look for online reviews and testimonials since previous customers can provide the best insight into the breeders' ethics, customer service, and enrichment and training protocols.
If possible, we recommend you visit the breeder in person (and a reliable breeder will be more than happy to welcome you!). Check out their facility, especially where the dogs are born and raised. Also, ask about the pedigree and health of the parent dogs since this plays a major role in determining what the litter will be like.
Last but not least, ask about health guarantees, vaccinations, and other aspects of personal care. Reputable breeders always provide a one- or two-year health guarantee for general and genetic illnesses. At the time of adoption, they should provide all medical/vaccination records, including information about the puppy's temperament and behavior.
More Information About Maltipoo Puppies In Virginia
The Maltipoo is the definition of the best of both worlds. We say that because this popular designer breed is a delightful cross between the Maltese and the Poodle, which makes it fun-loving, affectionate, and extremely cute and cuddly.
Active little balls of energy with a hypoallergenic coat, Maltipoos adjust easily and quickly into all kinds of homes and with all kinds of people, especially children and the elderly. That's also why Maltipoos are the perfect choice for novice pet parents.
However, one aspect of their personality needs to be looked after – these dogs are extremely sensitive and develop separation anxiety if left alone for long periods of the day.
Maltipoos are companion dogs that crave company, love, and attention. If you provide an affectionate home with a loving family that meets your furry friends' needs, you'll have a lifelong family member that'll stay by your side and provide daily cuddle sessions.
Conclusion For Best Maltipoo Breeders In Virginia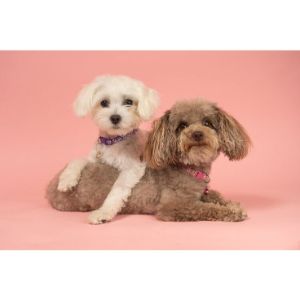 So, whether you're located in Virginia or nearby, we hope this list of Maltipoo puppies for sale in Virginia will help you find the perfect affectionate and lovable companion for your family and children. Maltipoos are great with children and animals, and even the elderly find them enjoyable.
But remember that Maltipoos crave love and attention, so avoid leaving them alone for long periods to prevent separation anxiety. Schedule regular visits to the vet, complete the course of their vaccinations, and provide them with the best facilities so your precious pet can thrive to its full potential.  
Above all, choose a Maltipoo puppy from a reliable breeder!
You will also like: