Professional Cavapoo breeders in Virginia are as rare as the breed! While more and more people are choosing to adopt designer breeds like the Cavapoo, there are still only a few reliable Cavapoo breeders in each state.
Known and adored for their placid-temperament and confident personality, Cavapoos are excellent family pets. If you want to bring a fluffy pet into your family, they will be a perfect choice. They get along well with adults, children, and pets, making them one of the best family dogs.
Other articles you would like: Maltipoo Breeders in Virginia and Goldendoodle Breeders in Virginia.
Cavapoo Puppies In Virginia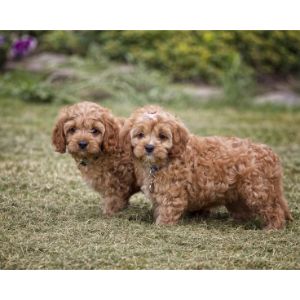 Cavapoo is a rare breed produced by a cross between Cavalier King Charles Spaniel and Poodle. Dog lovers demand Cavaliers for their affectionate and amiable nature with immense devotion and Poodles for their stylish looks and adaptable personality. Naturally, their hybrid offspring, the Cavapoo, is intelligent, talented, clever, and athletic while being pretty.
In addition, Cavapoos make for great pets. They love to play at home with kids or at the park with other pets and adore human interaction. They don't have a barking problem, but they are vocal, so you'll never be bored with them around the house.
They are gentle, loving, and relatively easy to train, making them excellent therapy dogs. Moreover, they are low-shedding puppies with hypoallergic coats which need brushing every once in a while.
There's not much to worry about when adopting this kind and sensitive dog breed. However, the choice of breeder is extremely critical.
The demand for Cavapoos is very high, and so is the cost of adoption. Moreover, there are not many Cavapoo breeders in Virginia, so most breeders, and even puppy stores, have long waiting lists for those wishing to take a Cavapoo home with them.
But don't worry, because, in this article, we have prepared a helpful list of authentic and reliable Cavapoo breeders that you can find in Virginia. Have a look:
1. Black Creek Doodles Virginia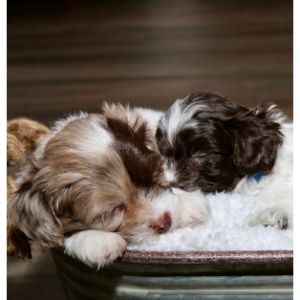 Black Creek Doodles is a hobby breeder run by Jordan Morse, a US Navy veteran. She lives in Mechanicsville, Virginia, with her husband Scott and three sons.
She has always had immense love for dogs for their sweet and loving nature, but her interest developed in breeding them when she met Scott and his family, who used to run a large breeding program in Virginia specializing in Doodles.
Scott's mother had years of experience in this operation and was of great help to Jordan in learning about puppy wellness, genetics, and other breeding basics, plus details. With the information in hand, Jordan started Black Creek Doodles to breed Cavapoos.
This breeder believes that raising healthy puppies promotes the best parent breed qualities and focuses on unique hybrids like Cavapoos and Havapoos. Jordan's dedication to high-quality breeding standards ensures that she has arguably the best Cavapoo puppies for sale in Virginia.
Black Creek Doodles ensures that all parent dogs are health tested, screened, and cleared for heritable or genetic conditions before breeding. And all the newborn puppies live in their home with them for a perfect growth environment and nurturing opportunities.
This breeder is very particular about the litter and only breeds a few times a year, which is why they have a long waiting list. Despite the long wait, the owner gets to bring home a lovely, well-socialized, well-behaved pup with a microchip and a 2-year health guarantee.
Cavapoo Breeder Information:
2. Cape Cod Cavapoos of Virginia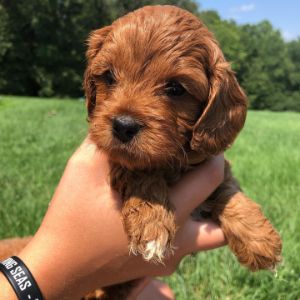 Cape Cod Cavapoos of Virginia is a small breeder that treats their dogs just like their family. The puppies and dogs live with the breeders and play with their children. Human interaction makes their pups very well-socialized from a young age, and they tend to adjust easily to new families and homes.
This breeder makes sure that all the puppies are vetted and have had required shots plus deworming sessions before they go to their new home. It makes the job easier for the owners, and many clients have attested that their pups are almost 90% trained when they come to their house.
Cape Cod Cavapoos specializes in breeding and raising pretty-looking Cavapoos in red and red and white colors with optimum health and temperament. All the pups come with a one-year genetic health guarantee, and the breeder claims that the parent dogs are tested for perfect health before breeding.
In addition, they offer lifetime support to new owners of their pups and love hearing stories about their litters from the clients. So, feel free to ask any questions you'd like, as they'll have all the answers ready for you.
Cavapoos from Cape Cod are sweet, gentle, and fun-loving, making it very easy for them to adapt to different environments and become of service to people with diverse backgrounds.
The breeders ensure that their pups are good with children, very easy to train, and love to do fun activities like hiking and relaxing ones like cuddling and watching a movie.
Cavapoo Breeder Information:
3. Cockapoo Cottage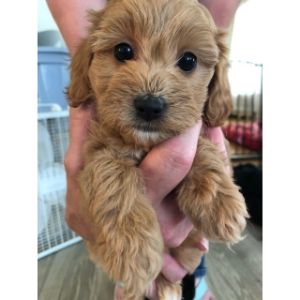 The Cockapoo Cottage is a very small breeder which initially specialized in producing and raising Cockapoos. But in 2020, after twelve years of experience in breeding and rescuing Cockapoos, they've begun breeding Cavapoos.
The Cockapoo Cottage is a small farm that has a variety of pets ranging from rescued birds to horses and donkeys. Therefore, their dogs have an amazing socialization experience with all these different kinds of pets.
This family of three, a husband and a wife with their daughter, are very passionate about dogs and puppies and sincerely understand the responsibility of raising healthy puppies. All pups that take birth at Cockapoo Cottage are wormed at third, fifth, and seventh weeks with Safeguard and Nemex 2.
A veterinarian checks their health at 7.5 weeks and administers a vaccine for canine parvovirus, parainfluenza, and distemper-hepatitis. The new owners of these puppies receive a two-year limited health guarantee when they adopt them, along with all previous medical records which they require.
From the time you select a puppy until it reaches you, Cockapoo Cottage will provide you with pictures and videos of your puppy so you can rest assured that they're being treated well at their home.
Cavapoo Breeder Information:
Other articles you would like: Sheepadoodle Breeders in Virginia and Bernedoodle Breeders in Virginia.
4. Family Oodles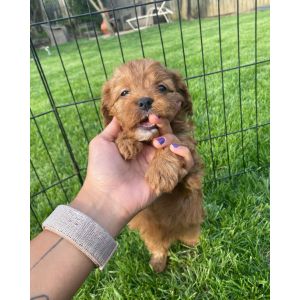 Since Cavapoo is a rare and unique breed, there are not many Cavapoo breeders in Virginia, but you can pick a puppy from one of the nearby states, such as Ohio. Family Oodles is located in Columbus, OH, only 300 miles away from VA.
The breeder behind this operation is Alessia Bernon, who is committed and dedicated to breeding puppies with sincerity and looking out for their health and longevity efficiently.
Family Oodles raise their litter inside their home and allows them to socialize with pets and people of different ages, backgrounds, and attitudes to make them well-behaved. Their puppies are joyful, confident, and fun-loving and have undergone enrichment methods like touch, sound stimulation, car rides, desensitization to household noises, and grooming.
If you adopt a Cavapoo from them, you'll bring it home with welcome-home bags and a complete information manual on how to take care of them ideally. The puppies have had regular deworming and vaccinations before coming to their new home.
Your pup will also have a microchip and all relevant health records for your help. Family Oodles offer its clients a year-long health guarantee to cover genetic disorders.
Cavapoo Breeder Information:
How To Choose The Best Cavapoo Breeders In Virginia?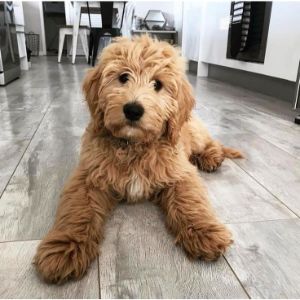 Choosing the best breeder is not an easy task, especially when you have a limited choice in finding reputable Cavapoo breeders within Virginia. But it would be best if you weren't too quick to choose and instead look thoroughly into the history of the breeder.
Here are some things to consider before making up your mind:
One of the best ways to differentiate a reputable breeder from a puppy mill is their location. If the breeder is trustworthy and honest about their breeding activities will allow you to visit the facility.
In case people cannot visit them physically, good breeders arrange puppy cams and virtual visits to show the potential parents around and introduce them to the puppies. It will give your insight into where and how the dogs live and whether it's healthy and clean.
Cross-check Certifications
Most reputable and trustable breeders have essential certifications like OFA/CERF and PawPrint Genetic, and the parent dogs are AKC registered for safe and healthy breeding. You can also check this on their website and cross-reference it to the major organizations for safety precautions.
Your puppy grows up to look and behave like their parent dogs, so meeting the parents and checking their size, temperament, color, and appearance can help you make this decision much more quickly. Good breeders will share the medical history of the pet parents with you and let you meet them.
Conclusion For Best Cavapoo Breeders In Virginia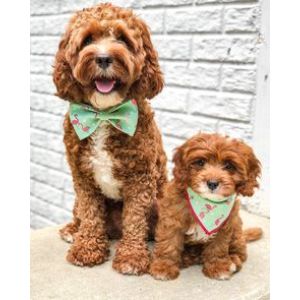 Cavapoos are generally very cute-looking and intelligent dogs, as they inherit these unique traits from their incredible parents. This breed is rare, and hence, it's costly; plus, it's not very readily available.
We have provided a list of 4 reliable breeders, 3 of which are in Virginia, while the 4th one is just a short distance away in Ohio. Moreover, you can even have the puppy shipped to you from Ohio via a reliable puppy shipping service.
In conclusion, hopefully, this article was of some help to you in finding good Cavapoo puppies in Virginia, and soon, you'll be able to bring one home with you.
You will also like: