If you're looking for a furry, cute, and exciting dog, you may contact Aussiedoodle breeders in Colorado!
Aussiedoodles are easy-to-train, affectionate creatures who love to engage and interact with humans. They thrive on the stimulation, and you can teach almost any trick to these dogs in a brief period.
Aussiedoodle is a cross between a Poodle and an Australian Shephard; both are recognized for their intelligence and trainability. Their offspring are naturally very friendly and intelligent and love to cuddle with people regardless of their size. They're also tireless joggers and could accompany you on morning walks or hiking vacations.
Other articles you would like: Goldendoodle Breeders in Colorado and Labradoodle Breeders in Colorado.
Aussiedoodle Puppies In Colorado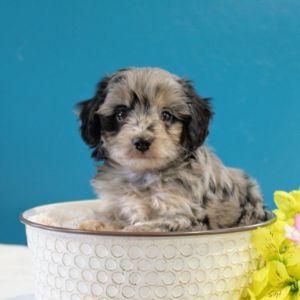 However, Aussiedoodles are a lifelong investment because they're comparatively more high maintenance than other dog breeds. They are naturally athletic, and hence, only proper training and handling can control their hyperactiveness. So, you must search and select only the best breeders who can assure that their Aussiedoodles have the best temperament.
You don't want to be tricked by a puppy mill, as there are only a few authentic and reliable breeders that raise Aussiedoodle puppies for sale in Colorado. For your ease, we have prepared a list of reputable breeders who produce, grow, and offer happy and healthy Aussiedoodles. These operations follow all the necessary health standards, and hence, you can trust them.
1. PKT Ranch Colorado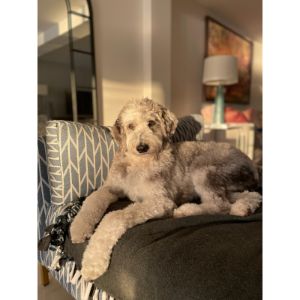 PTK Ranch is a small-scale dog breeding operation specializing in Aussiedoodles. They're located in the small town of Delta in western Colorado, and their goal is to produce happy and healthy puppies.
This dog breeder ensures that the parent puppies go through standardized health testing before breeding. These tests include OFA checks, PennHip, DNA, and other suggested screenings. The health and hygiene of parent dogs matter the most because it determines the best life ahead for the puppy.
Moreover, PTK Ranch ensures that their puppies experience socialization from a very young age to become active players and loyal companions to people of all ages. It also arranges grooming and bathing sessions to desensitize puppies.  
Since pups are already exposed to grooming sessions, they're more comfortable when new owners handle them to cut their hair, clip their nails, brush their coats, etc. I
in addition, they provide every puppy with initial vaccinations, declaw removal, and tail docking before giving them away for adoption.
Their customer service makes PTK Ranch one of the best Aussiedoodle breeders in the state. They give their puppies a blanket with their mother's scent, treats, and a toy as a farewell gift. And the buyer receives their complete health record at the time of adoption, so you can rest assured about the puppies' health testing.
To adopt their pups, you'll have to fill out an online application form and wait for it to be reviewed and approved.
Aussiedoodle Breeder Information:
2. Colorful Colorado Aussiedoodle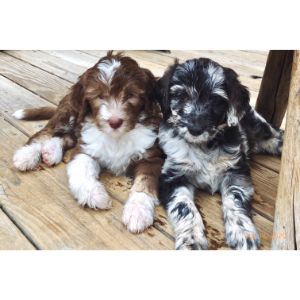 Colorful Colorado Aussiedoodle (CCA) is a multi-generation Aussiedoodle breeder based in Peyton, Colorado. It is focused on producing beautiful pups with perfect temperaments and health to settle into a family-oriented household quickly. They make every effort to help these puppies grow up to be lifelong, loyal companions of their owners.
CCA pays close attention to meeting health standards for their dogs and getting them tested through Paw Print Genetics, PennHIP, Embark DNA, and OFA. Their dogs' physical and mental well-being is their utmost priority, and all their mother dogs take birth and are raised in their family home.
The business partners running this operation are a mother and daughter duo, and hence, they're very attentive to small but necessary details about raising dogs at home. They ensure that the parent dogs are happy and healthy at the time of breeding and undergo all the required health examinations to ensure no genetic illness is passed to their puppies.
This breeder is a thorough dog-lover, and you can expect their upcoming litter to be gorgeous. In addition, they've mentioned common traits of their puppies, including fun, active, loyal, calm-mannered, goofy, and cuddly. They breed and grow some of the best Aussiedoodle puppies in Colorado.
Aussiedoodle Breeder Information:
3. North 40 Doodles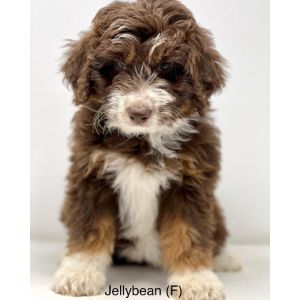 Located on a small farm in Sterling, CO, North 40 Doodles is a small, family-owned operation. This family of five, parents and children, are keen and dedicated dog breeders who aim to produce and grow the excellent breed of Aussiedoodles in a safe and healthy environment. They are proud of all their pups for having superb temperaments and lovable personalities.
They wish the very best for the buyers of their pups, and for their safety, they make all their dams and studs undergo necessary health testing and screenings. Dogs with genetic illnesses or risks of developing and transmitting any such condition are not used for breeding. It reduces the chances of puppies taking birth with any disease or genetic-based condition.
They focus on the socialization of their puppies and introduce them to many activities like trips to local stores, camping, farming, hiking, and family gatherings. They allow their dogs and puppies to chase after rabbits on their small farm; it increases their play drive and physical stamina.
Moreover, these pups have exposure to diverse sorts of people with different backgrounds, challenges, and experiences.
If you adopt a puppy from North 40, you will not be disappointed because they are one of the most reputable Aussiedoodle breeders in Colorado. Despite being in Sterling, their puppies have traveled to many different states across the country.
 To initiate the adoption process, you will have to complete an application, and they will review it to see and find a match that's perfect for your family. Making a deposit will help you save a spot on the waiting list.
Aussiedoodle Breeder Information:
4. American Ranch Aussiedoodle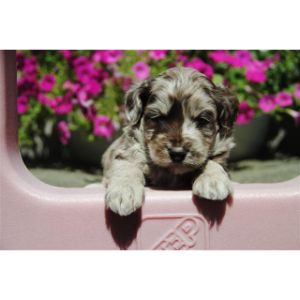 American Ranch Aussiedoodles or ARA is a family-run operation and is considered one of the Aussiedoodle breeders in Colorado.
Their utmost priority is providing their puppies with a family-friendly environment to grow. They carefully select their parent dogs, sorting through the best Australian Shepherds and Poodles to produce the most loving Aussiedoodle puppies.
They ensure that the lineage and pedigree of each of their new dog are kept in perfect records so that the buyers can learn about their new family members properly. It also guarantees that the new puppy has come from a long line of healthy and delightful dogs.
They make their dogs go through all the standard health testing and necessary screening to provide safety to the buyer and avoid the risk of genetic illnesses in their new puppies.
Moreover, American Ranch Aussiedoodles make all their puppies experience early socialization by introducing doggy doors for toilet training. Early introduction to many such stimuli makes it easier for these puppies to transition into their new homes as well-mannered dogs with lovable temperaments.
They put up their puppies for adoption on a first-come-first-serve basis, and to find yourself the best puppy, you must stay tuned for their expected litter.
Aussiedoodle Breeder Information:
How To Choose Aussiedoodle Breeders In Colorado?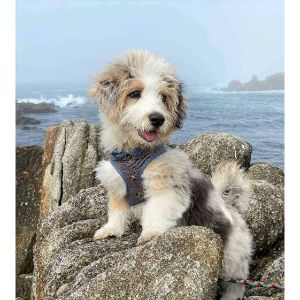 Choosing the right breeder to provide you with the perfect Aussiedoodle is overwhelming. There are many options available for you to bring home a cute, little new member to your family, but not all of them can be trusted because some of them may turn out to be mere puppy mills.
As Aussiedoodles are a wanted breed across the state, you have to be very careful when choosing a breeder.
First of all, focus on the location of your breeder and choose one that's nearer to your home. This way, you can save transportation costs and visit your puppy while they're being handled at their birthplace if the breeder allows.
You can personally visit the breeder and check out their health and hygiene standards for your satisfaction. Having a breeder in far off location may lead to you being late to pick up the puppy, which sometimes results in it being passed on to the next person on the waiting list.
Color of the Aussiedoodle
Secondly, consider the color of the Aussiedoodle which you wish to adopt. Since this breed comes in various colors, you can choose the perfect one for your family after checking out their previous litters and parent dogs.
Many breeders are good at predicting the colors of their upcoming litter, but it is usually tricky because Aussiedoodles often change the color of their fur as they grow bigger.
Lastly, consider the size of the Aussiedoodle you want to adopt into your family; there are usually two different sizes: standard and small. A small one is cute and adorable, the best partner for playdates, and very cuddly.
Standard size is larger ones with great stamina and activity and could become an excellent jogging/hiking partner for you. You must confirm the size of the upcoming litter with your breeder before making a deposit.
Conclusion For Best Aussiedoodle Breeders In Colorado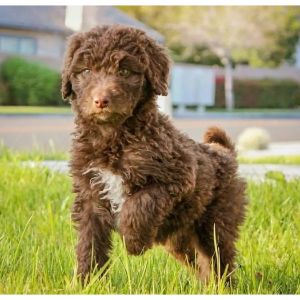 We hope that this article helped you sort through the list of reputable breeders for Aussiedoodle puppies in Colorado, and soon you'll be able to find the perfect match for yourself.
Remember that this breed is intelligent, and you can make them learn any trick you want quickly. But the secret is to stay calm and patient; treating the pups with anger and impatience will only result in them not trusting humans.
In conclusion, you should keep an open mind about the appearance of your Aussiedoodle as they are all extraordinarily adorable and amiable. Their cuddly, cute nature is enough to melt your heart, and having one as a member of your family means having a lifelong, loyal companion.
You will also like: