Choosing the right breeder is a highly essential task for any dog owner. Where and how a dog is bred and raised plays a key role in their temperament, health, and overall well-being.
Puppies bred and raised by backyard breeders usually have an unhappy start in life, and this affects their temperament and adulthood. These backyard breeders do not pay close attention to the health of their breeding dogs, so their puppies are likely to suffer severe health issues down the lane. This is one of the reasons why we put together a list of the best Aussiedoodle breeders in Maryland to help you find a puppy!
Aussiedoodle Puppies In Maryland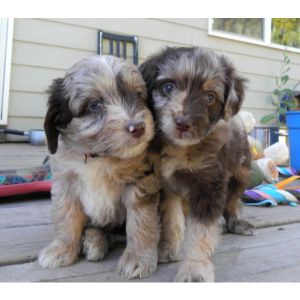 The key to having a healthy and happy puppy is choosing a good breeder. In addition to conducting several health tests to ensure the moms and dads are suitable for breeding, good breeders also prepare the puppies socially, emotionally, and physically for their new families.
We know how difficult it is to find a reliable breeder in Maryland, especially breeders of popular dogs like Aussiedoodles. You have to consider many factors before making a final verdict, and many new buyers do not know the factors to consider.
We have done the heavy-lifting and curated a list of the best Aussiedoodle breeders in Maryland. We hope this list simplified your search rather than having to constantly search the web or ask friends. Here are the top breeders you can trust:
1. TLC by the Lake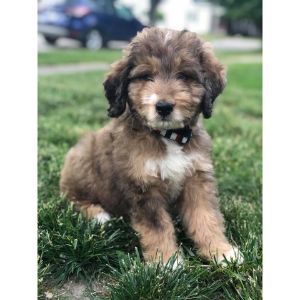 TLC by the Lake is one of the few good breeders you can trust. The breeding program specializes in family-raised AKC and CKC Doodles and Poodles. It is a family-owned breeding program; the family runs the farm with the support of their staff. They have the highest level of care staff who are dedicated to the success of the breeding program.
This family handles all their puppies with love and lots of attention. They have kids ranging in ages from 2-35, and they all play a crucial role in the breeding program. The puppies spend their day on the laps and arms of the kids while enjoying quality playing time and socialization.
If you are looking for magnificent Aussiedoodles, Goldendoodles, Sheepadoodles, Bernedoodles, and Poodles, you can trust TLC by the Lake. The family takes every necessary step to ensure that their puppies will make wonderful companions and family members.
All the puppies are raised with a family-friendly approach, preparing them to be a great addition to your home/family. The puppies are great with kids and the elderly, making them a great fit for families with kids.
In addition to being friendly, the pups from this breeder are easily trained. In fact, the breeder starts the training process a few days after they are born. Your puppy must have undergone potty, crate, and behavioral training before being released. TLC does an impressive job of laying a solid training foundation, so you can continue the process without any struggles.
Talking of struggles, TLC strives to be part of their puppies' lives forever by checking on them after the sales. You can also reach out to them whenever you have issues or questions about the puppy. All pups from this breeder are CKC and AKC registered, and come with:
A health certificate
A TLC written guarantee to protect against congenital defects
Up-to-date on vaccinations and worming
The family started breeding Poodles in 2005 but added other Doodles to the breeding program in 2010. They are State/County AKC licensed and inspected, so they follow the AKC breeding standards. TLC has a very large family consisting of 10 children and 13 grandchildren – one of the main reasons all their puppies are family and kid-friendly.
They also have a large and well-equipped facility for nursing and raising puppies. The yard is also specious for the puppies and dogs to play, roam, and run freely during the day.
Aussiedoodle Breeder Information:
Address/Location:

1886 Mosser Rd, McHenry, Maryland 21541

Phone Number: 301-501-1818
Website: TLC by the Lake
2. Maryland Puppies Online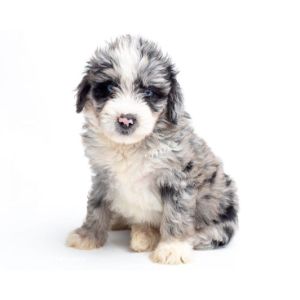 As the name implies, Maryland Puppies Online is an online platform that finds loving families for their puppies. The family is family-owned, and they have been in business since 2008. They have the experience and knowledge you need to help you find your new family member.
Maryland Puppies have a wide range of hybrid breeds and purebred puppies. All their puppies are featured on the online store, including Aussiedoodles, Cavapoos, Maltipoos, Cockapoos, etc.
One unique thing about this pet store is that they are solely responsible for their puppies. All their puppies are living with them as part of their family. They also receive a lot of attention, love, and care, which is what many pet stores do not offer.
The breeding program has many divisions, and they have kennel staff with Tiffany being the leader (Kennel Manager). Dianna is the manager of this esteemed program, and she has a lot of experience working with animals. She has worked with pets her entire life and was even a breeder herself.
Maryland Puppies provides its potential customers one-on-one time with their puppies. You can visit the breeding facility to see your pup and its parents, and observe the environment it was bred and raised.
In addition to bonding with your puppy, your visit is also a great opportunity to have a one-on-one conversation with the breeders and ask questions. However, Maryland Puppies has an appointment-only, boutique-style business, so you need approval from them before you can visit.
They give all their puppies wonderful names, which you can change or continue using after the purchase. Maryland Puppies cares for its puppies like family. They know their dislikes, likes, and personalities, which helps them match the puppies with the right families.
All their puppies are vet-checked, vaccinated, and dewormed before joining their new families. They are also created and potty-trained in the "Puppy Housing Method" – a highly effective training approach.
Aussiedoodle Breeder Information:
3. Emma Hope's Aussiedoodles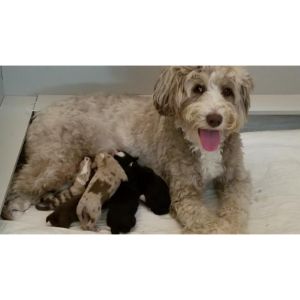 Emma Hope's Aussiedoodles is a highly reputable family breeder with high breeding standards. Health is the ultimate focus of this breeding program. The family does not cut corners or spare any expense in the breeding program.
All their puppies are bred from DNA-screened and health-tested sires and dams. Emma Hope's Aussiedoodles is located in Middlesex County, Virginia. However, they can deliver your puppy in Maryland. Their focus is on Mini to Moyen Aussiedoodles, and no other breed or doodle variation.
EHA is not a kennel; all their puppies and dogs live within their home as part of the family. The family believes in quality, not quality; so they do not produce a multitude of litter yearly. By producing limited litters, they are able to create more time for the puppies, giving them the attention, love, and care they deserve. Another unique thing about this breeder is that it has a live stream puppy camera.
They turn on the cameras about three to four days before an expected litter arrives. The camera will remain on 24/7 until the last pup of the litter leaves for its forever home (eight weeks after birth). With this development, you can watch the growth and development of your puppy until they are ready for pickup.
You can also watch your puppies learn the fundamentals of crate training, potty training, and commands like wait, sit, come, etc. Check their website for updates on upcoming litters and the link to the live stream.
Aussiedoodle Breeder Information:
4. Doodle Run Kennels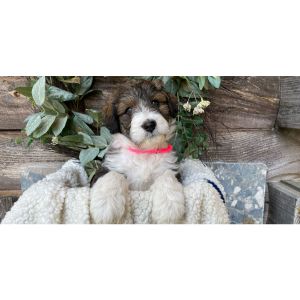 Doodle Run Kennels specializes in breeding and raising Mini Aussiedoodle and Bernedoodle puppies in Virginia. DRK prides itself on having phenomenal animals and a breeding program that consistently produces dogs with tremendous temperaments.
Their breeding dogs are from some of the highest quality Poodle and Australian Shepherd lines in the country. Some of their dogs are from champion bloodlines with AKC Titles.
The family health tested the dogs using CERF, OFA, and Pawprints – premium standard health-testing organizations. Before conducting the health tests, they evaluated the dogs for temperament, conformation, and color. The puppies from this breeder have exceptional temperaments and awesome characteristics, thanks to the rigorous health testing and evaluations.
Doodle Run does not only health test the dogs before adding them to the breeding program; they are evaluated and health-tested before each breeding to better their lines and preserve their standards. All the puppies come with a two-year health guarantee to protect against genetic health issues. Each puppy also goes home with:
The first round of shots
Food sample
A vet health certificate
Toys
Collar and leash
Prepaid microchip
They have a Puppy Schedule to update buyers on current and upcoming litters. Check the schedule, choose a litter to join, and make a deposit to secure your spot.
Aussiedoodle Breeder Information:
Conclusion For Best Aussiedoodle Breeders In Maryland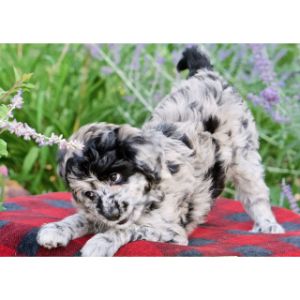 Aussiedoodles are great family pets and companions. These dogs are good with kids when properly raised and socialized. Bringing a new puppy home comes with many responsibilities, which you have to be physically and mentally prepared for.
However, Aussiedoodles are somewhat demanding because they seek a lot of attention and need frequent grooming. You can contact any of the breeders listed here to learn more about this breed from someone with experience before proceeding with the purchase.
You will also like: