Have you ever looked at an adorable Australian Shepherd and thought "if only there was a version of this awesome dog that didn't shed"? Well, if that's the case, then look no further than the precious Aussiedoodle, a designer hybrid between an Australian Shepherd and a Standard Poodle.
The Aussiedoodle has all of the best qualities of both parent breeds, meaning that they are no-shedding, highly intelligent, lovable, playful, and eager to please. Adopting a dog is a really exciting time that many people look forward to for years, but the experience can also be pretty overwhelming and even disheartening for some. Thus, we put together a list of the best Aussiedoodle breeders in Tennessee to help you.
With popular breeds like the Aussiedoodle, there are so many breeders to choose from in the United States that the options can be difficult to sift through. How can you know for sure that a breeder is honest and trustworthy? How do you know which breeder is the right choice for your family?
Believe it or not, thorough research is the best way to answer questions like these. By reading about your options and comparing them thoroughly you can learn a lot about which breeder has the best breeding practices and which option is right for you.
Aussiedoodle breeders play a crucial role in the early development of the dogs they sell, and their care and attention helps set the dogs up for success later in life. Therefore, you want to be sure to take the time to find a great breeder who will prioritize the health and wellbeing of your future pup.
Tennessee and the states surrounding it all have some of the best Aussiedoodle breeders in the country, and their details are listed below. If you live in Tennessee and are looking to adopt an Aussiedoodle of your own, this is the right article for you!
Other articles you would like: Sheepadoodle Puppies in Tennessee and Goldendoodle Breeders in Tennessee.
Aussiedoodle Puppies In Tennessee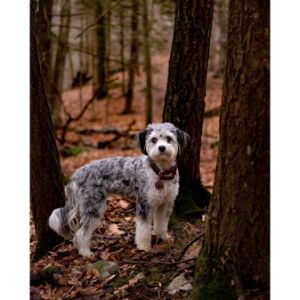 In this article, we supply you with the contact info for the best Aussiedoodle breeders in Tennessee, as well as a brief bio. We know how tedious research like this can be, which is why we decided to simplify things for you and conduct that research ourselves.
We look at the best breeders in Tennessee and the surrounding states and added our very favorites to this list. We believe that a good breeder is ethical, caring, experienced, and honest, and these qualities were the starting point for consideration to be included on this list.
We are passionate about connecting people like you with the perfect breeder and puppy, and that's why we are proud to offer this list to you. You can be sure that any puppy purchased from one of these breeders will be happy and healthy for many years to come.
1. Smoky Mountain Doodles

First on the list of Aussiedoodle breeders in Tennessee is Smoky Mountain Doodles. On Century Farm in central Tennessee at the base of the Smoky Mountains is a farm where Smoky Mountain Doodles are bred. If you are looking to find a reputable Aussiedoodle breeder in Tennessee, this is that right breeder to start with. In addition to breeding Aussiedoodles, they keep horses and cattle and have experience with breeding other types of Doodles.
Smokey Mountain Doodles offers a one-year guarantee on its puppies. If the puppy should be diagnosed with a life-changing genetic defect then a replacement puppy will be agreed upon. This whole process takes place only if the owner has followed the policy about the care of the puppy, including a veterinarian check a week after birth and other care procedures.
Because Smoky Mountain Doodles breeds their dogs and raises their dogs in a home-operated area, meeting the parents or having visitation with the puppies is not allowed. This is to help protect the puppies in the litters from sickness, disease, stress, and any other potential harm. The website for Smoky Mountain Doodles shows pictures and videos of each sire and dam and posts weekly about their puppies.
There is a deposit and application required to adopt one of these puppies. Smoky Mountain Doodles ensures that each puppy will go to a home that matches its disposition, temperament, and needs as a breed. This breeder does advertise that it retains the right to choose first from every litter they have if they choose to exercise this right. Other than that, the Aussiedoodle puppy selection process is a breeze, and you are kept to date on your puppy for its entire first eight weeks of life without you.
Aussiedoodle Breeder Information:
2. Saddle Brook Farm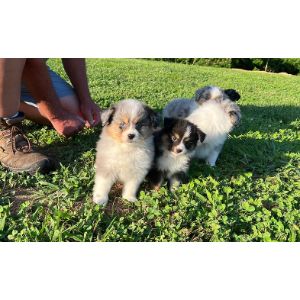 Saddle Brook Farm is a breeder in Tennessee of a variety of dog breeds and includes the occasional Aussiedoodle. They specialize mostly in miniature and toy varieties of Australian Shepherd, however, occasionally will have Miniature Poodles as well. These two breeds can be combined to create the adorable and hardy Aussiedoodle.
Saddle Brook Farm breeds sheep primarily and then breeds dogs to help herd their sheep. When they started to sell sheep, they also began to offer out their herding dogs. The Miniature and Toy Australian Shepherds were perfect for herding the smaller babydoll sheep Saddle Brook Farm bred. This in turn led to other small excursions such as creating Aussiedoodles.
With this specific Aussiedoodle breeder in Tennessee, it is important to keep up to date on their website and watch out for an Ausiedoodle litter. While they do not specialize in F1 Ausiedoodles, it will occur sometimes with F1 Miniature or Toy Australian Shepherds and become a whole new generation. Although Aussiedoodles are not at the forefront of Saddle Brook Farm, the reviews give positive insight into the litters that do come.
Saddle Brook Farm does not offer any guarantees on genetic health but they do offer support during the dog's life. This comes in the form of a grooming service that will help keep your dog healthy and neat. Because Aussiedoodles aren't a common batch for Saddle Brook Farm, it is best to call ahead and talk to someone about what they offer in which season. This can save you time if it isn't the right season for Aussiedoodles at Saddle Brook Farm.
Aussiedoodle Breeder Information:
3. Remedy Ridge Aussiedoodles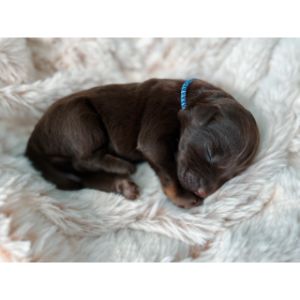 Remedy Ridge Aussiedoodles is a fantastic breeder that is owned and operated by a loving family in Tennessee. This breeder has a special focus on breeding first-generation Aussiedoodles of service dog quality. For those who don't know, with hybrid mixes, a dog is considered "first generation" when they are the puppy of two purebred parent dogs.
So the first-generation Aussiedoodles from Remedy Ridge are the puppies of a purebred Standard Poodle and a purebred Australian Shepherd. Second-generation puppies would be the puppies of two Aussiedoodles.
The dogs that this breeder breeds are all direct descendants of parent dogs that have been in the American Kennel Club (AKC) Hall of Fame. They conduct significant genetic tests to make sure that the puppies are free from concerning genetic defects that may cause health problems later.
They also conduct temperament checks on their dogs to make sure that they are healthy and well-adjusted. The only dogs that this breeder ever breeds from have achieved the Canine Good Citizen title and their Therapy Dog International title, meaning that they are of the highest quality.
This specificity when breeding allows the breeder to select for the desirable qualities found in service dogs. As a result, all dogs from Remedy Ridge are naturally intuitive, intelligent, healthy, and caring, and they make wonderful companions. Whether you're looking for a service dog, an emotional support dog, or just a new canine best friend, Remedy Ridge is the place for you.
We love this breeder's passion for all animals and dedication to ethical breeding practices. They make sure that all of their puppies are given plenty of love and affection from the minute they are born. They also expose each puppy to common social and environmental triggers to help desensitize them to some common triggers.
Each puppy purchased from Remedy Ridge will come with a microchip, all of their age-appropriate shots and deworming treatments, a clean bill of health signed off on by a certified vet, a harness, leash, and color.
A blanket with their mama's scent, several stimulating puppy toys, a collapsable dog bowl, puppy waste bags, a 5 day supply of puppy supplements, a bag of food, training tips, and a three year genetic health guarantee.
Aussiedoodle Breeder Information:
4. Cabin Hill Labradoodles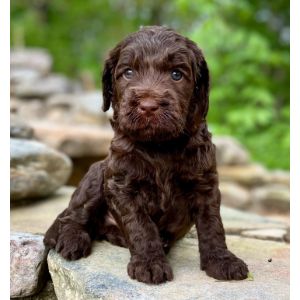 Cabin Hill Labradoodles is a wonderful doodle breeder located in Tennessee. They specialize in Australian Labradoodles and are proud members of many great Australian Labradoodle organizations and communities.
This breeder is owned and operated by a loving couple who is passionate about all animals but has a special soft spot for dogs. Their breeding approach is very hands-on, which helps socialize each of their puppies and get them used to being pet and handled by people from a young age.
The couple, along with occasional help from their four children, loves to spend time outdoors with their dogs and pups, letting them explore the 21 acres of the stunning farm where the breeder is located. The pups get to romp and play with the wildlife, which gets them nice and tuckered out for a long evening of snuggling.
This breeder originally started their dog breeding journey with Labrador Retrievers, but transitioned to the more indoor-friendly (no shedding) labradoodle after a few years.
The couple, both of whom are trained educators, are naturally curious and were drawn to learning more about the Australian Labradoodle, which is a breed with a unique and interesting history based on therapy work. From there they fell in love, and they began breeding Australian Labradoodles themselves soon after.
This breeder believes that their dogs should be an integral part of their everyday lives, and they give endless love and attention to all animals in their care. They are passionate about breeding ideal puppies that will make life-changing companions for their adoptive families. Head to their website today to learn more and to join the waitlist.
Aussiedoodle Breeder Information:
5. Australian Heritage Labradoodles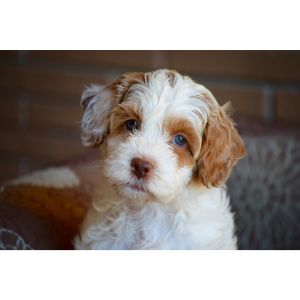 Last on the list of Aussiedoodle breeders in Tennessee is Australian Heritage Labradoodles. Australian Heritage Labradoodles is one of our favorite breeders in the country. They specialize in breeding two kinds of Aussiedoodles: miniature and medium-sized. All of their dogs are multi-generational Aussiedoodles and are some of the finest dogs around.
This breeder is a member of the Australian Labradoodle Association of America (ALAA) and the Worldwide Australian Labradoodle Association (WALA), and are proud to offer incredibly high-quality dogs to Tennessee and the rest of the country as well.
Their dogs are gentle and incredibly family-friendly and are even frequently service and therapy dogs thanks to their high intelligence and trainability.
This breeder is a home hobby breeder, meaning that they breed for the joy of the experience and don't breed many litters per year. For this reason, their dogs are pretty hard to come by and it's a good idea to get on the wait list early if you're interested in adopting one.
Aussiedoodle Breeder Information:
Conclusion For Best Aussiedoodle Breeders In Tennessee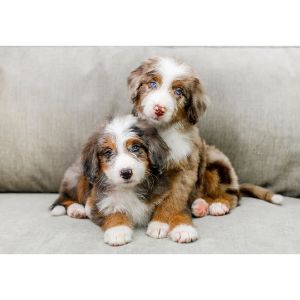 Aussiedoodles are some of the best dogs around, and it's no wonder that they're such a popular breed in Tennessee. Given their popularity, it's also no surprise that there are a lot of Aussiedoodle breeders to choose from in Tennessee and the surrounding states.
While some of these breeders are fantastic (like the ones on this list), many are not so great and should be avoided, which complicates the already stressful process of trying to find the best breeder.
To simplify everything for you, we conducted thorough research and compiled this list of the best Aussiedoodle breeders in Tennessee. We only considered breeders who were ethical, kind, experienced, and honest, so you can be sure that if you choose to adopt from one of these breeders your dog will be happy and healthy for many years to come.
You will also like: