Are you looking for the top Sheepadoodle breeders in Michigan to add a new canine friend to your family? The demand for Doodles has surged significantly over the past few decades, and Sheepadoodles are one of the most sought-after options.
Sheepadoodles are a mixed breed of a Poodle and Old English Sheepdog. Some pet lovers and breeders also refer to them as Sheeppoo, Sheepadoodle, and Sheep-a-poo. Regardless of the name you know them by, these dogs are excellent family companions and make a great addition to many families.
Some other articles you may also like: 5 Best Cavapoo Breeders In Michigan! (2023) and 4 Best Goldendoodle Breeders In Michigan! (2023)
Sheepadoodle Puppies In Michigan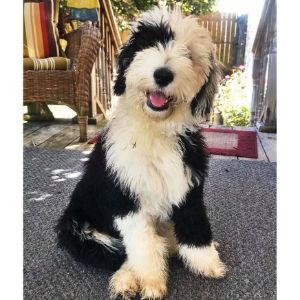 Your first task as a potential Sheep-a-Poo owner is to research this dog breed. You need to study them closely to ensure you are capable of meeting their needs. Doodles are attention-seeking dogs, and Sheepadoodles are not exempted.
The second task is to find the best place to buy this dog, and we are here to help you with this part. We have done thorough research to help you find the best Sheepadoodle breeders in Michigan. Read on to see our top recommendations:
1. Great Lakes Kennel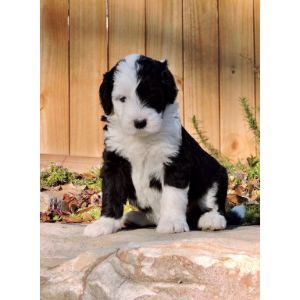 Great Lakes Kennels is one of the most active and ethical breeders in Michigan. Many breeders emerge in the breeding space and disappear after a short while. However, that is not the case for this breeder, as it has been active in the industry since its emergence.
GLK breeds and raises Golden Retrievers and different Doodles, including Sheepadoodles, Bernedoodles, Goldendoodles, and Yorkidoodles. In addition to being active in the industry, this breeder always updates its website. They provide current information on their website to keep customers updated on available and upcoming litters.
Great Lakes Kennel strives to produce premium quality family pets. They breed for temperament, health, and appearance. This breeder is passionate about breeding and raising happy and healthy puppies.
While the profit from sales comes in handy, it is not the sole reason for the breeding program. They are passionate about doodles and ensure every family looking for these dogs gets the best ones possible.
This breeder has been in the industry for more than 30 years. They have vast experience in breeding and raising dogs. GLK understands the importance of breeding healthy puppies and how best to do it.
Hence, they pay close attention to their breeding dogs, ensuring they are perfectly healthy and sound before breeding. GLK is not focused on titles or confirmation; its goal is to provide loyal and loving pets that will be a great addition to their new families.
Great Lakes Kennel takes great care of its puppies from birth until they join their new families. They expose the puppies to various environments and noises, ensuring they easily and smoothly transition into their new homes. The breeder also offers consultation services. You can call them to know more about their dogs before proceeding with the purchase plan.
Sheepadoodle Breeder Information:
Check out for more: Best Sheepadoodle Breeders in Texas and Best Mini Sheepadoodle Breeders in the United States
2. Apple Creek Doodles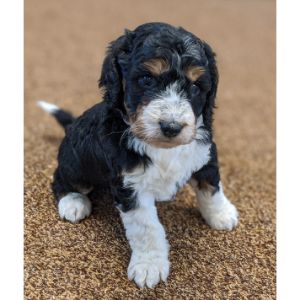 Apple Creek Doodles is one of the top Sheepadoodle breeders in MI. This breeder has been breeding and raising puppies since 2000, with about two decades of experience. They are also recognized as Michigan's most experienced Doodle breeder. ACD specializes in breeding healthy, happy, and well-socialized puppies for families in Michigan and beyond.
Apple Creek Doodles raises various Sheepadoodle generations. They produce F1 Sheepadoodles, a cross between a Poodle and Old English Sheepdog; F1b Sheepadoodles, a cross between an F1 Sheepadoodle and a purebred Poodle; F1bb Sheepadoodles, a cross between an F1b Sheepadoodle and a purebred Poodle.
Hence, regardless of the Sheep-a-poo you want, this breeder has got you covered. The F1bb generation is a bit easier to train and much calmer than the other generations. The F1b generation shed less than the F1 generation, making them suitable for families and individuals with allergies.
However, all the generations look beautiful and come with amazing traits. They are all affectionate, low-shedding, and make great companion dogs. If you suffer from pet dander allergies, you can buy any Sheepadoodle generation.
However, those who suffer extreme allergies and dog drool should opt for F1b and F1bb generations, as they have the highest levels of low allergy-triggering traits. This breeder puts a lot of time into breeding, raising, and caring for these puppies. She works remotely, so she has enough time to spend with the dogs.
She is with them 24/7 – feeding, playing, cleaning, hugging, kissing, and raising them with lots of love. Apple Creek Doodles also know the importance of socializing puppies early. She starts their socialization program early, ensuring they are used to kids, adults, other pets, and various environments before going home at eight weeks old.
Furthermore, this breeder loves to update her website often. She also uploads pictures and videos of their canines weekly. She does not allow visits to her home, an act to keep the pups safe and protected from dangerous diseases.
Sheepadoodle Breeder Information:
3. Doodledoo Farm
If you are looking for an excellent, friendly companion Sheepadoodle, opt for a home-raised puppy. Patronize breeders that breed and raise their puppies in their home. Doodledoo Farm is one of the top breeders in this state that breeds and raises its puppies in its home. This breeder produces home-raised and health-tested Sheepadoodles and Bernedoodles.
Chris and Laura own and run Doodledoo Farm. They have been working alongside dogs for more than 20 years. This breeder loves dogs and the entire process of raising puppies. They provide premium care for their puppies from the day they are born to the day they leave for their forever homes.
They have also built long-lasting relationships with many families through their puppies. Doodledoo Farm strives to be part of their pups' lives even after releasing them to join their new families. They work alongside families as they prepare, raise, train, and enjoy their puppies.
Doodledoo Farm also focuses on the health and temperament of its canines. They breed with the healthiest and most well-tempered dogs. The breeder conducts several health tests on its sires and dams to ensure the puppies are free of genetic health conditions.
Their puppies go home with a two-year health guarantee against congenital health diseases. Hence, the breeder is responsible for any substantial or life-threatening illness within that time frame.
Sheepadoodle Breeder Information:
4. High Standard Poodles & Doodles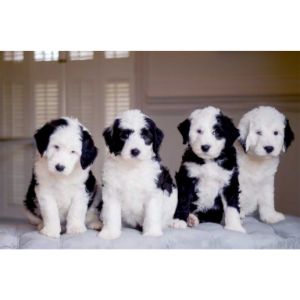 High Standard Poodles & Doodles has been producing and raising loving, healthy puppies for over 30 years. This breeder works with some of her kids to raise and care for the puppies and dogs.
They help birth, handle, care for, train, socialize, and place the puppies in the right homes. This breeder's top priority is to always breed genetically tested, well-socialized, healthy, loving, and sweet puppies.
One unique thing about this breeder is that it raises and trains its puppies for different purposes. High Standard Poodles & doodles produce and raise companion dogs, medical alert dogs, therapy dogs, obedience and show dogs, and hunting dogs. They also provide perfect breeding dogs for those who want to start a breeding program.
The breeder has a large home with more than enough space for the dogs and puppies to play and roam freely. They provide a comfortable and warm environment for the pets, ensuring they grow up with premium care and love.
This breeder specializes in producing Goldendoodles, Bernedoodles, Bernese Mountain Dogs, Poodles, and Sheepadoodles. High Standard Poodle & Doodles offers delivery services in and around Michigan. So you do not have to leave your home to secure a puppy from this breeder.
Sheepadoodle Breeder Information:
5. Brewer's Goldendoodles and Sheepadoodles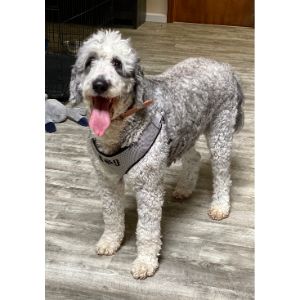 Coming in last in our list of the best Sheepadoodle breeders in Michigan, we have Brewer's Goldendoodle and Sheepadoodles. This breeder is located in Sardinia, Ohio – south of Michigan. BGS has been producing and raising quality and super healthy puppies since 2001. They focus on temperament, ensuring all their puppies are well-tempered.
This home-based breeder health-tests its sires and dams before adding them to the breeding program. They carefully pick their breeding dogs for their temperament and health history.
They focus on emotionally and structurally sound dogs to ensure they produce the best puppies possible. The breeder selects its breeding dogs from all over the country, picking only the best of the best.
One thing we love about this breeder is that it has a highly informative website. They provide helpful information about grooming, feeding, and training Sheepadoodles and Goldendoodles. In addition, the breeder provides lifelong support, ensuring you are not alone on the journey of raising your new canine friend.
Sheepadoodle Breeder Information:
Conclusion For Best Sheepadoodle Breeders In Michigan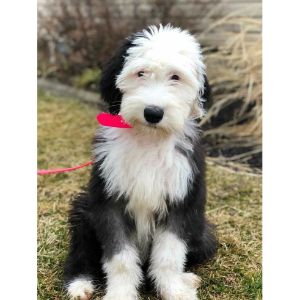 The common health problem associated with Sheepadoodles is dysplasia. They inherit this health issue from their parents. However, the best Sheepadoodle breeders in Michigan know how best to avoid these issues.
They conduct a series of health tests for the sires and dams, ensuring they breed the healthiest puppies free of congenital problems. Overall, these dogs are excellent companions, and you will love having one in your home.
You will also like: