Imagine having a dog who won't bite your furniture, sheds less, is calm and loyal, and offers you unconditional love. With a Bernedoodle in your house, you can make this fantasy a reality with the best Bernedoodle breeders in New Hampshire.
These furry babies are also available in different sizes, depending on whether they are bred. Although Bernedoodles are generally goofy, smart, and adorable dogs, there are some nitty-gritty factors you must consider before buying them.
Berne breeds can pass on many traits to Bernedoodles, such as being aloof towards strangers or having a stubborn nature. To help mitigate this, you must look for a responsible breeder who has nurtured the environment for your Bernedoodle pup. 
Bernedoodle's shining coat and dazzling eyes might steal your heart, but all these beautiful traits need constant nurturing. These puppies are so cute that many pet buyers tend to overlook their health and medical history. 
Some articles you may like: 5 Best Labradoodle Breeders In New Hampshire! and 4 Best Maltipoo Breeders In New Hampshire
Bernedoodle Puppies In New Hampshire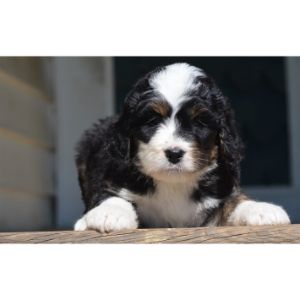 Getting healthy puppies is now possible with the best Bernedoodle breeders in New Hampshire. However, you should beware of backyard breeders who are only interested in making money.
These inexperienced breeders do not pay any attention to their puppies' health, temperament, socialization, or training. In contrast, a good breeder will always inform you about your health concerns and provide the necessary documentation for your pup.
This guide contains a list of the best Bernedoodle breeders in New Hampshire. We handpicked them for you based on their reputation, experience, and stringent breeding standards. Here are the best places to buy Bernedoodle puppies in New Hampshire.
Check out for more: Top Bernedoodle Breeders In Michigan and Best Bernedoodle Breeders in the U.S.
1. New England Bernedoodles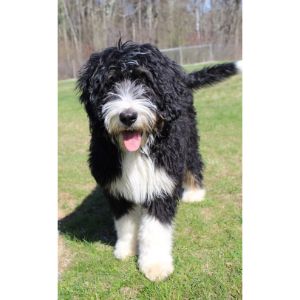 New England Bernedoodles is a family-owned breeder of exceptional Bernedoodle puppies. Health, temperament, and trainability are the cores of this breeder's breeding program. They produce lovable and affectionate companions suitable for individuals and families with kids.
They live with their dogs and puppies in their home in the beautiful, quintessential New England town of Keene, New Hampshire. This family breeder is well-experienced, and they are dedicated to only this dog breed.
Whether you want a Mini or Standard Bernedoodle puppy, this breeder has got you covered. Producing perfectly healthy, allergy/asthma-friendly, and low-shedding puppies is a passion for them, and they derive joy in doing it. No sire or dam joins the breeding program without passing a series of health tests.
All parent dogs are tested for eyes, hips, and elbows through OFA. Paw Print and/or Embark is in charge of running the genetic health tests for the dogs. Only dogs with clean genetic health records are welcomed to the breeding program.
Before venturing into the breeding space, this breeder owned Australian Labradoodles for several years. Their Labradoodles taught them a lot about caring for and raising puppies. They run another breeding program, High Country Labradoodles, where they breed and raise Australian Labradoodles.
Bernese Mountain dogs used to be one of the breeder's favorite dogs because of their loving personalities and gentle souls. Nevertheless, the largeness and shedding nature of these dogs made them unfit for this family and many other families with allergies.
To produce an allergy-friendly dog, this breeder decided to study genetics and learned how to combine affectionate, smart Poodles with gentle, loving, and quality Bernese Mountain dogs to produce Bernedoodle.
The breeder is well-informed about the whole process, and they know how to achieve the best results. To ensure their dogs excel in trainability and gentleness, this breeder focuses on its dog's temperaments. They evaluate the temperament of the sires and dams before breeding.
The breeding program is focused on American Bernedoodles, but they occasionally breed Australian Bernedoodles. In addition to having excellent temperament and health, the puppies from this breeder have exceptionally beautiful coats.
Bernedoodle Breeder Information:
2. Northeast Poodle and Doodle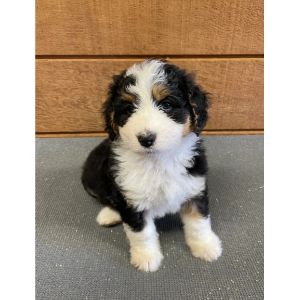 Northeast Poodle and Doodle is undoubtedly one of the oldest and most experienced doodle breeders in New Hampshire. With more than 30 years of experience, this breeder knows the secrets to raising healthy, happy, and well-tempered dogs. Bernedoodles, Sheepadoodles, and Goldendoodles are their specialty.
Northeast Poodle and Doodle is a small breeder that lives on a 30-acre farm with its dogs and livestock. There is enough room on the farm for various animals, including horses.
The breeder is located at the Ossipee Mountain range in Moultonboro, New Hampshire. Kennels and cages are not the styles of the breeders; they are even strongly against locking up dogs.
The dogs and puppies enjoy a lot of freedom, playing and running around the farm during their playtime. None of the pets lives outdoors; they share a home with the breeder. Home-raised puppies make better companions as they experience family love and care growing up.
Socialization and adjustability are two important traits of these puppies. NPD ensures the pups are healthy, adapted, and socialized before going to their new families. They socialize the puppies with kids, adults, and other pets.
Visitors are allowed on the farm, so the puppies interact with visitors daily. Strolling and visiting new sites is also part of their socialization program. They take the puppies on errands, exposing them to different sights and sounds.
NPD's relationship with its customers does not end when they take their puppies home. You can always reach out to them if you need support or guidance. To give you the assurance you need to proceed with your purchase plan, this breeder offers a 12-month genetic health guarantee.
They have genetically tested the sires and dams, determining that the pups will be free of congenital diseases. Hence, rest assured you are buying a super healthy and genetically sound puppy. The puppies are up-to-date on vaccines and dewormed on a strict schedule at two, four, six, and eight weeks.
Bernedoodle Breeder Information:
3. Vidadoodle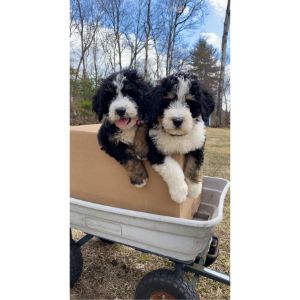 Bringing a new puppy home is a huge responsibility and requires a lot of commitment. You also need to know about the breed, their unique needs, and how best to care for them. While it is easy to get the information you need on the internet, the experience is quite different when you get first-hand knowledge from an actual breeder.
Many unreliable breeders usually shy away from talking to customers or answering their questions, but that is not the case with Vidadoodle. Vidadoodle is an exceptional breeder that cares about its customers as much as it does for its puppies.
They are a professional Bernedoodle breeder with a lot of experience and expertise in this field. One unique thing about this breeder is that it only releases puppies to families and individuals that are 100 percent sure they want this breed.
The breeder is always available to answer your questions regarding Bernedoodles. You do not need to purchase a puppy or pay the deposit fee to enjoy the free consultancy service.
Vidadoodle educates all its customers about this breed to ensure it is what they want. Many puppies end up in rescue homes and shelters because their owners do not know what they signed up for initially. So the breeder is doing everything possible to ensure its dogs do not end up in such situations.
The Bernedoodles from this breeder are raised and trained for various purposes, including service, therapy, and companionship. This breeder raises empowered pups using early scent introduction, early neurological stimulation, temperament analysis, intentional socialization, and cuddles.
Besides the health and temperament of the puppies, finding the right families for the pups is the top priority of the breeder. Sweet temperaments, intelligence, and health are this breeder's key factors for choosing sires and dams.
Also, the dog's parents are genetically tested, OFA/PennHip tested, and cleared for heart, eyes, elbow, and hip. Vidadoodle is passionate about raising empowered, healthy, well-trained, and well-socialized Bernedoodles.
Bernedoodle Breeder Information:
4. Massachusetts Bernedoodles LLC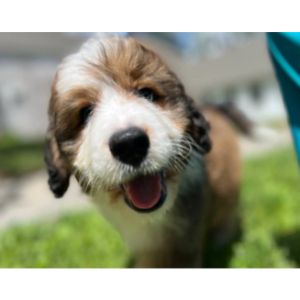 Concluding our list of the best Bernedoodle breeders in New Hampshire, this Bernedoodle breeder specializes in producing the finest and healthiest puppies possible. They focus on raising adorable Bernedoodle puppies from only the best breeding line that makes ideal companions, service dogs, and therapy dogs.
What makes this breeder unique is that it produces various generations of Bernedoodles – F1, F1b, and F2 both in standard and mini.
Aussiedoodles are also part of the mix – first-generation micro and Aussies. If you are interested in the classic Bernedoodle look, you should opt for the first-generation (F1) puppies. However, those with severe allergy cases should opt for the F1B Bernedoodles, as they are hypoallergenic and non-shedding.
The health and well-being of these puppies are the topmost priority of this breeder. Massachusetts Bernedoodles is owned and managed by Kim and her family. She has three amazing kids who help socialize and keep the puppies company.
She loves dogs and is highly committed to her puppies and their parents. Another unique thing about this breeder is that she is completely transparent. She provides all necessary documentation for her puppies, including a health certificate and genetic health guarantee.
Bernedoodle Breeder Information:
Conclusion For Best Bernedoodle Breeders In New Hampshire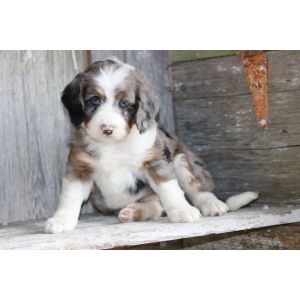 The Bernedoodles are friendly and easy-going dogs. However, to maintain healthy, good-tempered, and socialized pups, they need to be bred and nurtured in the right environment. Unfortunately, they can turn out to be stress boosters if you purchase them from irresponsible breeders or without any DNA testing.
The Bernedoodle breeders listed here provide their puppies with the best environment, training, and socialization program. They also provide a health guarantee and assurance in paperwork, so you have nothing to worry about.
You will also like: