You may want to consider a Cavapoo if you've never owned a dog before. They're well-rounded dogs with a lot of good traits. Their eagerness to please, sweet nature, and low-shedding coats make them excellent dogs for families. So, without further ado, here's a list of the best Cavapoo breeders in New Hampshire!
Some articles you may also like: 5 Best Labradoodle Breeders In New Hampshire and 4 Best Maltipoo Breeders In New Hampshire
Cavapoo Puppies In New Hampshire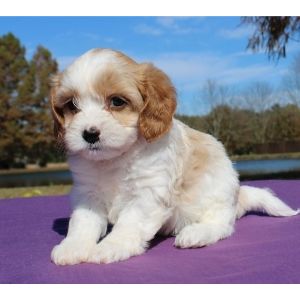 The demand for Cavapoo puppies in New Hampshire is rising, as there are only a few Cavapoo breeders in the state. However, despite the limited number of Cavapoo breeders in New Hampshire, pet parents need to be cautious about buying their puppies. Many breeders are relatively new in the space, so they have very little to no breeding experience.
The majority of inexperienced breeders are unable to recognize and avoid the health issues unique to this breed. For this reason, you must choose an experienced and responsible breeder for this puppy.
We created this guide to help you find healthy and happy puppies by connecting you with the most reliable and well-experienced breeders in the state. Without further ado, here are the best places to find healthy Cavapoo puppies for sale in New Hampshire.
Check out for more: Best Maltipoo Breeders in Arizona and Best Mini Poodle Breeders In The U.S
1. A Breed Apart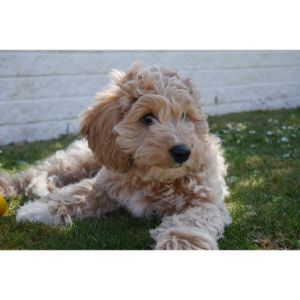 A Breed Apart has more than 23 years of experience in breeding and raising puppies. With almost three decades of experience, this breeder knows how to raise designer dogs, ensuring they turn out perfectly healthy and sound.
The owner and operator of this breeding program is a registered nurse, and her whole life revolves around people, kids, and animals. She grew up on a small farm in New Hampshire, helping her grandparents raise and show Poodles. She is now a mother of three, and they all contribute to the breeding program's success.
A Breed Apart started with Papillon but has expanded to accommodate other dog breeds. She has a proven and stringent breeding standard that helps her breed the best quality puppies possible.
This breeder strives to produce healthy, happy puppies with well-rounded temperaments. She takes pride in raising exceptional puppies and placing them in the perfect homes. She handles her puppies daily and once they are two weeks old, they get provided with all the attention, care, and love.
In addition, they ensure the puppies are well-exposed and socialized before releasing them to their new families. She exposes them to various sounds, sites, and textures. Your new canine friend can climb the stairs before it comes home, exactly what every new paw parent wants. Besides this, she regularly grooms the puppies to ensure they are always neat and presentable.
She believes healthy pups start with healthy parents. Hence, she keeps her breeding dogs in top-notch condition. The dogs enjoy the best quality foods, supplements, and snacks. They also undergo complete health vet checks twice a year and are up-to-date on immunizations.
All the pups undergo a thorough health check before joining their new families. A $300 non-refundable deposit is required to reserve a puppy, and the pup's cost is $2,500.
A Breed Apart sells its puppies at 8 to 12 weeks of age, and they all receive their first shots before going home. Their release package includes health certificates, 30 days Trupanion Health Insurance, AKC limited registration with spay/neuter contract, and a puppy pack.
Food samples, treatment, and house training/care information are the content of the puppy pack. Lastly, the breeder offers lifelong support for all its puppies.
Cavapoo Breeder Information:
2. New England Cavapoos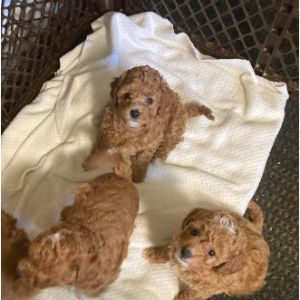 Next up, we have New England Cavapoos, a breeding program owned and managed by Jennifer Chen. She lives in Lexington, Massachusetts, with her family and dogs. Jennifer cares for and loves her dogs like her pets.
She values healthy and happy puppies, so she ensures the parents are perfectly healthy before breeding. The dogs are DNA tested by Embark, while their hip, elbow, and eyes are tested by OFA. They also go through PennHip testing to ensure they are in the best health condition before joining the breeding program.
New England Cavapoos understand the full responsibilities of a breeder, and they play their role excellently in the breeding industry. Jennifer's ultimate goal is to breed and raise healthy pups that will make a well-rounded character in an adult dog.
The puppies from this breeder range from $3,000 to over $5,000. New England Cavapoos has a strict adoption policy; it requires customers to provide vital information about themselves so they can be matched with the puppies. They are cautious about who goes home with their puppies, so they would want to know you before the purchase.
Jennifer gives her puppies enough time to develop, and grow with their mother and littermates before releasing them. She believes that moms play a vital role in the development and growth of their babies.
Hence, they do not separate the pups from their mothers immediately after birth; they allow them to stick around and learn many things. At eight weeks old, the puppies have learned a lot and are ready to join their new families.
To ensure that her pups are a great addition to their new homes, Jennifer introduces them to several training exercises and socialization skills. Crate, potty, and behavioral training are part of the exercises the pups are exposed to.
She uses several enrichment methods, including pee pad training, litter box training, noises, socialization with kids, human interactions, impulse control, etc. In addition, New England Cavapoos works with a professional vet to give the pups the best vet care they deserve. Your puppy will come with a one-year health guarantee, covering genetic defects, hips, and heart.
Cavapoo Breeder Information:
3. Foxglove Farm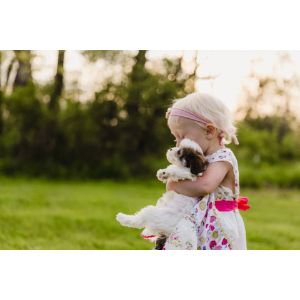 Foxglove Farm is the home of beautiful Cavapoo and Cavachon puppies, owned and managed by Terry. Excellence in breeding standards and ethics has made this breeder one of the most trusted in the United States.
You can buy a puppy from this breeder seamlessly regardless of where you are in the US, as it provides nationwide delivery services. Terry takes great care of his puppies while on the farm and even after leaving for their forever homes.
He is passionate about producing and raising exceptional puppies for families nationwide. With more than 30 years of experience, Foxglove Farm is well-grounded in the breeding business. It is Terry's dream that every family wanting to buy a Cavapoo gets the healthiest and happiest ones, and he has achieved significant milestones over the decades.
Foxglove is renowned for raising puppies that are easy to train, can sleep alone at night from day one, and are perfectly healthy. If you are looking for great value for money, we highly recommend this breeder, as its puppies are affordable and of top quality.
You will not have any issues house-training your puppy, as Terry will do most of the job before your new friend arrives. In addition to being easy to train, the pups from this breeder are sweet-natured and sensible.
They also boast of excellent temperaments, making them suitable for families, especially those with kids. Foxglove Farm does not release its puppies until they are 11 to 12 weeks of age. At 12 weeks old, the pups are well-socialized and ready to transition to their new homes.
One unique thing about this breeder is how he prioritizes the health of his puppies. In addition to ensuring they receive the best vet care possible, the puppies go home with a five-year healthy guarantee.
Cavapoo Breeder Information:
4. Chesley Hill Cockapoos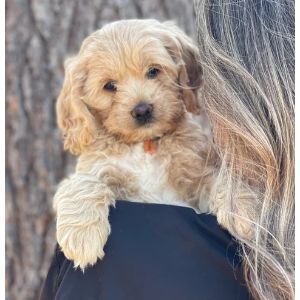 Chesley Hill Cockapoo is a family breeder that provides friendly and healthy puppies for families in New Hampshire, Massachusetts, Connecticut, Vermont, and New York City. Thanks to their puppy-raising standards and training programs, the family has an excellent track record of raising well-mannered and socialized puppies, a perfect conclusion to our list of the best Cavapoo breeders in New Hampshire.
Another thing they pay close attention to is the temperaments of their babies. Only the healthiest and good-tempered dogs are bred to ensure the babies are suitable for family companions and pets.
Chesley Hill started breeding and raising Cockapoos in 2013 when they welcomed their first litter. However, the breeder recently extended their love and care to Cavapoos. They know the importance of health testing, so they only selected dams and sires with quality lines, sound minds, and excellent health.
They conduct several health tests to better understand the genes of their dogs before breeding. The test results help them make an informed decision and avoid producing pups with congenital health conditions.
Chesley Hill is a responsible and reputable breeder, and it does everything possible to maintain its reputation in the industry. You will not regret going home with a puppy from this breeder because they invest in their health, training, socialization, and happiness.
Cavapoo Breeder Information:
Conclusion For Best Cavapoo Breeders In New Hampshire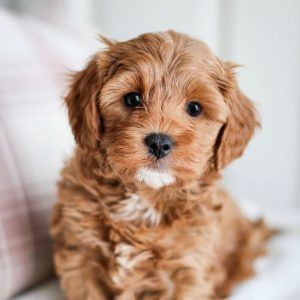 Cavapoos are loyal pooches that will be dedicated to the whole family. But they may develop certain hereditary health issues and are also prone to syringomyelia. Therefore choosing the responsible breeder who has conducted all the essential tests, and health checkups are very crucial.
Don't be blinded by cuteness; focus on health and temperament instead. Cavapoo health testing is one of the most important criteria to consider when choosing the best breeders in New Hampshire.
Many breeders claim to "health test" their breeding dogs, but they do not. To be on the safe side, we recommend you ask to see the test results. Also, ensure the tests are carried out by reputable organizations like Embark and OFA. Do not patronize any breeder that cannot or will not provide the health-test results of its dogs and puppies.
You will also like: