It's impossible not to fall in love with an Aussiedoodle. Aussiedoodles are ideal dogs for hands-on and adventurous dog owners. Incredibly loyal, smart, playful, and gentle, this breed carries the best traits from its parents – a Poodle and an Australian Shepherd which is why we have a list of the best Aussiedoodle breeders in Wisconsin for you right here!
Some articles you may like: 6 Best Cockapoo Breeders In Wisconsin! and 5 Best Cavapoo Breeders In Wisconsin!
Aussiedoodle Puppies In Wisconsin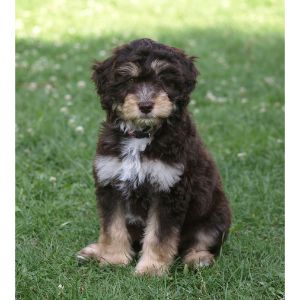 Are you looking for the best place to buy an Aussiedoodle puppy in Wisconsin? The demand for this breed has increased significantly due to its calm nature, hypoallergenic coat, and friendly nature.
There are different types of breeders in the industry – those who focus solely on making money and those who are dedicated to providing families with healthy puppies. Profit-oriented breeders pay little to no attention to their puppies. These breeders do not offer any health guarantee or health certificates for their pups.
So, how do you separate the wheat from the chaff? There are a few things you need to consider when searching for the best Aussiedoodle breeders in Wisconsin. Most first-time dog owners end up trusting the wrong breeders.
We have conducted thorough research and consulted some experts to create a list of the best places to buy this dog breed in Wisconsin. Read on to see our top picks.
Check out for more: Best Bordoodle Breeders in the U.S. and Top Bernedoodle Breeders In Michigan
1. Hope Hill Doodles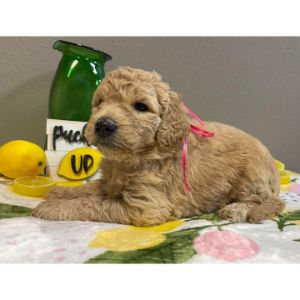 Hope Hill Doodles (HHD) is a highly reputable, family-owned breeding program. The family lives with their dogs on a 40-acre wooded lakefront property in the Northwoods of Wisconsin. HHD raises its dogs and puppies as family pets, treating them like every other family member.
The puppies get their full attention daily for affection, care, and playtime. They also enjoy the freedom of the outdoors, going out to play in the yard whenever they want. The yard is large enough for them to play, run, and explore.
Socialization is one of the vital areas of this breeding program. They have eight wonderful kids that play and socialize with the puppies daily. The special attention from the kids helps make the pups kid and people-friendly.
HDD also exposes the puppies to different environments, taking them out on walks, to the family lake house, and on errands. Their goal is to provide families with gorgeous, happy, and healthy puppies.
Hope Hill Doodles is also committed to helping its customers raise their puppies. They provide support for a lifetime, ensuring you get all the help and guidance you need while raising your new canine friend.
Also, the breeder offers some valuable resources on its website to help you train your puppy at home. They offer puppy training resources, including potty, crate, and bell training.
All puppies go home with a puppy-starter gift bag, including:
Treats
Toys
A food sample
A start collar
A blanket with a momma scent to aid in the transition
Life's Abundance product samples
A clean bill of health
The puppies also receive a spa treatment, including nail trimming, bath, blow-dry, and ear care before going home. Your new canine friend will come with a folder of paper containing important information, including medical records, education materials, etc.
Aussiedoodle Breeder Information:
2. Vesbach's Doodle Valley Farm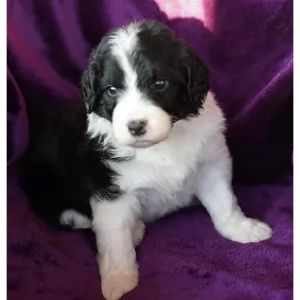 Vesbach's Doodle Valley Farm is a multi-purpose breeder, breeding dogs for various puppies. VDVF breeds and raises good-tempered puppies for service dogs, therapy dogs, and family companions.
The breeder nurtures the neurological health of its puppies a few days after being born. In addition to producing puppies for different purposes, this breeder raises various designer dogs. They produce and raise Aussiedoodles, Bernedoodles, Poodles, and Mountain Dogs.
All the puppies from this breeder are home-raised; they were raised as part of the breeder's family. VDVF shares a special bond with its puppies and is careful about who buys them.
They do not sell to puppy mills and brokers – only families and individuals they trust can care for the puppies. The puppies are introduced to house and crate training at just a few days old to ensure a smooth and seamless transition into their new homes.
The puppies undergo various training exercises, making them suitable for first-time owners. VDVF is located in the rolling hills of Vernon County, Wisconsin, occupying a 40-acre farm, which is more than enough room for the pups and dogs to play and roam around.
They also raise other animals like cats, pigs, and cattle. Part of the pups' socialization program is interacting with the other animals on the farm. Early socialization helps make them friendly to other pets and people.
VDVF produces two generations of Aussiedoodles – F1 and F1B. The F1 puppies range from $2,500 to $3,500, while the F1b puppies range from $3,000 to $3,500. The breeder also does a great job of keeping its customers updated about upcoming litter.
Aussiedoodle Breeder Information:
3. Crystal Ridge Doodles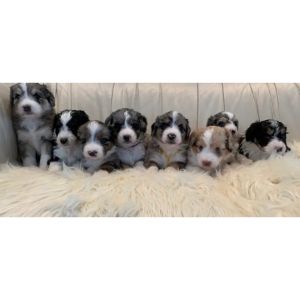 Crystal Ridge Doodles is a highly experienced Aussiedoodle breeder. CRD is a family-owned breeding program, and its journey into the breeding industry started in 2016. CRD is located in the Midwest of Wisconsin, but its services extend to Chicago, Chicagoland, Appleton, Milwaukee, Madison, and Green Bay.
They also have puppies in other states in the US, including Maryland, Illinois, Florida, California, North Dakota, Washington, Pennsylvania, and Michigan.
The primary focus areas of this breeding program are temperament and health. They assess their sires and dams for health and temperament before adding them to the breeding program. In addition to being excellent companions, the puppies from this breeder are great for service and therapy work.
However, the breeder did a lot of research and planned to produce puppies that could be used for those purposes. They researched the lineage of their parents to ensure they were suitable for such programs.
All their breeding dogs are from lines with sound minds and health. Most of their dogs are from grand champion confirmation show lines. CRD travels all over the US to find the best breeding dogs with perfect health and temperaments.
To give the pups the best start in life, this breeder adopts the Puppy Culture protocol while raising them. Crystal Ridge Doodles breed and raise only Aussiedoodles, so all their focus, attention, and research goes to this breed.
Aussiedoodle Breeder Information:
4. Sunset Ridge Puppies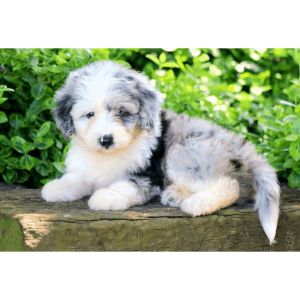 Sunset Ridge Puppies is a WI-licensed family breeder located in Boyceville, Wisconsin. SRP inspects yearly to ensure they maintain high breeding standards and a healthy environment for their puppies.
Since 2015, Sunset Ridge Puppies has been producing and raising Aussiedoodles and other designer breeds. This family breeder has amassed a lot of experience over the years, making them a professional in the breeding industry.
Sunset Ridge Puppies know the importance of health and temperament from experience. They believe a puppy must have a gentle temperament to be an excellent family companion. In addition to being healthy and good-tempered, the pups from this breeder are friendly and smart.
SRP follows a strict schedule with several dewormers used at two, four, five, six, and seven weeks. They also vaccinate their puppies with Bronchicine and Neopar.
The breeder runs complete health checks for the puppies when they are ready to leave at weeks old. They send the puppies with their health report, microchipped, and dewclaws removed. Most of its customers are very excited about their purchase, testifying how healthy, happy, and fast-growing their pups are.
Aussiedoodle Breeder Information:
5. Dancing Mini Doodles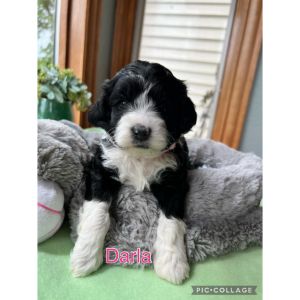 Dancing Mini Doodles is a small hobby breeder located in Allenton, Wisconsin. DMD is an in-home breeding program dedicated to providing families with the best quality puppies possible. They specialize in breeding and raising Aussiedoodles, Goldendoodles, and Aussie-Goldendoodles, an esteemed conclusion to our list of the best Aussiedoodle breeders in Wisconsin.
DMD breeds only when their dogs are at their peak health. All their puppies are from health-tested and temperament-assessed parents. The ultimate mission of this breeder is to produce healthy family-raised pups for every lifestyle. Their puppies are suitable for companionships, therapy, and service purposes.
Dancing Mini Doodles raised all their puppies in their home, not in a kennel. The breeder also focuses on producing well-socialized puppies by using Puppy Culture training methods and Early Neurological Stimulation.
These techniques help prepare the puppies for the world and make life easy for their new parents. DMD ensures the pups are up to date on vaccines and deworming before sending them home. DMD takes great pride in its puppies and does everything possible to ensure they are healthy, happy, and comfortable.
Aussiedoodle Breeder Information:
Conclusion For Best Aussiedoodle Breeders In Wisconsin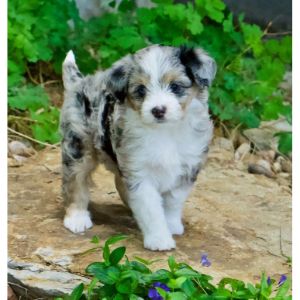 Aussiedoodles are easy-to-train companion dogs and loyal friends to their owners. But you need to be careful when looking for Aussiedoodle breeders in Wisconsin. Some breeders advertise themselves with fake information on the internet.
Before settling for any breeder, we recommend that you must check their license, experience in the industry, breeding facility, and customer feedback. Feedback from customers is crucial since it will give you a sense of what to expect.
Do not rely solely on the reviews on the breeder's website; explore their handles on other social media platforms like Facebook and Instagram. Ensure the breeder is legit and well-experienced before trusting them.
You will also like: