Dogs make the perfect pet for any family; they are playful, intelligent, and great companions. Numerous cross-breeds are available nowadays; however, despite being the oldest designer breed, Cockapoos are still the most popular which is why we have a list of the Cockapoo breeders in Illinois for you right here!
Their admiration is not surprising, as Cockapoos are incredibly adorable and playful dogs. Sweet like Cocker Spaniels and intelligent like Poodles, Cockapoos have inherited the best qualities from both parents.
These cute dogs are not only intelligent but friendly. So, they make excellent pets for people with children. Surprisingly, Cockapoos can also be trained as therapy dogs due to their emotional intelligence.
Other articles you would like: Best Sheltie Breeders In Illinois and Best Golden Retriever Breeders in Illinois
Cockapoo Puppies In Illinois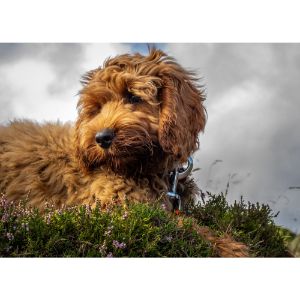 Best of all, Cockapoos are great for people with allergies as they are low-shedding dogs. They can adapt to any living environment, be it apartments or farmhouses. Hence, they make ideal pets for city dwellers and ruralites.
Due to the popularity of the breed, you can find several Cockapoo breeders in Illinois, but not all of them are reliable. To find a trustworthy breeder, you must look at factors such as the breeder's experience, reputation, kennel conditions, and health guarantees, among others.
Choosing a breeder with the right qualities can be tough, but we are here to help you out. Here are some places where you can find Cockapoo puppies for sale in Illinois. You can choose whichever option suits you best and contact them for more details.
1. Kathy's Kountry Kennel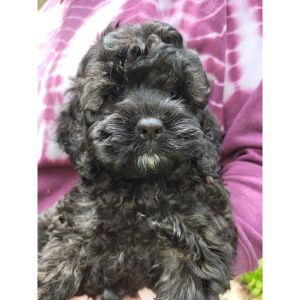 Kathy started breeding as a hobby after her friends begged her to breed her adorable Cocker Spaniel. Since her Cocker Spaniel was too small to be bred by a Cocker male, she chose to breed with a Poodle and got 6 beautiful Cockapoos.
After her first litter, her husband died suddenly. Raising the second litter of Cockapoo got her through this tough time and made her want to pursue breeding full-time. Hence, breeding is her passion and sole focus.
Twenty-three years later, Kathy is still breeding healthy and smart Cockapoos, making her an expert in her field. So, you can trust her breeding program to provide you with some of the best puppies. They specialize in three breeds only, Mini Labradoodles, Bichipoos, and Cockapoo puppies in Illinois.
Socialization is a given as the dogs live in the owner's house. So, they are used to living in houses and socializing with humans daily. That makes it easier for them to adjust to their new home and enhances their temperament.
The puppies get all the necessary care and have regular vet visits. The staff makes sure that the puppies are up to date on their vaccinations and get dewormed regularly. The breeder also offers a one-year health guarantee for any genetic defects.
Kathy encourages visitation and urges all pet buyers to visit the farm and see the environment in which the puppies are raised first-hand to make sure they are not buying from a puppy mill. You can schedule an appointment with her via the information given below.
Cockapoo Breeder Information:
2. Your Lucky Puppies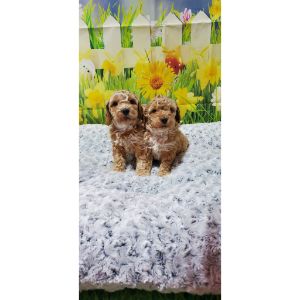 Your Lucky Puppies is a breeding program in Volo, Illinois. They are a licensed breeder and encourage their clients to visit their farms. It helps clients see the dogs' living conditions and ensure they were raised in the best way possible.
They proudly offer hypoallergenic puppies that are friendly, affectionate, and love playing with you. Also, they do not neglect the health of their parent dogs. All the pet parents are OFA tested.
So, you can choose from healthy puppies that will be a part of your family for a long time. They also conduct every possible test to ensure that the puppies and the parents are healthy before breeding.
Cockapoos are known for their sweet nature and playfulness. Still, puppies need the training to be ready for their next homes. Your Lucky Puppies ensures socialization through a combination of Puppy Culture and ENS, which helps ensure the puppies are well-adjusted to living in homes and meeting strangers.
Since they are a hobby breeder, Your Lucky Puppies breeds puppies in their homes; therefore, call to schedule an appointment before visiting them. Finally, you'll be happy to know that the breeder donates 20% of all profits to anti-animal cruelty organizations in the country, especially in Illinois.
Cockapoo Breeder Information:
3. Fox River Cockapoos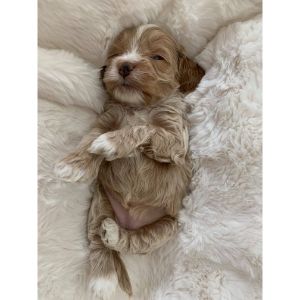 A husband-and-wife own Fox River Cockapoos. They have years of experience in this business. So, you can trust them to provide a healthy and well-adjusted puppy.
As a small family-owned business, they shower their pups with a lot of love and care. Their pups receive the best health care and regular checkups. So, the puppies have great temperaments and can also make excellent therapy dogs.
They offer a lot of useful information on their website, which includes the benefits of spaying or neutering your pup, the things you might need to prepare for a puppy, and more. All in all, their website is pretty helpful for first-time dog owners.
Fox River Cockapoos is located in Wisconsin, only six minutes from Illinois's border. So, if you are searching for Cockapoo breeders in Illinois, they are a great choice. Adopting their adorable, hypoallergenic, and non-shedding puppies will surely be the best decision you'll make.
They sell solid-coloured Cockapoos for $2000 plus tax, whereas multi-coloured Cockapoos cost $2,250 plus tax. A $300 deposit is required to reserve a place on the waiting list.
This deposit is non-transferable and non-refundable. If you want a specific puppy, it is important to fill out an application along with the deposit. It is also necessary to contact the owners via email to confirm if your application has been accepted.
Cockapoo Breeder Information:
4. Pups 4 Kids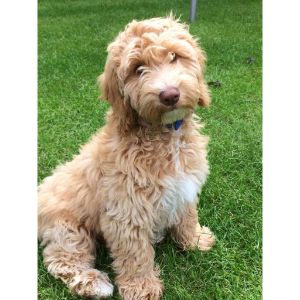 Concluding our list of the best Cockapoo breeders in Illinois is Pups 4 kids. A breeding program that aims to help people get the puppy they've always wanted. They deal in several breeds, including Goldendoodles, Cockapoos, Whoodles, Mini Labradoodles, and more. They also have rescue pups or dogs up for adoption sometimes.
Pups 4 Kids has been in this business for 22 years. They are also licensed and regularly inspected by the Wisconsin Department of Agriculture.
One of the best things about their pups is that they are hypoallergenic. So, they are good for people who suffer from dog allergies. Also, their pups are non-shedding, which makes it easier to care for them. All the puppies at Pups 4 kids are vaccinated and are dewormed regularly. They also provide a two-year health guarantee. So, you can be sure that you will get a happy and healthy puppy.
Pups 4 Kids are one of those Cockapoo breeders in Illinois that do not offer delivery, but you can make an appointment and visit their farm. This way, you get to meet your new puppy and learn about how they were raised.
Cockapoo Breeder Information:
How To Choose The Best Cockapoo Breeders In Illinois?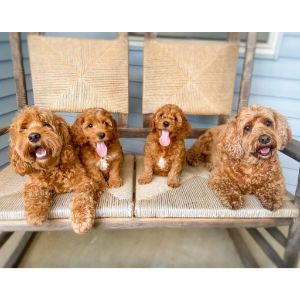 Having a dog is the best feeling ever; dogs are playful, entertaining, and love to cuddle. So, they make a great companion for adults and children alike. Among dogs, Cockapoos are easily one of the most popular dogs because of their friendly personalities, adorable looks, and unbeatable intelligence.
Adopting a cockapoo would be a great joy if you got the puppy from a reliable breeder. It is necessary to avoid puppy mills. Puppy mills keep dogs in horrible living conditions and breed them more than recommended.
Overbreeding affects the puppies' and the parents' health. This can also cause several genetic defects and other ailments later on. Such situations are painful not only for the dog but for their family members as well.
So, it is recommended to search for suitable breeders. Family-owned businesses are a good choice as they raise their pups at home. So, their pups are used to living in a home environment and are well-Socialized. Puppies raised at home receive a lot of love and care. So, they have great temperaments too.
You can search for different breeders in your state, such as the ones mentioned above, and choose the ones that match your requirements. Later, you can contact them and set up an appointment. It is recommended to pick up the puppy yourself. This way, you can see how and where the puppies were raised.
Conclusion For Best Cockapoo Breeders In Illinois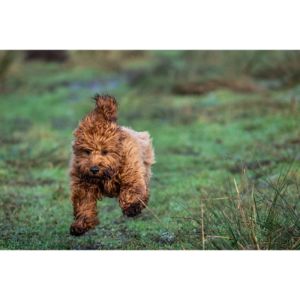 Cockapoos are smart, playful, and affectionate creatures. Their adorable faces can make anyone fall in love with them. Getting a Cockapoo can be a great addition to your family. Their loving nature is bound to keep you company and your children engaged.
The Cockapoo breeders listed above are the finest breeders in Illinois. Three of them are in Illinois, and 1 is in Wisconsin, which is ideal for Illinois residents. Although we have only included experienced and well-reputed breeders, we suggest that you visit them before making a choice.
You will also like: