When the time finally comes to adopt a dog, it can be one of the best moments of anyone's life. Dogs are a rewarding addition to any family, and many people look forward to adopting their own pet for years.
While the experience is certainly full of excitement and enjoyment, a lot of people overlook that it can be stressful to adopt a dog as well. This is because the process requires doing a lot of research, which can get confusing or overwhelming.
The United States has a lot of awesome dog breeders that specialize in many different breeds, including the adorable Cockapoo. Many of these great breeders are located on the East Coast, either in or near Tennessee. If you live in Tennessee and have been looking to adopt a Cockapoo of your very own, this is the perfect article for you. We put together a list of the best Cockapoo puppies in Tennessee.
Other articles you might like: Goldendoodle Breeders in Tennessee and Cavapoo Breeders in Tennessee.
Cockapoo Puppies In Tennessee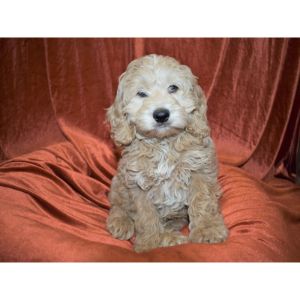 In this article, we list the very best Cockapoo breeders in and around Tennessee. The process of looking for a great breeder can be challenging and take up a lot of time, which is why we decided to simplify the process for you.
We took the time to thoroughly research and review the best dog breeders in Tennessee and the surrounding states. We compiled this list of our favorite Cockapoo breeders in  Tennessee based on this research.
We believe that dog breeders should be ethical and caring, so we used those criteria to determine which breeders were list-worthy. You can be confident that a puppy purchased from any of these breeders will be happy and healthy for many years to come.
Check out for more: Best Cockapoo Breeders in Michigan and Best Bordoodle Breeders in the U.S.
1. Pigs N Poodles
One of the best Cockapoo breeders in Tennessee is Pigs N Poodles. Among the many pets that Pigs N Poodles bred are Cockapoos, Doodles, several types of pigs, and of course Poodles.
The Cockapoo is not the main attraction for this breeder, but it is an intelligent, healthy, and sturdy breed. In addition to being lovable and friendly, the Cockapoo is also hypoallergenic and does not shed very much.
Located in the middle of Tennessee, Pigs N Poodles resides on a farm. All the dogs on this farm are raised and bred surrounded by other farm animals. Breeds like Cockapoos have the ability to socialize with all kinds of animals and farm situations, making them a great addition to your farm.
They are socialized with other dogs and children, making them great for families who do not own and run farms. Training and Early Neurological Stimulation will also be offered to these puppies so that their owners can start off on the right foot.
They have a lot of information on their website about each breed and what you need to do to care for each breed. A Cockapoo is known for having a terrific temperament and for being healthy and able to live a long life.
The care of puppies and dogs at Pigs N Poodles is extremely serious and visitation is not allowed. Puppies are documented by video and photographs, and communication is crucial for deposits and picking puppies.
Cockapoo Breeder Information:
2. Allison Hollow Puppies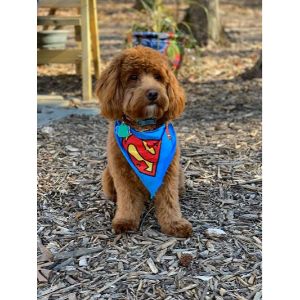 There are many types of Poodle mix puppies available at Allison Hollow Puppies, including Cavapoo puppies. Cavapoos and Schnoodles are their specialties. The Cockapoo breeder in Tennessee is family-owned and has a combined experience of twenty years.
There will be great communication with this Tennessee breeder of Cavapoo puppies, and they will be there every step of the way. The kennels are very open about where the puppies are kept, and they provide videos that show where they are kept.
Puppies are able to play and socialize inside these clean, spacious kennels. Allison Hollow Puppies is a family-owned business, so the puppies are socialized with other animals and children.
Cockapoos are thirteen inches tall and weigh up to eighteen pounds. These adorable and loving animals are bred from AKC registered F1 parents. Despite not being genetically tested by this breeder, the parents are regularly checked by veterinarians according to a schedule and routine.
All their Cockapoo puppies in Tennessee are taken great care of which is an imperative step in Allison Hollow Puppies' breeding process. At Allison Hollow Puppies, puppies don't go to a new home until they are about nine and a half weeks old, or ten weeks old. To help the puppy adjust to its new home, they prefer a stress-free weaning process.
An AKC Reunite Program microchip and registration process are provided to all puppies. Owners will be notified instantly if a dog is found anywhere other than where it should be, so they can find a missing or stolen dog in no time.
Cockapoo Breeder Information:
3. Pure Heart Farm & Ministries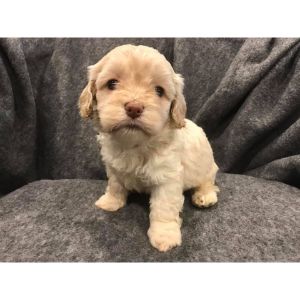 This family-owned and operated breeder is located in Alabama, just a short drive away from Tennessee. They specialize in breeding F1 Cockapoos that are known for their excellent health and great temperaments.
This breeder is a member of the American Cockapoo Club, also known as the ACC. This is a club and a registry that celebrates the lovely Cockapoo breed and offers exclusive specialty support for breeders who are licensed to breed Cockapoos.
F1 Cockapoos are achieved when both parent dogs are purebred examples of their breed. For instance,  if a purebred Standard Poodle and a purebred Cocker Spaniel bred and had puppies, those puppies would be considered F1 puppies.
Cockapoo puppies resulting from the breeding of two F1 dogs would be considered F2 Cockapoos. Therefore, since this breeder specializes exclusively in F1 Cockapoos, their puppies are pure designer Cockapoos.
When breeding, Pure Heart Farm & Ministries uses extensive research and genetic testing to plan their litters, allowing them to create puppies of the highest standard. Each of their puppies has the best traits of both the Standard Poodle and the Cocker Spaniels, and this is why the puppies from this breeder are highly sought after all over the country.
Cockapoo Breeder Information:
4. A& J's Love Our Pups LLC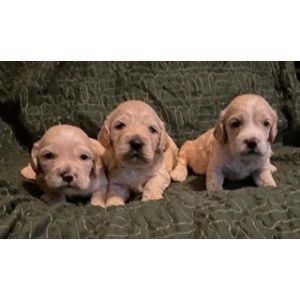 A&J's is another great Cockapoo breeder located close to Tennessee in sunny Georgia. This breeder is licensed by the state of Georgia and is a family-owned and operated breeder. They are fully registered with the American Kennel Club, also known as the AKC.
They also belong to the American Cockapoo Club, the ACC, and the Continental Kennel Club. It's a great sign when a breeder is a member of so many prestigious organizations, and that is certainly the case with this breeder.
At A&J, the breeders strive to find the very best fit for each and every puppy. They are passionate about getting to know potential adopters to figure out if they'd make excellent Cockapoo parents. They work hard to breed ethical, genetically superior Cockapoos, and they want to make sure that each special puppy finds the home it deserves.
They are also passionate about educating the community on the dangers of puppy mills and non-ethical breeders, both of which are typically cruel and abusive towards animals and frequently produce sick puppies.
In order to further engage the community, they hold online competitions and fun quizzes with the ultimate prize, a free puppy! This is a great way for potential owners to adopt a puppy if they can't afford to pay the full price for a puppy from this breeder.
Each puppy is thoroughly checked by a licensed veterinarian to ensure that they are healthy and happy. The breeder conducts genetic testing to make sure that the parent dogs and puppies alike are all healthy and free of genetic concerns that may lead to health issues later in life.
For this reason, you can be confident that your puppy from A&J will be as perfect as can be. Puppies adopted from this breeder come with their initial health exams, appropriate vaccines, and medical treatments, and more.
Cockapoo Breeder Information:
5. Stump Farm Puppies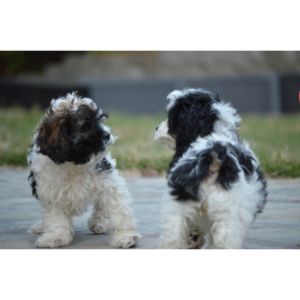 Stump Farm Puppies is a fantastic breeder close to Tennessee in beautiful Missouri. They are known for breeding the very best Standard Poodles and Poodle mixes. They breed stunning Cockapoos, but they also offer Maltipoos and Cavapoos if you're open to exploring other Poodle mix breeds.
This breeder is incredibly passionate about the work that they do, and they believe it is the highest honor to breed high-quality dogs that enjoy a high quality of life. They know that healthy and happy dogs begin with a healthy and happy environment from the minute they're born.
These puppies are so lucky to grow up at Stump Farms. From early puppyhood, these dogs get to run and play in the gorgeous sunshine to their heart's content, and they get a lot of socialization and attention from the breeders. This helps them grow up to be well-adjusted grown-up puppies that are unlikely to develop behavioral problems.
This breeder also conducts thorough genetic health tests to make sure that their dogs are healthy before breeding. They also genetically test their puppies to help ensure that they don't send an unhealthy puppy home to an adoptive family. Each puppy adopted from this breeder comes with a one-year health guarantee as well.
In addition to the health guarantee, Stump Farms also offers a rescue guarantee. If you're unfamiliar with this, a rescue guarantee ensures that the breeder will take your puppy back and help it find a new loving home if you are unable to continue providing care for any reason.
Cockapoo Breeder Information:
6. Duke's Cockapoos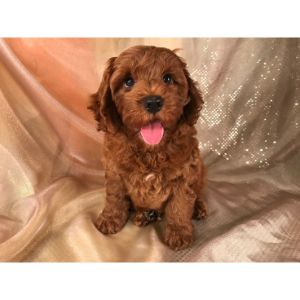 Last on the list of Cockapoo breeders in Tennessee is Dukes Cockapoos. Duke's Cockapoos is a boutique family-owned hobby breeder in scenic Virginia but can deliver to Tennessee. This breeder is a member of the American Cockapoo Club, also known as the ACC. They specialize in two types of Cockapoos: F1 and F2.
As mentioned in an earlier breeder description, F1 cockapoos are puppies that are bred from two purebred parent dogs— in this case, a purebred Standard Poodle and a purebred Cocker Spaniel. F2 Cockapoos are Cockapoo puppies bred from two Cockapoo parents, making the puppies second-generation Cockapoos.
This breeder's love for Cockapoos began in 2005 after they adopted their first Cockapoo of their own. Their puppy, Duke(the namesake for their breeding business) was the best dog they had ever met.
They were struck by his sweet and gentle disposition and his tenderness and playful nature, especially with their small children. They decided they needed more Cockapoos in their lives, and made the decision to begin breeding Cockapoos themselves.
This breeder conducts extensive health tests and genetic screens to check for any dormant health issues and to plan each litter. Their Cockapoo puppies grow up surrounded by children and other pets, including cats, so the dogs are used to many different social stimuli by the time they are ready to go to their new homes.
Cockapoo Breeder Information:
Conclusion For Best Cockapoo Breeders In Tennessee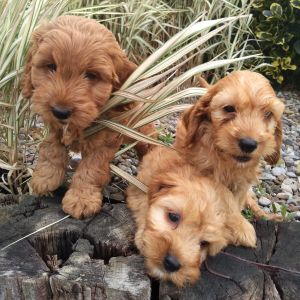 Adopting your own dog is very exciting for many, but the experience can also be pretty stressful. There is a lot of research that needs to be done before you can decide which breeder to adopt from.
Given how many excellent breeders there are in the United States and in and around Tennessee, this process can be lengthy and frustrating. In order to simplify the experience for you, we researched the best Cockapoo breeders in and around Tennessee.
We believe that breeders should care deeply about their dogs and their health and treatment. We only considered the most ethical and caring breeders during our research. You can e confident that a puppy purchased from any of these breeders will be an excellent companion in the coming years.
You will also like: