Maltipoos are a cross between a Poodle and Maltese – two extraordinary dog breeds. These dogs have exceptional temperaments, excellent character, and hypoallergenic coats which is why we have a list of the best Maltipoo breeders in Oregon for you right here!
Maltipoos are known for being fun-loving and affectionate; they are the favorite breeds of many dog lovers. These dogs are also popular because they are one of the best breeds for new puppy owners.
If this is your first time owning a puppy, Maltipoo puppies are one of the best to start with. They are easy to maintain, train, and fun to be with. This dog breed is also very friendly with kids and adults (especially when socialization is part of their initial training).
Hence, it is vital that you buy your puppy from the best Maltipoo breeders that invest in training and socializing their puppies. However, finding such breeders is somewhat challenging, as there are many breeders in Oregon.
But worry no more, as we are here to make your puppy-buying experience as easy as possible. Here is a list of the best Maltipoo breeders in Oregon to acquire a puppy.
Some other articles you may like: Common Animal Breeding Terminology! and Can Male Dogs Mate With Their Mother?
1. Maltese Angel Babies
Some factors that separate the best breeders from the rest are their breeding standards, reputation, and transparency. Maltese Angel Babies is one of the few breeders that possess all three traits. This breeder is transparent to the core.
They do not have anything to hide about their breeding program, and they always entertain questions about their puppies and processes, whether you patronize them or not. Maltese Angel Babies specializes in producing Maltese puppies. However, this breeder occasionally breeds Maltipoos.
They do a great job raising these puppies and reducing the workload for their customers. You will have no issues buying a puppy from this breeder because of its strict breeding principles and easy adoption process.
In addition to ensuring you go home with the best quality puppy, this breeder will not leave you to train your new canine friend alone. They strive to be part of their dogs' lives forever by keeping in touch with their customers. Hence, you will have all the support you need while raising your new furkid. You can call them to ask questions and for guidance.
One of the top advantages of buying a puppy from this breeder is that your pup will come home well-adjusted and already pee-pee pad and crate-trained. They train their puppies to eat on their own and sleep all night from the first day.
With these training and traits, you will have a peaceful life without sleepless nights and chaos when your puppy arrives. The breeder ensures they are well-trained and ready for the transition before releasing them.
In addition to being transparent, this breeder is highly ethical. They do not cut corners in the breeding program to reduce costs. This breeder spares no cost in ensuring every litter turns out perfect.
Furthermore, the puppies from this breeder are gorgeous. They do not focus only on health but also on appearances. The breeder is located in Salem, Oregon, but they deliver to other areas in the state.
Maltese Angel Babies produces and nurtures its puppies with the best nourishment, training, caring, love, and environment from birth until they go to their forever homes. They are dedicated to ensuring the health and happiness of each puppy they raise.
Thanks to their industry-leading breeding standards, many people come from various cities across the United States to get their puppies from them. They also have a blog section to educate potential buyers and puppy parents about this breed and how best to care for them.
Maltipoo Breeder Information:
Check out for more: Best Maltipoo Breeders in Arizona and Best Mini Poodle Breeders In The U.S
2. Valley Puppy Paws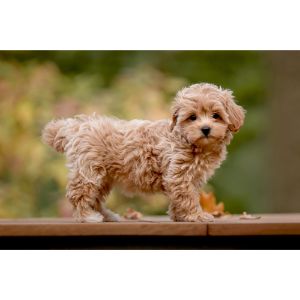 Next on the line, we have Valley Puppy Paws. Valley Puppy Paws (VPP) is one of the top cross-breeders in Oregon. This breeder is dedicated to producing crossbreeds like Maltipoo puppies, Malshi puppies, and others.
They have won the hearts of many dog lovers with their beautiful, healthy, and happy puppies. If you are looking for a perfectly healthy Maltipoo puppy that will not make you break the bank because of medical bills, you can rely on Valley Puppy Paws.
VPP breeds for health, temperament, and appearance. They pay close attention to their puppies and breeding dogs, providing them with all they need to live healthy and happy lives. The puppies enjoy premium care, ranging from health to nutrition.
VPP works with a professional, licensed vet that cares for the puppies and their parents. They run complete health checks and ensure the pups are up-to-date on vaccinations and deworming. No puppy leaves the breeder's home without being dewormed and vaccinated.
The dogs are not left out in vet care, as they receive an equal amount of care. They receive age-appropriate vaccines and preventative medication to maintain a healthy and sound body.
In addition to the health measures in place, this breeder sends its puppies home with a two-year health guarantee. Furthermore, the puppies go home with a recent vet exam and a starter kit that includes a blanket, toy, collar, information notebook, and food sample.
You will hardly find available puppies on its website because they book them all before they are born. Hence, you can only acquire a puppy from this breeder by joining its waiting list. The waiting list is often long, so you need to be patient. A non-refundable deposit of $300 is required to join the waiting list and reserve a puppy.
The breeder also offers delivery services in the state. You are expected to pay the balance before the delivery or pick up. However, you can also pay the balance (in cash) at the time of pick up or delivery.
Furthermore, you have to sign a non-breeding agreement before purchasing a puppy from this breeder. VPP ensures its customers go home with healthy, well-trained, highly socialized puppies.
Maltipoo Breeder Information:
3. Howdee Kennels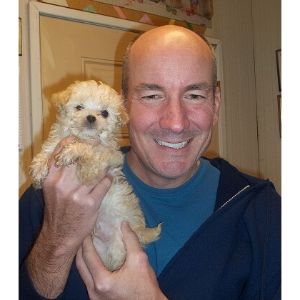 If you live north of Oregon, Howdee Kennels is one of the closest places to buy this dog breed. This breeder is located in Lynden, Washington, near northern Oregon.
Howdee Kennels is home to beautiful Maltipoos, Shih Tzus, Maltese, Toy poodles, Cavalier King Charles Spaniels, Cavapoos, Shi-Poos, and more. This breeder is specialized in raising premium quality puppies with excellent health and temperaments.
You can rely on Howdee Kennels for Maltipoos of various colors, including apricot, white, and black. They strive to produce puppies that will be a great addition to families rather than a burden.
Hence, they invest in the training and socialization of the puppies. Besides the breeding procedure, what makes the puppy of a breeder different from that of another breeder is training and socialization.
The breeder ensures all its puppies are friendly with kids, adults, and other pets. They allow the dogs to play and interact with each other. Furthermore, this breeder ensures the puppies have loving temperaments by breeding only the healthiest and well-tempered sires and dams.
All the pups come with a two-year health guarantee against genetic defects. In addition, the puppies are current on vaccinations, vet-checked, and wormed before adoption. Interestingly, you do not have to travel down to Washington to pick up your puppy, as they can ship it to you (an additional fee applies).
A non-refundable deposit of $300 is required to secure a puppy, and you are required to complete the payment before your puppy ships at eight weeks old.
Maltipoo Breeder Information:
4. Dryland Farms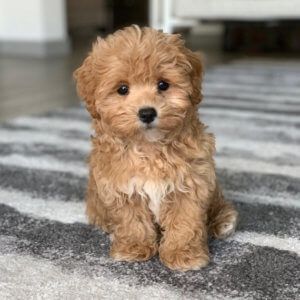 Concluding our list of the best Maltipoo breeders in Oregon, Dryland Farms is located in Central Washington State, but they can deliver your puppy wherever you are in Oregon. This breeder made it to our list because of its excellent reputation in the breeding industry. They breed and raise premium quality Maltipoo and Maltitzu puppies. This small family breeder takes the health and welfare of its dogs as its topmost priority.
They take their dogs and puppies as their pets and family members. They sleep in the breeder's home and spend quality time with them. One thing we love about this breeder is its close bond with its breeding dogs. They do not rehome or toss the dogs away after retiring. The breeder spays/neuters the retired dogs and continues living with them as family pets.
Dryland Farm is owned by a licensed vet technician with more than 30 years of experience. They ensure that the puppies and dogs are current on vaccines, dental care, and annual health exams. Dryland Farms does not release its puppies until they are eight weeks old. They ensure the puppies are ready for the transition physically, emotionally, and health wise.
Maltipoo Breeder Information:
Conclusion For Best Maltipoo Breeders In Oregon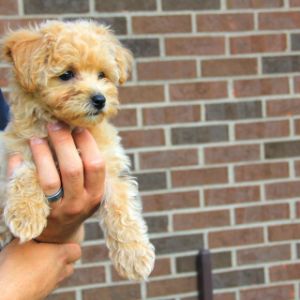 Bringing a new puppy home is a huge responsibility. You need to do your findings and make up your mind before looking for the best Maltipoo breeders in Oregon. Oregon is a large state with many dog breeders.
Hence, you need to be cautious when looking for a puppy. Do not be carried away by the cuteness of the puppies when you see their photos online. Ensure you ask the right questions and avoid breeders being reluctant to share helpful information about their puppies and breeding program.
You will also like: