A Goldendoodle is a cross between a Golden retriever and a Poodle. The breeds come in several sizes, so even would-be owners who want a smaller dog can consider adopting a mini Goldendoodle. The breed is loyal, intelligent, and active, so they make incredible family pets. 
If you're searching for a Goldendoodle puppy, it's important that you buy one from a breeder who is performing health checks and socializing their puppies. Thus, we created a list of the best Goldendoodle breeders in Mississippi.
Other articles you would like: Cockapoo Breeders in Mississippi.
Goldendoodle Puppies In Mississippi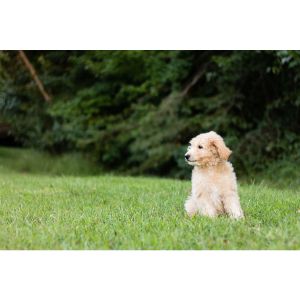 Mississippi families who think a Goldendoodle would make a great addition to their household should seek out a reputable breeder. We've put together a list of the best Goldendoodle breeders in Mississippi to assist you in your decision. 
The breeders on this list are responsible for caring for the health and well-being of puppies. Your dog will be socialized, cared for by a vet, and raised as a family dog, meaning they'll be ready to become a part of yours. Take your time and interview each breeder so that you can feel confident in your adoption decision. 
1. Golden Valley Doodles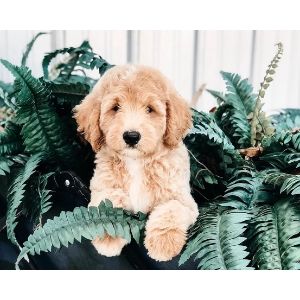 Golden Valley Doodles is the first Mississippi Goldendoodle breeder on our list. They're located in Morton, Mississippi which is just east of Jackson. The team specializes in Goldendoodles, Sheepadoodles, and Aussiedoodles, so they know a great deal about raising designer doodle breeds. 
To begin the adoption process, you'll first need to apply. Fill out the adoption application on the Golden Valley Doodles website, and you'll hear back from the team shortly. You'll need to place a deposit on your puppy.
Unique to this breeder is that, while the deposit is non-refundable, it also never expires. You can move your deposit to future litters until the timing is right for you. 
Dogs cost $2,650 regardless of characteristics, and you will pick your puppy up at around eight weeks old. Pups will come up to date with vaccinations and other veterinary care, and your puppy will also come with a two-year health guarantee. You must spay or neuter your dog.
If you live close to the Golden Valley Doodles location, you may be interested in their training program. There are two programs available – one is just a week and the other lasts for two months.  
Goldendoodle Breeder Information:
2. Greatly Graced Southern Doodles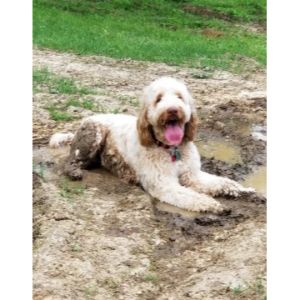 Greatly Graced Southern Doodles is next on our list of the best in Mississippi. This kennel breeds Goldendoodles and double doodles, and they're located in Brandon, Mississippi. Greatly Graced uses a guardian home program, so each dam, sire, and puppy is cared for in a private environment as a member of the family. 
Greatly Graced breeds dogs from health-tested moms and dads and your puppy's parents have been genetically tested against common health concerns. The kennel's Facebook page is frequently updated with pictures of new puppies, and you can also find information on the main website. 
Speak to the kennel directly about deposit and pricing information, as well as information about the kennel's health guarantee. All puppies are sold as pets only, and your dog will need to be spayed or neutered as a part of your contract. 
If you're interested, Greatly Graced sometimes offers the opportunity to become a guardian home. You will purchase your dog at a greatly reduced price, and she will be used to produce several litters over her lifetime. Once the dog is retired, she will be spayed and will become a part of your forever home. 
Goldendoodle Breeder Information:
3. Our Furry Family Puppies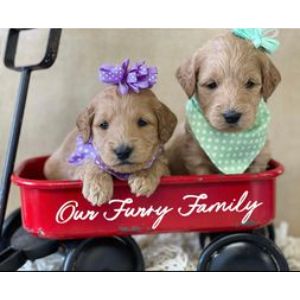 Our Furry Family Puppies is a family-run breeder that specializes in various breeds. Among them are Goldendoodles, mini Aussie doodles, Cockapoos, and West Highland Terriers. If you're in the market for a Mississippi Goldendoodle, you can choose either a standard or a mini from this breeder. 
Before you adopt from Our Furry Family, you'll first need to contact the kennel. They will ask you questions about your preferences, and your goals for your new pet. Once you're approved to adopt, you'll Venmo or PayPal a $300, non-refundable deposit. This deposit is deducted from the total cost of your dog, which will be discussed with the breeder. 
Your puppy will have had a nose-to-tail check by a veterinarian, and he or she will be vaccinated and dewormed when it's time to come home with you. Speak with the Furry Family team about what's required of you in terms of altering your dog – most will come with a spay or neuter agreement. 
Goldendoodle Breeder Information:
4. Trin's Designer Doodles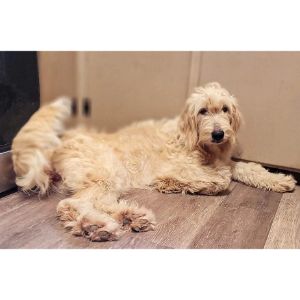 Trin's Designer Doodles is a very small-scale breeder of Goldendoodles and Labradoodles. The 21-year-old owner has only been breeding dogs for a few years now, but we love the attention and care she gives to each dam, sire, and puppy at the kennel.
In fact, the owner lives with her family of ten, so your puppy will be well-socialized from the time he or she is born until it's time to go home with you. 
You'll find a majority of the information you need on the team's Facebook page. This includes info about upcoming and available litters, pricing information on individual dogs, and, of course, plenty of pictures of past and current puppies!
Occasionally the team will reach out in search of a guardian family. If you're interested in this opportunity, contact Trin's Designer Doodles via social media. 
Dams and sires are health tested, and your puppy will be checked by a vet, too. Trin's Designer Doodles will provide new families with vet records, and your puppy will be caught up on vaccines and worming treatments. The kennel offers lifetime support to puppy parents; should you have any questions about caring for your dog, just ask!
Goldendoodle Breeder Information:
5. Goldendoodle Association of North America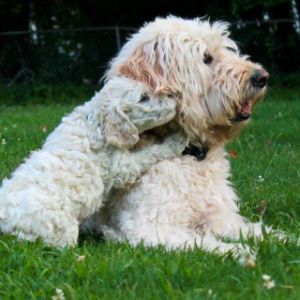 The Goldendoodle Association of North America is not a Mississippi Goldendoodle breeder, but instead is an organization dedicated to promoting breed standards. Goldendoodle owners (who are members of GANA) are permitted to post in the classifieds section of the Goldendoodle Association of North America website.
Where you are welcome to search for – and find – your new furry friend. At the time of writing, there are no Goldendoodle breeders in Mississippi listed on the GANA website. However, you'll find breeders in surrounding states that will serve your area of the Hospitality State, and new breeders are listed on a regular basis. Check back often for updates. 
Members of the Goldendoodle Association of North America have committed to raising Goldendoodles that are health-tested and well cared for. Breeders are required to subscribe to a Code of Ethics and you can feel confident that your breeder will raise your puppy responsibly. 
Always be sure to interview kennels directly about their practices and facilities. Choose a breeder you feel comfortable with, and don't be afraid to ask questions!
Goldendoodle Breeder Information:
6. PuppySpot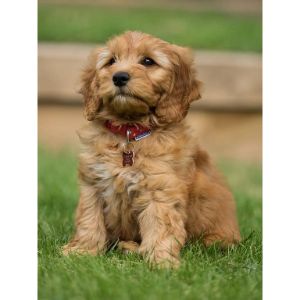 PuppySpot isn't a Mississippi Goldendoodle breeder, but thousands of Mississippi residents have found their forever friends through the network. PuppySpot is a marketplace that allows breeders from across the country to advertise their puppies. There are dozens of breeds available and there are almost always Goldendoodles available!
You'll search the website by breed, then you can sort by sex, age, and other characteristics. Click on a dog's picture to find information about the pricing, parentage, and personality of your puppy. From there, you can contact PuppySpot about the next steps to adopting your new little buddy. 
PuppySpot delivers puppies across the country, and rates are a flat rate calculated by the zone in which you live. You can choose to have your puppy driven or flown to your Mississippi home. We love that PuppySpot utilizes its own transportation network – ground and air travel are provided by USDA-approved vehicles. 
PuppySpot breeders are routinely visited and inspected, but of course, you'll want to be sure to thoroughly vet each kennel you're considering. Make sure their standards match yours before you put a deposit on or outright buy a puppy. 
Goldendoodle Breeder Information:
Conclusion For Best Goldendoodle Breeders In Mississippi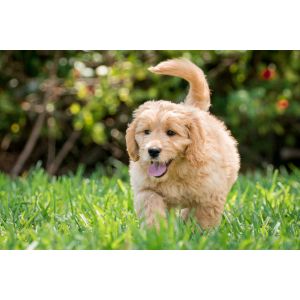 Goldendoodles are a friendly, happy, and loyal breed. The designer dog breed is becoming more and more popular in the United States, and for that reason, puppy mills are becoming more common. Puppy parents will do their best to avoid these mills, as they're notorious for breeding unhealthy dogs. 
Use the reputable breeders on this list to begin your search for a puppy you love. Interview your kennel owners to get to know more about how puppies are housed and cared for. Then, enjoy bringing your brand new furry family member into your home! 
You will also like: