Labradoodles are friendly, energetic, and intelligent dogs. They're a designer breed that's produced when a poodle is mixed with a Labrador retriever, and they're rapidly growing in popularity in the United States. If you're looking for Labradoodle breeders in Indiana, you've certainly come to the right place.
Labradoodle Puppies In Indiana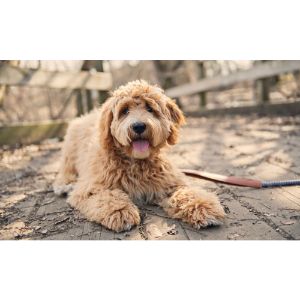 The Labradoodle is known for its tendency to shed less than other breeds, and because of the gain in popularity, the breed is being more commonly produced in puppy mills. If you're in Indiana and are looking to bring a Labradoodle into your home, it's important that you seek out a responsible breeder.
To help you do just that, we've compiled a list of the top Labradoodle breeders in Indiana. These kennels have a reputation for caring for the health and well-being of puppies, ensuring a healthy and socially intelligent puppy for your family.
Other articles you would like: Goldendoodle Breeders in Indiana and Bernedoodle Breeders in Indiana.
1. Colonial Village Labradoodles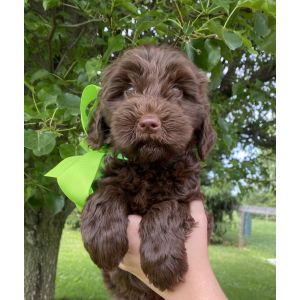 One of the best Labradoodle breeders in Indiana is Colonial Village Labradoodles. Colonial Village Labradoodles is located in Sheridan, Indiana and they're known for their gorgeous Australian Labradoodle puppies. Dogs at Colonial Village are bred for health and temperament; all dams and sires are health tested to be genetically sound, and puppies are tested for temperament.
To adopt a Labradoodle from Colonial Village, you'll first need to fill out a puppy application. The kennel team wants to know about your family, your yard and home, your experience with dogs, and other aspects of your household. Once you're approved, you can put down a $500 deposit to reserve your place on the waiting list.
Puppies cost $3,250; the deposit is deducted from that amount. Your Labradoodle puppy will be current on vaccinations and deworming treatments, and he or she will have begun crate training. All their Labradoodle puppies for sale in Indiana come with a two-year health guarantee against genetic defects. You can speak with the kennel about breeding rights and your responsibility to spay or neuter your new family member.
Labradoodle Breeder Information:
2. Ashford Manor Labradoodles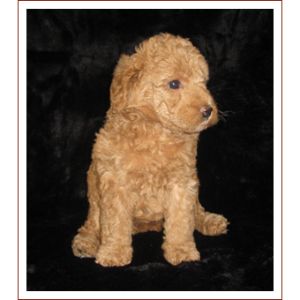 Next on our list of the top Labradoodle breeders in Indiana is Ashford Manor Labradoodles. This kennel is based out of Crawfordsville, just northwest of Indianapolis. They're a family-run business, but they often have more litters available than some other kennels in the area. Chances are, if you're looking for a puppy, Ashford Manor will have one available.
Puppies from Ashford Manor come with a two-year health guarantee, and they'll be up to date with shots and deworming treatments. Your puppy will be microchipped, but you'll need to register him or her. Please note that your puppy will be spayed or neutered. If you'd like to wait to alter your dog, a different kennel may be a better option for you.
Before you can place a deposit on your new dog, you'll need to interview Ashford Manor. Let them know about your lifestyle, and whether you'd like a companion dog or a service dog. The deposit to hold your puppy is $535, but prices will range from $3,424 to $4,815 depending on the "level" of dog you wish to purchase.
Labradoodle Breeder Information:
3. Daffodil Hill Doodles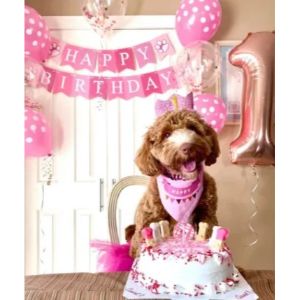 Daffodil Hill Doodles specializes in Australian Labradoodles. Puppies are raised on a 50-acre farm in Indiana where they'll have plenty of room to learn and play as they grow. The kennel is a family-owned business, and your puppy will have plenty of time to socialize with children. Therefore, if you have kids of your own your puppy will fit right in!
Daffodil Hill operates by a master waiting list. Should you choose to place a $500 reservation fee, you'll be placed on the master list. As puppies are born and adopted out, your name will move further up the list. You will pay a total of $2,500 for your dog, but this is made in installments over time.
Check the Daffodil Hill Doodles website to view upcoming and currently available litters. The owner of Daffodil Hill asks that you please email before you call if you're interested in adopting a puppy. Puppies will come with vet records and will be microchipped for their safety.
Labradoodle Breeder Information:
4. Chestnut Hill Australian Labradoodles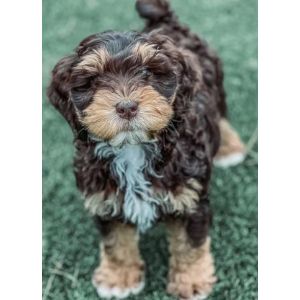 Over in Dillsboro, Indiana is Chestnut Hill Australian Labradoodles. This breeder specializes in the beautiful Labradoodle, and they prioritize health and temperament. In fact, puppies are temperament tested so that the kennel can match their babies with the perfect families.
In addition to offering young puppies for adoption, Chestnut Hill also provides trained puppies and service dogs. When you call or contact the kennel, let them know what you need and expect from your dog. The team will work with you to match you with a dog that suits those needs.
To adopt a dog from this breeder, you'll need to first submit an application and participate in an interview. Once you're approved, you'll place a $100 non-refundable reservation fee and you'll be added to the waitlist. Your puppy will cost $3,500, paid in installments, though service and trained dogs may cost a bit more.
Puppies come with a two-year health guarantee and lifetime breeder support. Of course, your dog will be up to date with vaccines and other medical care; you'll receive veterinary records upon pickup or delivery of your dog.
Labradoodle Breeder Information:
5. Crockett Doodles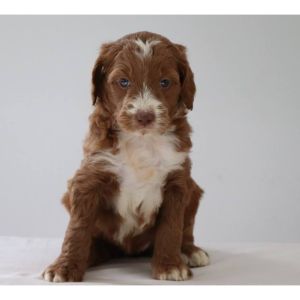 Crockett Doodles is one of the most prolific doodle breeders in the country, and while they're located in South Carolina, they ship and deliver puppies to families across the country.
Indiana residents will pay a flat fee for the delivery of a puppy – it's $449 for ground delivery or $949 for air travel. Alternatively, you may contact the breeder to determine if any guardian families are in your area.
There are frequently puppies available at Crockett Doodles, but they do tend to get reserved quickly. Be sure to check the website regularly to view available and upcoming litters, and put your name on the reservation list as soon as you're able.
Crockett Doodles are checked by a veterinarian, and you'll receive records of shots and deworming treatments. Puppies are sold as companions only, so you'll have to sign a spay or neuter agreement for your puppy.
Your Crockett Labradoodle will come with a one-year health guarantee, but by using the breeder's preferred brand of food you can extend that to three years.
Labradoodle Breeder Information:
6. PuppySpot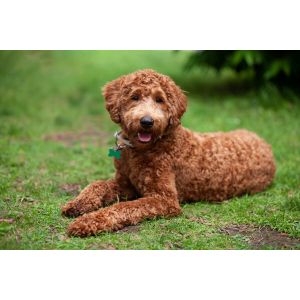 PuppySpot is another of our favorite nationwide Labradoodle breeders. This company doesn't specialize in one breed; instead, they match puppies with adoptive families and facilitate shipping or delivery of dogs to their new homes. The company even utilizes its own transport – even the airplanes!
PuppySpot breeders are located all over the United States. Keep that in mind, as you may not be able to meet your puppy "in-person" prior to Gotcha Day. Rest assured, though, that all breeders authorized to list on PuppySpot are USDA licensed and are subject to inspection at any time.
To use the PuppySpot website, simply search puppies by breed. You'll be given a list – with pictures – of Labradoodle puppies that are available for adoption. Clicking on the picture will give you more information about the dog, including pricing, pedigree, and any registry information.
Puppies sold through PuppySpot come with a ten-year health guarantee against congenital and hereditary disorders and conditions. You must agree to alter (spay or neuter) your dog in order to be eligible for this guarantee.
Labradoodle Breeder Information:
7. Noble Vestal Labradoodles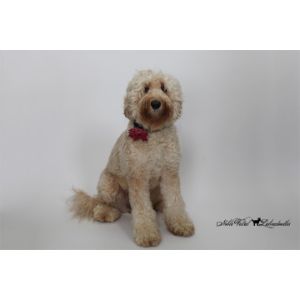 The last of the top Indiana Labradoodle breeders on our list is in Indianapolis. Noble Vestal Labradoodles only produces this breed, and they're very active in doing so! The waitlist is currently only four to six months, but be sure to put your name on the list early as puppies sell quickly.
As with other breeders, Noble Vestal requires that you interview or apply for adoption prior to placing a deposit. The team wants to know that puppies are going to a forever home that's a good match for their temperament. Contact the kennel directly about pricing for deposits and the full cost for adoption.
Noble Vestal does deliver dogs, but the facility is a short drive for most Indiana residents. Dogs come with a limited two-year health warranty, but you must agree not to breed your puppy.
Labradoodle Breeder Information:
Conclusion For Best Labradoodle Breeders In Indiana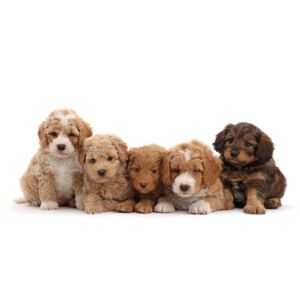 Labradoodles are a popular breed in America. Despite only having been developed in the 1980s, the temperament and trainability of these dogs have made them a favorite.
If you live in Indiana and wish to welcome a Labradoodle into your home, be sure to adopt from a reputable breeder. Doing so can help combat puppy mills, and will help ensure a healthy, happy addition to your family.
You will also like: