Are you an Indiana resident looking for a reputable Bernedoodle breeder? Bernedoodles are friendly, playful, curious, and sweet dogs that are a cross between a poodle and a Bernese mountain dog. They're relatively low-shedding dogs that grow to between 70 and 90 pounds. We've compiled one of the most reputable lists for Bernedoodle breeders in Indiana.
Bernedoodle Puppies In Indiana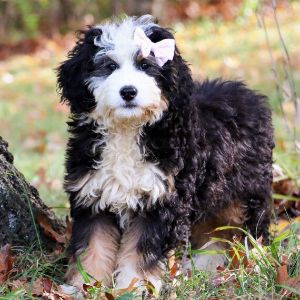 The Bernedoodle is a designer breed that, like many doodle breeds, is very popular in the United States. Because of that popularity, puppy mills are becoming more likely to produce these dogs, so it's important that you find a responsible kennel from which to adopt.
We've compiled a list of the best Bernedoodle breeders in Indiana so that you can begin the search for your new family companion.
Other articles you would like: Goldendoodle Breeders in Indiana and Labradoodle Breeders in Indiana.
1. SM Bernedoodles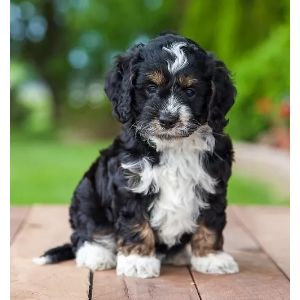 SM Berneododles is one of the most popular Bernedoodle breeders in Indiana. SM Bernedoodles is located just outside Fort Wayne, Indiana, and is a family-owned and operated business. Your puppy will be raised on an 80-acre horse farm, giving them plenty of room to explore their new world. The Lengacher family has ten children, so your puppy will be well-socialized with humans of all ages.
Mini and standard Bernedoodles are available from SM Bernedoodles, with the occasional litter of micro Bernies. Each puppy is raised as a member of the family, and his or her health will be well tended to. Your puppy will be up to date with vaccines and deworming treatments on Gotcha Day; speak with the kennel directly about health guarantees and breeding rights.
You'll need to apply for and place a deposit on your puppy. Once you're approved and on the waitlist, you can expect to pay between $2,500 and $5,000 for your dog. Size and other characteristics will determine the final price of your dog.
Bernedoodle Breeder Information:
2. Acorn Lane Bernedoodles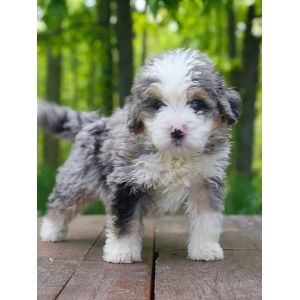 Acorn Lane Bernedoodles is next on our list of the top Bernedoodle breeders in Indiana. This kennel is in St. Joe, and it's run by another large family of 12. As with SM Bernedoodles, your puppy will have the company of plenty of people as he or she is growing and learning.
In fact, the whole family is involved in puppy care, whether it be delivering puppies or flying furry friends to their new homes across the country.
Your Bernedoodle puppy in Indiana comes with a one-year health guarantee. You'll need to comply with required veterinarian checkups and, if applicable to your agreement, you'll have to get your dog spayed or neutered. Acorn Lane will take care of the preliminary vaccinations and worming treatments in the first weeks of your dog's life.
Visit the Acorn Lane website to view available and upcoming puppy litters. In some cases, there may be a waiting list, but the family produces several litters each year. A $500 deposit is required to reserve a puppy, and that is deducted from the total price, which may vary based on your dog's characteristics.
Bernedoodle Breeder Information:
3. Gentle Giant Bernedoodles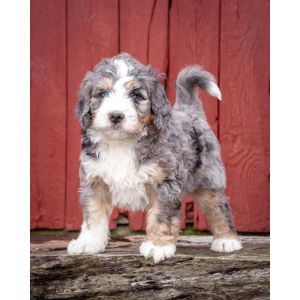 Gentle Giant Bernedoodles is in Spencerville, Indiana, which is very close to Fort Wayne. The team breeds mini, medium, and standard Bernedoodle puppies, so you can choose the size that fits your lifestyle best! Pups are raised on a 30-acre farm, where they're given plenty of supervised "freedom."
Puppies come with a one-year health guarantee, provided you comply with the required veterinary visits and spay or neuter agreement. Dogs come from AKC-registered parents that have been tested against genetic defects. Pups will be vet-checked before traveling to the forever home you provide.
You will need to place a $500 deposit to hold your dog. The total price of your Bernedoodle puppy will be discussed with the kennel team once puppies are born and their colors are determined. Contact Gentle Giant Bernedoodles if you need assistance with puppy delivery; options are available for an additional charge.
Bernedoodle Breeder Information:
4. Indiana Mini Bernedoodles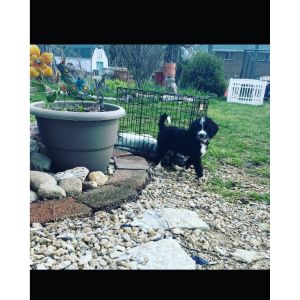 Indiana Mini Bernedoodles produces both standard and mini puppies, so take your pick! This kennel is a small-scale business located in Anderson, Indiana, and they specialize in breeding AKC-registered dogs to produce quality, healthy Bernedoodle puppies.
Your Bernie will come with a 24-month health guarantee and will be vet-checked, vaccinated, and dewormed while in the care of the Indiana Mini Bernedoodles team. Speak to the kennel directly about whether breeding rights are available; most puppies are sold as pets only.
You'll need to apply to adopt a puppy; the application asks for information about your household, lifestyle, family, and experience with dogs. Once you're approved, you'll be invited to place a $500 on your puppy. The total price of their Berendoodle puppies for sale in Indiana will vary, but adoption costs begin at $3,000.
Bernedoodle Breeder Information:
5. Willow Creek Bernedoodles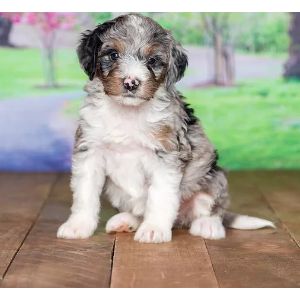 Next on our list of the best Bernedoodle breeders is Willow Creek Bernedoodles. Another small-scale, family-run kennel, Willow Creek is located in Ohio, but just outside Fort Wayne. The small farm is the perfect environment for your Bernedoodle puppy to explore the outdoors safely and comfortably.
Your puppy comes with a two-year health guarantee and parent dogs are genetically tested. You'll need to sign a spay or neuter agreement, as Willow Creek puppies are sold as pets only. Willow Creek is a responsible Indiana breeder, so your puppy will be up to date with shots and worming treatments on pickup day.
If you're not close to Fort Wayne, Willow Creek will work with you to provide transportation. Dogs can be delivered via air to your nearest airport for an additional fee of $500. Willow Creek puppies now live in states all over the country.
Bernedoodle Breeder Information:
6. Stoney Creek Kennels
Stoney Creek specializes in several breeds, including Great Danes, Bernedoodles, Saint Bernards, and bulldogs. They're a USDA-licensed facility that utilizes AKC-registered sires and dams in its breeding practices. In other words, they've taken steps to ensure that their puppies are coming from healthy, sound parents.
As with most reputable breeders, Stoney Creek Kennels will require that you place a deposit to hold a dog. Once you're approved to adopt a puppy, you'll be asked for $500 to reserve your future family member. This is deducted from the total adoption cost and is non-refundable. The total price may vary depending on your puppy's characteristics.
Puppies are vaccinated and dewormed as is appropriate for their age and will come with veterinary records. If desired, you may ask to see the registration papers and genetic testing results of your puppy's parents; the Stoney Creek team is transparent in caring for their dogs.
Bernedoodle Breeder Information:
7. PuppySpot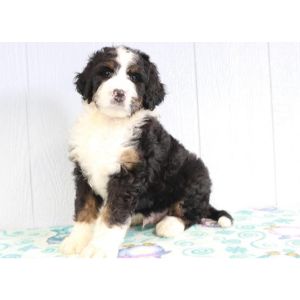 PuppySpot is one of the best resources for finding Bernedoodle puppies. It's not an Indiana-based organization, but instead is a nationwide service that matches puppies to puppy parents. There are thousands of dogs listed for sale on the PuppySpot marketplace, and you're sure to find the doodle of your dreams.
PuppySpot breeders are required to be USDA licensed and are subject to inspection. You can be sure that your puppy is coming from a clean, safe and caring environment, even if he or she wasn't born locally to you. In fact, dogs bought through PuppySpot come with a ten-year health warranty.
Search PuppySpot by breed, and then view the dozens of pictures of available Bernedoodle puppies. If you find one you love, you can click through to see more information. The age of the puppy, its parents, the price, and more are all listed on the puppy's bio page.
PuppySpot does have some Indiana breeders within its network, but your puppy can be delivered to you for a flat fee. Using its own transportation network (even the planes!), PuppySpot will transport your puppy to you safely. Fees range from $399 to $1,499.
Bernedoodle Breeder Information:
Conclusion For Best Bernedoodle Breeders In Indiana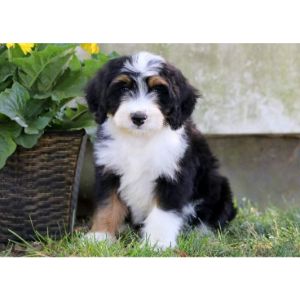 If you're an Indiana family or individual and you're thinking about adopting a fluffy, energetic family member, a Bernedoodle might be a good bet for you! These dogs are great for singles, seniors, and families with kids.
This list of reputable and responsible breeders was compiled to help assist you in your search for a healthy dog. Avoiding puppy mills will give you the best chance of bringing home a family member that will be with you for years.
You will also like: