Sheepadoodles are the fluffy, friendly dogs that are produced as a result of crossing a poodle with an Old English sheepdog. They're a popular designer breed among Americans, and for that reason, it's becoming increasingly important to find a reputable breeder. If you're looking for Sheepadoodle breeders in Indiana, we have one of the most comprehensive lists.
Sheepadoodle Puppies In Indiana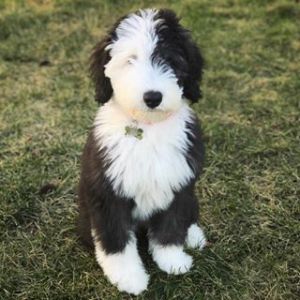 The beloved Sheepadoodle breed is being bred more and more by puppy mills; these kennels are notoriously irresponsible with puppies. Sheepadoodle puppies from puppy mills are often raised in dirty – even inhumane – conditions, meaning the puppy you bring home is more likely to be unhealthy. 
We've researched the top Sheepadoodle breeders in Indiana so that you can begin your search more easily. Check with each of the breeders below to find the Sheepadoodle puppy that will soon become a member of your family. 
Other articles you would like: Bernedoodle Breeders in Indiana and Goldendoodle Breeders in Indiana.
1. Best Doodle Puppy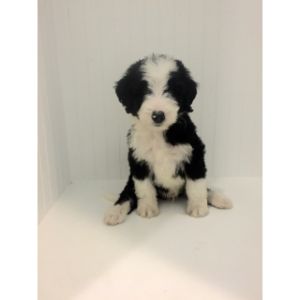 One of the best Sheepadoodle breeders in Indiana is Best Doodle Puppy. Best Doodle Puppy is precisely as the name would imply: they're a doodle breeder in Indiana. Sheepadoodles, Goldendoodles, and Bernedoodles are their specialty, and the kennel team is committed to producing healthy, quality puppies. 
To adopt a dog from Best Doodle Puppy, you'll first need to fill out an application. The kennel team will look over your information, and once they approve you you'll be invited to put down a deposit on a dog. The $300 non-refundable deposit will be applied toward the total purchase price of your puppy, which will range from $2,500 to $3,500. 
Your puppy, upon arrival at your home, will be up to date on vet checks and medical attention. He or she will also be very well socialized! Your dog will have had playtime with humans, chickens, cows, and donkeys in the weeks leading up to adoption. 
Sheepadoodle Breeder Information:
2. Feathers and Fleece Farm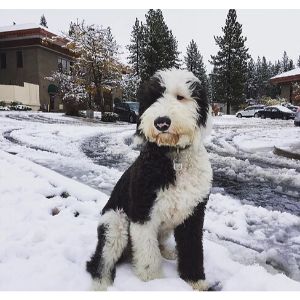 Feathers and Fleece Farm is next on our list of the best Indiana breeders. It's located in Lexington, Indiana, just north of Louisville, Kentucky. This is important to note because all adoptive families are required to visit the farm at least once, but up to three times.
Puppies will stay at the Feathers and Fleece Farm until they're at least 10 weeks old, so you'll have plenty of opportunities! As is true for most adoptions, you'll need to fill out an application to purchase a Sheepadoodle puppy from this breeder.
The kennel wants to know about your household, your physical home, and your experience with dogs. The goal is to match puppies with the most appropriate families based on your lifestyle and the dog's temperament. 
Their Sheepadoodle puppies for sale in Indiana come with a health guarantee and are sold as pets only. Breeding rights are not available for Feathers and Fleece Farm puppies. You'll need to put a $200 deposit down on your dog prior to adoption, but that deposit is deducted from the total adoption cost of $2,400. Extended training is available for an additional fee. 
Sheepadoodle Breeder Information:
3. On Pointe Poodles and Sheepadoodles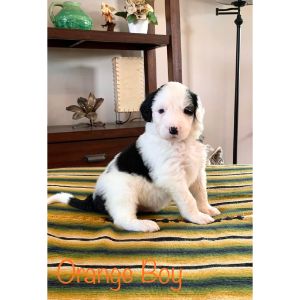 On Pointe Poodles and Sheepadoodles is located in Noble County, Indiana, and they specialize in Sheepadoodles, mini Sheepadoodles, and poodles. They utilize a guardian home program, so each dam, sire, and puppy is handled as a member of a family. Your puppy will be well-socialized and ready to transition into your home, with all its sights, sounds, and stimuli. 
On Pointe keeps its website updated with available puppies, so be sure you check back frequently for the newest little additions. Prices are listed alongside the puppies' pictures. Those prices may vary based on your puppy's characteristics, but the total cost will be listed alongside his or her picture. You can usually expect to pay around $2,500 for your dog. 
Your Sheepadoodle puppy in Indiana will have had a nose-to-tail check by a veterinarian and will be vaccinated and dewormed. Contact the breeder directly for more information on health guarantees and breeding rights. You may be required to sign a spay or neuter agreement for your puppy. 
Sheepadoodle Breeder Information:
4. Danes & Doodles LLC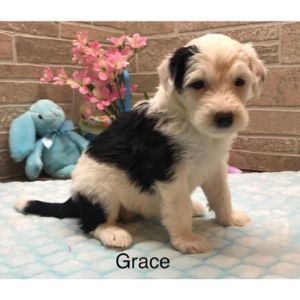 Danes & Doodles has been in business since 2015, and the kennel specializes in Goldendoodles and Sheepadoodles. This is a family-run business and, like others on this list, Danes & Doodles puppies will have interaction with children in their earliest weeks. That makes the transition into your family home – even with small children – easier. 
Danes & Doodles puppies come from genetically tested parents, and your dog will come with a health guarantee. Genetic, hip, elbow, and other conditions are protected against for at least the first year of your dog's life. You may be required to alter (spay or neuter) your dog as a condition of this warranty. 
You will need to apply for adoption, then upon acceptance, you must place a deposit on your dog. Speak with the kennel owners directly about the amount required for a deposit and for the total price of your puppy. Different puppies may be priced differently due to color and other factors. 
Sheepadoodle Breeder Information:
5. Happytail Puppies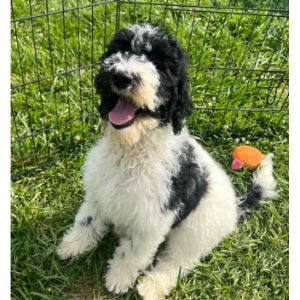 Happytail Puppies isn't based in Indiana, but the company serves residents of the state. In fact, the company is known for matching puppies with families across the United States, and there are many breeds available through the marketplace. 
To use Happytail Puppies, you'll first need to search by the breed of dog. Once you select the option for Sheepadoodle (or mini Sheepadoodle), you'll see a list of available puppies. Click through a puppy's picture to check out his or her bio, including the total price to adopt, the date of birth, information about his or her parents, and more. 
Happytail Puppies offers to finance, making puppy adoption more accessible to those who can't pay the full price upfront. Delivery options are obviously available, as dogs are located across the United States. Contact the company for a quote for shipment or delivery. 
Your Sheepadoodle puppy will have been checked by a vet, and will be vaccinated and dewormed as is age-appropriate. There are puppies available on Happytail Puppies, but there are also several older dogs listed for adoption. This is a good option if you don't have the time or experience to train a brand new puppy. 
Sheepadoodle Breeder Information:
6. Doodledee Goldendoodles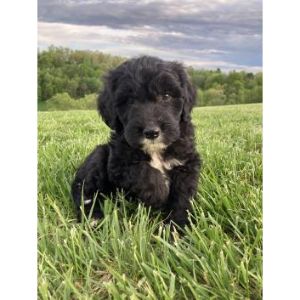 Doodledee Goldendoodles is located in northwestern Indiana, and specializes in bernedoodles, goldendoodles, and, of course, Sheepadoodles. They're a home-based breeder, and they treat dams, sires and puppies as beloved pets in their own home.
Doodledee Goldendoodles does offer the opportunity to visit puppies in person by appointment. If you're located too far to visit the family home, FaceTime visits are an option. 
To adopt a puppy from Doodledee Goldendoodles, you'll first apply, answering questions about your household and your family. The kennel team wants to ensure that puppies are matched with the right forever home. Then, a $500 deposit is required to hold your puppy. This is deducted from the total cost of your puppy, which will range between $2,500 and $3,500.
Doodledoo dogs are sold as pets only, and you'll be required to sign a spay or neuter contract. Puppies are dewormed, microchipped, and vaccinated, and come with a one-year health guarantee. As your puppy grows, you'll receive pictures of him or her weekly. 
Sheepadoodle Breeder Information:
7. The Farm's Precious Doodles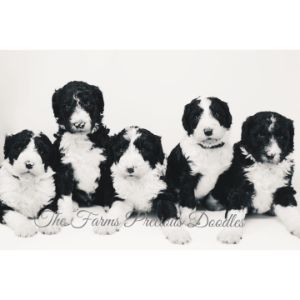 The last Sheepadoodle breeder in Indiana on our list is The Farm's Precious Doodles. This is a small-scale, family-owned business that specializes in Sheepadoodles and mini Sheepadoodles. The Farm's Precious Doodles is located in Morgantown, Indiana, just south of Indianapolis. 
This kennel requires a $350 deposit to hold a dog. Please note, however, that in the event of a refund (even due to the seller's failure to produce litters), only $200 will be returned to you. The total cost to adopt a dog is $2,500 for a standard Sheepadoodle or $3,000 for a mini. 
In addition to keeping your Sheepadoodle puppy happy and healthy as it grows, The Farm's Precious Doodles will offer lifetime support to its families. Should you have any questions about caring for or raising your Sheepadoodle, you can contact the kennel at any time. 
Sheepadoodle Breeder Information:
Conclusion For Best Sheepadoodle Breeders In Indiana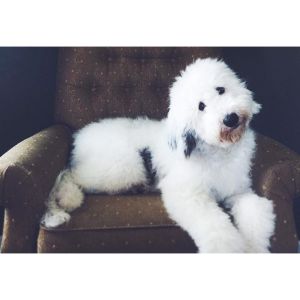 If you're an Indiana family or individual who wants to adopt a friendly, intelligent, and loving pet, a Sheepadoodle may be just the pet you need! Choose from the reputable Sheepadoodle breeders in Indiana on this list to take the first step toward bringing home a lifelong companion. 
You will also like: