In recent years, the popularity of designer dogs has surged significantly. There is something about these hybrid dogs that makes almost everyone love them. Regardless of your style or preference, you will likely find a designer dog perfect for you which is why we have a list of the best Sheepadoodle breeders in North Carolina for you.
The most popular group of designer dogs is Doodles (Poodle mixes). The dogs that fall into that category are Sheepadoodles, Goldendoodles, Bernedoodles, and Labradoodles.
Sheepadoodle has won the hearts of many dog lovers because of its lively nature. These dogs are always active and ready to play. They also make great family companions, making them a highly sought-after choice for families with kids. If you are looking for the best Sheepadoodle puppies for sale in North Carolina, you have come to the right place.
Not all Sheepadoodle breeders are the same, so you should be careful during your search. You might endanger your future canine's life when you make the wrong choice. Listed below are the most reliable and well-respected Sheepadoodle breeders in North Carolina. You can trust them to provide you with healthy and happy Sheepadoodle puppies.
Some other articles you may also like: Common Animal Breeding Terminology! and Can You Breed Different Animals?
1. Luvmydoodle
Luvmydoodle has an excellent reputation in the breeding industry. If you are looking for home-raised, family-loved Sheepadoodles, Luvmydoodle should be your go-to breeder. This breeder raises Sheepadoodles and Bernedoodles, and they have been in business since 2008.
Luvmydoodle was voted the second-best Sheepadoodle breeder in North Carolina in 2021, a well-deserved and earned award. This breeder ethically breeds in its home. All the puppies and dogs are raised in the house like family members.
You can rely on this breeder for Miniature American Sheepadoodles (35 to 50 pounds) and Standard Sheepadoodles (40 to 60 pounds). Luvmydoodle strives to produce the healthiest and happiest puppies possible.
Many people love this breeder for its quick response time. They are always available and ready to answer questions about their puppies, breeding program, etc. In addition to responding promptly, this breeder keeps its buyers updated about the development of their puppies with videos and photos.
You will cherish the attention and time they dedicate to these puppies. They spend time with each puppy, helping them get used to being around people, including kids. The pups from this breeder make great family pets and are well-socialized. Furthermore, the puppies receive premium quality vet care to ensure they are perfectly healthy and sound.
You can go home with the puppy and be sure you will not regularly visit the vet because of genetic issues. The breeder ensures the sires and dams are tested and cleared of genetic health conditions.
In addition, the puppies come with a two-year health guarantee to back up the breeder's health claims. Luvmydoodle also introduces the puppies to early neurological stimulation (ENS), a practice that yields fantastic benefits that will last for a lifetime.
Sheepadoodle Breeder Information:
2. Sheepadoodles NC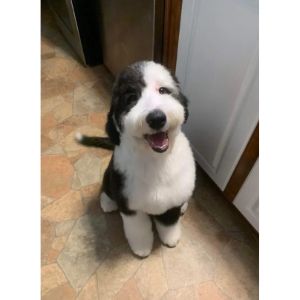 If you live in or around Concord, North Carolina, Sheepadoodles NC is for you. Sheepadoodles NC is a very popular breeder in North Carolina. This breeder uses purebred registered sires and dams for breeding first-generation Standards Sheepadoodles. They work hard to maintain the best quality and exceptional temperaments, ensuring they produce family-friendly puppies.
A breeding program has two vital aspects – pre-breeding and post-breeding. Pre-breeding involves the selection process and health tests. The post-breeding involves how the puppies are cared for, including training and socialization.
Interestingly, this breeder does a fantastic job in the pre and post-breeding aspects. They are very selective when it comes to choosing their parent dogs.
Sheepadoodles NC conducts various health tests to ensure the parent dogs are completely free of congenital diseases and illnesses. Unlike some breeders that use their adult dogs for business only, this breeder takes the parents as family pets. The dogs receive a lot of love, care, and attention like the puppies. Both the dogs and the puppies live in the breeder's home.
The puppies receive quality vet care and are up-to-date on vaccinations and deworming. They undergo a complete vet check before being released to their forever homes. This breeder's puppies are ready to go home at eight weeks old. You can pick up your pup at the breeder's home or have it delivered. They offer delivery throughout NC and the neighboring states.
Sheepadoodle Breeder Information:
3. NC Doodle Puppies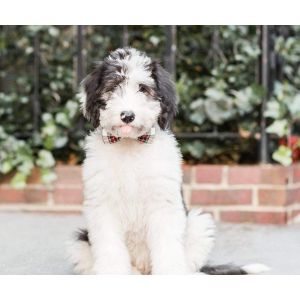 Next up, we have NC Doodles Puppies. NC Doodle Puppies is a small hobby, responsible breeder producing and raising healthy puppies for families in NC and surrounding states. This small home-based breeder gets support from family and friends to ensure the breeding program is successful. NC Doodle Puppies is not a business, as they do not breed for a living.
NCDP specializes in producing different doodles, including Sheepadoodles, Goldendoodles, Bernedoodles, Aussiedoodles, Cavapoos, and more. They raise awesome temperament puppies for family pets, service, and therapy work.
In addition to being family-raised, all the puppies from this breeder are well-socialized. They work together to socialize the puppies, introducing them to people (including kids), other pets, different environments, etc. The puppies are used to different sounds, including TV sounds, car horns, slamming doors, etc.
The puppies come with a one-year health guarantee against genetic health conditions. They carefully chose the breeding dogs to avoid transferring congenital health issues to the puppies.
The breeder also did several tests to ensure the dogs were free of the health problems associated with this breed. Hence, the puppies come with a guarantee to back the breeder's claims.
The puppies are vet-checked and up-to-date on immunizations before leaving for their forever homes. Furthermore, this breeder provides lifetime support for all its customers. Regardless of your dog's age, you can always call them for guidance and support. Lastly, the pups go home with a complimentary puppy starter kit and a CKC registration application.
Sheepadoodle Breeder Information:
4. Dogwood Doodlebugs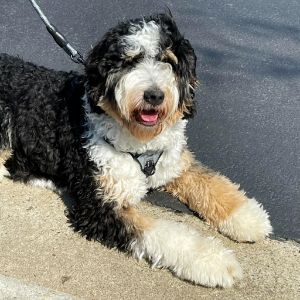 Dogwood Doodlebugs believes in producing companion pets with superb temperament, optimal health, and gorgeous appearance. The breeder values these traits and ensures its puppies have all three.
They adhere to strict breeding standards, including the guidelines of GANA. This breeder thoroughly health tests its breeding dogs before adding them to the program.
They follow those standards while breeding all their dogs, including Sheepadoodles. Dogwood Doodlebugs also produce Bernedoodles, Goldendoodles, and Golden Retrievers. They also breed specifically for personality, health, and stature.
Furthermore, they conduct DNA testing and provide AKC lineage to their customers to prove they are receiving the best quality Sheepadoodles. With this breeder, rest assured you will go home with a genuine Sheepadoodle.
The pups and dogs are in the breeder's home; they are not raised in kennels. In addition, this breeder follows current vet recommendations. They work with a licensed vet that checks the dogs and pups regularly to ensure they are in perfect condition. The vet also educates and shares vital tips with the breeder on how best to care for the newborns.
Dogwood Doodlebugs always has puppies for sale, as they breed their dams on back-to-back heats. They start breeding the girls at their second or third heat and retire them early. Their breeding strategy helps avoid certain female health problems like pseudopregnancy and uttering infection (pyometra).
Sheepadoodle Breeder Information:
5. Double U Doodles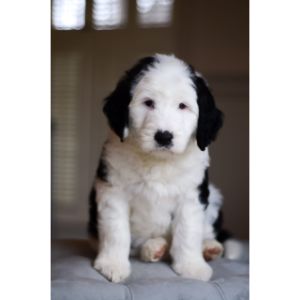 Double U Doodles is a world-class, revolutionary Sheepadoodle breeder in North Carolina. This breeder aims to revolutionize the breeding industry by adopting the latest and proven breeding practices, a perfect concluding entry for our list of the best Sheepadoodle breeders in North Carolina.
One of the key focus areas of Double U Doodles is health. All the puppies from this breeder are guaranteed against congenitally hereditary diseases because they DNA tested all the sires and dams.
This breeder takes the dog-screening process seriously. They do not add dogs with health issues or uncertainties to their breeding program. Double U Doodles work with the geneticists at Paw Prints Genetics to ensure they produce only the healthiest Sheepadoodles, Bernedoodles, and Goldendoodles with exceptional temperaments.
To assure you that you are buying a premium quality, healthy puppy, this breeder sends its pups home with a two-year health guarantee. Another area they focus on is the development of the puppies. This breeder starts implementing Early Neurological Stimulation, Puppy Culture, and socialization techniques at three days old.
Potty training starts at three weeks. Your puppy will be fully doggy door trained at four to five weeks. They provide the pups with the fundamental exercises and training they need to transition smoothly to their new homes.
Sheepadoodle Breeder Information:
Conclusion For Best Sheepadoodle Breeders In North Carolina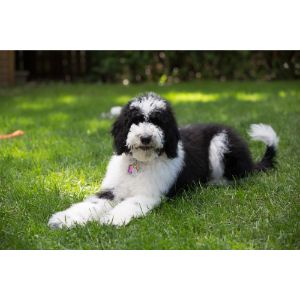 You need some expertise to separate responsible breeders from backyard breeders and puppy mills. However, one of our key points for spotting the best Sheepadoodle breeders in North Carolina is health checks and guarantees.
The best breeders always conduct several health tests before breeding. They also provide health guarantees to support their health claims. The breeders in this article consider the pups' health, socialization, and training. You can trust them for quality, well-trained, and super healthy puppies.
You will also like: