Are you looking for the best Bernedoodle puppies for sale in North Carolina? Search no further, as we are here to point you in the right direction. The demand for Bernedoodle puppies has surged significantly in recent years.
These dogs are a cross between a Bernese Mountain and Poodle dog. Bernedoodles are affectionate, loyal, intelligent, and friendly, and desire human companionship. They make excellent family pets, therapy, and service dogs, which is why many people are looking for the best Bernedoodle breeders in North Carolina.
However, the numerous options in the state have left many potential buyers overwhelmed. This article features a list of the best places to buy this dog breed in North Carolina. We will provide close-up information about these breeders and their contact details. Read on to see our top recommendations!
Other articles you may also like: 5 Best Sheepadoodle Breeders In North Carolina! and 10 Best Livestock Breeders in The US!
1. Doodling All Day
Doodling All Day is a proud owner and breeder of Bernedoodles and Goldendoodles. This breeder is located in Valdese, North Carolina, but it services the entire state and beyond. Looking at the review, we found out that most of its customers travel long distances to acquire their puppies.
DAD is well-grounded in this industry, and it knows all the tricks and tips in it. People travel far and wide to patronize them because of the premium quality puppies they produce.
Doodling All Day strives to produce intelligent, healthy, well-mannered, and friendly Goldendoodle and Bernedoodle puppies. Their puppies made a great addition to many homes across the state, bringing joy to every family they joined.
DAD is recognized as a Goldendoodle Association of North America (GANA) Blue Ribbon Breeder. The breeder takes its breeding program seriously, ensuring all its breeding dogs are health tested before joining the program. They adhere to the GANA and industry breeding standards for this dog breed.
They run rigorous health tests on the sires and dams to ensure they produce the best temperament and healthiest puppies possible.
Their adult dogs are DNA tested for more than 160 genetic health conditions, including PRA, DM, VWd1, and Progressive Rod/Cone degeneration. Furthermore, the dogs receive OFA testing and certification for the hips, heart, eyes, patellas, and elbow.
In addition to ensuring the dogs are in perfect health, this breeder provides a loving, safe, and healthy environment for the pups' growth and development. The loving environment also includes human interaction (daily) and stimulation.
They ensure the puppies are not only healthy but also well-socialized. DAD produces and raises all its puppies inside its home. They believe the puppies need to be close to their moms, so they allow the moms to play a part in the development and growth of their babies.
They spend quality time with the puppies to help them socialize with humans and other pets. The exposure and training the puppies undergo to make them ideal for families with kids.
Furthermore, the puppies come with a 24-month health guarantee against genetically inherited diseases. All their puppies are wormed at two, four, and six weeks old. They are also up-to-date on vaccination and other preventative medications.
Bernedoodle Breeder Information:
2. Walnut Tree Bernedoodles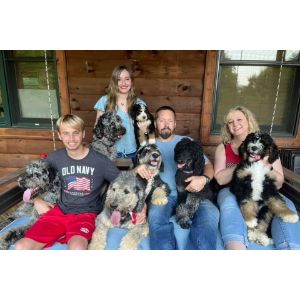 Walnut Tree Bernedoodles is a strategic and highly reputable breeder in NC. WTB is located in the Blue Ridge Mountains of Western North Carolina. This inspiring environment contributes positively to temperaments in dogs. The breeder has both nurture and nature going for them. They specialize in breeding and raising Bernedoodles for companionship, therapy, and service.
The puppies from this breeder are friendly, intelligent, goofy, and playful. They are good with kids, visitors, and other pets, thanks to the breeder's extensive training program. In addition to being friendly and well-socialized, the puppies are loving and loyal.
This breeder does not raise its puppies in a kennel or cage; the puppies are raised in the breeder's home as part of their family. They adopt the Badass Breeder programs and Puppy Culture principles to raise their pups.
Furthermore, the breeder ensures the pups undergo basic training before leaving for their forever families. They start potty and crate training, ensuring the pups are a blessing to their new families rather than being a burden.
The primary objective of this breeder is to breed and raise F1B Standard Bernedoodles and place them in suitable homes. They also focus on breeding for health, temperament, and beauty.
All WTB's puppies come from genetically sound and perfectly healthy parents. They screened the parents thoroughly to ensure they had no hereditary health conditions. In addition, all their puppies come with a two-year health guarantee against genetically hereditary diseases.
WTB is one of the most transparent breeders in this state. They are willing to answer all your questions and provide any documentation. You can also see the genetic reports of all their sires and dams on the website.
WTB keeps a limited number of puppies and dogs in its house to ensure the best life for all its canines. All their puppies receive significant attention, love, and care. They also place some breeding dogs in guardian homes while rehoming the retired females.
Walnut Tree allows families to visit and see their puppies at seven weeks of age. They also provide accommodation for those who need a place to stay when they pick up their new canine friends.
Bernedoodle Breeder Information:
3. Above and Beyond Standards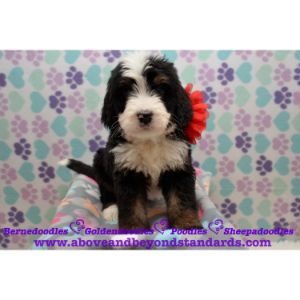 Above and Beyond Standards is the home of many beautiful Bernedoodles, Sheepadoodles, Poodles, and Goldendoodles. ABS is a premier breeder that specializes in breeding premium quality and good-looking doodles with excellent health and temperaments.
This breeder is located in northwest North Carolina, within two to three hours of Asheville, Raleigh, Durham, Charlotte, and other popular cities in the state.
ABS is on ten acres off the Blue Ridge Parkway in the beautiful High Country of North Carolina. The breeder has more than enough space for the dogs and puppies to play and roam around freely.
The spacious environment helps them exercise, keep fit, and socialize. All ABS's dogs are AKC Registered, and they follow the AKC standard for this breed. This breeder raises all its dogs and puppies indoors, and they spoil them silly.
The puppies receive all the love, care, attention, and nurture they need to thrive in their new homes. The puppies are also well-socialized and ready to transition to their forever homes. Hence, rest assured you will not buy a burden but a loving and affectionate puppy that will bring nothing but joy to your home.
ABS's breeding dogs are from extraordinary bloodlines with wonderful temperaments. The dogs also undergo several tests and obtain health clearances before joining the breeding program.
The breeder spends several hours looking through pedigrees and learning the traits and quality of their lines. All the dogs receive a complete panel of genetic tests (breed-recommended). They are also evaluated and certified by OFA and PennHIP for hips, elbows, patellas, eyes, and heart.
The ultimate breeding goal of this breeder is to produce healthy, beautiful companion puppies with outstanding temperaments. When patronizing this breeder, you can be confident that your pup's temperament and health are above and beyond standards. Furthermore, the breeder sends its puppies home with a two-year health guarantee to support their health claims.
Bernedoodle Breeder Information:
4. Bernedoodles of NC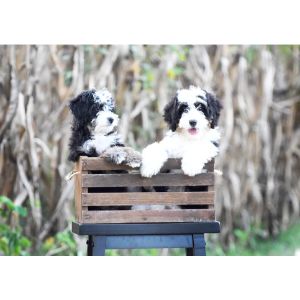 Bernedoodles of NC also made it to our list of the top Bernedoodle breeders in North Carolina. This breeder offers premium-quality puppies at reasonable prices. They produce and raise Medium Bernedoodles with exceptional temperaments and health. If you are looking for home-raised Berne puppies, this is one of the best breeders to consider. 
BoNC raises its puppies in its home with Puppy Culture. This breeder looks beyond the beautiful tri-color patterns and genetic makeup of its puppies.
They provide emotional intelligence development, proper socialization, and house-training implementation. By adopting the Puppy Culture principles, this breeder sets its pups and their forever families up for lifelong success.
They engage the puppies in behavioural training exercises to prepare them for the transition. The first three days to two weeks are the neonatal period, two to three weeks is the transitional period, three to eight weeks is the critical socialization period, and eight to twelve weeks is the go-home period.
Hence, your puppy will come home accustomed to many things, including house training, crate training, grooming, clipping nails, coming when called, etc. 
Bernedoodle Breeder Information:
Conclusion For "Best Bernedoodle Breeders in North Carolina"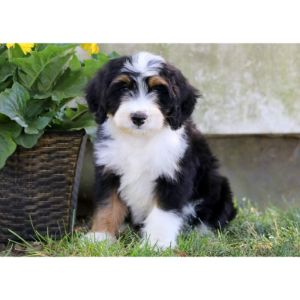 It is essential to choose a reliable and trustworthy Bernedoodle breeder in North Carolina if you want a healthy and happy puppy. There are many breeders in the state, but only a few care for their puppies and dogs.
You can trust the breeders reviewed in this guide for well-trained, friendly, well-mannered, healthy, and happy Bernedoodle puppies. Ensure you ask for all necessary documentation when purchasing the puppy, including a health certificate.
You will also like: