Aussiedoodles have a charming charisma that can easily win over the affection of anyone they come across. These dogs are extremely intelligent, playful, lively, and devoted. So, naturally, we have a list of the best Aussiedoodle breeders in New Hampshire for you right here.
The breeding process of these dogs requires a lot of experience and technicality, and not everyone knows how to do it right. Some breeders do not conduct thorough health tests for the parent dogs before breeding, and they end up producing unhealthy puppies.
Some articles you will like: 4 Best Cavapoo Breeders In New Hampshire! and 4 Best Cavapoo Breeders In New Hampshire!
Aussiedoodle Puppies In New Hampshire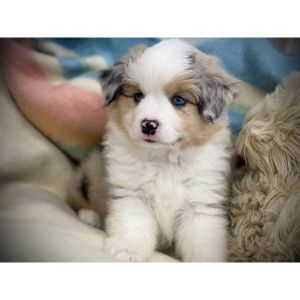 You should completely avoid breeders that do not pay attention to the breeding Poodles and Australian Shepherds, as you would likely spend a lot of money on vet bills or even lose the puppy down the lane.
Only buy an Aussiedoodle puppy from legitimate and trusted breeders, as they only breed health-tested dogs. This article will guide you in finding honest and ethical Aussiedoodle breeders in New Hampshire. Read on to see our expert recommendations.
Check out for more: Best Labradoodle Breeders In Michigan and Best Double Doodle Breeders in the USA
1. The Honest Egg Doodles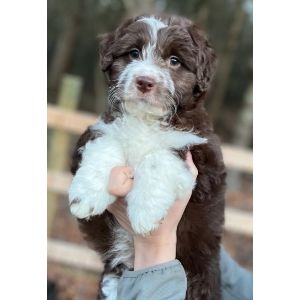 The Honest Egg Doodles is our first choice for Aussiedoodle breeders in NH. If you are looking for mini Aussiedoodle puppies, this is one of the best breeders to consider. Located in Hampton Falls, New Hampshire, this family has a huge farm to accommodate its dogs and other animals.
The Honest Egg Doodles is a family breeder dedicated to raising quality puppies. They emerged in the breeding space after being invited by a friend to join a family Cockapoo business.
After accepting the offer, they loved it and decided to start breeding their favorite dogs – Aussiedoodles. However, this breeder spent years in the Cockapoo business to learn a lot about breeding and raising puppies.
They learned a lot about Poodles and loved their intelligent and loyal nature. Several years of research and learning also taught them the importance and secrets of raising healthy puppies. We love this breeder because of the dedicated efforts they put into raising and training its puppies.
None of its puppies is raised in a kennel or cage; all the puppies and dogs live in the breeder's home. Being a large family, every member plays a vital role in the breeding program. They love, care for, and pay close attention to the pups and their parents.
THED raises its puppies with Jane Killion's Puppy Culture and Jeanette Forrey's Badass Breeder program. The story behind the breeder's name started with its journey of raising chickens in their home in 2009.
They were raising chickens in the basement of their rental house but later moved to their current home. The couple moved with the chickens and expanded the farm by adding turkeys, goats, pigs, and guinea hens.
Eggs were their major focus, but they occasionally sold meat. They gave their livestock the best life possible and did everything possible to exceed the government's standard of rearing livestock.
They did not hide anything from their customers. Their transparent and honest practices led to the name "The Honest Egg." The couple switched fully to breeding and raising puppies after their youngest child arrived. Since then, The Honest Egg Doodles has been at the top of its game in the breeding program.
The pups are raised on a proven, planned daily curriculum – a set of developmentally-appropriate tasks to help puppies become extraordinarily confident and build a bond of companionship and trust between humans and dogs. THED empowers its puppies to be the boldest they can be rather than encouraging fearful behaviors.
Daily handling and socialization are other strong points of this breeder. They also evaluate the temperaments of their puppies, ensuring they are well-adjusted and with excellent disposition before leaving for their forever homes.
Aussiedoodle Breeder Information:
2. Misty Acres Aussies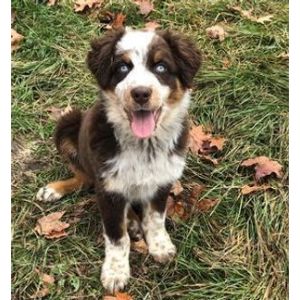 Misty Acres Aussies is a small breeder of Aussiedoodles puppies. MAA raises quality puppies for their health, temperament, and looks. If you are looking for perfectly healthy, beautiful, and well-tempered Aussiedoodles, you can consider this breeder.
A family owns both Misty Acres Aussies and Misty Acres Australian Shepherds, and the puppies are born and raised in the same home. Located in the Lake Sunapee Region of New Hampshire, this breeder serves the entire state and other neighboring states, including Maine and Massachusetts.
They live on a five-acre farm with various animals, including chickens, goats, and horses. While the other animals live on the ranch, the puppies and dogs live with the breeder in their house like part of the family. MAA does not permit anything that could endanger the lives of its puppies.
Visitors are not allowed due to the health concerns of their puppies. Some visitors unknowingly carry diseases on their shoes and clothes, costing the breeder two litters about five years ago. Since then, they have strived to protect their puppies and dogs from such incidents by stopping visits to the farm.
To compensate for not allowing visitors, the breeder updates its customers with weekly videos and photos. Photos and videos are posted weekly on their Facebook page to show the pups' progress.
Socialization is one of their key areas, ensuring the puppies are prepared for the everyday activities of a household. They expose the pups to various sounds and sites, including kids and cats. At about four to six weeks, the breeder moves the puppies to their cooled or heated kennel, depending on the season of the year.
All the puppies are at least eight weeks old before being released to join their new families. Before leaving, the breeder ensures the pups receive their first shots and are thoroughly vet-checked.
They also deworm and dock their tails before eight weeks of age. These cuties go home with a clean health certificate, one-year genetic health guarantee, and two-year hip and eye guarantee. Their puppies are not allowed for breeding, as they are sold on Limited Registration.
Aussiedoodle Breeder Information:
3. Harmony Hill Doodles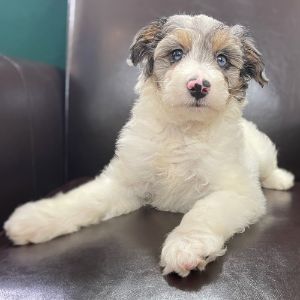 Harmony Hill Doodles is a well-experienced doodle breeder in Massachusetts. You can drive to the breeding facility or have your puppy shipped to you wherever you are in New Hampshire. Harmon Hill Doodles specializes in breeding and raising standard-sized Aussiedoodles and Bernedoodles with healthy parents and excellent bloodlines.
If great disposition and temperament are your focus when looking for an Aussiedoodle puppy, we highly recommend the pups from this breeder. They aim to produce the highest quality puppies that will be well-socialized, healthy, and a great addition to your family. Harmony Hill Doodles is not a business but a family.
Health, temperament, and looks are this breeder's three major focus areas. Only health-tested and cleared sires and dams make it to this breeding program. Harmony Hill Doodles ensures the parent dogs are in perfect health before starting the breeding process. They also ensure the sires are comfortable, healthy, and well-cared during pregnancy and after delivery.
To back up their health claims, this breeder sends its puppies home with a two-year health guarantee. They guarantee the puppies are free of life-threatening genetic disorders.
Socialization also starts pretty early for the puppies. They are socialized around kids of all ages, helping them transition into a well-adjusted life for their new families.
Other than this, regardless of how your Aussiedoodle is, Harmony Hills will always be there to provide you with full support. You can contact them whenever you have questions or concerns about your new canine friend.
Aussiedoodle Breeder Information:
4. Massachusetts Bernedoodles LLC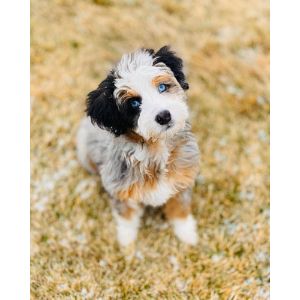 Massachusetts Bernedoodles breeds first-generation micro and mini Aussiedoodles and Bernedoodles. The puppies from this breeder are beautiful, adorable, and super healthy. MBD is an ethical, kennel-free breeder located outside of Ashby, Massachusetts.
MBD works with the "waiting list" adoption approach. To adopt a pet, you have to fill out the form, email or call them and proceed to make the required deposit. However, if puppies are available, you do not have to join the waiting list.
One unique thing about this breeder is that it has 24/7 live streaming puppy cameras. Only MBD customers can access the live feed and watch their puppies go about their daily lives.
The breeder provides the pups and dogs 24/7 care, ensuring they are always comfortable and happy. MBD does not believe a dog should live for the sole purpose of breeding, so they take all their breeding dogs as family members and treat them as such. The dogs enjoy a kennel-free environment, running around, playing, and exploring the yard without restrictions.
Aussiedoodle Breeder Information:
Conclusion For Best Aussiedoodle Breeders In New Hampshire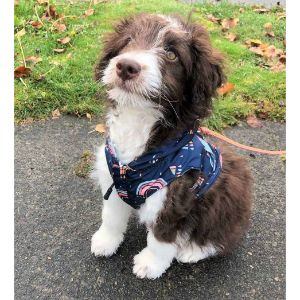 With adorable looks, cunning disposition, and loving nature, the Aussiedoodle is a great addition to any family and an adventurous lifestyle. But if you cut the corners by getting the pup from backyard breeders or online vendors, you might pay a high price in the future.
Although these sources may be able to offer you a discounted price on an Aussiedoodle puppy, you might end up with frustration as the puppy gets ill. Therefore, you need to buy your puppy from the best Aussiedoodle breeders in New Hampshire, as they produce healthy, well-socialized, good-tempered, and highly intelligent pups.